Are you tired of your orange hair and want to try something new? Are you confused about what happens if you put silver dye on orange hair? Well, we're here to clear all your confusion away.
In this article, we'll discuss the outcomes when you put silver dye on orange hair. We'll also discuss your end result depending on your hair color and type and how to ensure you get the desired results. So keep reading to find out!
What Happens if You Put Silver Dye on Orange Hair?
Putting silver dye on orange hair can be a gamble. Depending on your shade of orange, the result can be a shade of lighter blonde or ash blonde.
Silver dye is a cool-toned shade of grayish-white. When applied to orange hair, it will create an ashy or icy tone depending on its undertones (blue or purple) and how light or dark the original orange hair color was. The lighter the pre-existing color, the more prominent these hues will become in comparison.
However, bleach is very damaging to your hair, so you should get your orange hair fixed by a stylist rather than do it yourself. This will ensure minimal damage and fewer chances of an unpredictable hair result.
To achieve the best result when dyeing hair silver, you need to bleach your hair the lightest blonde so that the silver dye can absorb well into your locks.
Applying silver dye to orange hair can be a tricky process. You need to understand the different factors that come into play when attempting this type of color change:
Hair color: As discussed above, your base color determines your hair's appearance after using silver dye. When the silver dye is applied, your orange hair will turn ash blonde or platinum blonde, depending on its natural tones. To turn your hair silver, you must have a bleaching session or two before dyeing it.
Hair type: Your hair type also significantly affects your hair color after dyeing. If you have naturally curly or thick hair, it will be difficult for the color to take hold, and the color will not spread out evenly. You should consult a stylist to see what would work best for your hair to turn silver.
Hair porosity: Hair porosity means how well your hair absorbs and retains moisture. Usually, your natural hair has low porosity. This is why natural hair does not absorb dye easily and can result in uneven colors. Hair that is bleached tends to have higher porosity and can absorb the color well.
How Often to Bleach Orange Hair Before Applying Silver Dye?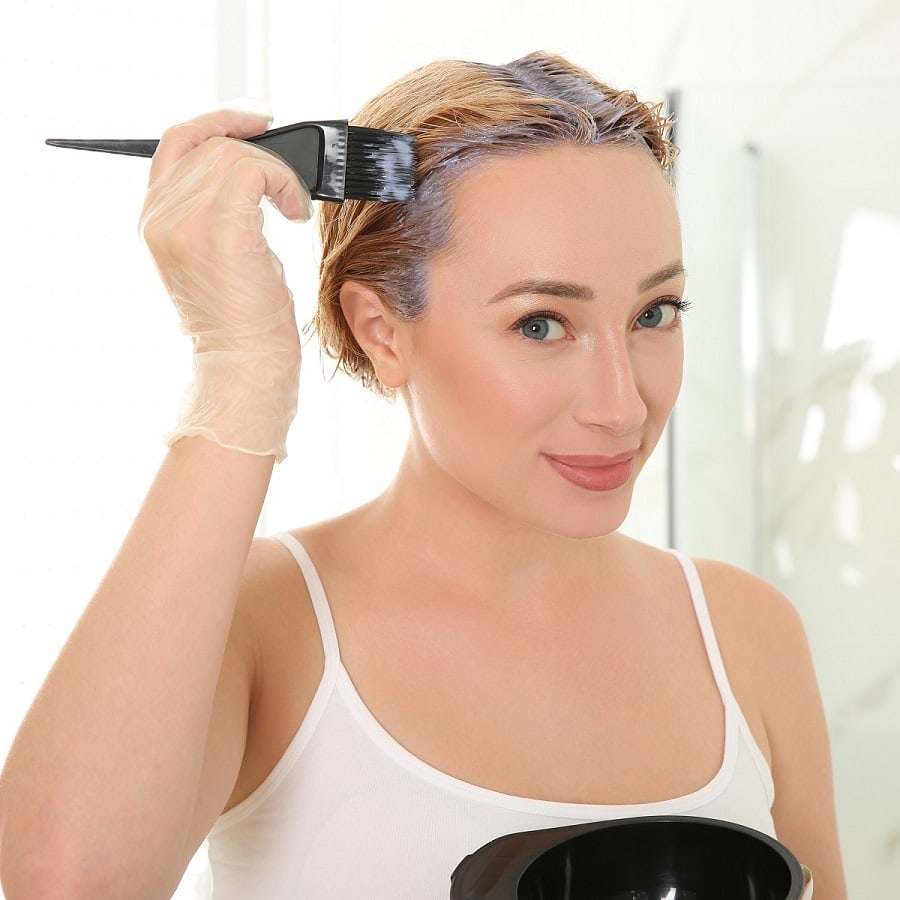 If you want to dye your orange hair silver, the amount of bleach needed depends on how dark and vibrant your base color is.
Generally speaking, if your hair is a light-to-medium shade of orange, one bleaching session with a professional stylist should be enough to prepare it for silver dye.
However, two or more sessions may be necessary to achieve the desired result if you have deep orange locks.
Bleaching your hair can be very damaging. Thus, you need to maintain your hair before the process begins. You should also wait three to four weeks before your next bleaching session, depending on the condition of your hair.
How to Dye Your Orange Hair Silver?
Before you start turning orange hair silver, it's essential to ensure your hair is in good condition.
Before Bleaching
Make sure your scalp is healthy and free from any skin conditions such as dandruff or psoriasis. Also, remember not to wash your hair for at least 24 hours before the bleaching session. The natural oils in your hair act as a barrier and prevent your locks from becoming too damaged.
If you have orange hair color on your locs from before, use a gentle color remover as they are specifically designed for removing artificial dyes from colored hair. This will ensure you have a clean slate before starting the bleaching or hair dyeing process.
Bleach Application
Once all preparations are complete, it's time to apply the bleach, ideally at a salon where they can access superior products and tools. This will ensure minimal damage to your hair.
However, if you've decided to bleach your own hair, ensure you have the right product and it's not expired. Follow the instructions on the label, apply the mixture at the back of your head, and work your way forward. Keep going until all sections are covered evenly with the bleach mixture.
Leave the bleach on for about 30 minutes (or the time mentioned on the box) before rinsing out thoroughly with cold water. Don't use hot water as it will further damage your hair.
After Bleaching
Once the bleaching is done, you need to give extra care and attention to maintain healthy tresses. Use a clarifying shampoo to remove any residue left on your strands before beginning the process of getting silver hair.
Then, you can use either a blue shampoo to neutralize orange undertones or a purple shampoo to neutralize leftover yellow undertones in your hair.
Dyeing Hair Silver
Start by sectioning off small parts of dampened hair before applying an even layer of silver dye all over each strand with a brush until they are entirely saturated but not dripping wet – then leave it on according to the instructions given on the packaging.
Afterward, rinse thoroughly with lukewarm water, followed by shampooing twice using cold water only – this helps seal in pigment molecules, so they don't fade away quickly.
Finally, finish off with a nourishing conditioner tailored towards colored locks, like those containing natural oils such as argan oil or coconut oil. This helps protect hair against fading due to its protective properties against UV rays from sunlight exposure.
How to Fade Purple Hair to Silve
Aftercare
Once the hair dyeing process is over, you need to maintain the vibrant results of your newly dyed silver hair.
Avoid washing it more than twice weekly since overdoing it can strip away essential moisture. Use sulfate-free shampoo and conditioner when washing your hair to prevent hair color from stripping away too fast.
Also, avoid heat-styling tools as much as possible since these can cause even more breakage than usual due to the weakened state of hair after chemical processing! Use thermal protection sprays if you must use any heat-styling tools to minimize damage.
So, What Happens if You Put Silver Dye on Orange Hair?
If you were wondering what happens if you put silver dye on orange hair, well, your hair turns ash or icy blonde, depending on your base color. Now you know that you'll need to bleach your hair once or twice before dyeing it silver.
Make sure to use a blue or purple shampoo after bleaching to neutralize natural brassy or yellow undertones. This will ensure your silver dye is applied evenly to your hair and is vibrant and lustrous.