During your bad hair days, hairspray could act as a savior. It'll help maintain your hair instantly without any hassle. Hairspray also helps your hair to stay in a very windy environment.
But, the problem is that it'll leave residue on the hair and scalp. If it starts to build up and is not cleaned on time, the follicles will get constricted. You're in for another hectic hair day if you don't know how to get hair spray out of hair.
Constricted follicles will eventually lead to irritation and loss of hair. Also, your hair will look heavy and greasy with hair spray residue. That's a pretty steep price you're going to pay for just styling your hair.
But, don't worry! There're some options that you can try out for getting hair spray out of your hair.
Ways to Get Hair Spray Out of Hair?
What do we normally use to wash our hair? Shampoo, right? But, it's not enough to wash your hair with just shampoo for getting hair spray out of your hair. If it was, you wouldn't be here. So, let's have a look at the options we have for removing hair spray.
Baking Soda
This ingredient has a lot of uses other than a bakery. Adding baking soda to your shampoo is a great option to try out for removing hair spray from hair. Your hair might feel a bit rough at first, but it'll get softer after you condition it.
Steps
Take a bowl, and pour 2 tablespoons of shampoo into it
Take 1 tablespoon of baking soda, and add it to the shampoo
Keep mixing the shampoo and baking soda with a spoon till it turns into a smooth liquid
Take a comb with wide teeth, and spread the mixture in your hair with it, keep spreading it until you cover all the hair
Leave it there for around 15 minutes, the mixture will break down the hair spray residue at this time
Wash your hair properly with shampoo, try conditioning if it feels rough
Warm Lemon Water
More or less, the benefits of lemon water are known to all. It contains acidic elements that work as excellent detox. Using warm lemon water in your dry scalp will remove dandruff and hair spray build-up.
The water will break down dry residues and dead cells sitting on your hair follicles. And the acidic lemon water will remove the build-up and clean your scalp.
Steps
Take a cup of warm water, and add some drops of lemon juice to it
Stir the liquid properly with a teaspoon
Spray the mixture in your hair 2 times a week
Leave it there for 10-15 minutes, and rinse through your hair
Dishwashing Soap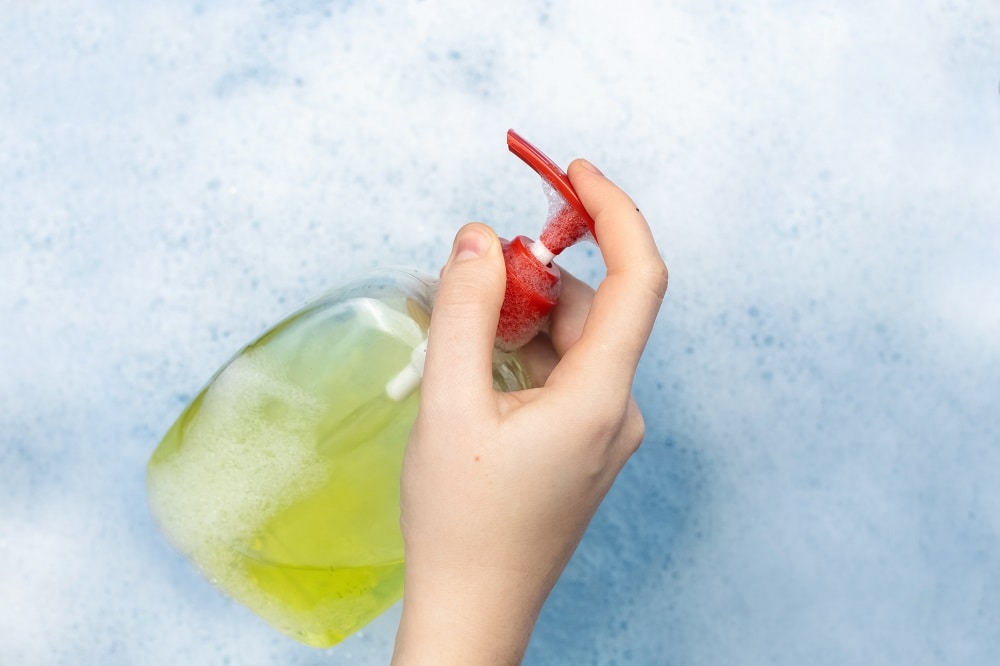 Surprised? Don't be! Dishwashing soaps have a lot of uses other than just washing dishes. Detergent is one of the ingredients of dish soap, which works as an excellent rinser. It's always recommended to use dish soaps along with a soft formula.
But, if your problem is severe and the residue is there for a long time, don't compromise and go for a strong one.
You can go for Dawn Dishwashing Liquid or Sapadilla Liquid for better results.
Steps
Put some dish soap in a bowl
Apply some soap to your hair using a comb
Leave the soap on your hair for around 15 minutes
Rinse your hair properly and wash the soap away
Clarifying Shampoo
If using dish soap or baking soda on your hair isn't something you want to do, then simply switch to clarifying shampoo. They've got a large amount of SLS (Sodium Laureth Sulfate) that's similar to detergent but much more suitable for hair.
Davines Solu could be a good option for you if you want to use a clarifying shampoo on a regular basis. If budget is an issue, then you can choose Suave Naturals.
Micellar Water
People use Micellar Water to remove layers of makeup from their faces. It's made of soft surfactants, glycerin, and purified water. These are elements that work as cleansing agents.
The liquid also works as an excellent detox to clean your skin. Using it on your scalp will clear out the follicles and remove the entire hair spray residue.
You can try Aveda Micellar Water to get the best results in a short time.
Steps
Take a cup of Micellar Water, and rinse through your scalp and hair with it
Leave the water on your hair, and scalp for 10-12 minutes
Rinse your hair properly and see the results
ACV or Apple Cider Vinegar
Using Apple Cider Vinegar in your hair will wash all the residues away. But, you can't use it instead of the shampoo.
This liquid contains acid, which helps to remove hair spray residues. It also works as an antibacterial remedy and removes dandruff-creating bacteria.
Steps
Wash your hair properly with shampoo
Take a cup of water, and add 1 tablespoon of ACV to it
Mix it properly with a spoon
Clean your hair with the mixture to remove the hair spray out of your hair
Bonus Tip – Use a Brush Made of Boar's Bristles
As the name states, these brushes that we recommend are made from bristles of boars. They're soft but create enough force to clean your hair. Using these brushes won't let your hair break down or bend.
Also, they're great for removing dead cells, dandruff, and of course, hair spray residue out of your hair. We recommend using the brush from Mason Pearson for best results.
Frequently Asked Questions
Can I brush hair spray out?
It's not recommended to brush through your hair after you've used hair spray on it. When you use the spray, it makes your hair stay in one place.

Combing or brushing through will break the hair due to the opposing force. So, you should brush your hair after you've washed the hair spray out of your hair.
Is it harmful to my hair to leave hair spray overnight?
Yes, it is. Leaving it for a long time will start damaging your hair. Also, hair spray contains a lot of chemicals that are not helpful for your scalp. They'll start to pile up faster in your follicles if you leave them for a long time. Eventually, you'll face hair fall and irritation.
Is it bad to use hair spray?
Simply put, it's not. If you use hair sprays from reliable brands, you can use them without any worries. But, no matter what you use, just don't leave it in your hair for a long time.
Also, not all hair products are suitable for everyone. It's better to seek professional help and assess what type of product is good for your hair.
Is there any hair spray that won't leave any residue?
No, there isn't. You may find a lot of attractive advertisements that say otherwise, but know that no matter what hair spray you use, it's bound to leave a residue if left for a long time.
But, it's always recommended to use good hair sprays, so it doesn't damage your hair. Moroccanoil Luminous and L'Oreal Paris Elnett are some of the high-quality hair sprays that you can use.
Is there any side effect to using hair spray?
Other than leaving residues on your scalp, hair sprays may create some other side effects as well. Some hair sprays could generate allergic reactions to your skin. So, it's better to put a little bit of spray on your skin and leave it there for at least 24 hours. Wait and see if you face any allergic reaction.

Although it may sound surprising, hair sprays can also affect your lung and become a cause of low blood pressure. But, not all these side effects are universal. There's a high chance that you may not face some or even any of these side effects. So, it's best to try out a bit first, as we mentioned.
Final Words
By now, you should know all about how to get hair spray out of hair and why you need to do it. Hair sprays are extremely useful for styling your hair. Using them will save a lot of precious time when you're in a hurry. But, leaving them in your hair for a long time will get you nothing but loss of hair.
So, try out the options we covered in this guide and see what works for you. If you find that none of these are working, you should seek medical help before it's too late.
More Related Articles: