Have you rocked a stunning shade of copper hair, but it's starting to fade quickly? Maintaining that gorgeous color can be tricky if you don't take proper care of it, which brings about a common question: what color does copper hair fade to?
Luckily, we're here to give you all the information regarding this question, so read on!
What Color Does Copper Hair Dye Fade to?
Copper hair color is a shade that can make you feel youthful and full of energy. The only downside is that it fades pretty fast. As time passes, your copper locks will lose their shine and start to fade.
So what color does copper hair fade to? Well, copper hair dye fades to shades of orange, red, or brown, depending on your natural hair color and the dye you use. It usually starts with a bright orange-red hue before mellowing into a more subdued reddish-brown over several months.
Plus, the fading process can differ for everyone, depending on your hair type, the copper shade you used and how much time you spend in the sun.
How Long Does Copper Hair Color Usually Last?
Copper hair dye can last anywhere from 6 weeks to 8 weeks.
Plus, keep in mind that the type of dye used also plays a big role in how long your copper color will last. Generally, permanent dyes tend to be more durable than semi-permanent ones.
However, just like with any hair color, a few things can make the fade process faster, like washing your hair frequently or exposing it to sunlight or harsh chemicals.
So, to help your copper color last longer, it's best to use gentle products made specifically for colored hair and try to avoid direct sun exposure.
How Do I Keep My Copper Hair From Fading Fast?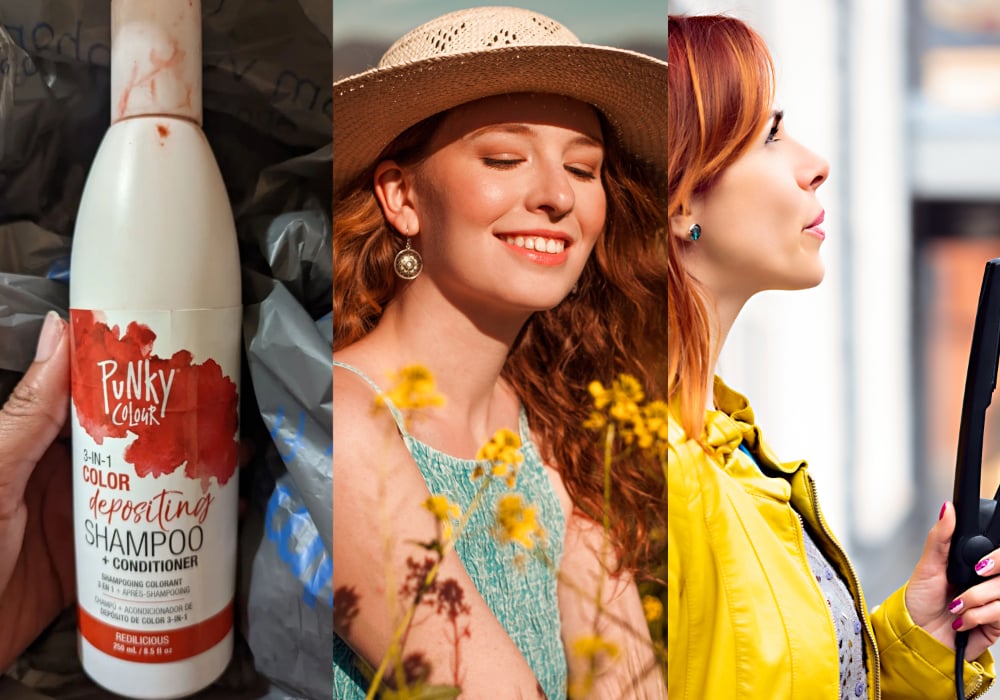 Maintaining copper hair can be challenging, but there are some easy ways to keep your color looking fresh and vibrant.
First up, choose color-protecting products. Opt for shampoos and conditioners that are specifically formulated to deposit color and lock in existing hues.
Another important tip is to avoid harsh hair products. Look for hair care products that are free from sulfates and parabens, which can strip your color and leave your hair looking dull and lifeless.
Heat styling tools can also be detrimental to your copper color, causing it to fade faster. To avoid this, try limiting your use of these tools or use a thermal spray before styling to protect your hair against heat damage and lock in moisture.
Lastly, be mindful of sun exposure. Too much direct sunlight can cause your hair color to fade. To protect your hair from harmful UV rays, wear hats or scarves outdoors to reduce direct sunlight exposure.
By following these simple tips, you can keep your copper hair color vibrant and healthy for months.
FAQs
Does copper hair color fade?
Yes, copper hair color does fade over time. It's essential to take extra care of your hair if you have a copper shade, as it can become dull and brassy with exposure to the sun and other chemicals.
Does copper hair dye fade quickly?
Yes. But, how quickly your copper hair fades can depend on a few things, like your hair type and exposure to the sun, chlorine, or salt water.
What color gets rid of copper hair?
Copper hair can be difficult to remove, but it is possible. The best way to get rid of copper tones in your hair is by using a purple-based shampoo or toner.

Purple works opposite of orange and yellow on the color wheel, so it will help neutralize those warm tones.
So, What Color Does Copper Hair Fade To?
To answer 'What color does copper hair fade to?', copper hair fades into orange-brown hues.
To keep your copper locks looking fabulous, knowing what causes the color to fade and how to prevent it is important. Remember to use products for colored hair, don't over-wash or heat style, and avoid sun exposure.
And if your copper color has faded, try using a semi-permanent dye or gloss to revive it, and enjoy your luscious copper locks for longer!