A purple shampoo can be an easy solution when your orange hair starts to look brassy. However, most people are stranded on the issue of how long to leave purple shampoo for orange hair in.
Purple shampoos balance the yellow undertones in your hair, giving it a cooler, more even appearance. If you want to know how to best use these products and how long to keep them on your hair, we have the answer below.
How Much Time to Leave Purple Shampoo on Orange Hair?
It's recommended to leave purple shampoo on for 3-5 minutes. For the best results, apply the shampoo to damp hair, lather it up, then leave it for 5 to 10 minutes before rinsing thoroughly. However, always follow the instructions on the specific product you are using.
What Will Happen If You Leave Purple Shampoo on Orange Hair for Too Long?
If you leave the purple shampoo on for too long, you risk the following outcomes:
Unattractive results: If you leave the purple shampoo on for too long, it can become dull and flat with a slightly purplish hue because it will "over-tone" your hair and leave it looking muddy.
Damage to Your Hair: The combination of the chemicals in the shampoo and extensive exposure to it can cause damage to your hair, leading to dryness and breakage. Ensure you leave the shampoo on for a short time to avoid this problem and extend your color treatment.
You don't want to mess up your orange hair, so don't let the purple shampoo sit on it for more than 10 minutes.
How To Use Purple Shampoo on Orange Hair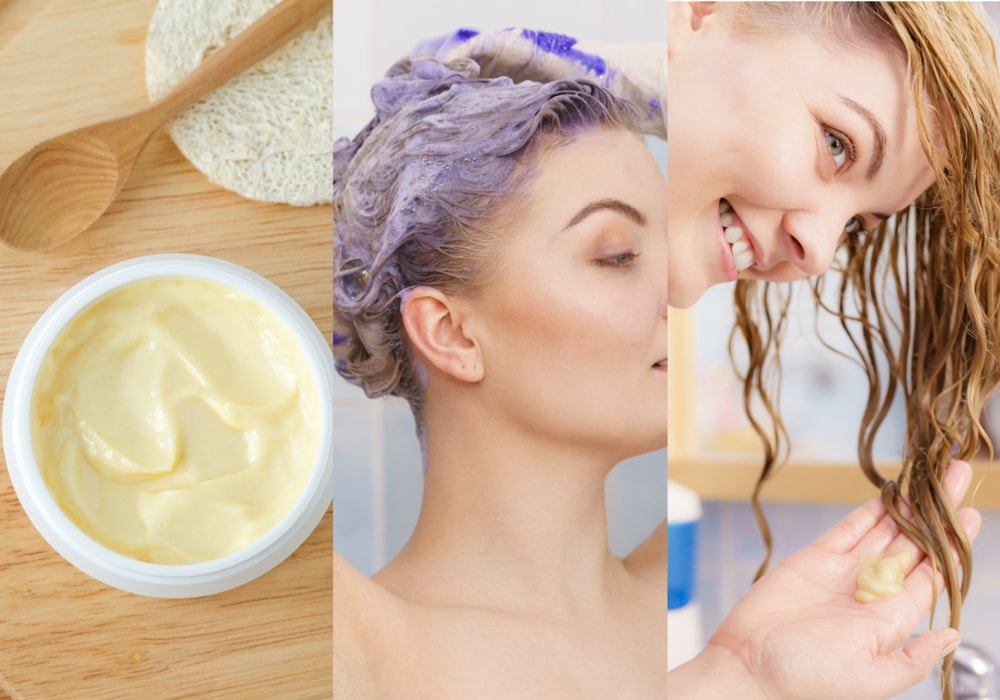 Shampooing your orange hair with purple shampoo can be a tricky process, so it's important to prepare your hair ahead of time.
By following these steps, you can enjoy the benefits of toning your orange hair with purple shampoo while avoiding undesirable outcomes.
Step 1: Deep Condition Hair
Use a deep-conditioning mask before using purple shampoo. This step can help to provide some protection from the shampoo, as it can be quite harsh. If your hair is especially damaged, use a protein-based deep conditioner to help strengthen and protect it.
Step 2: Use a Clarifying Shampoo
Start by washing your hair with a clarifying shampoo. It will help remove residue, dirt, and product build-up that can interfere with the toning process. Your next step will be to rinse and towel dry your hair to damp.
Step 3: Apply the Purple Shampoo
It's time to apply the purple shampoo. Lather it up and work it into your scalp.
You'll want to leave the shampoo in for five minutes if it's your first time using the shampoo. If you want to increase the toning effect, leave it on for 5-7 minutes but not more than 10 minutes.
Step 3: Rinse Thoroughly
Next, rinse your hair thoroughly with cold water, making sure to remove the shampoo from your hair. Be careful not to tug on strands, as you don't want to damage your locks.
Step 4: Apply Conditioner and Rinse
Finally, apply a conditioner to lock in the moisture and rinse again with cold water. All that's left is to dry your hair and style it as usual.
Frequently Asked Questions
If you have related questions on how long to leave the purple shampoo on orange hair, you are not alone. The answers to some of the most frequently asked questions include the following:
How often should I use purple shampoo in a week?
You can use purple shampoo as often as twice a week, but it depends on your hair's condition. If you have dry or damaged hair, you want to limit your use of purple shampoo to no more than once a week.
Can I leave the purple shampoo overnight?
You shouldn't leave purple shampoo in your hair overnight. Doing so can cause over-toning and damage your hair. Instead, follow the instructions and leave the purple shampoo for 10 minutes tops.
Are there any alternative ways to eliminate orange tones in my hair?
Yes, there are a few other ways to counteract orange hair. You can use a blue shampoo, toner, or purple conditioner.
So, How Long To Leave Purple Shampoo on My Orange Hair?
You should use purple shampoo on orange hair for the best results for no more than 10 minutes. 5-10 minutes can ensure your hair achieves a balanced, cool-toned look without damage or over-toning.
Before shampooing with purple shampoo, ensure to deep condition your hair to help protect it from the harsh ingredients, and wash it with a regular shampoo before using purple shampoo.
More Related Articles: