If you are born with thick hair then there is no doubt that you are envious of lots of women throughout the world. Along with it, you do not have to face the problems like limp hair or the lack of volume in various hairstyles.
Most of the time, if you have thick hair, then length can create some problems. You can feel heavy or it becomes unmanageable. In this case, you can make your hair short in length anyway.
But before it, consult your barber to get the best hairdo for your beautiful hair. There are lots of options for hairstyles for thick and short hair. All of those styles are absolutely perfect for a brown blonde bob or short sassy bob or any pixie or bob cut. So try the simplest way to make your thick hair easily manageable.
Stop getting confused and chop it off. If you are thinking of having a short hairstyle then you will get so many positivities like easy to manage, less time taking, looking younger than ever and so on.
This article will provide you some spectacular short hairstyles for thick hair for yourself. Choose the appropriate one for you on the basis of the texture and volume of your hair.
Medium Layered Hairstyle
If you are thinking of having short hair but want to look beautiful at the same time then Medium Layered Hairstyle is the best one for you.
In this hairstyle, you will get hair till the shoulder length. But as your hair is thick, so you can use a mild curler to get the fluffy look in your hair. Use a blow dry to set the curl properly. These curls can make your face more prominent and gorgeous.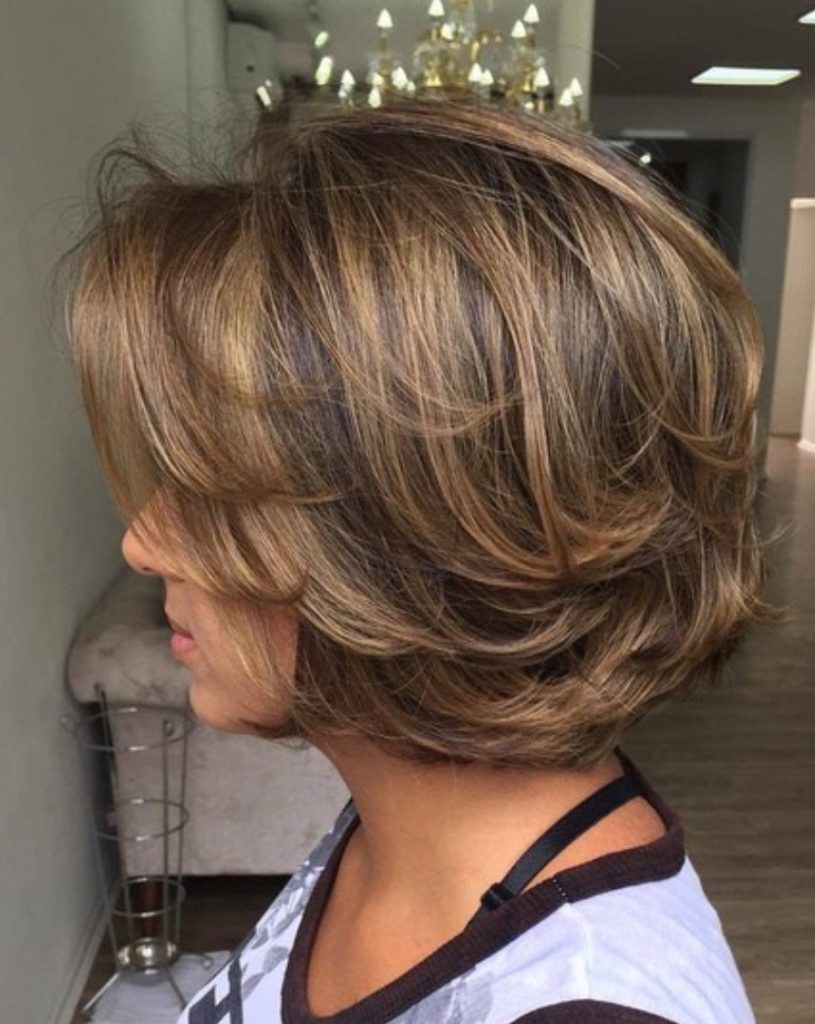 Pixie Cut for Thick Hair
Pixie haircuts are very much "in" in the recent days in the fashion world. There is no doubt that this hairstyle is one of the best styles for girls with short and thick hair. Pixies are not manageable in the long hair as it is extremely heavy to maintain.
Sometimes it also becomes messy in the wrong places if it is not short. So try to wear this look in short hair only. Moreover, this hairstyle looks extremely pretty in black hair. To feel a total change in your look get this hairstyle immediately. You will surely feel airy and chick from all the heavy and blocks hair.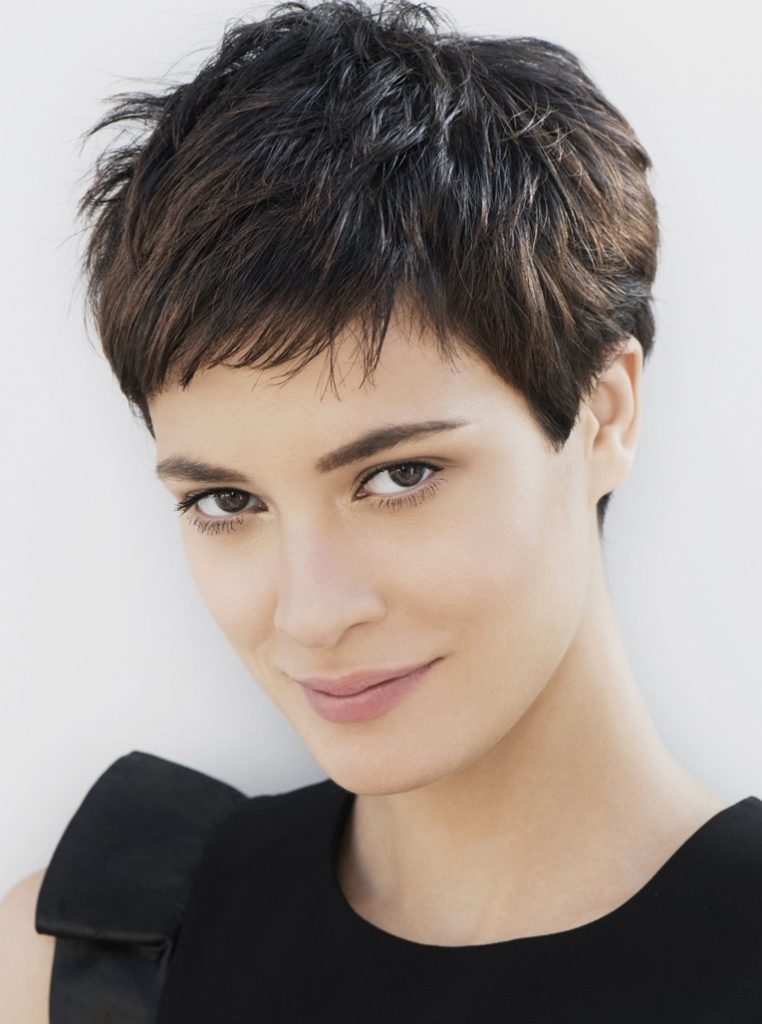 Highlighted Short Pixie Hair
Pixie haircut only demands short length. But it never wants only straight hair ever. So it really does not matter whether you have wavy or straight hair. If your hair is thick with enough texture and volume, you will surely have this cut for a change.
In this hairstyle you will get equal hair through your head. Try to highlight your hair with some prominent color and slay the world.
Side Part Bangs
This particular hairstyle is the best for girls with short and thick hair. If you try for this look you will surely get to feel the differences in a short time.
If you have straight hair then you can wear this look. Create a side parting and leave a front lock to get the real essence of this look. This hairstyle can give you an elegant and classy look at the same time.
Bob with Edgy Flair Style
This beautiful hairstyle is perfect for those women who stay busy throughout the day and get very little time to take proper care of hair and skin. It will take less time to set properly and will give a chic look.
This style provides the look of an asymmetrical bob along with the undercut. By spraying some pomade use blow dry on the damp hair to look-alike this. This edgy flair will surely attract everyone.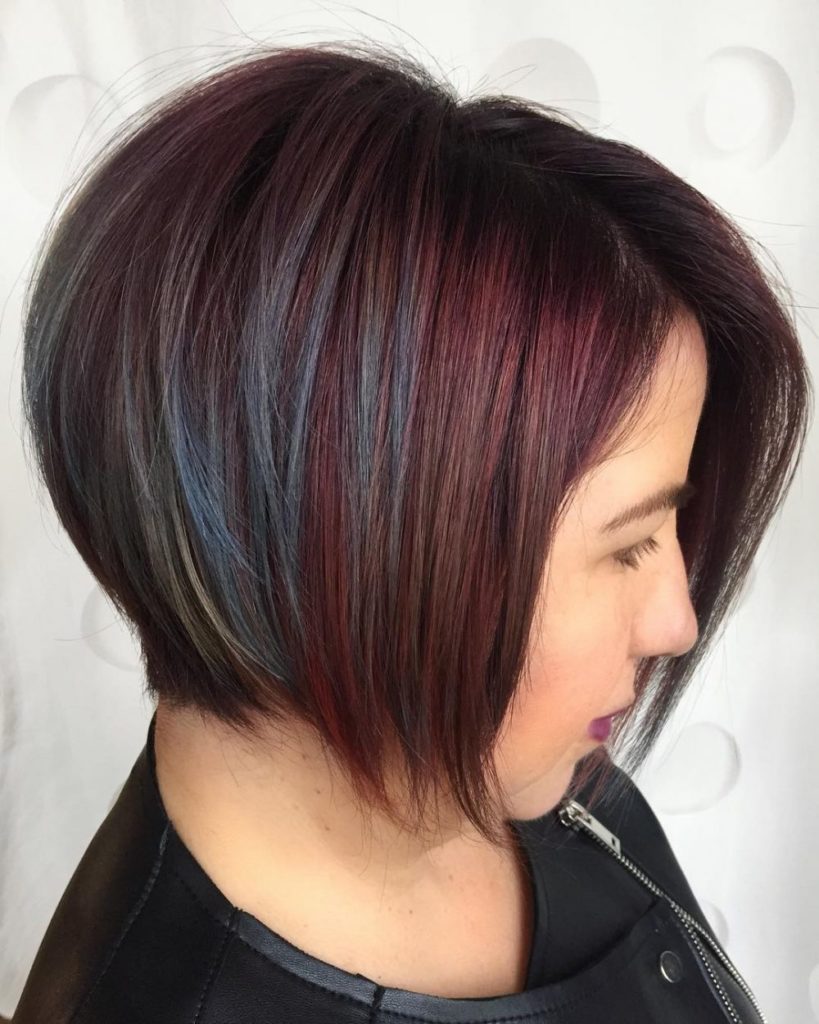 Blonde Balayage Bob
If being shaggy is not a cup of your tea, then you can try this easy yet beautiful hairstyle to rock the world. This trendy bob cut with chopped layer will provide you a completely new look which will make feel younger even.
This shoulder length haircut features some little tiers with edges cut in different angles. So you are getting a special twist in your hairstyle which is very uncommon among the girls still. Dye your hair with blonde to finish the look.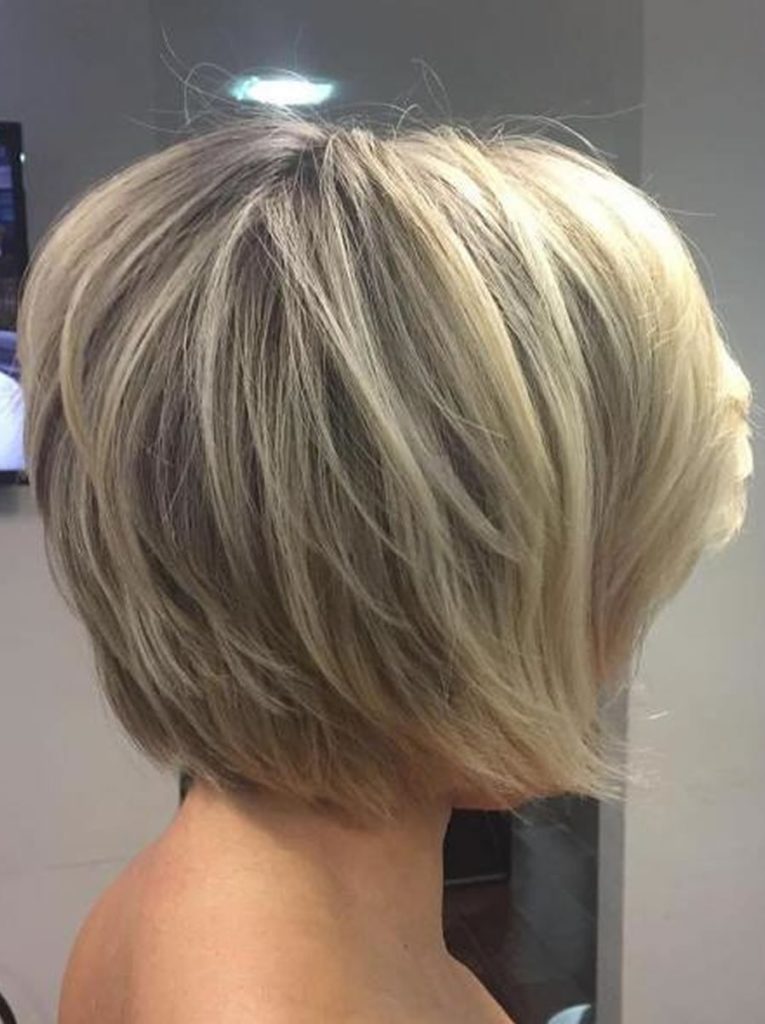 Short Layered Haircut
If you are crossing the limit of 40 years old but still want to be fashionable like ever then this hairstyle is absolutely perfect for you.
In this style, your hair will be long till your shoulder with multiple layers. The front locks and fringes will enhance the beauty of this look. It will make sure that you are still in the competition to slay the fashion world.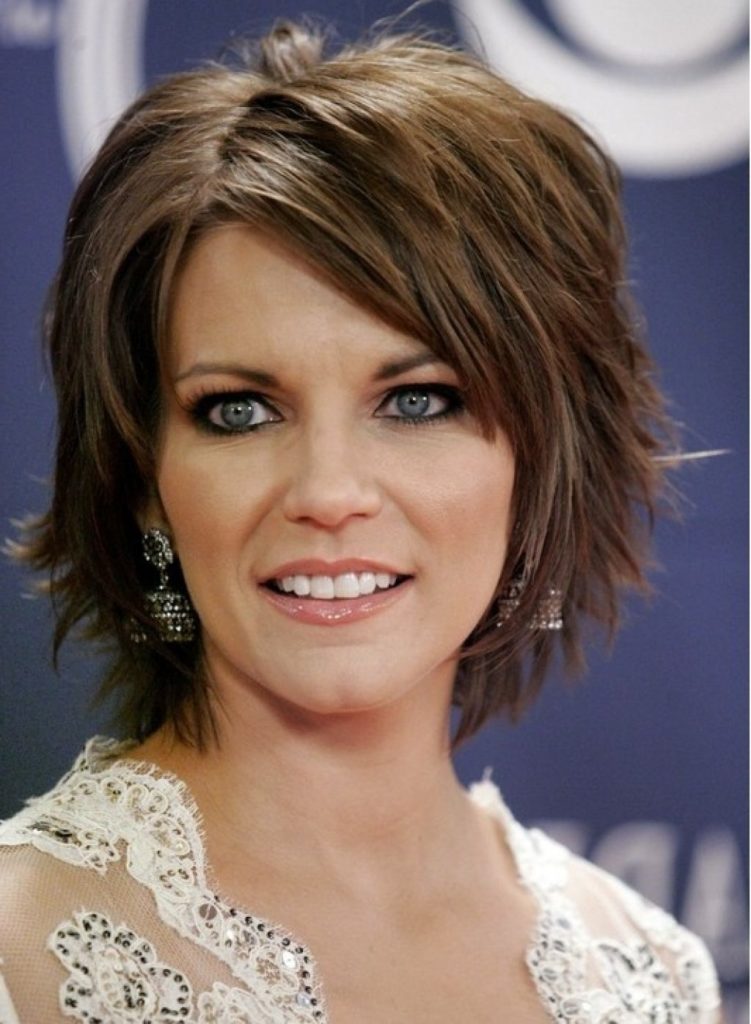 Tom Boy Short Hairstyle
There is a slight difference between hair thickness and hair density. So having a lot of thin hair options is also there. In this case, you can try this tom boy style short haircut. It is completely different from the other which is mentioned in this article.
His boyish haircut with some short hair on the side along with the light wave on the top is definitely the winner for those girls who do not want any hectic regarding this.
Pixie Cut with Long Bangs
If your hair is short in length and has a medium wave on the top, then you must try this hairstyle for a stunning look. In this hairstyle, the front side will have longer hair with which you can make a side parting. It will give you a look of sidelong bangs which will add more beauty to your look.
The other side will have short hair. Proper eye makeup and medium dark lip color will complete the look perfectly. Women with oval-shaped faces can try this hairstyle.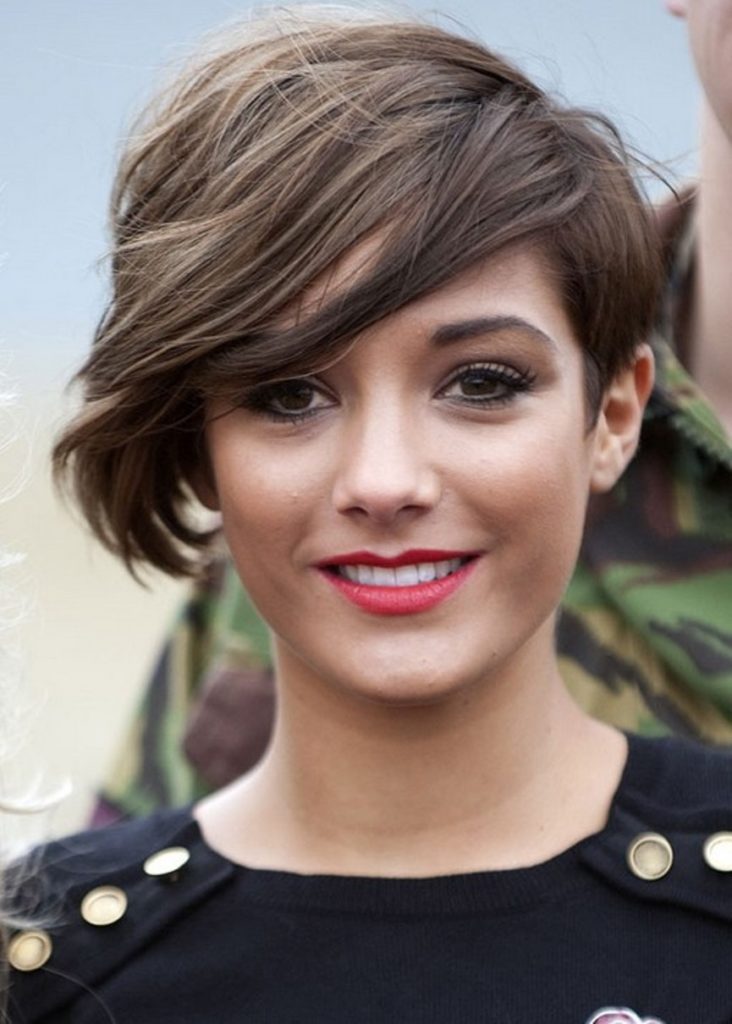 Curly Short Hairstyle
If you have short and curly hair you can try this style. This hairstyle is also called the overgrown pixie haircut. In this hairstyle, the front side of your hair will be longer like locks which will emphasize your curls. The natural waves and curls add more prettiness to this look.
You can easily maintain it when you are out for a long day. It can make your appearance gorgeous and prominent at the same time.
Short Brown Hair
This hairstyle is very simple yet cool. Women of every age are very busy in recent days. Most of them do not get time to maintain their property. So most of them are getting their hair chopped with some beautiful and stunning cut. This hairstyle is one of those.
In this style, the front part will get a long lock and side parting and the backside will be shorted till the bottom part of the neck. You can dye your hair with a prominent red color to enhance the beauty of this style.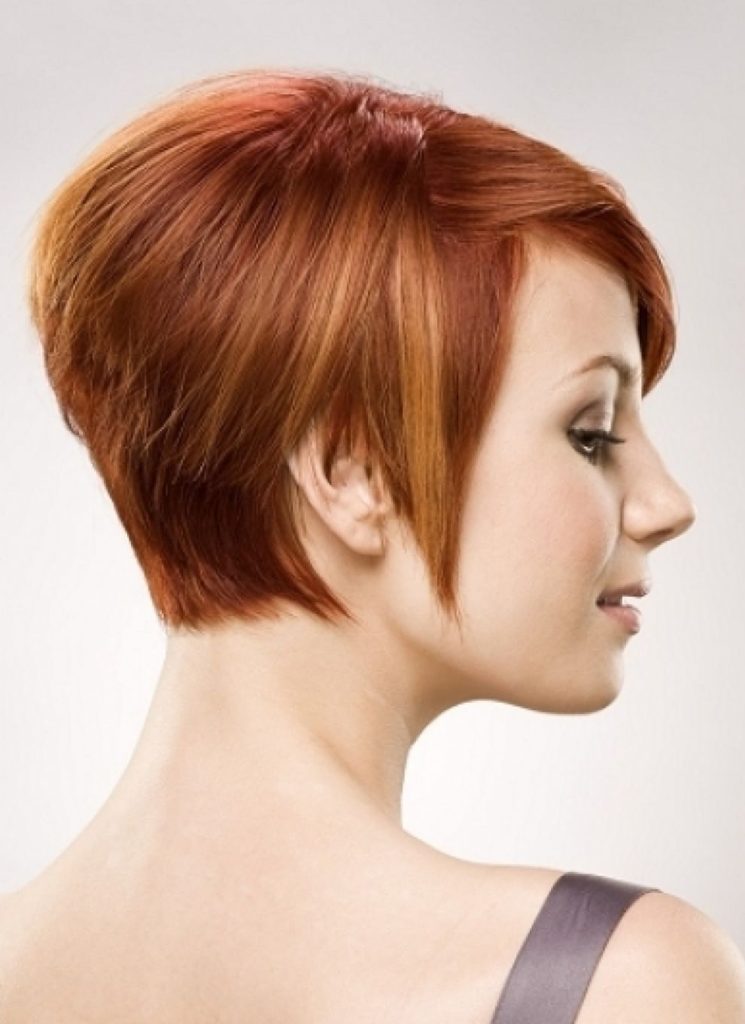 Inverted Bob with Bangs
This hairstyle provides a stunning and splendid look to women with short and thick hair. This hairstyle is absolutely perfect for both formal and informal attire.
In this style the top portion is always teased up for extra volume. Both of the neat and beautiful inverted looking bangs help the short hair look more glamorous in a satisfying way.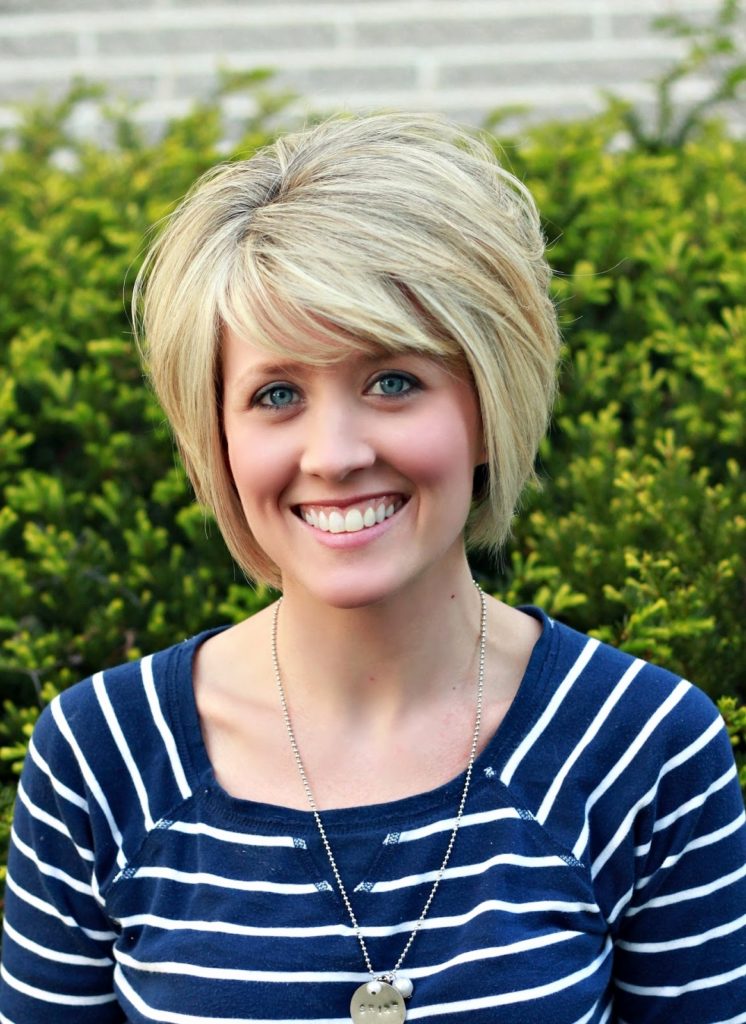 Short Hair Undercut
Undercut hairstyle is mostly popular among the boys. But when a woman takes the plunge and wears it with full confidence then this can slay the world of fashion within a moment. This haircut gives a very bold look.
In this style, the front part will have thick and curly hair but the backside will get the undercut to make you stand out from the boring hairdos. This hairstyle is very popular and perfect for modern ladies with thick hair.
Dark Black Layered Hairstyle
This beautiful bob haircut gives you a cute look. Women of any age with thick, short and black hair can wear this style to rule the fashion world. This is also called tousled bob.
In this style a single side after the partition will have longer locks and the other side will be short. The proper eye makeup will make this look more beautiful. The layers will be the showstopper of this haircut.
Blonde Pixie
This blonde and beautiful pixie cut is one of the most beautiful haircuts for the omen with short and thick hair. This pixie cut has front fringes and locks which will make you look younger than ever.
Though the front part is long and wavy the back part will still remain short to justify the whole look. Side parting will also add some extra points to this stunning look. Nude makeup will perfectly compliment this whole appearance.
The Neat Bowl Cut With Neon Highlights
Imagine a neat bowl cut but with stricts of bright hair color. You will be standing out in the crowd but in the most brilliant ways. This is the perfect way to be stylish. This short hairstyle for thick hair is in absolute demand.
Sassy dyed pixie with side bangs
A pixie but with dyes like blue and red is not only fun but a huge fashion innovation. Colors are in the season and you should use this opportunity to make your pixie hair look stylish and amazing. Add long side bangs to give a chic, classy appearance to it.
Bright tousled quiff
Bright hues like pink can make short hairstyles look tons better. This tousled quiff is given a very fascinating look by adding bright colors like neon pink or red. If you have a broader forehead, this hairstyle will make your face look balanced.
Coarse dyed mohawk
Not all short hairstyles for thick hair need to be short. You can make your short coarse hair look stylish with your curls with this Mohawk. This is one of the best short hairstyles for thick hair if you are looking for an interesting shape.
Classic Bob with side swept bangs
A super cute Bob haircut can look even cuter with side swept bangs. This haircut can make you look young and fun. The haircut is simple and does not need more maintenance. If saving time is your priority this hairstyle is perfect for you.
Neat classic Bob haircut
Here is a haircut for those who want to keep it simple and formal. This classic Bob haircut does not need you to go to great lengths to style it. It's simple and classy enough to carry a good look.
Blunt bob with thick straight bangs
This blunt bob takes an intriguing shape with the addition of thick straight bangs. It makes your face look younger and more appealing.
'Fun' is the word that perfectly describes this haircut. And, what's even better is that it does not require much effort to maintain.
Edgy short layered pixie
If you have thick hair that's on the coarser side, a short layered pixie is going to look amazing on you. The hair will remain at its place and look stylish at the same time. Shorter the pixie cut is, the easier it will get to style and maintain it.
Wavy short bob
Beach waves are amazing, especially when styled as a Bob haircut. For thick hair, long waves can be quite a hassle. So, go for a short bob that can make your face look younger and will also not need hours to style. You can also use hair tools for more styling.
Undercut dyed feathered hairstyle
Always a classic, the undercut feathered hairstyle is always an appealing approach. What you can do to make this common hairstyle uncommon is by adding colors to your hair.
Choose ones like blue or purple to make it look fun and keep the top layers long for more texture.
So it's time to enjoy a few major eye candies with these beautiful Short Hairstyles For Thick Hair and flaunt.