There is something about the men with beards- it naturally adds so much style and charisma about them that it gets hard to resist their attraction. The beard is one look that will never go out of style no matter what look or type you want for yourself. There are all kinds of beards- some that make you look younger, some that make you look bolder but all of them definitely make a man look better. There are some hairstyles that just look better with a nice beard. It seems like the beard completes the look with these hairstyles. When it comes to Mens Hairstyle with Beard, you are spoilt for choice.
Mens Hairstyle With Beard
Just select the one that you feel best goes with your style. If you are looking for a complete makeover to your look, then you must know that changing just the haircut or the hairstyle will never be enough. Nothing gives a complete turn to your daily look than the beard. You can go and do the full beard or keep a light stubble. No matter what look you choose for yourself, you need to make sure that the beard is given as much care as you give to your hair.
Side Parting Hairstyle With Beard
Recreate the old-world charm with this classic look that will never go out of fashion. Match your carefully kept beard with a great hairstyle in this look. Create a parting on the left side of your hair and then brush the hair well after applying some hair gel. You can keep it slightly cropped on the extreme ends of both sides to add more detail to the look. This one is the ultimate is getting the look of the suave and sophisticated gentleman that you are.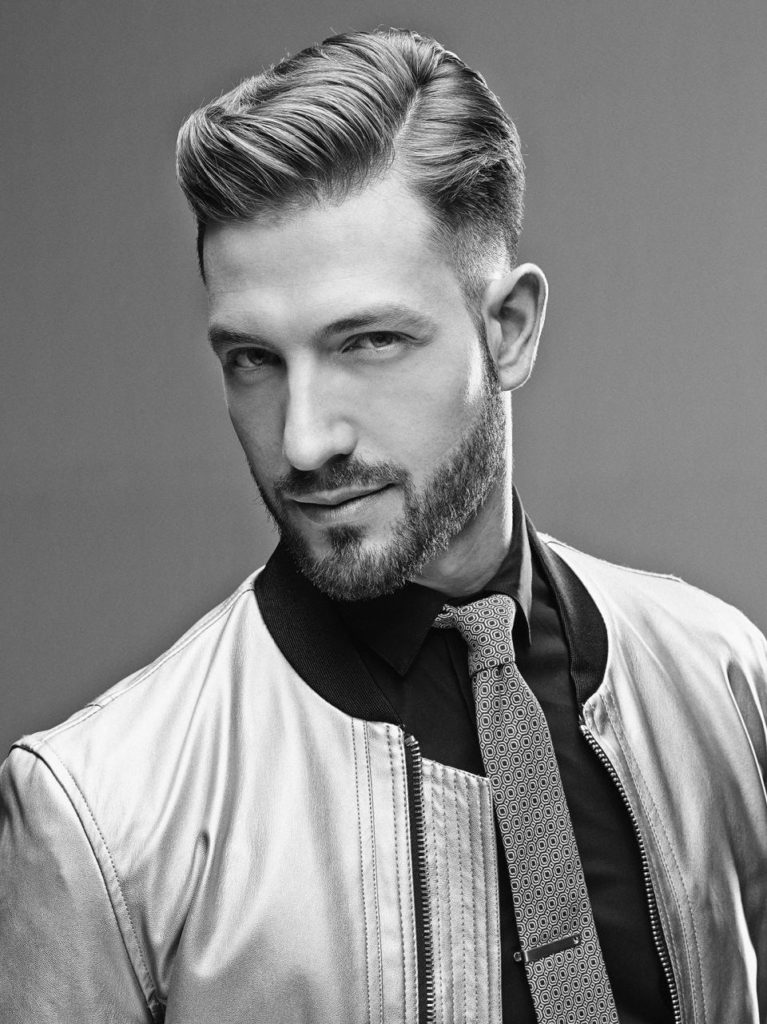 Back Slick Hairstyle With Lumberjack Beard
Create the look of an alpha male when you combine the lumberjack beard with a slicked back hairstyle. This is also the look to try out when you feel like experimenting with your regular style. Use ample hair gel to slick back your hair. Growing a lumberjack beard is not something you can do in a day. But it is totally worth it when you look at the end result of the look. This look can be tried by any mature man to look great.
Undercut Back Slick Haircut With Beard
Combine the bushy beard with an undercut hairstyle to get this wow look. In the undercut hairstyle, the hair on the sides is cropped to keep it short. The hair in the center is kept really long and then slicked back using hair styling products. You can add some color to both your hair and the beard or just your beard if you want so. This is one style that looks great on both dark and brunette hair colors.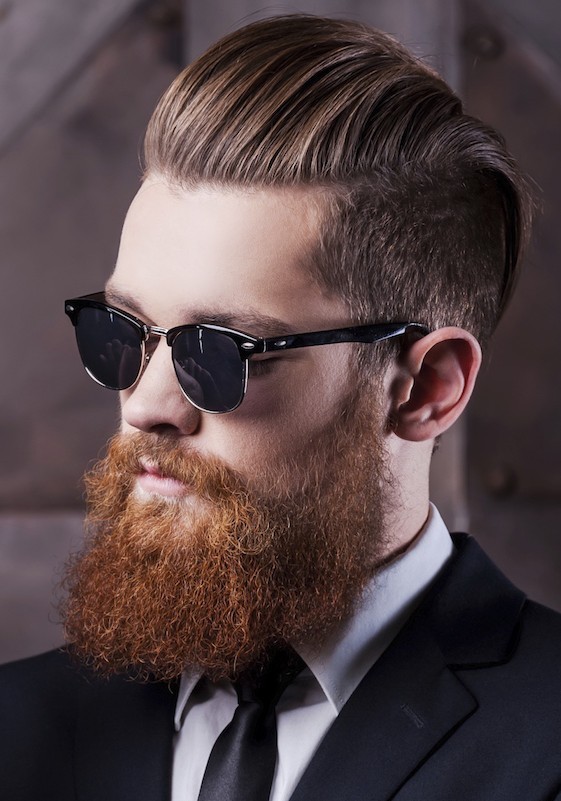 Mens Short Hairstyle with Beard
There is no reason to think that a nice and well-kept beard looks good only with long or medium length hair. A great beard can be made to look even nicer with a rightly styled short hairstyle. Keep the hair short and brush it frontwards. Brush your beard well too when you complete the look to step out with confidence. This look is subtle and sophisticated enough to be carried at both office and the parties that you attend after your office.
Mens Curly Hairstyles With Short Stubble Beard
This one is for the handsome men who are blessed with a curly mop of hair. Even if you do not have curly hair naturally, you can ask the help of your hairstylist to get the curls done on your hair. The thing that goes perfectly well with such great hair is short stubble. Get your trimmer to work and trim your beard to perfection. It is the look to try for the next party with friends or date with your special someone.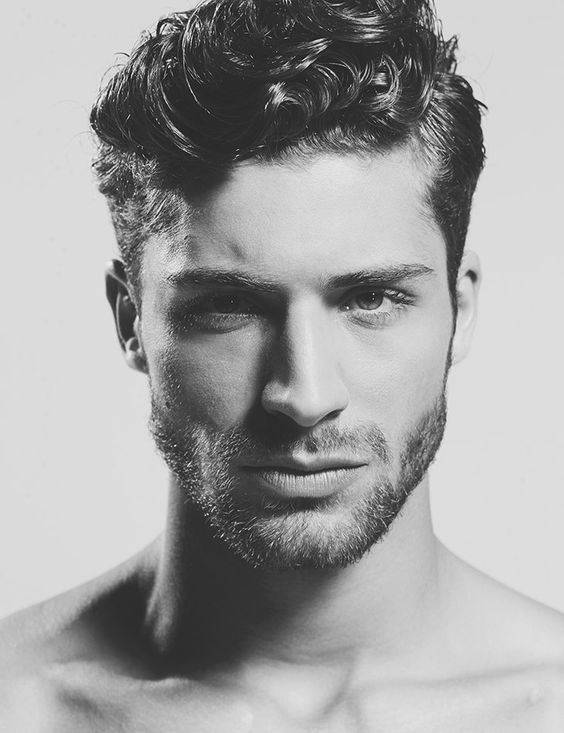 Brush Back Mens Hairstyles With Medium Stubble Beard
Heads are sure to turn your way when this beard frames your face while the cool hairstyle adorns your head. Trim your beard to keep it at medium length. Then it is time to turn to your hair. Brushback your hair and keep the sides of the hair of smaller length than the part in the center. This look is preferred by most men as it is low on maintenance but high on style quotient.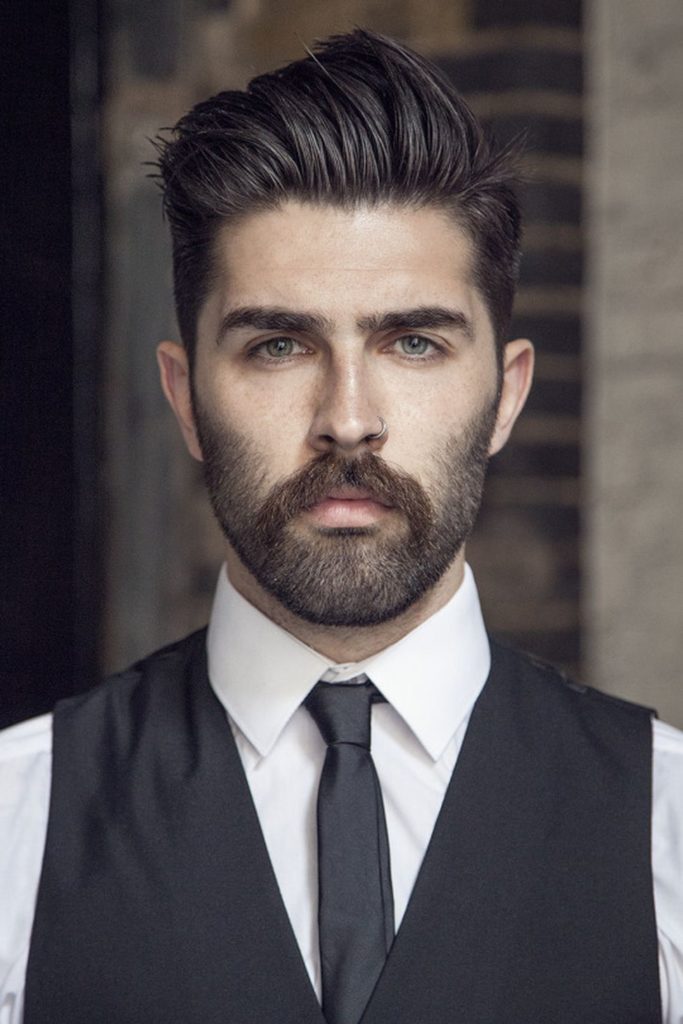 Spiky Mens Haircut With Long Stubble Beard
The spiky hairstyle looks really edgy when you couple it with a long stubble beard. You can make it look even edgier than ever by coloring your hair in unique colors like grey. Keep the hair long enough in the center to ensure that you can make prominent spikes. Let the beard be dark in color as then the contrast of the color of the beard and the hair looks really nice altogether. You must give this look a try for your next party.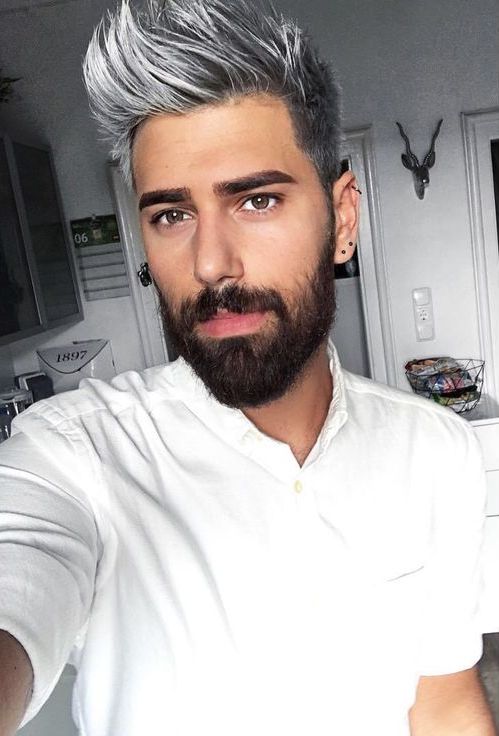 Sideburn Fade Haircut With Full Beard
Go all out with this style that demands you to keep your beard long and well kept. Make a prominent parting on the right side of your head. The hair to the right side of the parting must get cut in such a way that you get the fade effect. The beard should come as a continuation of your sideburn. Apply some hair gel on the long hair to the left of the parting and then brush it well to complete the look.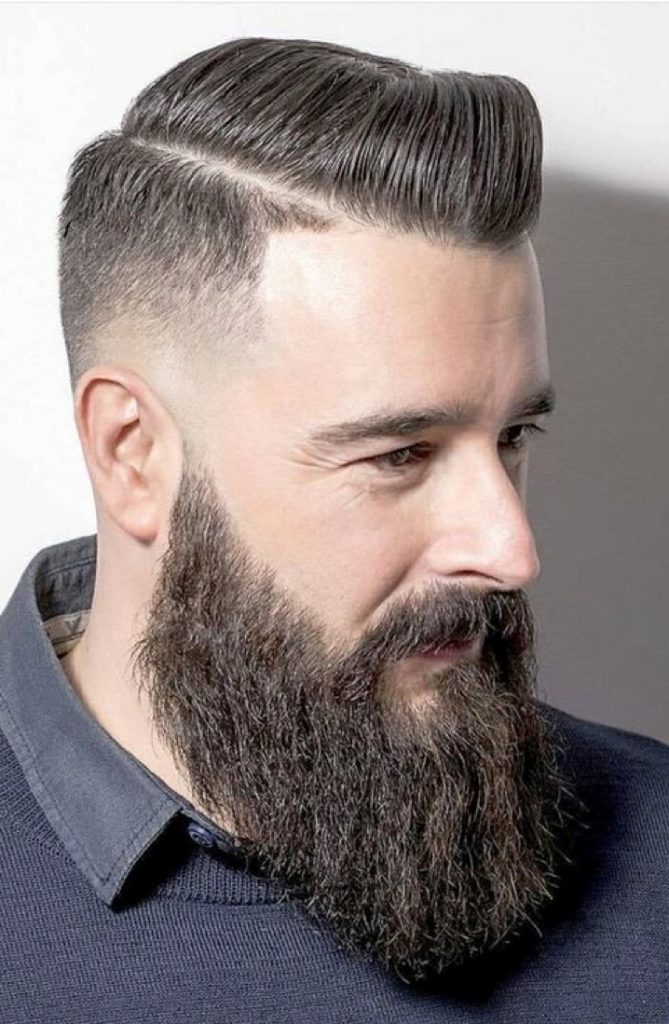 Blonde Short Haircut With Ducktail Beard
The great thing about the ducktail style of beard is that it suits any kind of facial shape. It is called so as the beard just below your chin is kept a bit pointed just like the tail of a duck. It needs really good grooming to keep this beard which is one of the most stylish beard looks. The hairstyle is perfect for the men who are the proud owners of a blonde mane. Just brush your medium-length hair back and you are ready to take on the world with your new look.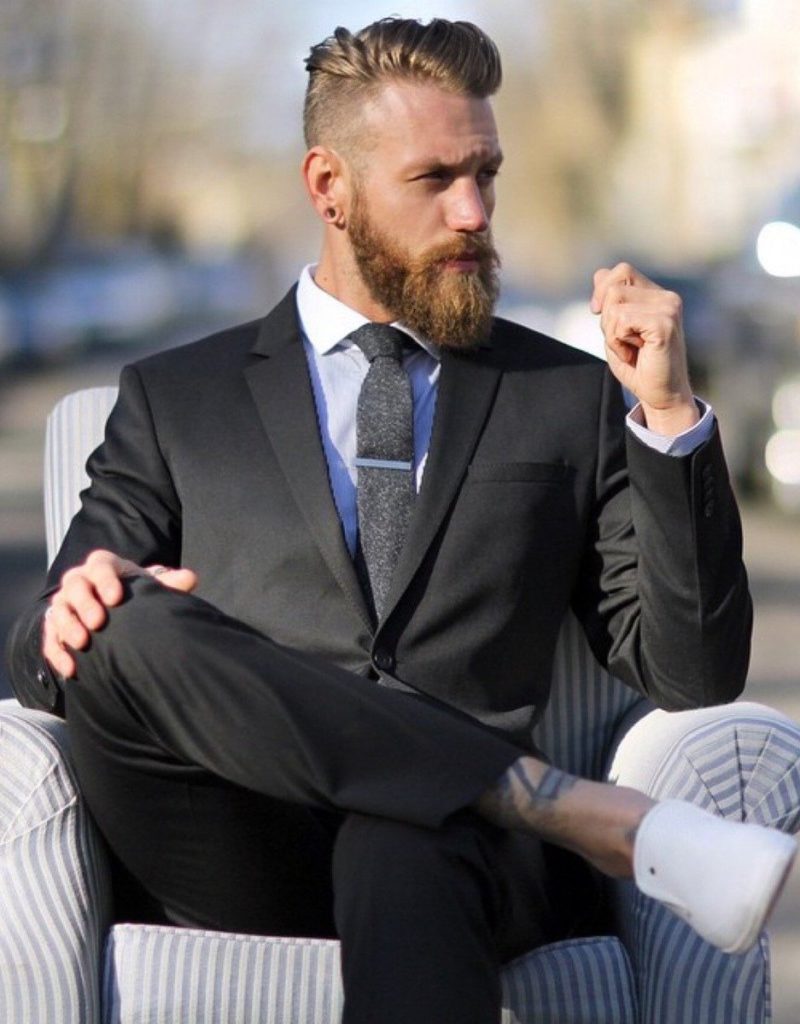 Medium Slick Back Haircut With Goatee Beard
Keep your hair of medium length and brush it back using the right amounts of hair stylish products. The next step is about keeping the beard right. You can keep a goatee to go with this hairstyle. A goatee is one of the most known styles of beard. From the holly celebs to the common man- everyone knows about this beard and many of them have given this a try to get great results.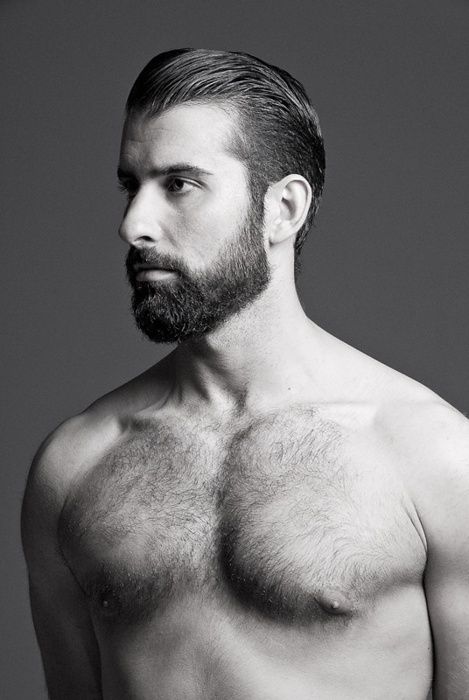 Side Fade Haircut With Extended Goatee Beard
If you are someone who is not into full-bearded look, then a goatee beard will suit your style needs just fine. The best thing about this beard is that it is low on maintenance but high on the style factor. To make the beard look even better than it does, get the right haircut to go with it. The very trendy side fade haircut would look just perfect with a beard like that.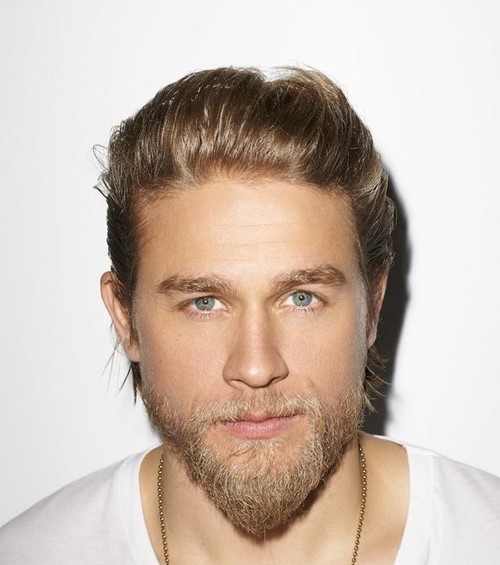 Short to Medium Haircut With Imperial Beard
An imperial beard is a thing that a king would be proud of and you are no less than a king in your heart and mind. So, this beard is just the one to go for. You can try both short and medium length of hair with this beard. This look will need you to brush back the hair to add the touch of perfection that it deserves.
Mens Long Hairstyle With Van Dyke Beard
A van dyke beard is the one in which you keep it long and pointy right below your chin but the beard all around the sides of your face get kept really short. The best thing about this one is that it gives you a really rugged and handsome look. The hairstyle that goes with this one is long hair that is brushed well. This is the look that commands attention when you do it right.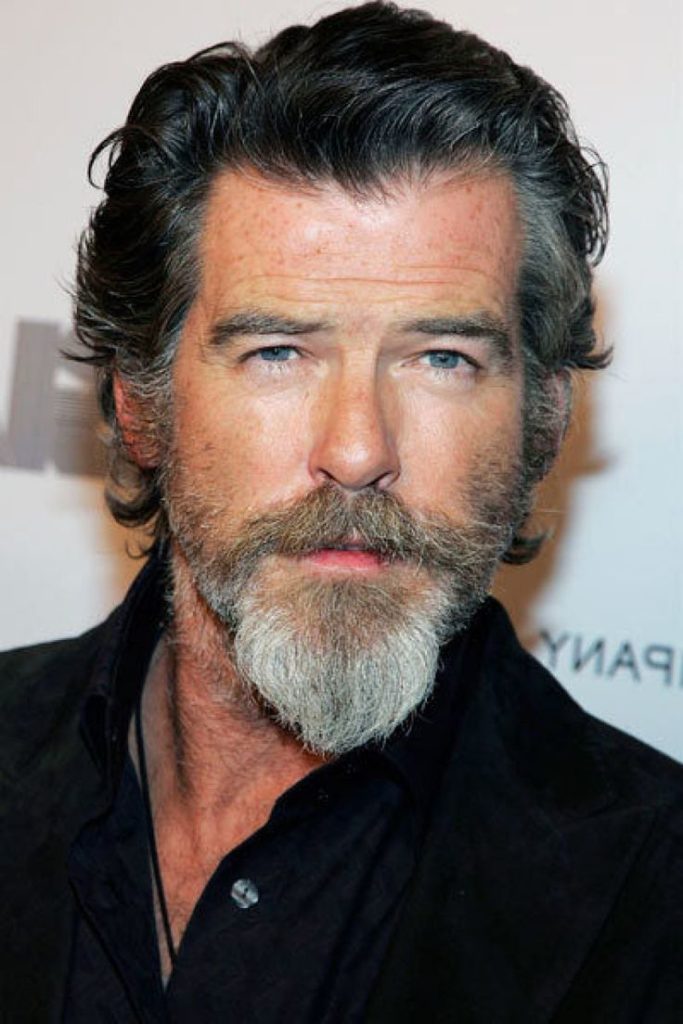 David Beckham Short Hairstyle With Anchor Beard
This is the style that was flaunted for quite a long time by the very stylish football star David Beckham. The beard that goes with this style has been named the anchor beard as the shape of it resembles that of an anchor. The beard starts below your lip and then is the widest on your chin but the part between these two is kept really narrow. Keep the hair short with this one and brush it sideways.
Funky Haircut With Balbo Beard
Keep it funky with the haircut and sexy with the beard. The hair is kept of medium length with this one. It is not made messy but styled in such a way that it is puffed up and casual in its look. The hair mostly looks very carefully textured with this style. The Balbo beard is something that covers only your jaw.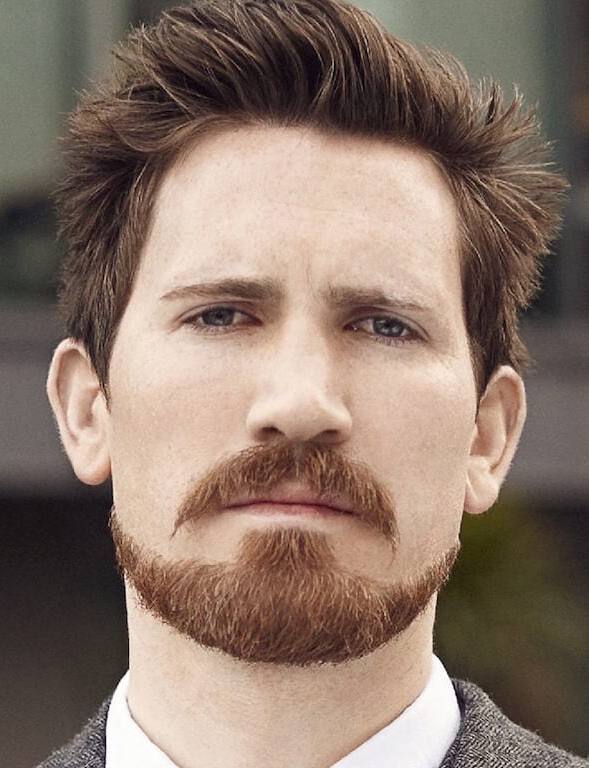 Neat and Formal Style
This neat and formal men's hairstyle with beard will look fantastic on any man. The bed is kept very short and the cheeks are clean-shaven. A line of hair extends along the jaw, and there's more hair in a goatee shape around the mouth and chin. The hair on the head is short and gently swept over to one side.
Curly Hair Curly Beard
Curly hair is a great way to have a vibrant and youthful look. This hair is large and full of volume, and the beard is tight to the face but still has some texture in it.
Neat Hair and Scruffy Beard
This haircut is very neat. There's a skin fade on the sides and lots of thick hair on top, gently parted at the site. The beard is scruffy with some flyaway hairs sticking out of it, and it's quite thin.
Lots of Dense Curls
This hair is perfect for black men who want to show off their hair proudly. The hair on the head stands tall in its tight coils, fanning out around the head with some distinction towards the ends. The beard is kept very short on the jaw and is longer and curly on the chin.
Stubble and Dreadlocks
These dreadlocks give a very neat and chic look, but a slightly casual vibe is projected from the thick stubbly beard on the face. All in all it's a very sophisticated yet easy everyday look that will suit you very well.
Long Hair and Soft Beard
Long hair is very popular these days, as is a soft beard. Here the beard is grown out not very long, but there's enough of it to feel nice under the fingers. The hair is just above shoulder length and wavy. It's a very stylish, trendy look.
Man Bun Undercut and Thick Beard
The man bun undercut is another trendy, stylish hairstyle for men. Here it looks fantastic, and the short hair is offset by a thick and neatly trimmed beard. This is definitely a men's hairstyle with beard that will make you look incredible.
Flag Inspired Mohawk and Chin Fuzz
Here the beard is kept very simple with some natural sandy blonde hair on the chin. The hairstyle steals the show as it cut into a mohawk style and dyed green, white, and orange. The colors can be inspired by the Italian or Irish flag.
Full Salt-And-Pepper
This look is perfect for older men. The hairstyle is short with some length at the front, and the beard is cut neatly so that it wraps around the jaw but is thick on the chin and upper lip. It's a natural salt-and-pepper grey that's very flattering on older men.
Bushy Yet Sleek
This bushy beard is groomed incredibly neatly, so although it's thick, it's very sleek. The hairstyle on the head has a gentle quiff brushed back from the face that's just as neat as the beard. There's not a single hair out of place.