The braid hairstyles are the best in every sense. They are protective and don't damage your hair. They look stylish and are long-lasting. You will get rid of spending hours daily styling your hair, especially if they are unmanageable.
Along with it, you will also be able to say bye-bye to hair straighteners or curlers that harm hair. Braids are so in trend and look creative and oh so gorgeous on everyone.
No matter, what length or texture of hair you have, braids are suitable for all. If you are in and excited to try this, have a look further at the different ways to have them.
1. Less is Gorgeous
This hairstyle is kept as simple as it could. The entire hair is done in only 3-5 jumbo feed-in braids. But the pattern they have followed to do this makes them is so gorgeous and adds an extra touch to this. The good thing about this hairstyle is it will be light on your scalp.
Maintaining and carry several braids can sometimes get difficult and frustrating. But not with this one. That sometimes is less is good. This hairstyle will also be perfect for both- thin and thick hair. That beautiful pattern created at the forehead with the baby hair is so gorgeous.
You can add this touch to your hairstyle whenever you have to go somewhere special. This will instantly make your simple hairstyle look extra. All you need is hair gel and a brush.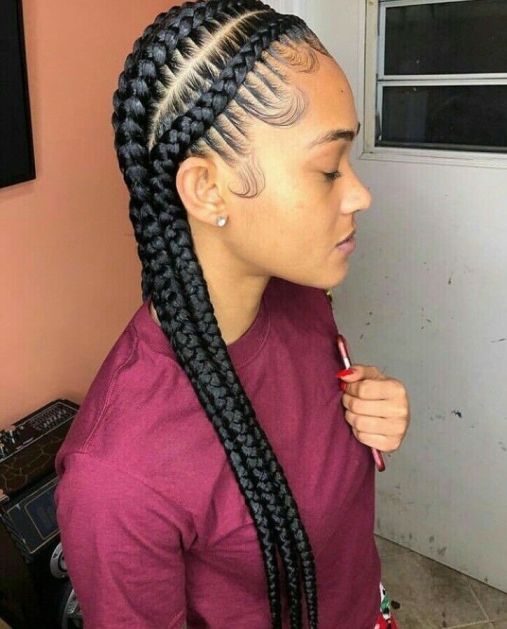 2. Regular Side Braids
Some people adhere to 'simple living and high thinking for their life. But also a firm believer to walk along with the trend. If you are one of them, you should try this hairstyle. This is perfect for your day-to-day routine.
The days where you are stuck with work and life and have no time to maintain your hair. Also, wish to look as minimal as could be. Side braids always look gorgeous. The fact that they are made thin makes them sleeker and easy to carry for a daily routine.
Now you don't have to worry about getting late for your work, because you didn't know what to do with your hair.
3. Bold Blue Cornrows
Bored with your normal and ordinary hair? Bored with your normal looking braids? You need to try this. All the braids start normally with a common black color. And they blend into bold blue color. A small change and color and add instantly add that extra-ordinary boldness to your simple hairstyle.
The long jumbo braids with blue color will change your look completely. It will enhance all your features. The braids are done away from the face to keep them away from the face. They will be comfortable, along with being stylish.
4. Thick-Thin Colored Bun
Look how beautiful this pattern of braids look. The combination of thick braids and thin braids makes it so perfect. This is a new way of doing braids. The brown highlights complement the black color so beautifully, and it would suit everyone.
These braids can be styled in many ways, but the best way will be a bun. Making the braids in a bun and showing off that color, makes it a good way to style the braids.
Buns can company you on both of your- lazy and ready to party days. Also, it helps you keep your braids away from your face. This is a trendy and perfect way to change your look.
5. Zig-Zag Half Updo
The half-up, half-down hairstyle is so much in trend these days and looks so pretty. When this is done to braided hair, it gets more enhanced. This hairstyle gets more unique because braids made are done in such a good pattern.
The partitions for braids are made in a zig-zag pattern. Another unique touch added is the design made with the baby hair at the front hairline. It is done with a hair spray and a brush.
The long braids in the half-down make this hairstyle look more elegant. This hairstyle will be perfect for a summer party. This hairstyle gives you that creativity and uniqueness.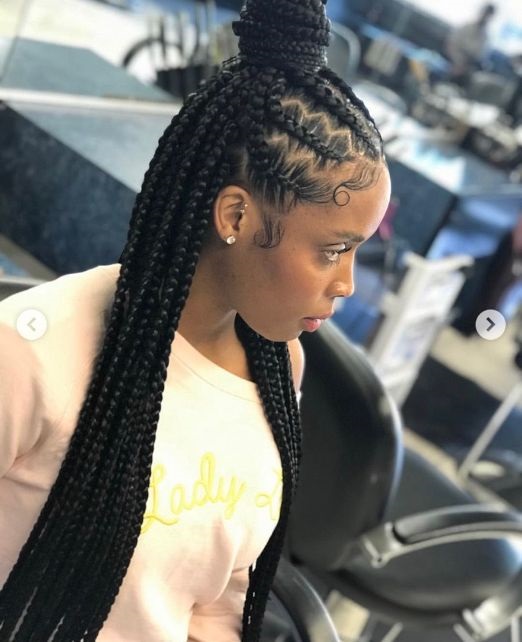 6. Creativity At Its Best
Want to be the center of attraction? Want to go a little extra? This is a perfect braid hairdo for you. No one will be able to take their eyes off you. This hairstyle has broad braids with fishbone braids added to it. It looks like the person has put so much effort and all its creativity into this.
The best part is it is so easy to maintain. It may require a lot of hours to create that unique and stylish pattern of braids, but once done, you will be all ready to go at any time for at least 15 days.
Also, your hair will be protected from the damage of hair colors, heating instruments, etc. that you have to use to make your hair look trendy and stylish.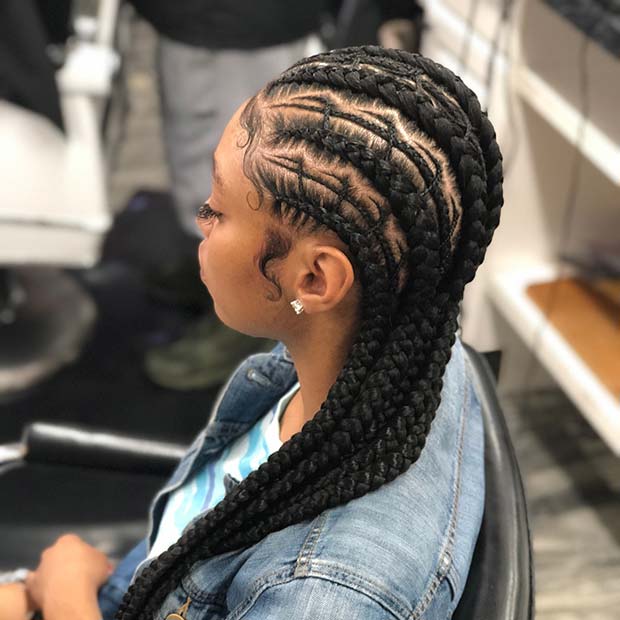 7. Gold Cuffed Feed-In + Ghana Braids
Looking for ways to stand out of the crowd? Start with your hairstyle. Braids itself make you look different. But innovations like this when added to braids make you look more extra-ordinary. This idea will make you and other people go wow.
This is a beautiful pattern made by combining thick ghana braids and elegant feed-in braids, beautifully accessorized with big golden cuffs. This hairstyle will give you all the queen feels.
It gives that hint of royalty. It can be done with hair of any length. Don't worry and take the risk because this hairstyle will look good to anyone and everyone.
8. Feed-In Statement Ponytail
The ponytail is the most classic way to style your braids. It is an all-rounder hair-do. You can do this any time and anywhere. Braided hair done in a ponytail always make a statement hairstyle. What makes this hairstyle special is two of these Fulani braids added on both sides.
They are done in the opposite direction and left free near the ear. This makes this common hairstyle very unique. Another unique feature added in the settlement of baby hair at the front line is a great design.
It is done with a gel and a brush. The long ponytail gives it the elegance it needs. It is very girly and bold at the same time.
9. Feed-In and The Top Bun
This hairstyle has the famous feed-in braids very beautifully made in a centric pattern. The braids are made, keeping a center at the top of the head, where all the braids are collected, and the bun is made.
This keeps your face free from all the braids. You will have the complete freedom to be yourself and do whatever you want without worrying about how your hair looks. It is perfect for a road trip with friends.
It is a very protective hairstyle for your hair. Hair breakage is decreased to half. You can add accessories to this hairstyle whenever you want to add that extra glam to this minimal hairstyle.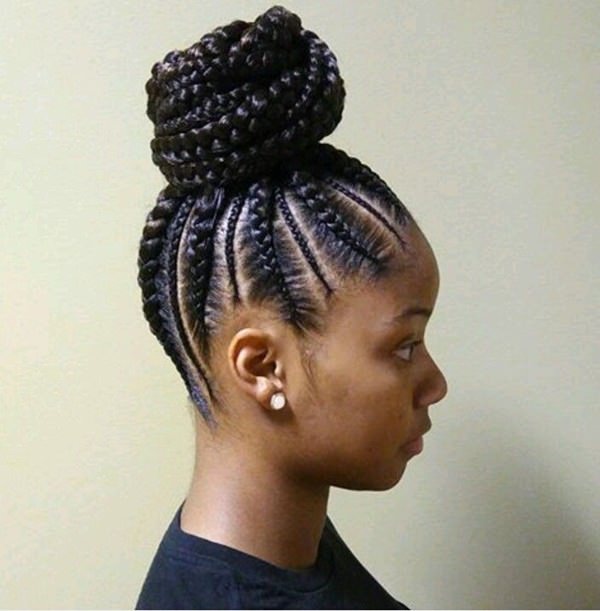 10. Through Thick and Thin
Another trendy look that you can create with your braided hair is this one. This one is done by combining braids of different sizes. The jumbo braids, when combined with micro braids, give a completely new look. It looks awesome.
The braids are made from front to back, which helps to keep your hair or braids away from the face. The jumbo braids that come down to the roots add an extraordinary boldness to the hairdo.
Though you can do this with any length of hair, it will look much better with long and thick hair. You should do a combination of thick and thin braids next time you get them.
11. Zig Zag Red Braids
Box braids are done in various ways and styles, but one of them is unique and unexpected to be seen that is the combination of two braids done together to form box braids. This hairdo is completed with the combination of two braids varying in their size.
From the above picture, we can see that. One braid is done thick and is also highlighted by red wire or ribbon, generally known as hair accessories. The other braids are thin, commonly known as middy braids. Both the braids are placed in a zig-zag manner on the crown area.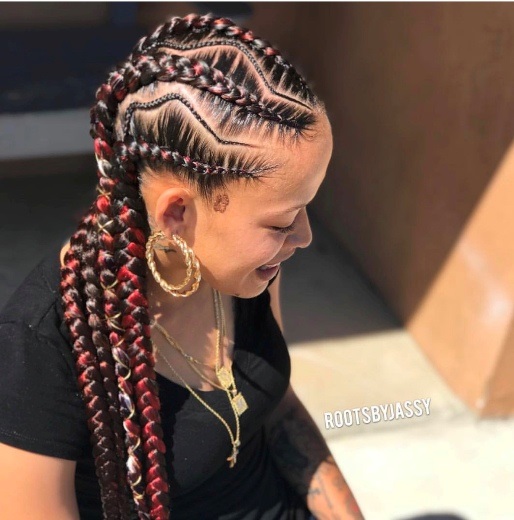 12. Swirl Box Braid
All over the internet and social media, we have seen lots of styles and ways the box braid is done special over the head. Here we also bring you one of the most amazing new and trendy box braid styles.
From the above picture, we can conclude that how unusual the placing of the braids had been done. The braids are done in opposite directions to form a swirl at the back of your head. The front braids and the back braids are going in a circular direction, which is pretty clear from the picture.
The two tiny braids are left hanging down near the ear. It's not sure that it is done on both sides, but it always depends on you.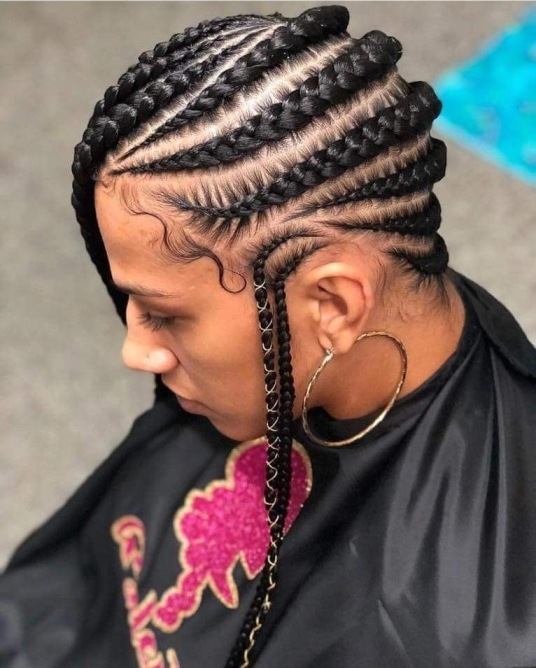 13. Golden Box Braid Ponytail
We all are known with the box braid ponytail, but the hairdo here is not the same, which we had previously disused or doing. There are differences between the braided ponytail and this hairdo.
Firstly the braids done in this hairstyle is thin and thickly placed in an alternative manner. Secondly, the ponytail here is done in the middle of the head, giving it all the height it needed to look flawless. Thirdly the golden hair accessories are added in the most elegant way possible.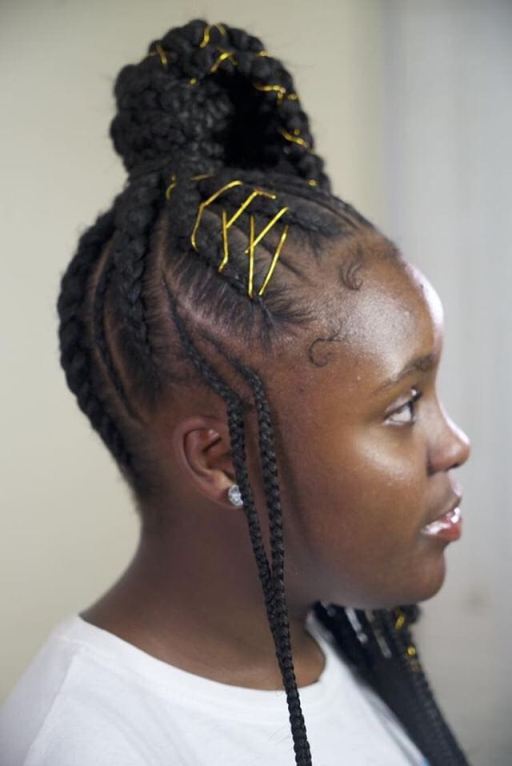 14. Pigtails with a Zig-Zag Partition
There are more than a thousand styles in which we can form pigtails. Every variation we have seen or done is in the pigtails; there are very few hairstyles that give style for their partition. Here in this hairdo, we have added a new style to the partition of the hair to form the pigtails.
The partition hair is done in a zig-zag manner, which is evitable from the above picture. The golden accessories are also added to pigtails for more fun.
15. Icy-Blue Straight Tails
Mostly the pigtails we have seen over the net or social media are in the v shape, but here in this particular hairstyle, the invention is done in the pigtail formation style. The pigtails here are done in a straight line rather than forming a v, which is seen from the above image.
The braids down are formed in two, making it a total of four tails. The blue highlights in the hair are making it a perfect choice for casual, funky, and hip-hop attire.
16. Braided Low Bun with Beads
A low bun is perfect for classy parties, occasions, etc. To make this hairstyle firstly you need to divide your hair into four parts, now these four parts are further made into cornrows.
In the end, beads are used so the braids won't loosen up. All braids are tied in a low bun. This hairstyle can be done by a trained professional. A low bun is made to make room for certain accessories like beautiful earrings or neckpieces etc.
Women with naturally curly hair don't have many options when it comes to the hairstyle, so this braided low bun with beads hairstyle is perfect for daily attires.
17. Goddess Braids
Goddess braids look like cornrows but thicker than cornrows. Beads or rings are the main part of the attraction in these goddess braids. Goddess braids are trendy in the braiding industry. To make this hairstyle, you need to make perfect thick cornrows tied into a ponytail.
You should wear some elegant jewelry pieces to look more attractive. Whether you are in the gym, at the office, or at school braided hairstyles are very easy to maintain.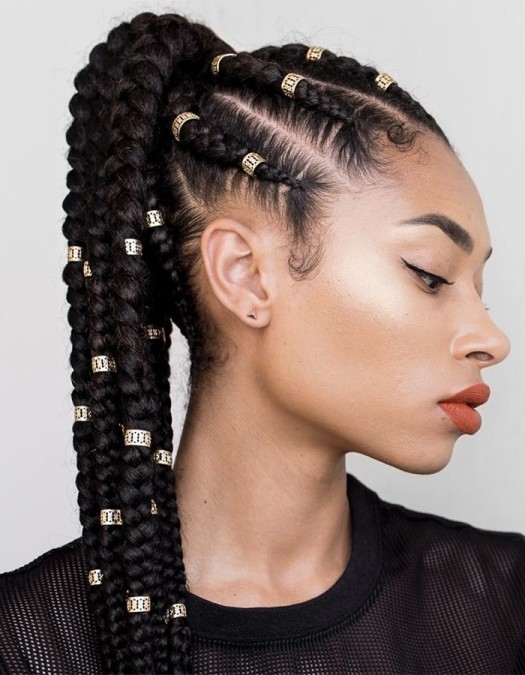 18. Black Braiding Crown Bun
Braids and buns are part of every hairstyle. A black braiding crown bun is unique and suitable for many occasions. There is a great variety of braids like tree braids, twist braids, French braids, etc. The face is the most important part while choosing a hairstyle.
All you do is divide you're into Four to five sections, then from the front section, take all the braids and make a crown bun. The braids which are left on the bottom loose freely, which gives you a unique look. You don't have to do glossy makeup or heavy outfits etc. with this hairstyle.
19. Feed-In Cornrows with Weave
Long hair is not easy to maintain or styled. This feed-in cornrow with weave hairstyle is a simple hairstyle but different from other cornrow hairstyles. Firstly you need to detangle your hair and from the front section start making cornrows.
The hair on the sides is divided into four parts while making cornrows take one part from the side and continue braiding. From the front, this hairstyle looks simple, but the sides and the top part are creative. Just add some winged eyeliner, and you are ready to go for college, photo shoots, etc.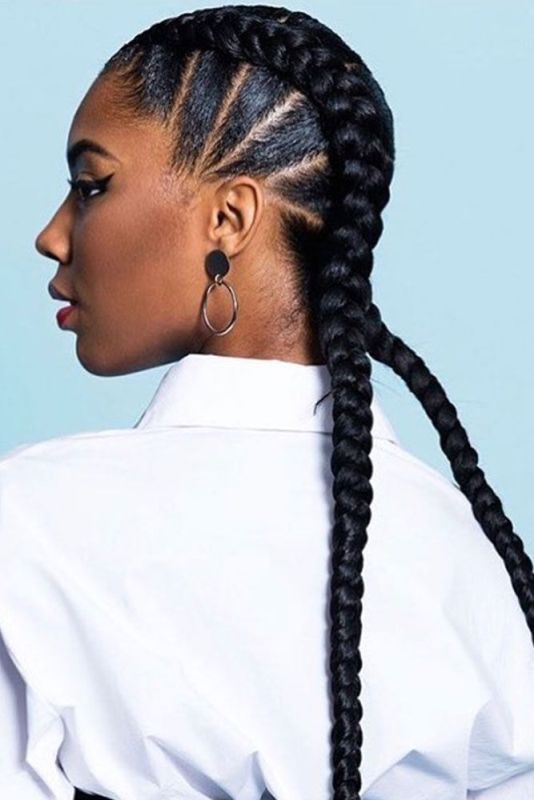 20. Divergent Braided Low Bun
Braided buns, messy buns, high and low buns are never going out of fashion. At the wedding, the bun is one of the most liked hairstyles by brides. A divergent braided low bun is very stylish with the alternating feed in braids.
According to your choice of outfit, you can add some colorful flowers or beads to your low bun. Not all girls like bangs or fringes, so this is the hairstyle to choose from.
21. Ombre Modern Ghana Weaving
Black, brown, blonde are natural hair colors. Some girls or women don't like black, so ombre is the best option to choose from. Highlighting your hair provide you a fresh new look. Ghana hairstyle with ombre touch is a deadly combination.
Weaving is a technique for making braids. This hairstyle is perfect for showing your jawline and forehead. Don't worry about ombre color it goes with most of the outfits or complexions.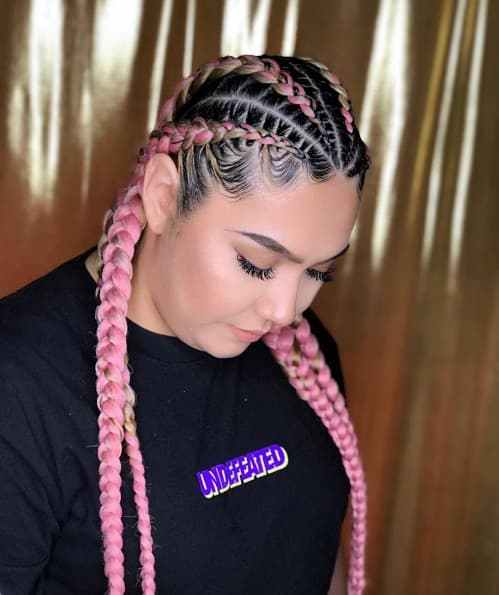 22. Curly Texture Box Braids
We have already talked about uneven braiding arrangements on the crown part. This hairstyle also is similar to them. The hairstyle is done by forming thick and thin braids placed in an alternative manner.
The braids are continued till the midway, and after that, the curly texture is left. The texture is not difficult to achieve as you can simply make braids and then open it after keeping them overnight. The golden and blonde hair color is making the hairdo perfect for sunny mornings.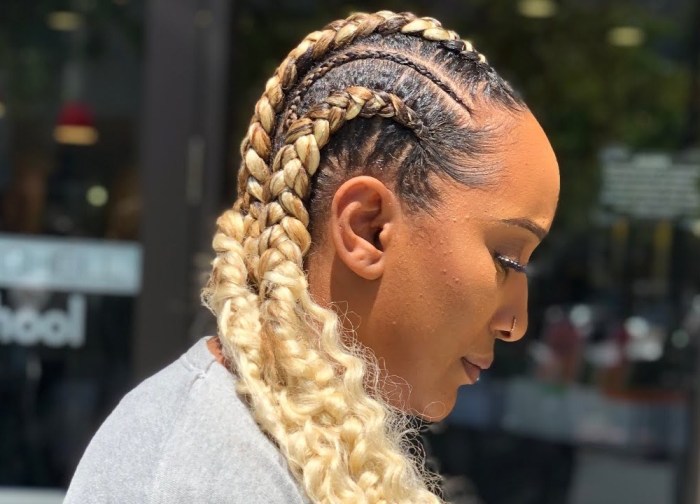 23. Swirl with Accessories
Most of the time, we only concentrate on the formation of the hairstyle, leaving the accessorizing part. Most of us also believe that styling the hair with highlights is the only other thing to make it look better, and we all forget how little accessories can make the whole hairstyle much more appealing.
This hairdo is all about accessories. The swirl box braids are done in the same manner, but there are accessories with lots of different hair accessories such as cufflinks wires ribbons, etc.
24. Space Buns with Pigtails
Combining two or more hairdos to form a different style is always worth experimenting with just like this hairstyle. In this style, three different hairdos are combined to create this diva look. First, the stylish box braids are done on the crown area, followed by a classic braid down.
The second hairstyle is space buns. They are formed of the back hair, Leaving the two thick braids down each side, just like the pigtails.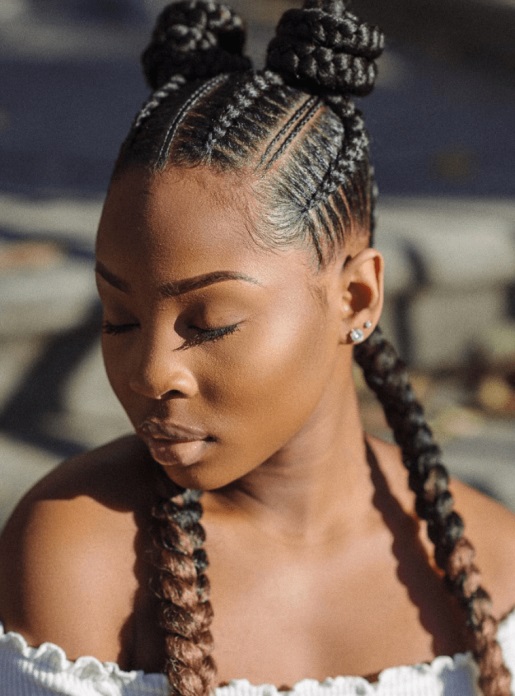 25. Cross Braiding
The box braids can be formed in numerous ways here; we are going through a different one. The box braids in this particular style are done, which is forming cross by two braids.
The braids are done till the end creating long tails. The colorful hair accessories are added at the end, which is making it more unique and versatile.
26. Pink and Purple Gradient
Incorporating different, funky colors into your braids will quickly spice up your look and transform it into an exclusively beautiful hairstyle.
The combination of ombre pink and purple strands fed into your natural hair, tied up in multiple braids, is a kind of hairstyle that catches every eye.
27. Micro Braided Accessorized Ponytail
The classic black and gold hair combo with added accessories, tied into micro braids, makes an alluring and distinctive hairstyle. This hairstyle might not be everyone's cup of tea, but you will surely love it if you're a woman of unique choices.
28. Blonde Braided Ponytail
Blonde hair fed into your natural black roots, designed into simply beautiful braids, and pulled back into a high ponytail results in the classiest braided hairstyle ever. Plus, it's ideal for dressy, formal occasions!
29. Pink Woven Into Brown
The combination of pink and naturally brown hair is effortlessly breathtaking. These chunky, pink braids fed into your brown hair is one of the most distinctive feed in braid hairstyles that turns heads everywhere you go.
30. Braided Low Bun
A fresh way to rock these feed-in braids is by twisting them into a bun. The laid edges in the front add even more elegance to the beautiful hairstyle and it is one of the simplest ways to own the braided hairstyle without any hassle or effort.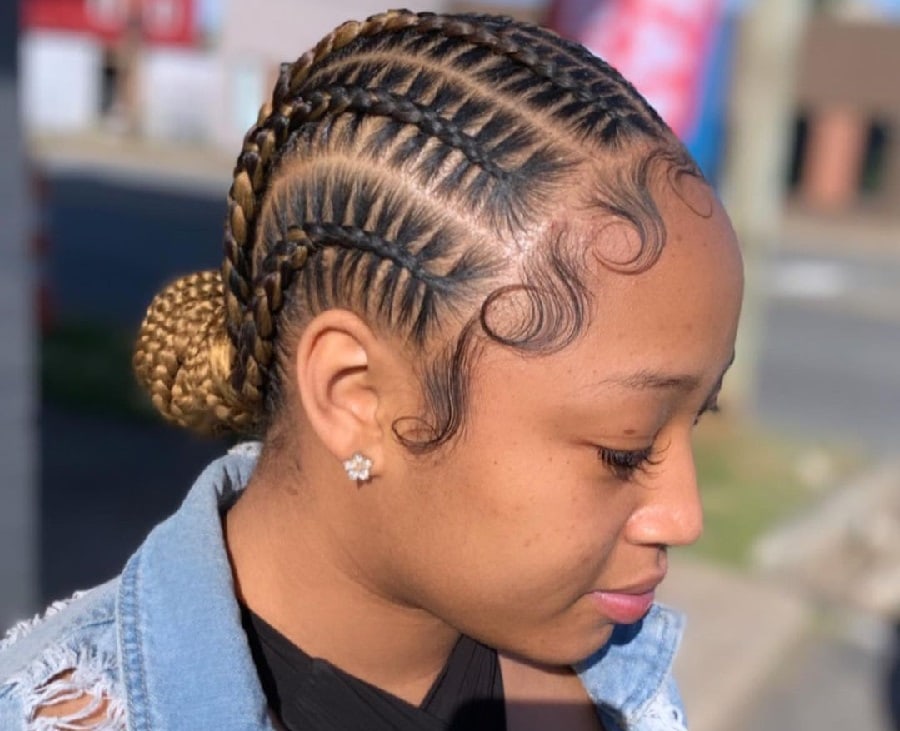 31. Side Swept Lemonade Braids
Inspired by the iconic Lemonade video by Beyonce, you'll be sure to feel like royalty when you put on these feed-in lemonade braids starting from your good side.
The curled-up, beautifully set baby hair on the front will bring your braided updo up a few notches with the perfect finish of delicacy.
32. Half Braided Half Open
This unique half-braided half-open hairstyle looks even more gorgeous with the feed in hair, which can add significant volume to your hair instantly.
Make some variations in the traditional style by trying out these unique, patterned braids, and let the rest of your waves cascade and complement the braids perfectly.
33. Traditional Feed-in Braids
Although experimenting with different patterns, lengths, and colors are a great way to upgrade your braids, you can never go wrong with the classic and traditional feed in braids hairstyles.
The thick and healthy braids fall on the side, starting from your most flattering side and ending elegantly at waist-length.
34. Red and Brown Combo
Adding a pop of red in any hairstyle is the easiest way to spice up your hair. You can use any fashion color that complements your natural hair, but red is definitely the safest option as it goes with any natural hair color, whether it is brown, jet black, or blonde.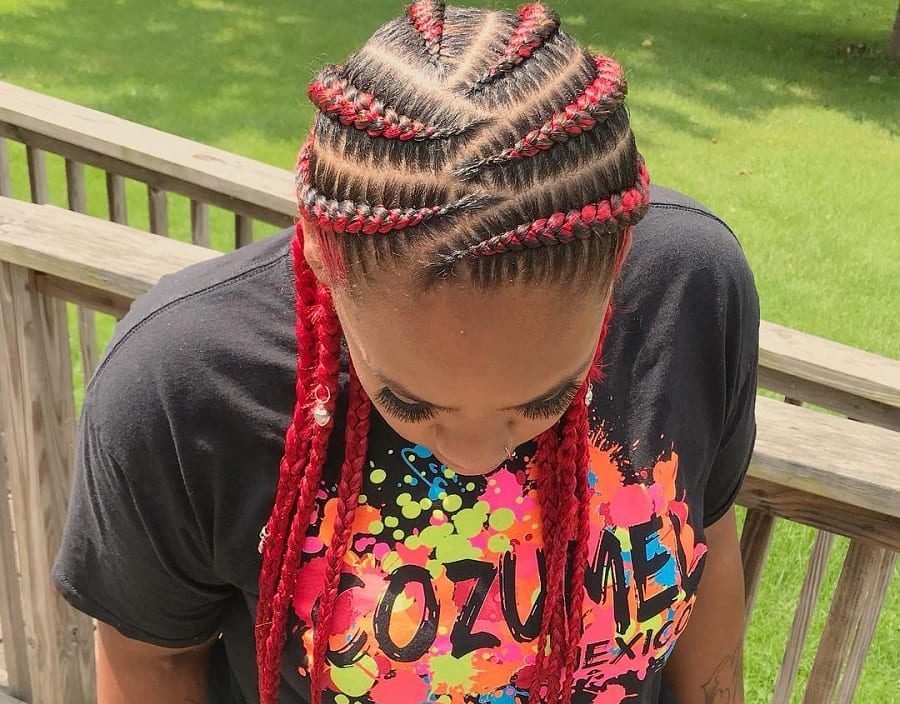 35. Two-Toned Braided Bun
Two-toned braids are the hottest hair trend; they're bold, beautiful, and they make the perfect statement. Keep your hair out of the way with this feed-in braided bun hairstyle and raise the charm even further by adding a pop of red.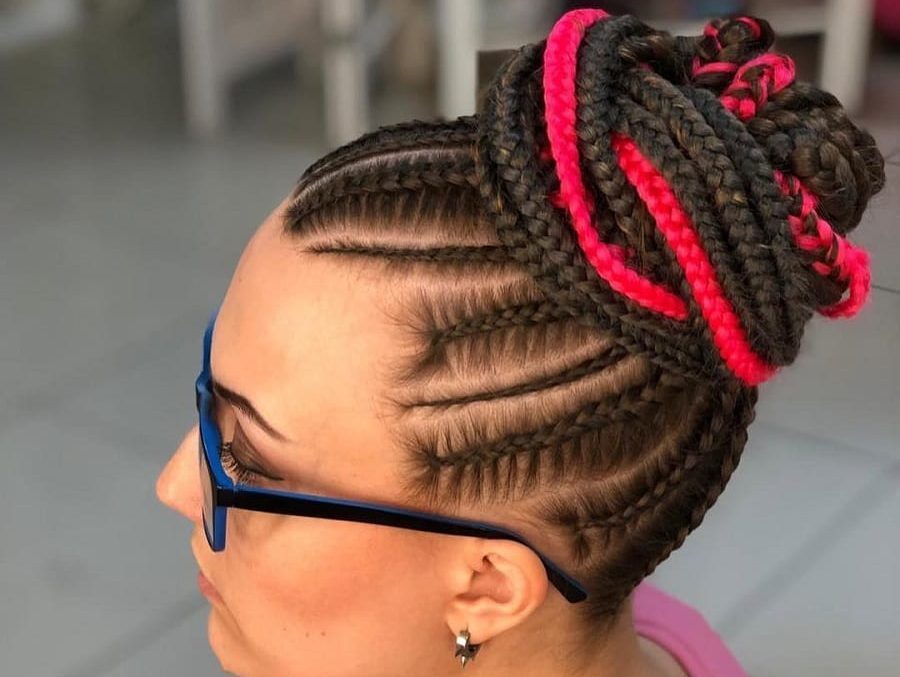 We tried our best to bring you all the ways to style your feed-in braids. Each one of these is unique in its self. Hope, whatever you were looking for, you find in these. This is the kind of risk that everyone should take once in their lifetime.
Who knows, you end up loving it. Don't think much, and give these a try. Choose according to your taste, needs, and style, and rush to your stylist.