Jennifer Lopez, also known as J. Lo, is an American singer, actress, dancer, fashion designer, author, and producer. Can we all shamelessly admit that we admire her style statements more than just a bit? Be it at some runaway event or some party or function; she makes heads turn with her awe-inspiring style.
They say a person who never shies away from new trend & ideas shines beyond everyone in their field of work. Our, Jennifer Lopez, is no doubt one such bold & beautiful soul who surprises everyone, now and then with her eye-catching fashion statements. Be it her smoky eyes, brown lipstick or her chestnut curls, we all have admired her each style.
Constant is boring!
In our 9 to 5 life, we get stuck to one single routine that bores us to hell. Some change, even small, can definitely add a bit of spark to our life. But since we don't get that much time to bring some life-changing changes, we can do small things such a makeover, wardrobe renovation or simply change our hairstyle. Won't you like it if someone at your office notices the change in your appearance and compliments you? Personally I would love that and I know you would too. So here I am to offer you 27 Jennifer Lopez Hairstyles to add sparks to your looks as well as to your life. So let's get started because I have a long-list of hairstyles to show you.
Long straight dark blonde hair with middle parting
Smooth and glossy, this hairstyle can be shown off in parties as well as casual outings. Simply blow dry your locks and get a simple yet sexy look with this hairstyle. The layers in the front are smoothed down to cover the face and complete the overall look magnificently. Its easy to maintain, need minimum styling and can be worn anytime, anywhere with any dress on any occasion. It is suitable for heart-shaped, oblong and triangular faced girls.
Blow-waved, half-up style for caramel colored hair
Blow-wave the highlighted locks perfectly giving the ends a subtle movement which will make them look soft and in shape. Then pull the top half hair backwards and pin them to the crown. it will give more height and lift to your hairstyle and will surely compliment your round face. You might need some styling product to soften the ends. This look is simple but the overall effect is amazing. It's easy to pull off and will suit all face types. It's a great way to turn up at some casual outings. Biggest thing is it's easy to do as well.
Medium chestnut brunette hair with slight waves
This hairdo is all about simple and soft. Cut your long layers around the back and sides to get a more textured look, adding a feel to the edges and perfectly creating this low-fuss style. The middle part makes this hairstyle perfect to frame a round face and great for any casual day out. It's suitable for all face types and is easy to pull off. Apply a bit of lip gloss of some nude shade and you are ready to rock.
Sassy updo for caramel brunette colored hair
A sleek and shiny updo can work miracles with the right accessories and makeup. It's stylish and can be pulled off with long earrings and neck pieces. With the right amount of makeup and hair color, it can make you look like a runway model. Jennifer wore her tresses up, pinned to the head for the 55th Annual Grammy Awards.
Long waves, middle parting hairstyle for chestnut-colored hair with light blonde highlights
Long and wavy hairs are our go-to styles these days as they make you look elegant, and can add sparks to our most boring outfits. It's suitable for all faces and can be done in casual as well functions. Add a bit of hair color and you are ready to hit the red carpet. Products can be used to add volume and bounce to the waves as well as to the upper hairs.
Braided updo for light brunette colored hair
Every once in a while, we see some actress rocking the galas and red carpets with those braided updos. Firstly make a braid till the end, then twist it into a bun and pinned it to the back of the head. Wear it with casual denims or with fancy gowns, it'll only enhance the look.
Long layered curls for brunette colored hair with dark blonde highlights
It's bouncy, stylish and can be pulled off with any outfit. Products need to be used so as to give that extra volume and width. Add a bit of highlights on your cheekbones and you are set to rock. Suitable for all face shapes.
Big and bouncy 'do with middle parting for medium honey brunette colored hair
Long and straight hairs are simple, easy to do but stylish. They never go out of trend. The front layers add shape under the jaw-line and blends in well with the side layers. Suitable for all faces, not time consuming but produces excellent effects.
Side swept bangs for medium caramel brunette colored hair
Your beautiful locks will fall on your shoulders, showing the well-cut layers and have a weightless look. The brilliant combination of golden tones creates a curtain of highlights which completes the over-all look perfectly.
Medium waves for medium chestnut brunette colored hair
The waves give your hair bounce. It's suitable for all face types and is ideal for all; party, casual outing. Products need to be used to make the bounce and width last. This is a classic style, great for any special occasion.
Long waves for medium brunette colored hair with dark blonde highlights
Loose waves added to the mid-lengths to ends of this gorgeous 'do adds movement and attitude for a brilliant look and feel. This fantastic hairstyle is best suited for those looking for a style with plenty of fun and flare.
Blunt bangs with straight long hair for medium ash brunette colored hair with dark blonde highlights
This hairstyle is all about showcasing your long and shiny hair. In this hairstyle, you have to blow-dry your hair to get a silky, smooth look and feel. For this style you need to have jagged cut bangs which will frame your face perfectly and complete the look. This is a simple yet stunning style that is perfect for any special occasion.
Wispy Edgy waves for dark caramel blonde colored hair
Jennifer looked sassy and sexy at the 2007 Movies Rock Event. In this hairstyle, her beautiful hair was cut at the ends to get a wispy edgy look, while soft layers were cut at the back and sides to create volume for the style. This style is perfect for those longer face shapes.
Straight half-up hairstyle
Half-ups are easy to do, stylish and elegant. Big ear rings, hoops go best it. Part in the middle or don't part at all, your choice. But both make you look great.
Gorgeous Hair down hairstyle for Medium brunette and dark brunette two-toned colored hair
Jennifer was the center of attraction at the Los Angeles premiere of "El Cantante" by wearing her lovely hair down. It was a simple yet sassy hairstyle which featured her wispy layers and gave her an elegant look. Not to mention, a easy hairstyle to maintain. The ones with long necklines will surely get a lot of compliments by wearing this hairstyle. The layers around the front also frame the jawline perfectly to create a softer look.
Shoulder Length layered hairstyle for medium brunette colored hair
Jen chose a very sexy and simple style for the 2007 US Hot Hollywood Party and pulled it off very well. It would look best with long hairs. Her hair was also styled with curls that varied in size to create lots of texture and a different look.
Sexy young 'do for dark brunette colored hair with dark blonde highlights
Soft waves and curls look sexy on all kind of faces. The style is something that can be pulled off in parties as well as formal occasions. It's stylish and adds extra texture and volume to your hair.
Jagged Cut shoulder length straight hairstyle
This style, first spotted at the Walk of Styles works best on medium to thick hair types. In this style, the length of the hair was barbed up to the shoulders and her top and side sections were layered in angle to have full flicked style. It is a perfect Bang style for oval, oblong, square, heart, diamond face shape.
Medium Curly and a low Updo hairstyle
A style suitable for all weather conditions, was pulled off beautifully by Jen at the world premiere of "The Pursuit of Happyness". In this great upstyle, her back section was pinned into a low updo and her front section was left down which not only enhanced her face features but also the shape of her face.
Dark Auburn Brunette Wavy hairstyle
Bangs cut to shoulder length, layered throughout the mid-lengths and ends, giving an enhanced look with gorgeous curl was the perfect style carried by Jen that lit up the red carpet of the 7th Annual Latin Grammy Awards. This style is the perfect option to try if you're after a style that has lots of volume and body. And it works best on long hair type.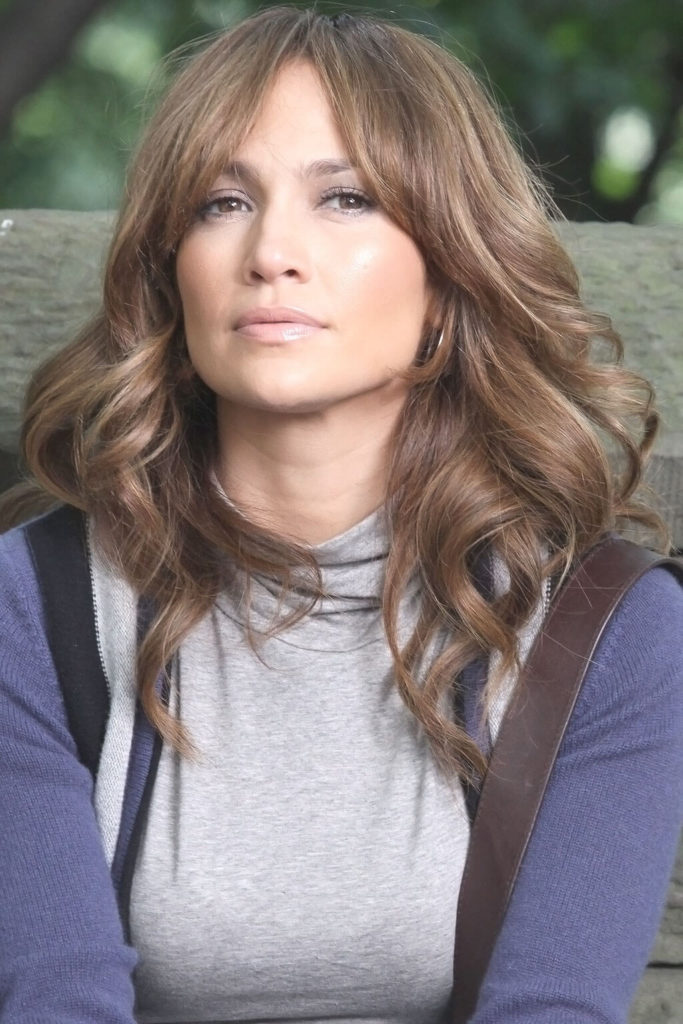 Casual Updo for Long Curly hair
A body filled hairstyle that is elegant and suitable for any big event works best on oval, heart, triangular and round face types. This style was carried by Jen at Time Magazine's 100 Most Influential People celebration. And she looked stunning with her hair swept down and then back into a featured position at the very back of her head.
Updo with side swept bangs for medium Golden Brunette colored hair
A style which works best on medium to thick hair types, and hair pinned off to one side gave a stunning look on lovely golden haired beauty Jen. She looked spectacular at the 2006 Crystal and Lucy Awards with this style.
Concave Cut hairstyle
An easy style to maintain with regular trims, gave a sexy yet classy look to Jen. This hairstyle is suitable for round, oval, heart, diamond, triangular face shape. A style easy to go with and maintain.
High Swept Cute Bun
A style perfect for all occasions and weather conditions Hair been swept up high into a soft, cute bun gave a sophisticated look to Jen. This style is suitable for round, oval, heart, triangular face shape.
Thick barrel curls into a Updo hairstyle
A great hairstyle for those with smaller face shape. Again one of the most stunning looks of Jen, with her hair pulled up to a feature point at her crown area with added large thick barrel curls, this style is perfect for round, oval, heart, triangular face shape.
Low-fuss Casual Curly Wavy hairstyle
A hairstyle best for medium to thick hair types offered a lovely flattering shape around the face to Jen. A creative and fabulous design with a naturally curly wave adds a great touch to oblong, oval, square, heart and diamond face shape.
Pinned front hair backside with Wavy open hair
Layered bangs enhancing the curls to make it look more bouncy is the most loved style of Jen. This hairdo will suit best for fine to thick, wavy hair types and most face shapes.
Verdict
Time to give best of makeovers to yourself. *winks*. While scrolling through our post, I am sure you would have find the best hairstyle of our Jen that will not only suit you but will give you a stunning look, everytime you carry that off and receive compliments. PS: We loved all her LOOKS!!