You must have heard about flat twist hairstyles before coming to this article. But did you know there are not one, not two, but several ways to style this unique hairdo? Yes, we're talking about how to style an already decided hairdo.
Hairstyles like these are not very common, that's why you should definitely try them. Bring some change to the usual way of styling your hair with our 20 great hairdo ideas. Don't bother going to the salon because you can twist your hair at home.
Great Ways to Style Flat Twists for Women
Make your flat twists funkier, prettier, and stylish with the following hairstyles.
Twists in High Ponytail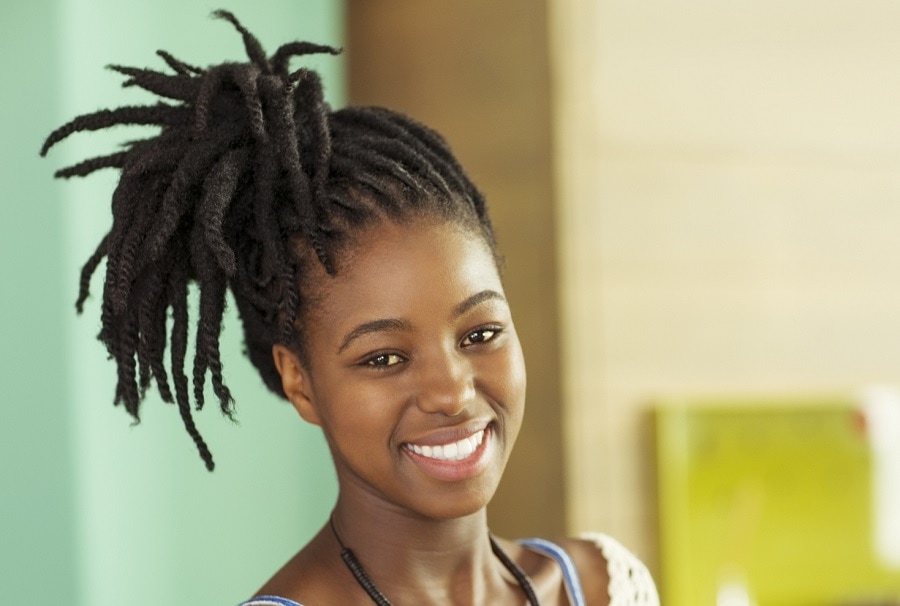 Flat twist hairstyles help to manage your afro hair stylishly. As you have afro hair, such kinds of hairdos, if left loose, can look weird. That's why a high ponytail is a perfect way to style such a hairdo.
Natural Micro Hair Twists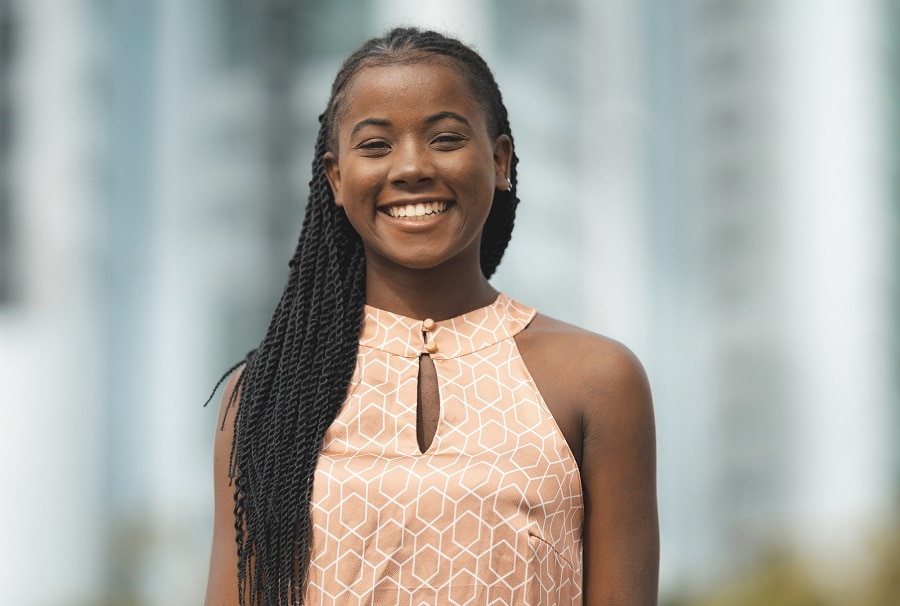 Making Senegalese twisted hairdos doesn't need you to have curly or afro hair. Your natural hair is also suitable for making these kinds of hairdos. Keep your hair loose if you want to show off your long hair to your friends.
Athletic Hairdo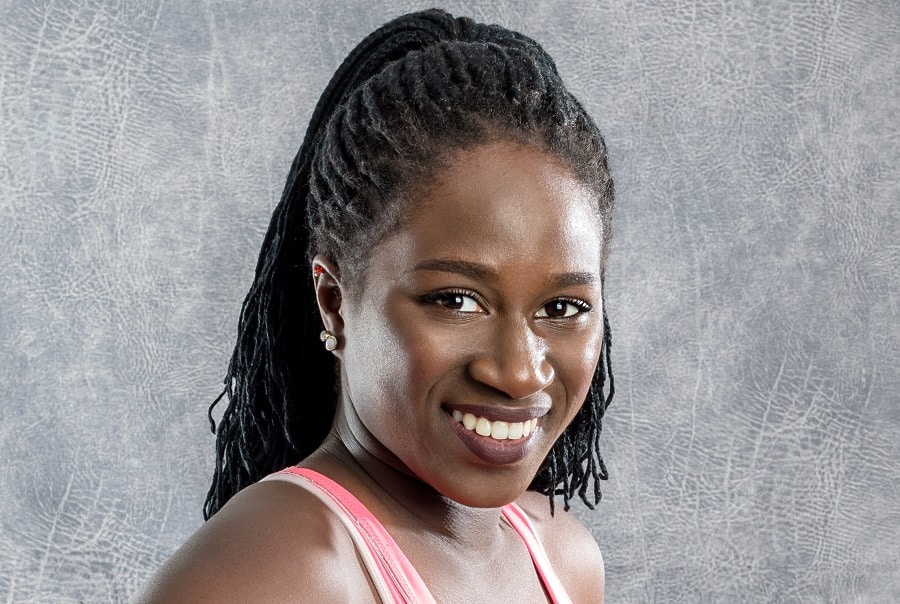 Athletes need to keep their hair tied all the time so they can't make a fancy hairdo. This twisted hairdo is very comfortable and works as per the rules of the sport. Your hair will stay in its place, and you'll look very beautiful.
Curly Ponytail
Do you want to keep a ponytail but don't want your hair to get loose when you run? Simply make twisted box braids into a ponytail.
This kind of hairdo sticks throughout your jogging, and you look absolutely stunning. You'll feel focused as your hair won't disturb you.
Low Twisted Bun
Yes, flat twists hairstyles can also be used to make a cute little bun. Style your bun with twisted hair for a very decent look. Make a low bun if you want to style your hair for the office or an event.
Short Curly Locks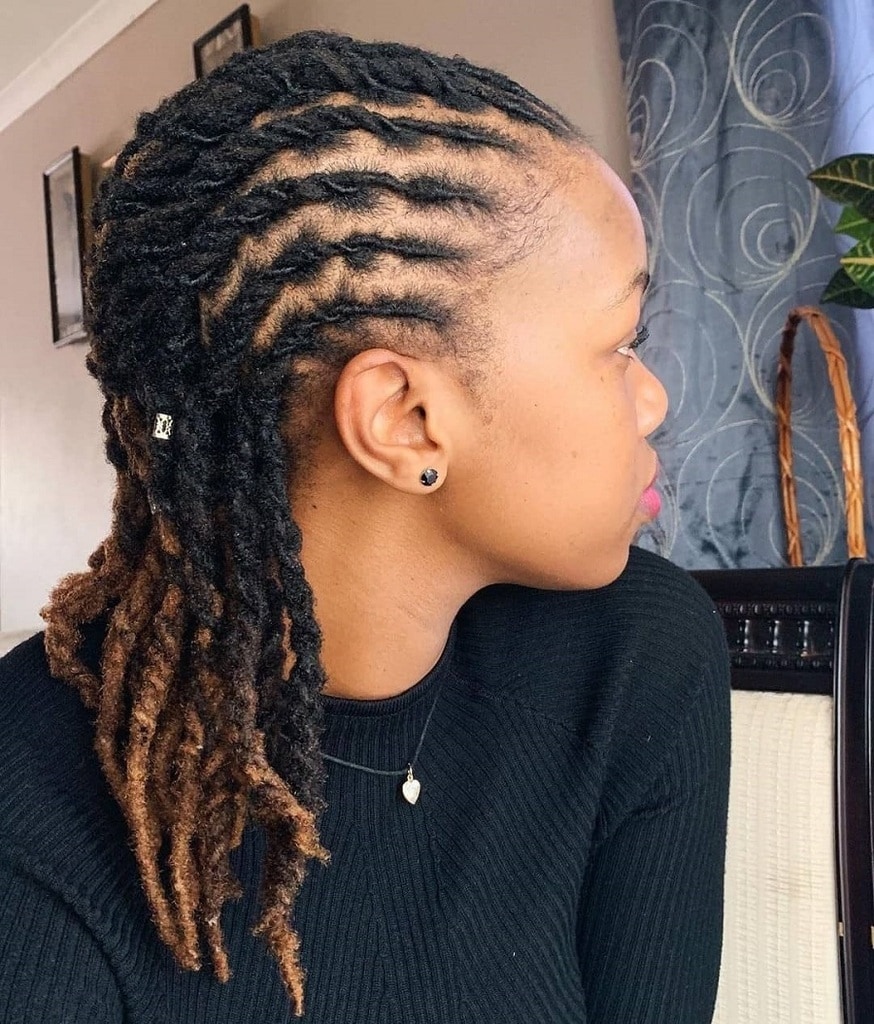 It's summer season, and keeping your curls loose must be bothering you. Divide your hair into sections and twist them tightly.
This helps to keep your hair loose without them bothering you anymore. It gives a kind of Karate-kid look.
Easy Half Updo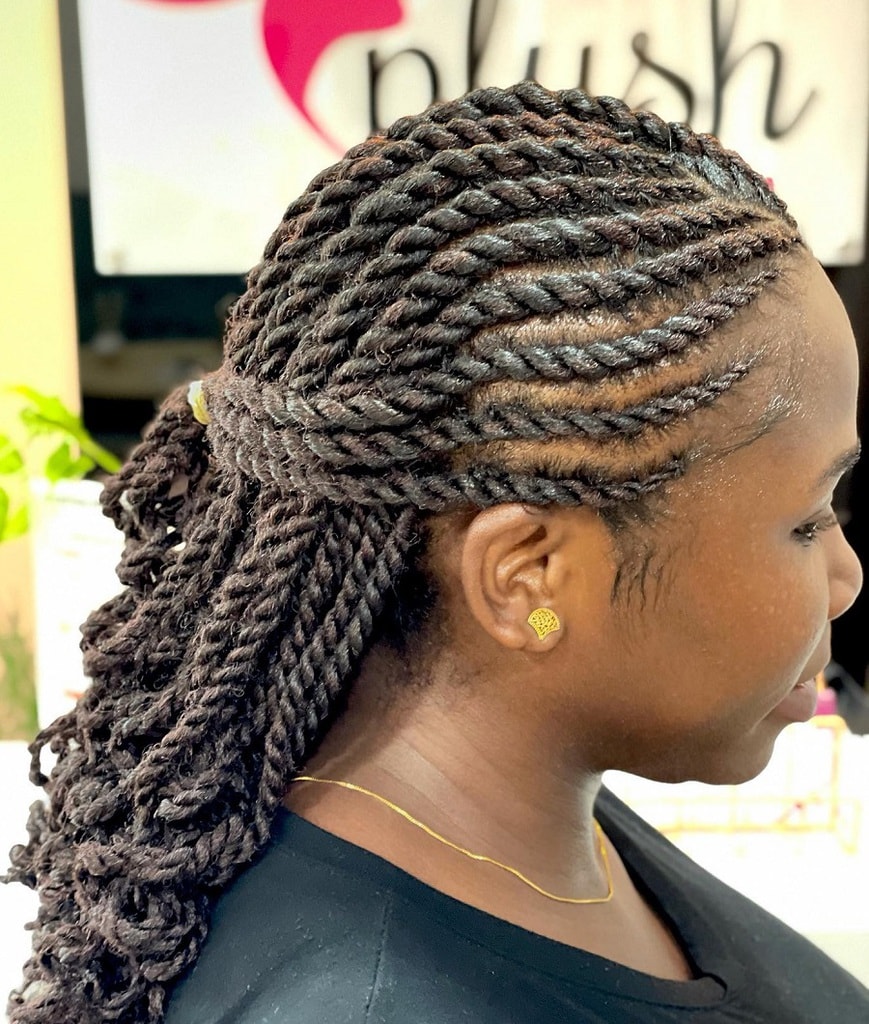 The volume of your black hair can be heavy to manage in a twisted hairdo. So make a half-up hairstyle and give some style to your look. It's a great way to style your hair, especially if you have long hair.
Diagonal Part Hair
Diagonally divide your hair into sections and twist them. Now take all of the sections and intertwine them.
Make a twisted criss-cross section on each side, too, for a unique look. It's a great look for a church or a christening ceremony.
High Curly Bun With Loose Ends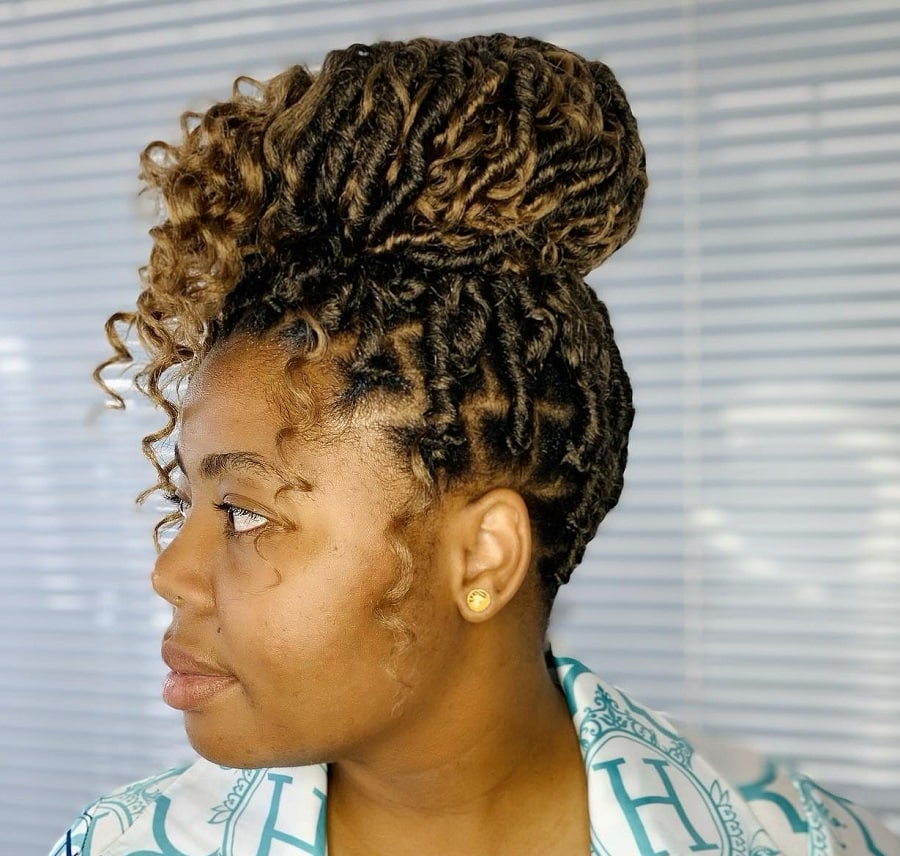 A bun looks trendy, and it's very comfortable. Add some style to your classic bun by twining your hair. Make a high bun with your long and curly hair. Let your curls flow on your forehead to create fake fringes.
4C Hair with Scrunchie
Start using scrunchies for your flat twists hairstyles, and you'll never leave them again. They're super comfortable and keep your hair stylish.
Furthermore, you can shift the focus away from your thin hair by using a printed scrunchie.
Beaded Rolled Hair in Bun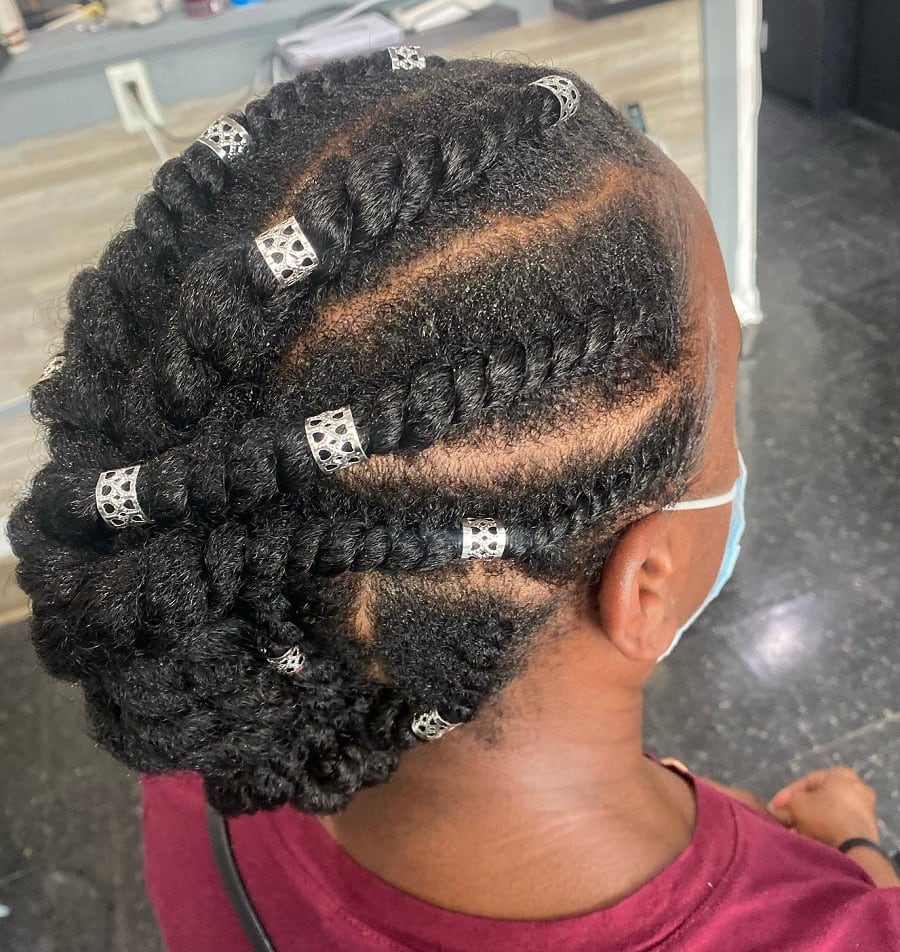 Introduce beads into your hairdos, and you'll be thankful to use them. Use shiny silver and designer beads between your twisted hair sections.
Make a flat bun with the sections. Beads make your hairdo shift from dull to stylish in seconds.
Hairdo for Older Women
Older women can totally pull off flat twists hairstyles because of their grey hair color. It doesn't matter whether your hair is thin or thick; try this hairdo for a new look. Show other ladies that you still know how to play the fashion game.
Criss Cross Braids for Short Hair
Along with twisting your short African American hair, you should make a criss-cross braids section on one side. This combination of two hairdos will make you look very stylish.
Plus, your short hair will be a great tool to make you look totally dope. Keep your hair color natural, as the focus should be on the hairstyle.
Crown Bun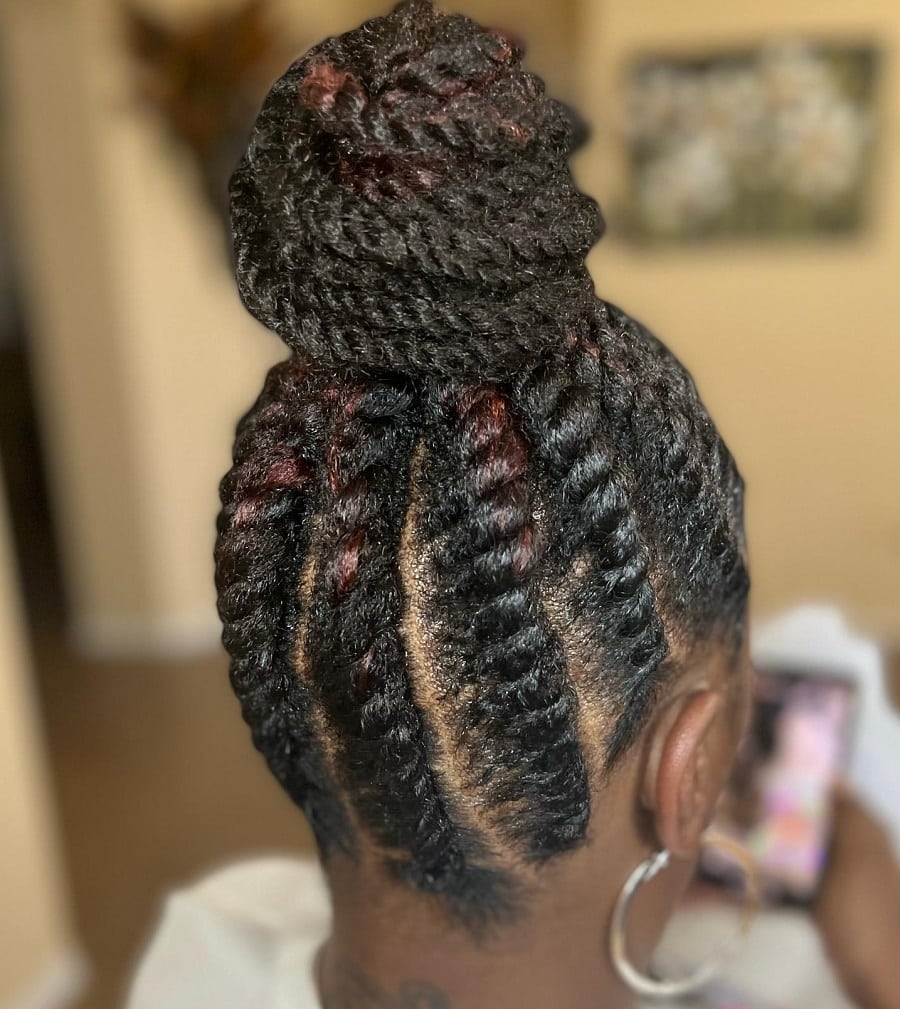 When you have extremely thick hair, the best way to manage them is to make a bun.
Additionally, your hair sections twisted will make your crown bun look unique. However, use hairpins to secure the twists as well as the bun. A simple and fun look for formal as well as casual events.
Side Parted Rolled Hair
Sometimes you need to keep your hair simple because beauty means simplicity. For example, one of the simplest ways to style flat twists is by making a side partition.
Side-parted hair works for any occasion you're styling your hair for. For example, honey blonde highlights on brown hair will give the finishing touch to your hair.
Red Ombre Twisted Nest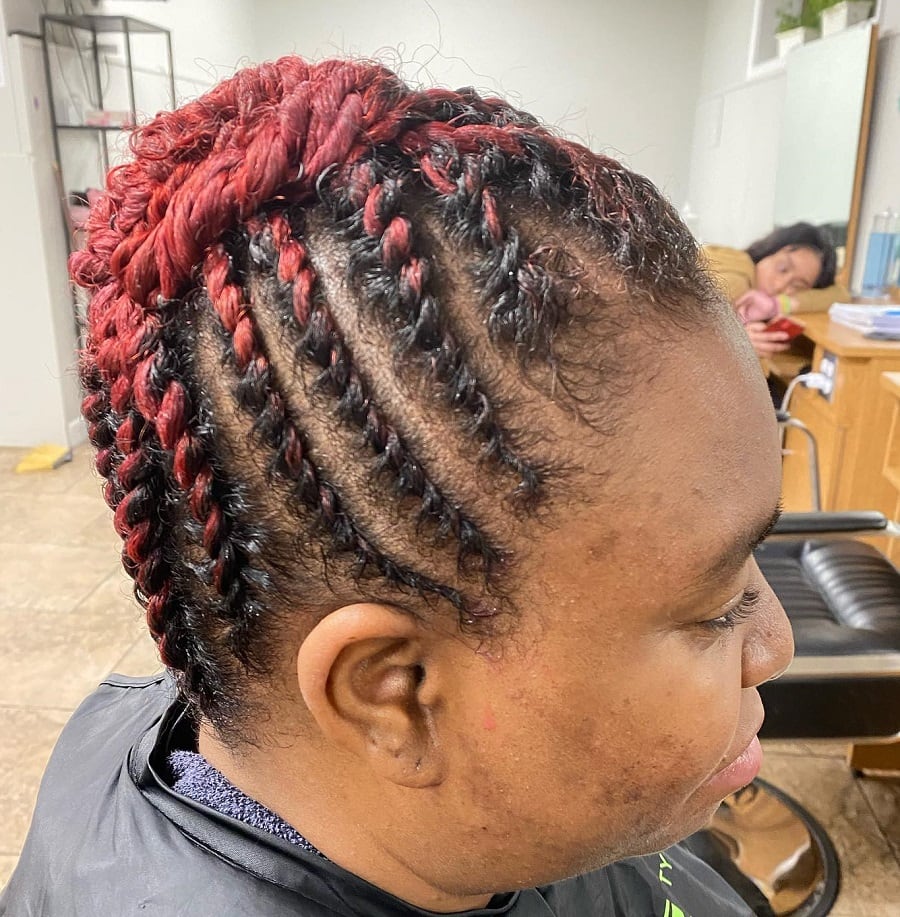 Got bored with your natural hair shade and want to make a change? Get a black to red ombre for a very chic look.
Plus, this bright color will bring some texture to your thin hair. Make a flat and twisted bun that'll look like a red bun. It's a great hairdo for you if you have a chubby face.
Beads at Hair Ends
It can be extremely difficult to hold the twisted sections, especially when your hair is thick. They'll keep opening unless you use beads at their ends.
Use beads to hold those thick sections, and they'll look unique too. Using the same colored beads as the sand yellow color will look beautiful.
Rolled Bangs with Bun
Have you always wanted to get bangs, but your curly hair won't allow it? Well, simply create fake bangs with your short hair on the front.
Use 2-3 thin and long beads between the sections to add the style element. Make a low bun to keep all the attention on the bangs.
Twisted Headband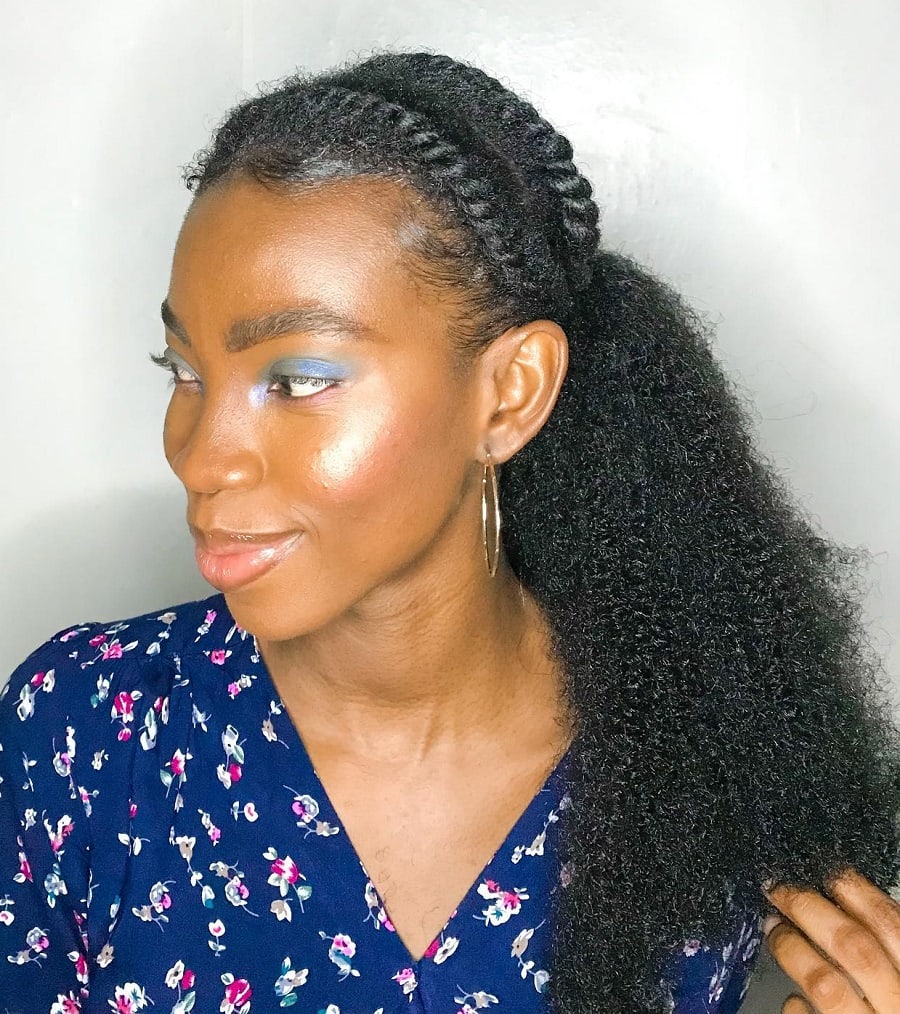 Simply use flat twists to make a headband. It looks effortless and very gorgeous on long and curly hair for black women.
Make a side ponytail to show off your thick curly hair stylishly. It's a gorgeous hairstyle for casual events.
Bronze Curly Half Updo
Twine your hair as much as you can to create the impression of curly hair. Now make a half-up bun with these curly sections.
This hairdo needs time to make, so get ready hours before going out. Colored hair will look totally stunning in this style.
We think we're hearing your screams of excitement because you've won the jackpot list! But, don't keep your partner or family members in suspense, and tell them you've got to know how to style flat twist hairstyles.
We're hoping that you'll call your friends too and tell them about this unique list. Well, first things first, don't forget to try these hairdos in excitement.
Go to your dressing room and prepare your hair for the special hairdo treatment. Then, it's time to post something new on your social media account and make everyone surprised.