The Fulani braids are a type of bundle braiding hairstyle that originated from the Fulani culture in West Africa. These braids are also known as tribal braids and are made throughout the thickness of your hair, using extensions.
The hairstyle is very popular among African women and has been spotted on many pop idols in Hollywood, including Beyonce and Alicia Keys.
The braids, once made, can be styled in multiple ways. The beading and clips that are braided along the hair add an extra look and edge to the hair.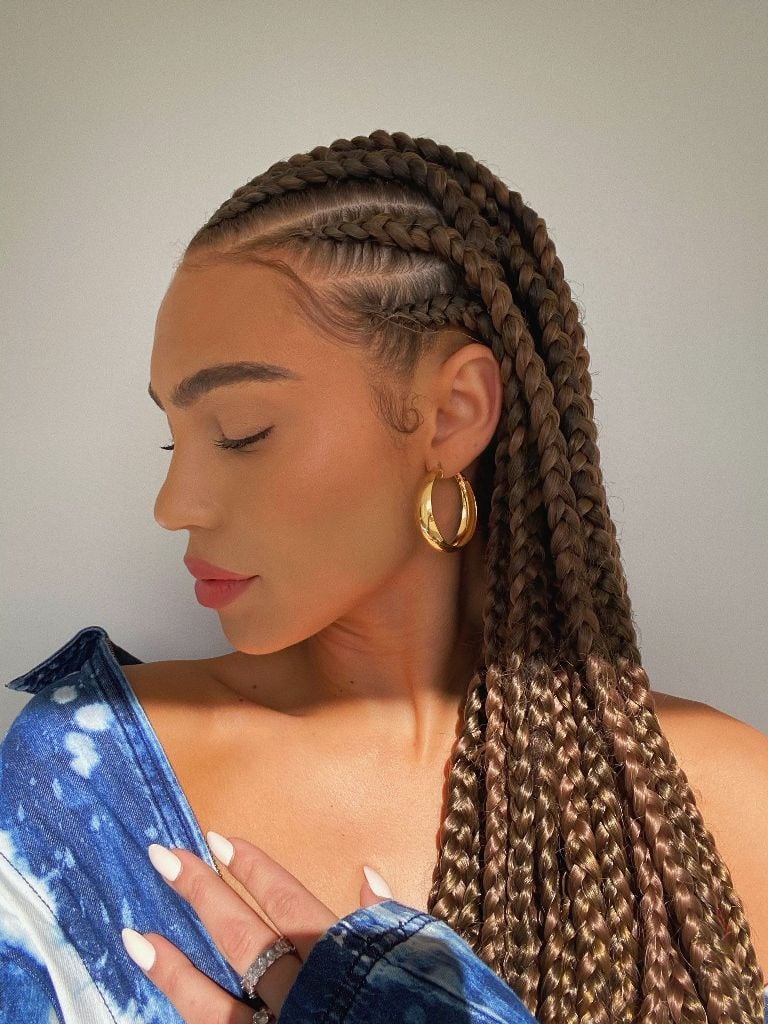 What You Need To Make Fulani Braids
2 packets ok Kanekalon hair extensions
Hair clips, beads, accessories
A rat-tail comb
Rubber bands
Step-By-Step Procedure To Make Fulani Braids
Part your hair to your liking and apply some dry shampoo and hair cream to moisturize your scalp and smoothen out your hair.
Now, take a single pencil-thickness section of hair from one side of the parting and divide it into three further subsections.
Begin braiding this into a three-section simple braid.
Take out your Kanekalon hair and divide it into thin sections and set them out separately on a flat surface.
Now, after the first knot, take a section of the Kanekalon hair extension and fold it in half. Hold it from the bend and add it to the section of hair that you are braiding.
Continue braiding with the added extension, and after another knot, add another thin section of the hair extension.
Repeat this procedure thrice or four times depending on the desired thickness of the braid that you like and then continue to braid till the end and then secure it with a rubber band.
Now, dip the ends of your hair in boiling water to secure the ends safely and then pat-dry with a towel.
Repeat the above steps with the remaining hair. You can add beads to the hair extensions as and when you like, or you can attach clips to them after the braid is done.
Your Fulani braids are done and dusted. Though the process is long, the results are worthwhile. Now you can style them up and down as you like.
FAQs on Fulani Braids
How long does it take to make Fulani braids?
If you are making the braids on your hair, it may take up to 6 hours to make the braids perfectly on your hair since you might need to redo some braids.
The process requires patience and perfection though it is not very difficult to understand. If you are getting them done from a professional or at a salon, it may take only 2-3 hours, depending on the thickness of your hair.
How long can you keep Fulani braids?
A bunch of well-maintained Fulani braids can be kept for up to 8 weeks. It is important to maintain the braids by regularly wetting them and then pat dry with a towel.
One must also use hair cream to keep the scalp and original hair soft to prevent any sort of damage to the quality of the hair.
How do I sleep in Fulani braids?
To sleep in Fulani braids while simultaneously preventing damage to your hair or hair loss, it is best to wrap it up in a silk or satin cloth so that there is no loss of moisture in the hair.
At the same time, you must regularly use hair moisturizer to keep your scalp moisturized and prevent hair loss.