Who doesn't want beautiful strands of thick, vibrant hair? Maintaining beautiful thick hair can be a challenge. However, with the right products and techniques, it can be easy.
One common technique that adds life and vibrancy to thick hair is coloring. Color can help add dimension, enhance volume, and give the appearance of thicker, healthier-looking hair. You can choose from various shades and formulas to create the perfect look.
Keep reading to learn how to color thick hair and get the look you want.
Can You Dye Thick Hair, and Is It Safe?
Yes, you can dye your thick hair safely. Many people with thick locks may worry that they will not achieve similar results as those with finer, thinner hair, but that is not the case. However, you can successfully and safely dye your thick hair with a few extra steps.
The safety of coloring your hair depends on the type of dye you use and how often you color it. Always choose a high-quality dye, such as one that is ammonia-free and non-toxic. Additionally, follow the directions on the package closely to avoid any adverse reactions.
When done well, permanent hair color can act as a toner and add vibrancy.
Tips for Coloring Thick Hair
Dying bulky hair requires extra time and the right tools. You can use professional products or purchase hair color kits from a drugstore. After buying the right products, here are some tips on how to color thick hair:
1. Do a Strand Test
Before coloring thick hair, it's necessary to do a strand test to determine the best color for your hair. The test is also beneficial in the:
Determining how the dye will interact with your hair's undertones
Identifying any potential allergies
Establishing how long you need to leave the dye on the hair
Once you're sure of the type of hair you're dealing with, you can choose a suitable color.
2. Trim Away Any Split Ends
Split ends can not only make the hair look unhealthy, but they can also cause the dye to be unevenly distributed throughout the hair. Ensure to give your thick locks a quick snip before applying any color.
You can use various techniques to trim thick hair, including;
Point cutting: Using scissors to create single-length pieces and provide more definition.
Blending: It can give the hair a natural-looking, blended finish.
Texturizing: It can reduce bulk and promote movement in the hair.
Shearing: It can help you achieve a voluminous, textured look.
Depending on the hair length and target outcomes, the hair stylist can use the most suitable mechanism to trim your hair.
3. Choose the Right Dye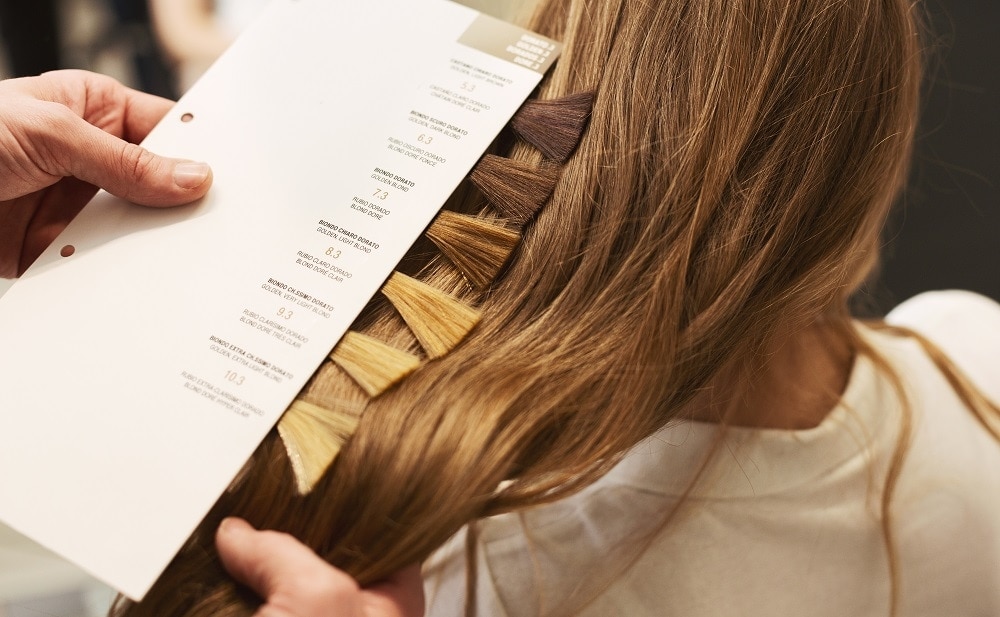 When selecting the ideal hair color for thick hair, getting one as close to your natural color as possible is essential. An experienced hairdresser can advise you on the correct dye type.
There are numerous dye colors for thick hair, depending on your preference. For instance, you can go for the following:
Blonde: Choosing the right shade of blonde helps to give off an attractive look.
Brown: For a classic look, you can choose a light or dark brown hue.
Red: Depending on your preference, you can select a natural red color or an intensely vibrant tone.
Blue: The color is an excellent choice for thick hair, as it helps to give off a bold and daring look.
Whichever color you choose, use quality products to protect your hair from damage.
4. Clean Your Hair Before Applying the Dye
Before applying the dye, it is crucial to ensure your hair is free of oils, dirt, or styling products. You can wash your hair with a clarifying shampoo.
You should consult suitable shampoo and cleaning products for your hair type, as the wrong products can cause more damage.
5. Deep-condition Your Hair Beforehand
It is essential to deep condition the hair before coloring, as this will help moisturize and protect your hair from the harsh chemicals found in dyes. Proper conditioning will ensure the color you apply is even and lasts longer.
6. Divide the Hair Into Sections
Sectioning will make it easier to color your hair evenly and accurately. Ensure the sections are manageable, as this can make it difficult to distribute the dye throughout the hair evenly.
7. Apply the Dye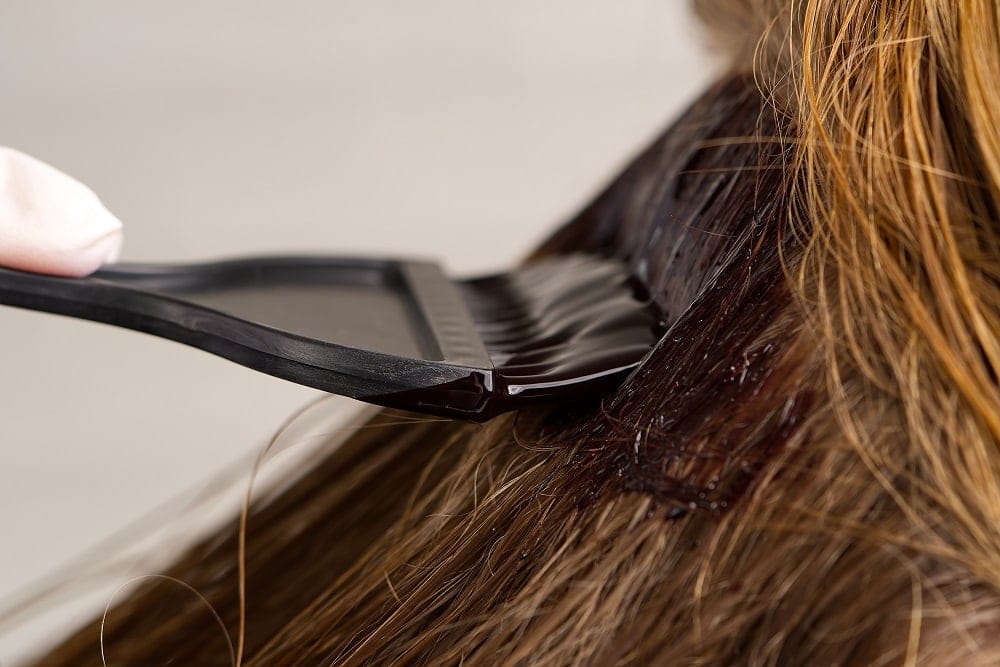 Start by applying the dye at the nape of the neck and work your way up. Apply small amounts of dye to distribute throughout the hair evenly.
Depending on the tones you want to achieve, sometimes you may need to apply the dye several times.
8. Let the Dye Sit
Let the dye sit for about 30 minutes before rinsing. Settling will help ensure the color penetrates deeply into your thick hair.
Note: Depending on the dye, you might need to follow the instructions on the box. Some products may require you to leave the dye for longer or shorter periods.
9. Rinse and Style
Once you are done, rinse the dye using a good-quality shampoo. You can then go ahead and style your hair.
Remember to nourish your newly-colored hair with a deep conditioning mask to keep it looking healthy and vibrant.
Related Topics:
Can You Dye Your Freshly Washed Hair?
Is It Safe to Dye Your Hair 12 Hours After Washing It?
How Soon Can Dye Your Hair Again?
Don'ts Of Coloring Thick Hair
Here are some mistakes to avoid when coloring thick hair:
Don't Wash Your Hair Before Coloring: Avoid washing your hair for 24-48 hours before you plan to color it. The natural oils on your scalp can protect your skin from hair dye.
Don't Rush: Take your time when applying the color to ensure that you get an even result. Rushing can lead to missed spots or uneven color.
Don't Overlap Color: If you're touching up your roots, avoid applying color over already-colored hair. This can lead to color buildup and damage.
Don't Ignore the Instructions: Always follow the instructions provided with the hair color. This includes the recommended processing time.
Don't Neglect Heat Protection: If you heat style your hair, make sure to use a heat protectant. Heat can strip the color and cause damage.
Don't Dye Immediately After Bleaching: Bleaching takes natural oil from hair. Dyeing it immediately after bleaching is not recommended as this can damage your hair.
Frequently Asked Questions
Coloring thick hair is a process that raises various questions in the quest to achieve a unique style. Below are some of the commonly asked questions:
How often should I color my thick hair?
It depends on the type and condition of your hair, but you can go for a touch-up every 6-8 weeks.
What color is best for thick hair?
The best color for thick hair depends on your individual preferences. However, colors close to your natural hue can be a safer option.
How do I keep my thick hair healthy after coloring?
Ensure regular deep hair conditioning and use a good quality shampoo and conditioner. Also, avoid using hot tools to style your hair, which can cause damage.