Ghana Braids is a trendy African hairstyle which is simple yet very exciting. These braids are quite popular with the name of pencil, banana braids, or cornrow braids. These braids are done with a unique braiding technique where the additional hair extensions are added to make the braids look thick. The weaving of hair looks great women with frizzy hair as it combats this issue. It matches with all outfits and can be done for any occasion by women from any age group.
There are many options of Ghana braids that you can opt for your hairs. It is simple to do hairstyle but with many variations to the traditional or original style that can be done on the hair going for professional help may be required. To start the style the first step is detangling the hair properly and then divide the hair into sections with the help of a rattail comb and then adding the braid stitches to the hair along with the use of hair extensions.
The difference between Ghana braids and cornrow braids is the just the difference that former uses hair extensions while the later is done on natural hairs. To tame the flyways of the hair serums or gels can be used. This style usually last for weeks if properly cared for. Washing and drying the hair is also comfortable. Let's explore the fantastic Ghana Braids you can try anytime to get a more sizzling and dazzling look.
Goddess Ghana Braids
Not only does this hairstyle looks excellent from a distance but the best aspect is that Goddess Ghana braid hairstyles like this style can be worn in thicker and thicker braids as per your liking. Doing this style is simple and also maintain it is quite simple. Divide your hair from the front in sections after you have detangled your hairs. Now start plaiting and using the hair extension of the similar shade of your hair do the plaits of the thickness that you want. Plait till the end and let the hair fall on your shoulder. The style can go for weeks, but hair extension can have flyways so to control that use some serum and try to sleep on a satin pillowcase so that there is no friction with the hair while you are sleeping.
Senegalese Twist Ghana Braids
Ghana braids usually means braiding and showing clear partitions on the head. But this style is an exception there is no head to be shown. Use red and natural black color for the hair extension and make thin close braids. The ends of the hair of about an inch will not be braided but left open.  After the braiding has been done tie the hair in a half ponytail with the help of rubber band. It is a very edgy and sassy hairstyle and a good option if you are intending to travel as it can be easily maintained.
Ghana Braids with Ponytail
It is a very interesting hairstyle and will take off years from your face it will also prove to be a good option for your little dolls. Divide your detangled hair into two horizontal sections, on big and the other small. The more significant part will have a top knot ponytail so in this the plaiting will be done in two directions so that the ponytail can be tied neatly. There will not hair extension used in this hairstyle. Now the section of the hair that was left behind will be braided in horizontal braids. All the braids then combined will be tied in a high ponytail that will be secured with a golden thread. The golden thread in the high ponytail will give it a very royal and regal touch.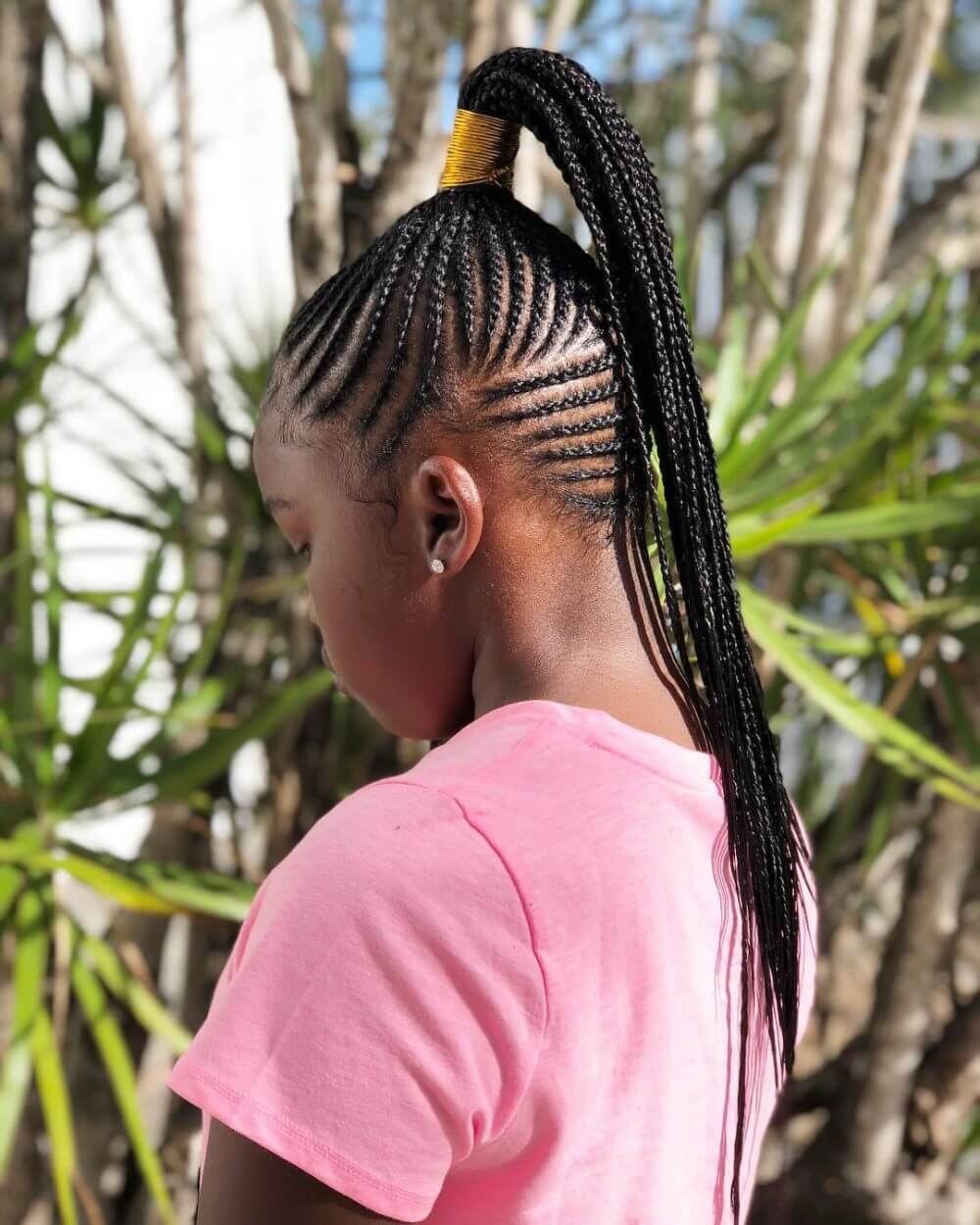 Dreadlock Ghana Braids
It a great hairstyle for women with long hairs and looking for rope like strands either by braiding or matting hair. These dreadlocks were in fashion for over 2000 years. Earlier people use to get this hairstyle by doing less grooming but these days it's in fashion, people are doing it on purpose to get a super cool look. Create dreadlocks and then do a side-swept, pin up the hair at the back with a hair clip and let the rest of the dreadlocks fall freely. You can carry it with any dress and dazzle the party, event or any occasion.
Ghana Braids with Bun
A perfect style for your red carpet event. The hairstyle will definitely turn eyes to you and make you feel like the golden girl. It is a powerful style statement and thus will need matching ensemble and personality to carry it. In a swirling pattern starting with side partition start to plait. The original hair and the extension both will be in golden color and so will be the outfit to compliment it and ravishing style that will be ramp ready. The braids will be tied inside a bun, and the bun will complete this hairstyle. The bun will be twisted to add some character to the look.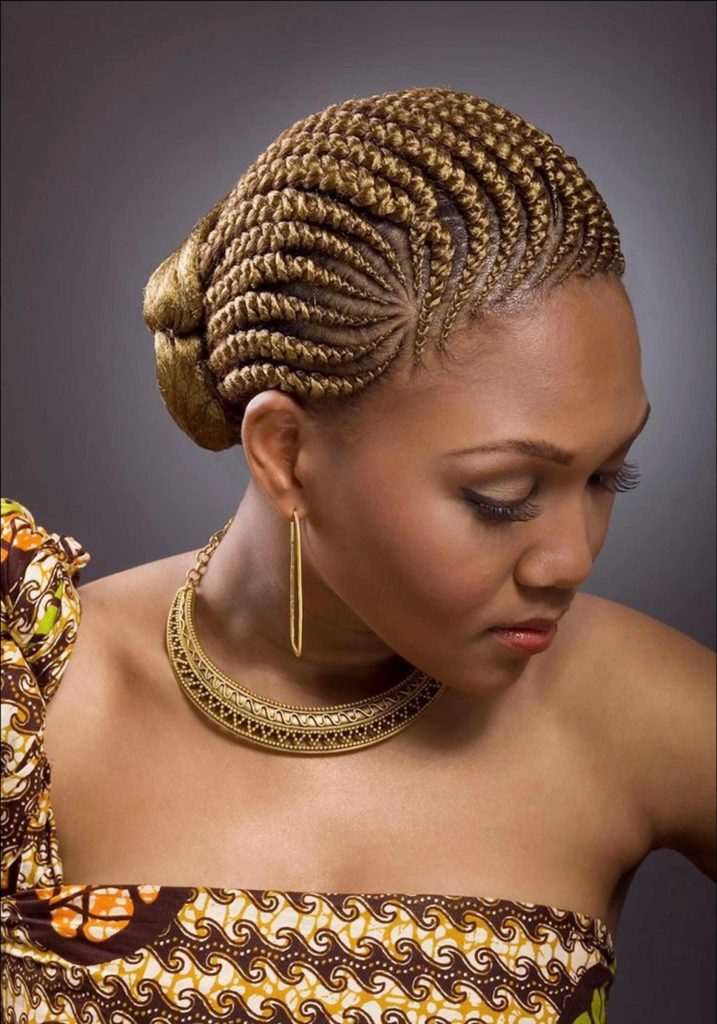 Ghana Braids Updo
The Ghana braids itself are very elaborate and then doing a bun with it takes a look to another level. In circular pattern make the braids and gather them at the top and tie it a bun. The bun will be high and big and will be requiring some holding products and as it will have hair extensions so it will need regular taming. Natural hair and using hair extension of similar color do the braiding; the start points will thin and sharply pointed. As the braids will thick and heavy tying it in a bun will make it look sassy and easy to move. It is a style that can be worn anywhere anytime.
Bob Ghana Braids
If you have a bob haircut and are awestruck with people who have Ghana braids, then worry not as even in your present hairstyle you can rock these Ghana braids. Instead, it will not be wrong to say that Ghana braids in bob haircut look so very sassy, ultra modern and edgy. With your small hair simply start to braid randomly and towards the end leave the braids open. A very wild hairstyle and as the braids will overlap each other it will make you look like a rock star. Apt for teenaged or young girls who are set to conquer the world. Very easy to manage and regular trimmings to maintain the bob hair length will be also not needed, as the hair will grow they will add to the look.
Two Ghana Braids
Who said that Ghana braids need to be many to make your look complete instead you can simply opt for two simple Ghana braids and steal the show. The two cute pigtails Ghana braids will set you ready for the party or a game at the beach or simply head for a coffee date. Make a nice and clear middle partition and simply start to braid and use the extension of the same color and very chic and simple hairstyle that should be tried by you on your hair.
Long Ghana Braids
Ghana braids in long hair will definitely set some style and fashion goals for all to follow and copy. The braids will be done after dividing the hair into two sections horizontally and start braiding taking the hair of different widths. Braids will be thin towards the end and will be accessorized with wire in a crisscross fashion. The braids will be tied in a high pony, and long hair will be easier to manage. Taking one braid to tie it around the high ponytail. In this braid put golden rings this add to the glam look of the simple ponytail hairstyle. Due to the length of the hair, it may be difficult to manage it but braiding the hair can limit the difficulty and add style to your look.
Triple Ghana Braids
It may sound simple but trust me it is one of the most ravishing styles that can add an oomph factor to your look. In random but circular pattern make three thick partitions and side by side make three very thin partitions and adding blonde extensions to thick partitions plait it and simply without the blonde extensions. The three plaits at the back look very cute and definitely will take you on a trip back to your school days but with style quotient. Even little kids if opt for this style it will look adorable.
Four Ghana Braids
Divide your hair into four slanting sections and then just plait and bring the locks in front. It is cute and easy to manage hairstyle. It is a simple hairstyle that will take off years from your face and make you look young as well as also make you feel young. Start the plait from a thin point and add extensions to make it thick and end at a point again. The style is long, and if the extensions cause flyways, they can be tamed with serum or gel.
Six Ghana Braids
The style has been named as six Ghana braids but would be apt to term it as the 12 Ghana braids. The reason for doing so would be the presence of 6 thick and 6 thin braids in perfect alternate pitch but the then combining at the nape in 6 Ghana braids. It is a simple and sleek hairstyle that can be done by anyone for any occasion. With a rattail comb make 12 partitions 6 thick and 6 thin. Start adding braid stitches to the thick ones with the adding extensions to it while the thin will get braided as it is only.
Towards the nape combines a thick and thin braid in one single braid. Thus you will get in total 6 braids. Bring the braids in front three from one side and three from other. It is a style that is cute and stylish at the same time.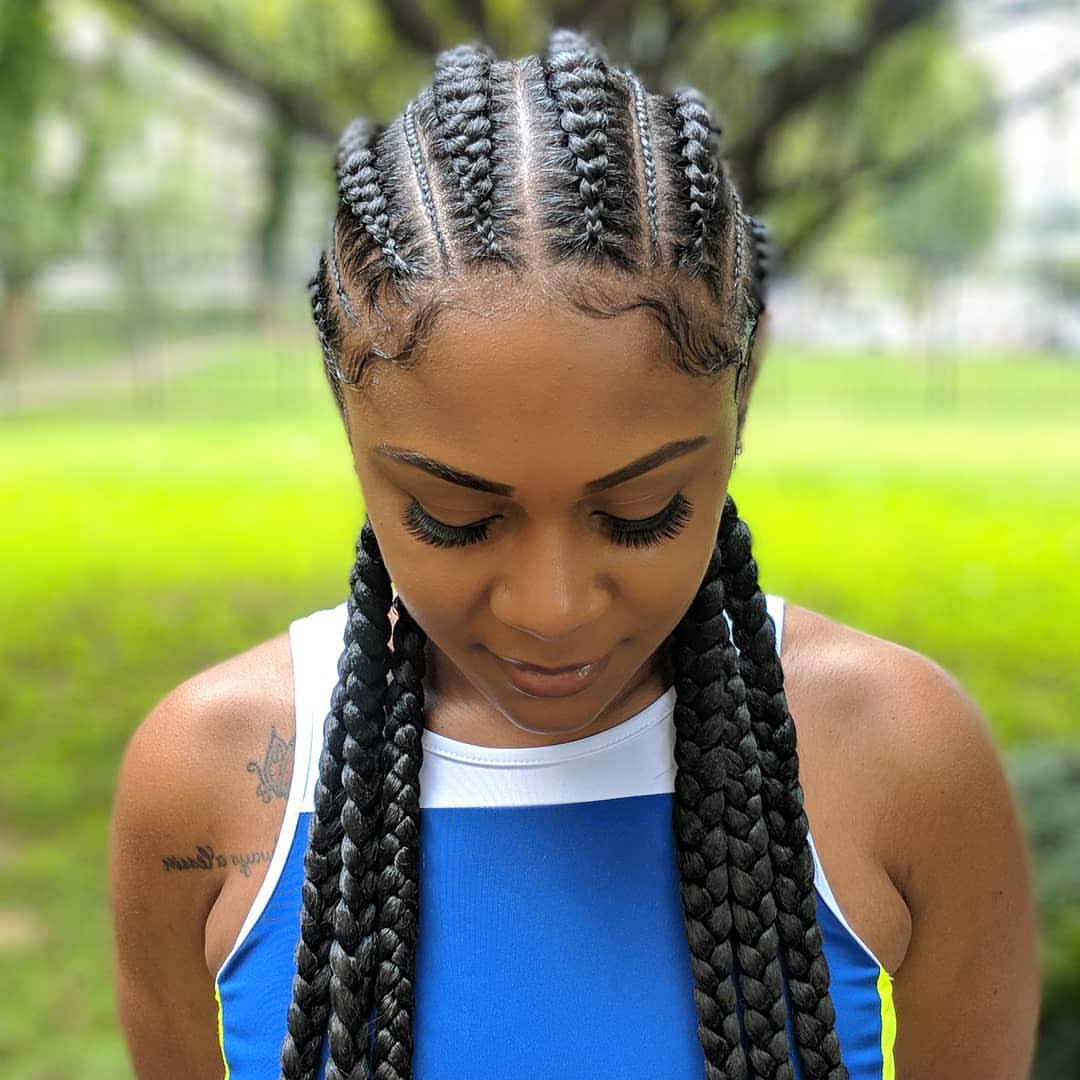 Ghana Braids with Weave
Going for the center parting may seem to be unusual, but it will look great and add to the style quotient. The effect the braids will create on the head with the weaving pattern is cool and very edgy and apt for the ultra-modern sophisticated girl. The Ghana braids will cover the hair entirely and thus make you feel awesome. An effortless style to maintain and wash but doing it may require professional help and lots of patience.
Trendy Ghana Braids
Ghana braids are stylish, and they definitely do set some trends. The inclusion of hair extensions from the right stitch and ending at the right stitch is definitely a factor that you need to consider while doing the braid stitches. In a swirling pattern taking partition from the side start to part the hairs. Add the braid stitches and the extensions as per the thickness that you want but maintain the same thickness for all the braids. The endpoints of the braids will be a thin plait this will help not to make the braids very heavy and manage it with ease for weeks. Easy to do and maintain this hairstyle.
Fishbone Ghana Braids
Fishbone plaits or hairdo never you disappointed with its beauty and charm. A very ravishing hairstyle that will leave all eyes stuck on you. This is not a simple hairstyle and taking professional help to do this style is a better option. Add the fishbone braid stitches to the hair after you have divided the hair into 8 sections. The middle part will first get the braid stitches and then the side ones in coordination with the middle braid. Adding rings to the fishbone braids is an excellent option to make it more stylish and rings with embellishment attached to it is a style statement worth copying. Take all the braids and tie it in a high bun and you are all ready to rock the most trendy look with the Ghana braids.
Creative Ghana Braids
This creative Ghana braid is definitely the best style option for Ghana braids as this style is an epitome of creativity. Again in random swirls and side partition, this hairstyle will be done. Starting from a point and then adding to the width the extensions will be added. Few of the braids will fall playfully on the face adding to a beautiful lady like looks. The front braid falling on the face will have pink wire crisscross design on it, and the other braids will have rings on it to complete the super creative Ghana braids.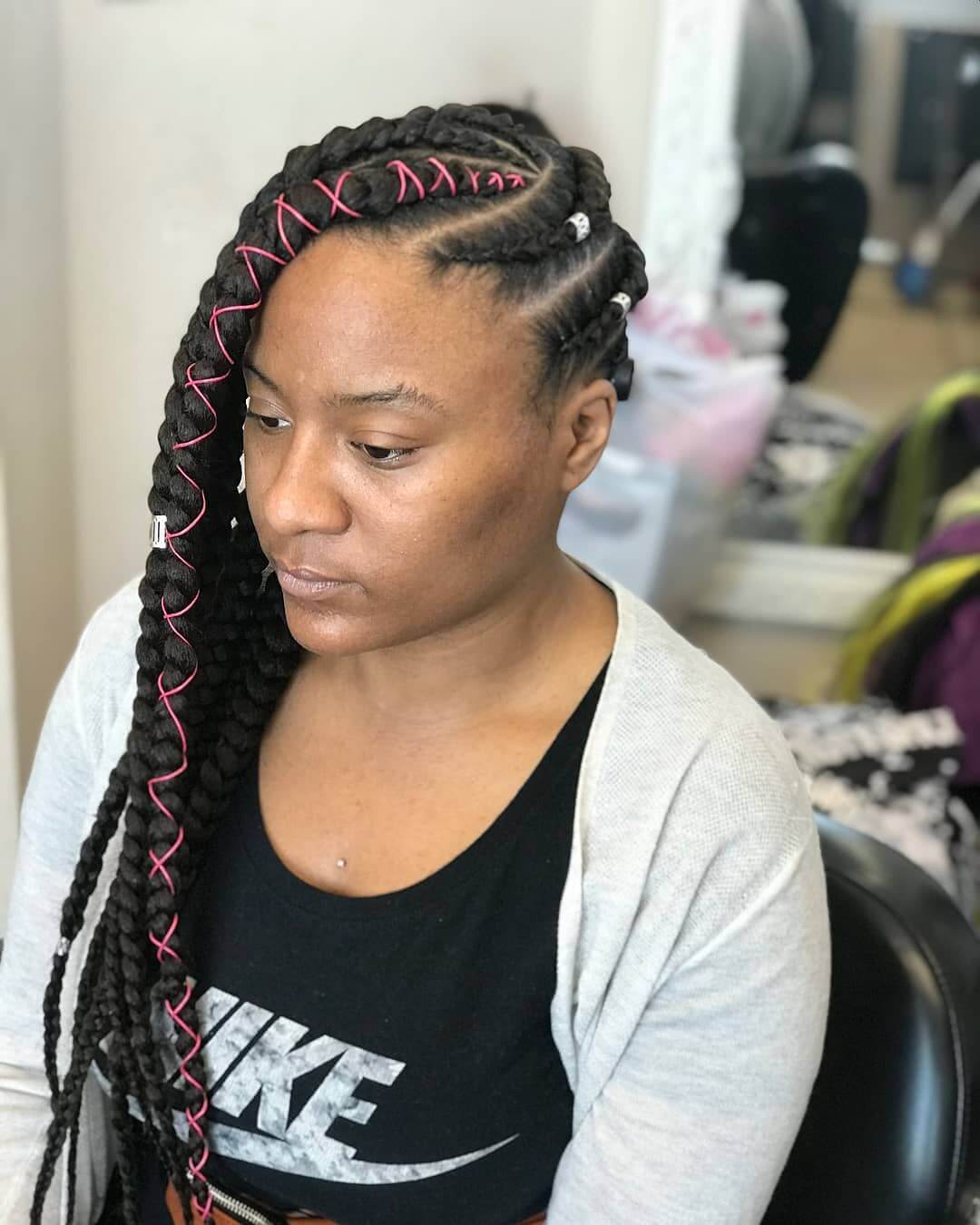 Small Ghana Braids
Ghana braids are not always about having the thick fat braids at times keeping the braids small in size can also do the trick to help you look pretty. Side part your hair and take a few hairs from the middle section and add braid stitches to it keep the braid thin and small in size. Likewise, take thin strands of hair from the sides and add braid stitches to your hair. This will give you multiple braid stitches that are small in size. Add a few rings to these braids as they will simply enhance the look.
Ghana Braids with Natural Hair
Ghana braids in simple natural hair is a good option and tying the hair in a pony looks very sweet. Taking random sections of hair in an abstract pattern but geometrical shapes. Add the braid stitches depending on the hair direction but getting all the braids to the endpoint where a ponytail will be done with these braids. A very stylish and modern approach to the simple ponytail. It is a style that can be done on for parties or can be carried on regular daily wear.
Jumbo Ghana Braids
A creative style of Ghana braids that can be done in almost no time. Make very thick braids using extensions from the beginning that is unlike the usual Ghana braids these braids will start from thick points. The endpoints of the braids will be a thin point. Start braiding from the side and then reach up to the next side. The jumbo Ghana braids will not need much time to do and will also look stylish.
Ghana Braids for Short Hair
Girls with short hair can also get the Ghana braids done in their short hair, and the result will be equally beautiful. Deep side swept hair will be done in very thin braids. Take small sections of hair and add braid stitches to the hair. As the braids will be very thin it will require quite some time to do it, but the result will be worth the effort. The ends will be left open with not braiding till the end. Easy to wash and care this hairstyle and will look perfect even for your office wear.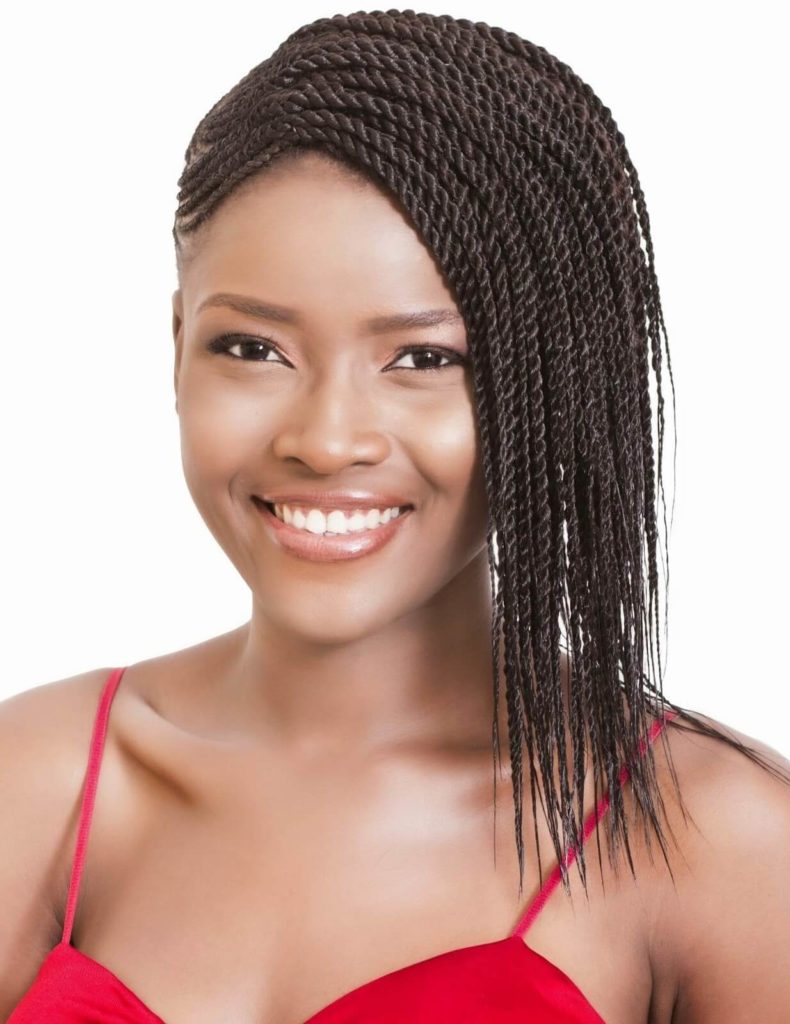 Side Swept Ghana Braids
Side swept Ghana braids are another example of this style that will compel you to try this style. Side-swept hair and adding braid stitches to it in two directions will surely look so good. Do the braiding and let the braids fall playfully on your face. This style is a versatile option and can be done by any lady irrespective of her age, hair texture and occasion.
Whatever may be your choice of Ghana braids but you will definitely rock the look with this style. Every woman once in her lifetime should go for this hairstyle. Make yourself stand out of the masses with this Ghana hairstyle. It may need much time to do this style, but the result is worth it and also for some weeks you need not worry about styling your hair.