An adorable essence of creativity and a bold and confident look with some artistic designs and hair accessories make a completely stunning look, and Braids are a trendy and popular way to achieve an appealing and charming look.
Butterfly braids hairstyle is a very charming and lovely hairstyle achieved by creating two braids on each of the sides with a parting between your hair. The braids include some feed-in braids to make your butterfly braid full and thick and usually, the braiding is continued towards one side.
The simple feed-in braiding technique with the butterfly pattern can help you achieve the glorious and adorable appeal you desire and allows you to get a lot of variations in the simple hairstyle.
Get a Butterfly Braids by Following Below Simple Steps:
Create an off-center parting for your hair using a rat-tail comb.
Start creating a braid from your right side by adding a feed-in braid extension.
Leave the braid unfinished when you reach the nape of your neck.
Repeat the process for the left side by adding feed-in braids.
Bring both braids together and continue braiding towards the right side till you reach the end.
As butterfly braids include feed-in braids, they offer a very protective hairstyle having low maintenance. It is a versatile hairstyle that you can combine with various other styles like a ponytail, updo, bun, or making it curly, messy, long, etc.
You can also use a number of hair accessories such as colorful beads, strings, coils, etc. to make your butterfly braid impressive and gorgeous. If you are looking for some high-chic and impressive butterfly braid hairstyles, we have got some amazing and delightful butterfly braids options for you.
All Over Braids

This butterfly braids hairstyle goes all over the head and the hair is dyed a delightful mustard yellow color that stands out a lot in a crowd. The braids are thick and numerous, and there are some smaller braids underneath the large ones. It's very unique.
2. Brightly Coloured Butterfly Braids
These butterfly braids are incredibly unique. There are lots of them because they're very small, and there are so many that it's almost as if no two braids look the same. Some are wrapped with pink or white hair on top, some have green ribbons woven through them, and some aren't fully braided to the end so there are curls extending from them.
3. Criss Cross Butterfly Look
If you want a butterfly braids hairstyle that's very unique on top, then you should consider this one. The braids have a criss-cross pattern on the scalp, and then the braids hang long and heavy and light reddish-brown from the head. They're also perfect and there's a lot of hair here.
4. Thick Black and Gold
These thick black and gold butterfly braids stand out. The color differences draw the eye, and the largeness of the braids makes the style easier to maintain than one with lots of smaller braids.
5. High Ponytail
This sees the style scooped up into a high ponytail with a few braids falling loose by the face. It's incredibly long and goes all the way down the back. It's a very glamorous look for someone loving this style.
6. Hidden Butterfly
The butterfly braids in this hairstyle are very subtle as they are mixed in with lots of dense and curly hair. They extend from where the hair is parted and are a nice complement to the overall texture of the hair.
7. Braids Into Curls
This look sees the braids tight to the scalp, and they cascade down over one shoulder in a beautiful sweep of braids. However, the hair isn't braided all the way down. The curly ends of the hair are let stay free. If you love long hair, then you'll love this butterfly braids look for certain.
8. Middle Parted Braided Look
In this style, the hair is parted in the middle and the butterfly braids have their own little sections on each side of the head. They fall down long across the body and the ends are twisted into nice little curls that look wonderful.
9. Purple Butterfly Hair
This mesmerizing and highly unique deep dark purple look will definitely draw all the eyes in every single crowd. The braided hair is very long and it's braided in simple small sections all across the head with a side parting. The rich purple color makes it highly unique.
10. Rusty Brown Butterfly Look
Here the hair is a rusty brown color and the braid starts off thick and mixed in with some of the black hair. They get very thin towards the end as they cascade down the back. The style has a very largely defined middle parting.
11. Enormous Butterfly Braid
A super thick and big butterfly braid that catches all the attention at very first sight. Enormous butterfly braid suits natural afro hair combined with a feed-in braid of long length. You can even go for a 24-inch hair length to style an enormous butterfly braid.
To achieve the hairdo, make a side parting and create braids on both the sides till you reach the nape of the neck and then combine the hair and create a big and thick single braid till the length of extension hair. Style the enormous butterfly braid with some golden cuffs to get a stylish appeal.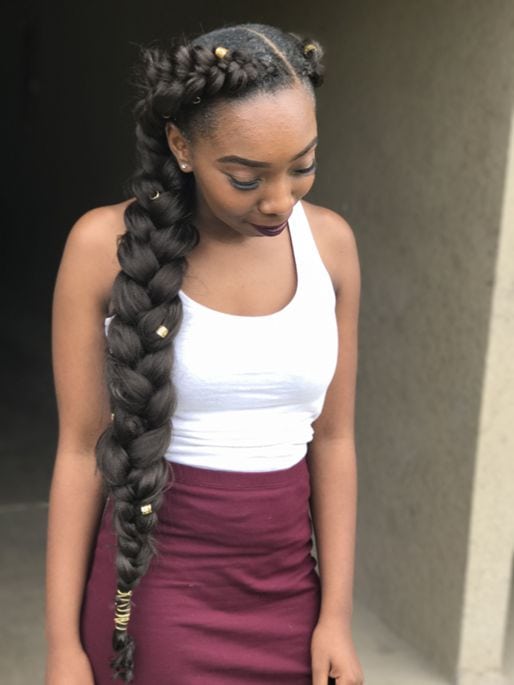 12. Anterior Butterfly Braid
An adorable and lovely hairstyle for the girls who have an oval shape or long face type. Anterior butterfly braid is created by making the right braid just near the hairline covering the ear and gradually braiding towards the front.
And the left braid is also added from the nape of the neck to continue the single thick braid towards the end of the hair. Anterior butterfly braid styled with golden rings towards the hairline on each strand of the braid makes the braid super charming and alluring. You can style the hairdo for your special occasions like parties or wedding ceremonies.
13. Flowery Butterfly Braid
Styling your braids with some colorful hair accessories and fresh flowers makes you look refreshing and pretty. Butterfly braids decorated with some fresh flowers and ring accessories create a cool and stylish hairstyle that looks pretty, adorable, and lovely.
To achieve a particular look, create a long butterfly braid using a high length extension and secure it with a rubber band. Then take some violet small flowers and place them in between the strands of your butterfly braid randomly and additionally add some stylish rings to complete the appealing look.
14. Fishtail Butterfly
Butterfly braids can be as artistic as you want as it is so versatile that you can choose any braiding technique and combine them with butterfly braids to make them look impressive and elegant. The fishtail braid is a very lovely and adorable hairstyle and you can combine the style with the butterfly braid quite easily.
To achieve it, make an off-center parting and on each side make a thick fishtail braid using extension hair till neck length and then combine both the braids hair together and create a fishtail braid till the end. Style the cute fishtail butterfly braid with some white pearl beads.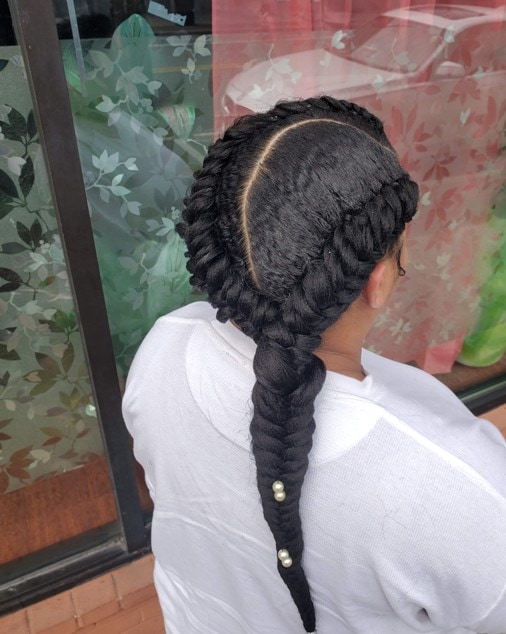 15. Chocolaty Crown Butterfly
If you are looking for some delicious-looking butterfly braid, then why not go for a chocolate brown shade highlight for your hair or getting some chocolate color feed-in braid for your stylish butterfly braid hairstyle.
And to make it more charming and alluring, you can try out some versatile hairstyles such as a crown braid.
To achieve a chocolaty brown butterfly, make a side parting closest to the left side and continue the basic butterfly and repeat till the end towards the ride side. The right braid will cross almost all the hairline parts giving a beautiful crown braid look.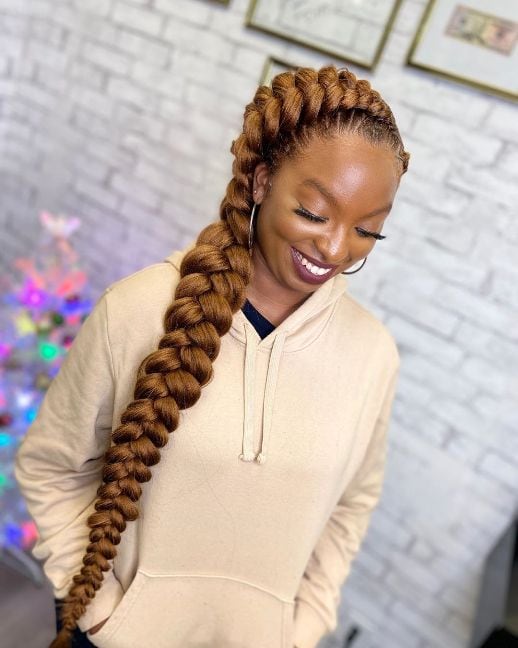 16. Dual-tone Cornrow
Getting a bold and stylish hairstyle is always the most desirable look among the girls and the trendy shades work as a perfect option to achieve the modish hairstyle. When you combine two-tone feed-in braids for your butterfly braid, the design becomes super cool and pretty and is also will be an unusual hairstyle.
For the decent yet stylish appeal with butterfly braids, you can choose a brown shade feed-in extension and a red feed-in extension and combine both of them in the butterfly braid with the help of cornrows hair braiding style.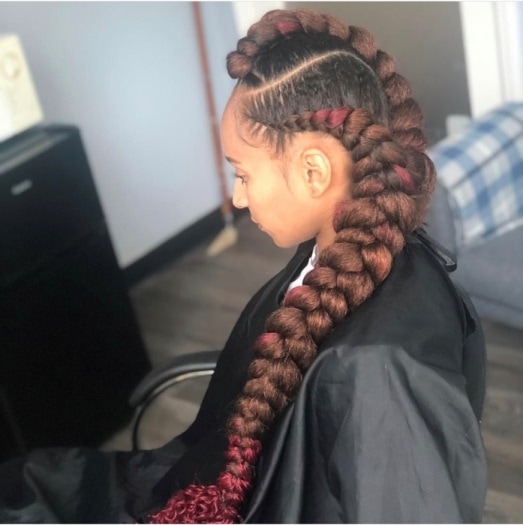 17. Side Hairline
Jet black hair with a side hairline butterfly braid is a popular and fashionable hairstyle among African American girls. Side hairline butterfly braid is a very protective hairstyle when it is done after installing a lace wig on your natural hair, and with the sew-in technique, the braiding hair is added to both sides.
Style your butterfly braid just close to the hairline gradually going down and add the other side braid into the Side hairline braid to get the complete butterfly braid look. Side Hairline braid is a great hairstyle for girls having long face type.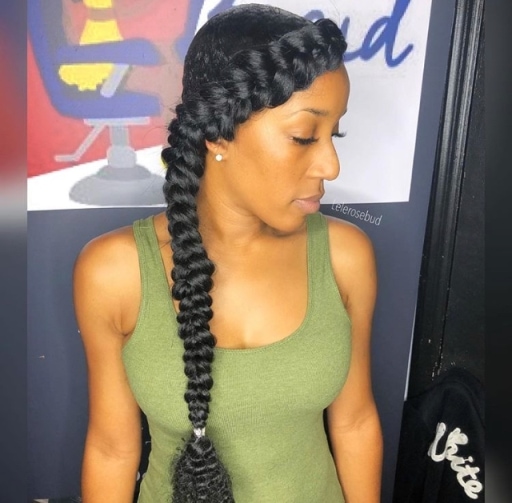 18. Persian Fishtail
Fewer efforts can give you an attractive and alluring hairstyle that would sound hard to believe, but it is true in the case of the Persian Fishtail butterfly braid.
The technique of creating a fishtail braid is quite easy as you need to divide your hair into two strands and from each side corner, you need to take a small piece of strand and overlap to another side.
So, creating the fishtail style with a butterfly braid can give you a beautiful and engaging hairstyle. The bold and vibrant color shades, such as Persian or burgundy, can make your fishtail butterfly more voguish.
19. Side V Butterfly Braid
A casual butterfly braid can be changed according to your preferred look and desires, and the side V butterfly braid is also one of the versatile hairstyles that can be achieved using butterfly braids.
Just like the basic butterfly you need to create two jumbo braids on each side but combine the two at the right-center of your head to make a V shape for the top and side look. Continue the braid as usual and style it with golden cuffs randomly between the strands to make the butterfly braid appealing and charming.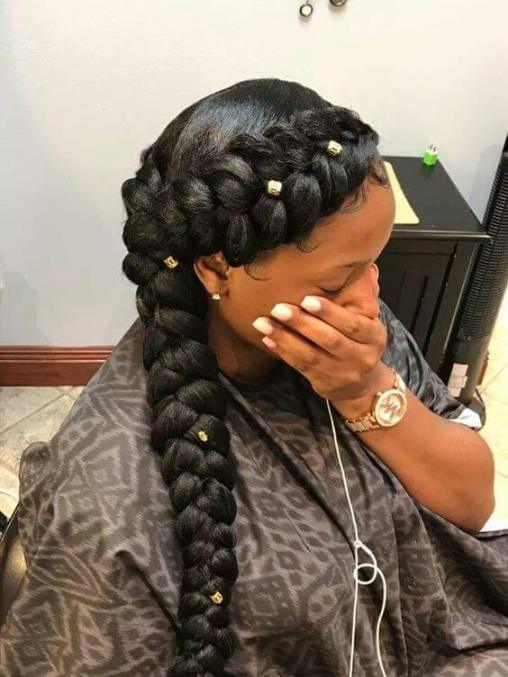 20. Fierce Cornrows Center Butterfly
Another engaging hairstyle that gives you a unique and modish look with a protective hairstyle is Fierce cornrows center butterfly braids. You need to make the triangular sectioned partition for your hair, leaving more portion hair for the center.
Create cornrows for all the hair sections except the center and add feed-in braids for the center portion and make a thick butterfly braid gradually adding the cornrows sections.
The tightly braided cornrows combined with the thick middle butterfly braid will give you a lovely and adorable appeal. The hairdo is perfect for afro girls who love the cornrow braid hairstyle.
21. Side French Butterfly Braid
In a butterfly braid, usually, the braiding hair is added at the very starting strand to make it even and thick but adding the hair gradually in your braid gives the butterfly braid a very pleasing and delightful look.
As the name suggests, the side French butterfly braid includes a French-style braid on the right corner that gradually increases in size and thickness when the top hair is added with each strand gradually.
To make the Side French butterfly braid look more natural, just pull out a few strands from the braid after combining both side braids.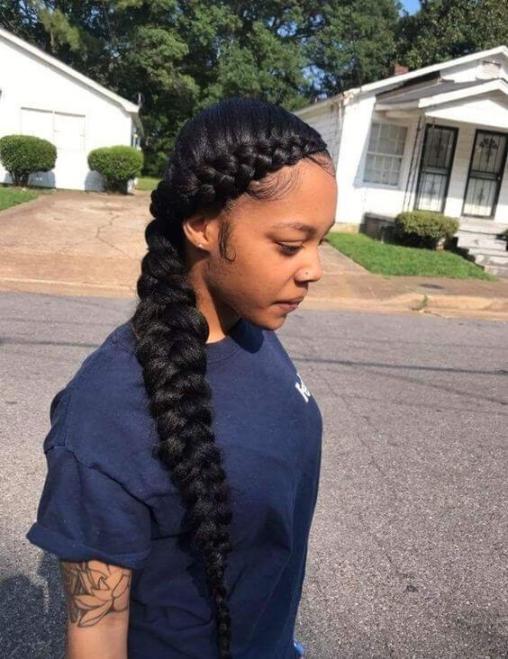 22. Prolonged Sleek Butterfly
A very sleek and stunning hairstyle can be achieved with the prolonged butterfly braid as the super long braid is eye-catching and perfect for prom or special parties.
To get a prolonged sleek butterfly hairstyle, use natural hair extension to get a natural look as the synthetic hair would decline the beauty of the gorgeous hairstyle.
To get the prolonged butterfly braid look, you can use two pairs of natural hair extensions and create the butterfly braid along the side hairline to add a beautiful charm to the hairstyle.
23. Uneven Butterfly with Cuffs
Making your butterfly always even and basic is not the only style that you can try with your butterfly braids. Getting messy sometimes can also give a lovely and pretty look to your hairstyle.
A similar case is with an uneven butterfly braid hairstyle in which the braiding style is the same as the normal butterfly braid, but the sections taken for the braid are not even.
While dividing your hair into three strands for the braid, take the middle section smaller than the other and create the braids as it would give an uneven look to your braids, making it very delightful and add some cuffs to increase the beauty.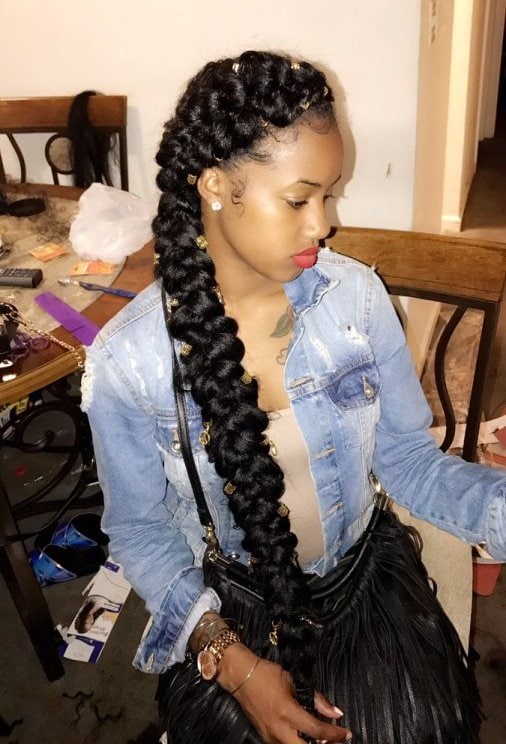 24. Ombre Weave Butterfly Braid
If you are looking for some outstanding and eye-catching extension for your butterfly braid, Ombre can be a great choice as the dual-tone of highlight in the ombre extension can give a new and unique bold hue to your overall look.
Ombre braids are really safe and protective option to experiment with some trendy colors. The light brown and dark brown ombre extension butterfly braid on your natural afro hair looks very appealing. Just pull out the strands a bit outwards as a finishing style for your butterfly braids.
25. Symmetrical Butterfly
If your braids are styled in symmetry, the look becomes very elegant and beautiful. The symmetrical butterfly braid hairstyle is quite easy to style and has very low maintenance. To achieve the hairdo, make a side parting close to the left side.
Make the right braid starting near the hairline gradually going backward. With this method, the combined braiding hair will be of almost the same length as the right braid, and the whole butterfly braid will be of an asymmetrical length that looks very attractive and charming. Choose the natural hair color extension to maintain a decent appearance.
26. Side Parting Big Braids
A usual side parting with two big braids on both sides can act as a very cool and stylish hairstyle while looking decent and lovely. Side parting big braids hairstyle is a perfect hairstyle for young girls and teens who want to try out some butterfly braids hairstyle while maintaining a decent and childish look.
The hairdo looks very cute on young girls, and you can style your big braids with some golden cuffs attached randomly to the strands. Use natural color for feed-in braids to make them look natural and lovely.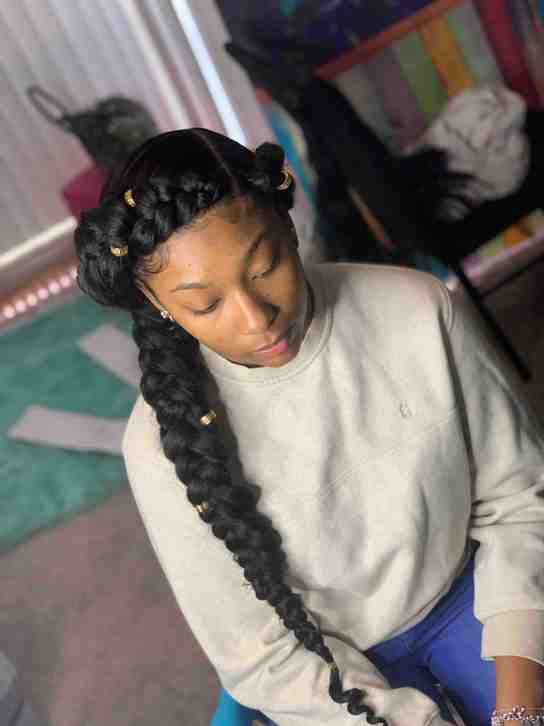 27. Jumbo Sideline Braid
Jumbo sideline braids really stand out because of their thickness and give a bold and confident look to your overall personality. You can use two sets of braiding hair at once for one side braid to increase the thickness and make the butterfly braid full.
After joining the braids from both sides, create a jumbo ponytail towards the right side to complete the look. You can use natural or synthetic hair extensions as per your desired look. Jumbo Sideline braid hairstyle suits African American girls having an oval or round face type.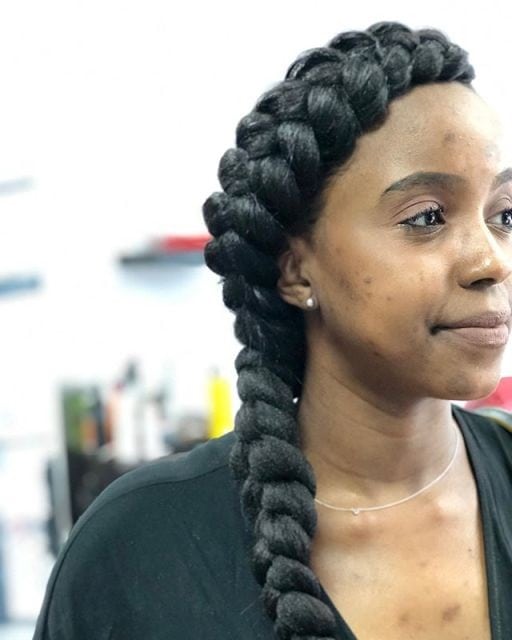 28. Decorative Brown Braid
Decoration makes your butterfly braid pretty, lovely, charming and adds a ravishing style to the usual look. Getting a thick brown extension as a feed-in braid for your butterfly hairstyle becomes a great base for the choice of decoration.
To achieve a particular look, pull out the strands from the side braid that will make the braid thick and full. Style the side braid of the butterfly hairstyle with golden cuffs and rings and the combined ponytail braid with a golden coil and roll it over the butterfly braid in an asymmetrical manner to get a natural messy appeal.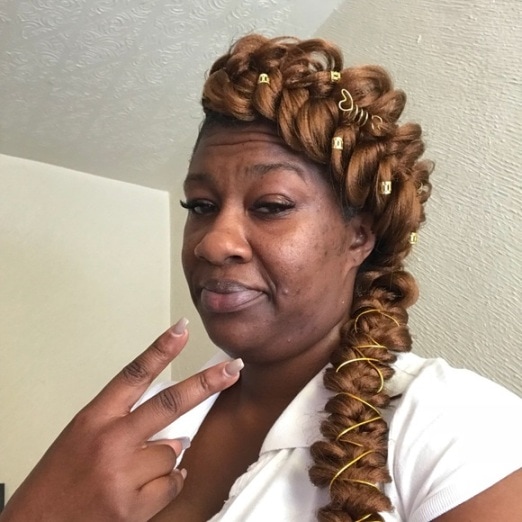 29. Horizontally Sectioned Braids
Horizontally sectioned braids are a very unique style to achieve butterfly braids as the hair is not divided into an off-center parting but a horizontal parting a few inches away from your forehead.
The thick single feed-in braid is joined with the backswept and moisturized hair and the braid is continued leaving few curly ends to give a beautiful texture to your butterfly braid.
Getting a butterfly with a non-human hair extension might give a not-so-smooth look to your butterfly braids but adds a lot of texture and style as you feed in the extension hair with your natural afro hair.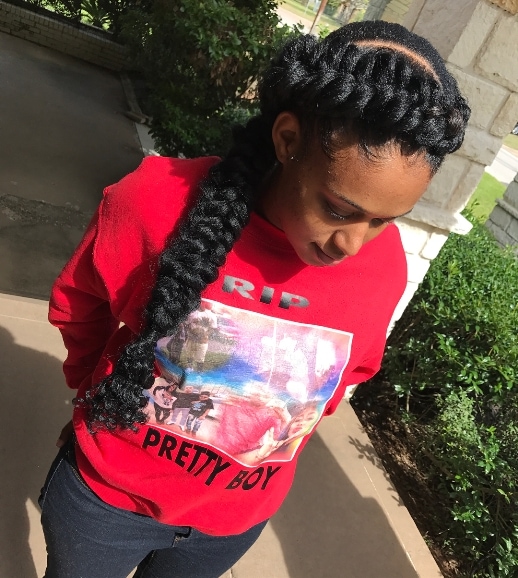 30. Converse Butterfly with Curved Parting
A simple twist in the basic butterfly braid can give you a pleasing and attractive look. A converse butterfly is just the opposite of the basic butterfly braid where the braid is continued with the longer side, usually right side, but in converse butterfly, the braid is continued on the shorted braid side with a curved longer braid strands added to the shorter braid.
To make the look outstanding, just do a curved parting instead of a vertical straight parting as it will add a ravishing style to your converse butterfly hairstyle giving you a dazzling appeal.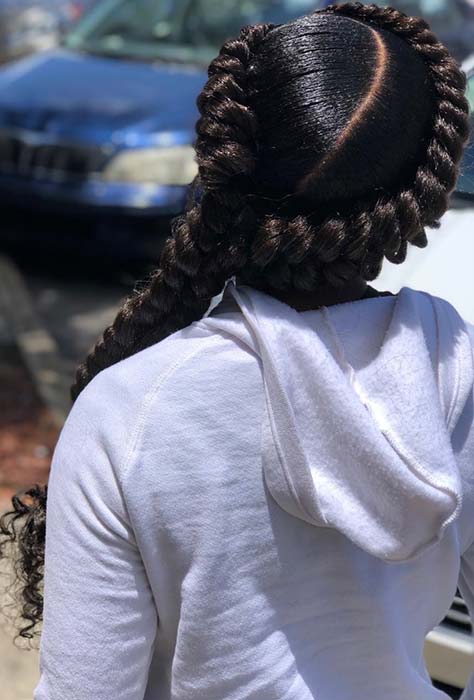 Butterfly braids have become a hot and trendy hairstyle and are most popular among African American girls. Once you create your butterfly braids, it stays intact for a long time and does not require a lot of maintenance and acts as a very protective hairstyle for your natural afro hair.
You can use different braiding hair or some colorful braiding hair extensions if you want to achieve a funky and lovely look. You can wear a butterfly braid hairstyle on various occasions such as an event, parties, or wedding appearances.
Butterfly braids suit all the girls and give you a stunning and graceful hairstyle by binding your hair into a thick and chunky braid with a dazzling and enchanting appeal.