With every new trend, it becomes harder to keep up. With clothing and styling constantly evolving, it becomes tougher to stay in trend. For hair trends, though, some basics like straightening or curling remain in trend consistently, and some specific tools are required for the same.
A straightening iron is one of the most basic tools a person should own, for last-minute fix-ups or a bad hair day. It may seem like an unnecessary task, but it is very important to use the right straightening iron, since the different features, temperature settings, performance, and durability play an important role.
The requirement of every individual is different, and high temperatures and excessive heat treatment in hair can deteriorate the health of the hair; thus, the right temperature settings and care are of utmost importance.
We understand that different types of hair need different types of care. Therefore we will compare two hair straighteners: The Kristen Ess Straightener and the Chi Hair Straightener so that you can choose the best one for your hair type and requirement.
Kristin Ess
CHI
BUY NOW
BUY NOW

PROS

PROS

Corrosion-resistant Titanium plates that provide uniform heat.

Universal voltage.

Auto shut-off.

4 preset temperature modes for all hair types.

Ionic technology gives smooth, sleek hair.
Titanium-infused Ceramic plates give a smoother, shinier look.

The ergonomic design makes it better to hold.

4 inch long plates provide cover more hair at once.

Layered silicone under plates helps make a variety of hairstyles.

Touch-sensitive control panel and temperature controls.

1-hour auto shut-off.

CONS

CONS

Costly.
Expensive.
Kristin Ess Hair Straightener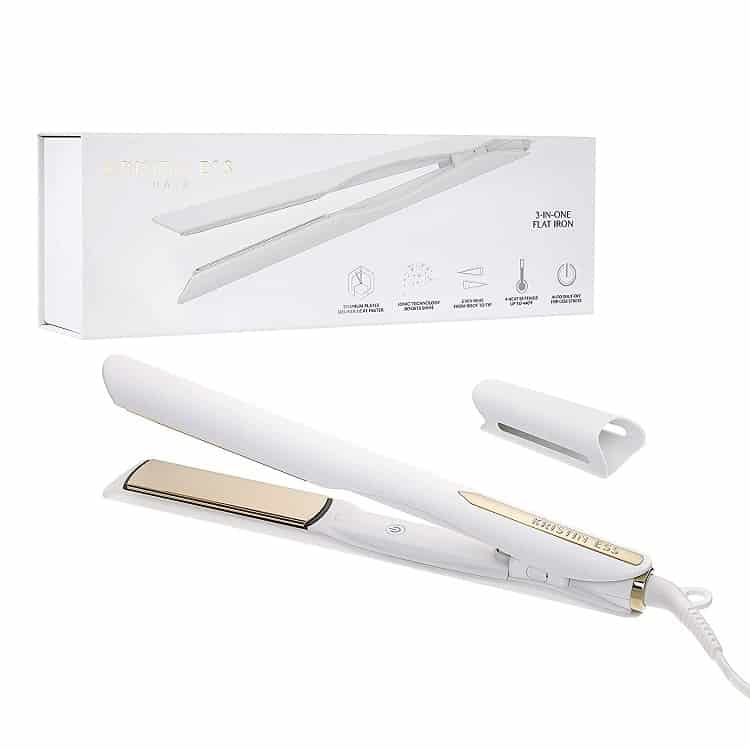 The Kristen Ess 3-in-one Flat Iron hair straightener comes with Titanium plates that deliver heat faster to the hair, while its ionic technology adds extra shine to your hair, making them look dressed up and smooth on any day. The length of the Flat Iron is 12 inches, and the plates are 4 inches long.
The cord that it comes with is a 9ft. swivel cord and it weighs only 0.9 lbs and comes with universal voltage usage. The negative ions on the surface of the straightener help lock moisture in the hair, eliminating frizz and making the hair look smoother and healthier. It has 1 ¼ inch wide floating plates that easily adjust to the texture of your hair, giving you the results that you want.
The digital display on the straightener gives the user access to temperature settings, and 4 temperature presets that allow them to suit their hair type, leading to less damage to hair and better styling. The rounded body of the straightener allows it to give a variety of hairstyles such as soft curls, subtle waves, or even heavy looks.
Though the titanium plates add to the price, it proves its worth as titanium performs better than ceramic plates, gets heated faster, and spreads the heat uniformly, while also being corrosion resistant to hair products.
The outstanding features of this hair iron are that it provides temperatures up to 440 F, taking only a minute to heat up while doing the least damage to your hair. Its preset modes help you choose the right temperature for your hair type, and its auto switch-off feature automatically turns off the device when it has not been used for 30 minutes to avoid unnecessarily overheating the plates.
Kristin Ess VS Babyliss Hair Straighteners – Which Brand is Better?
Chi Hair Straightener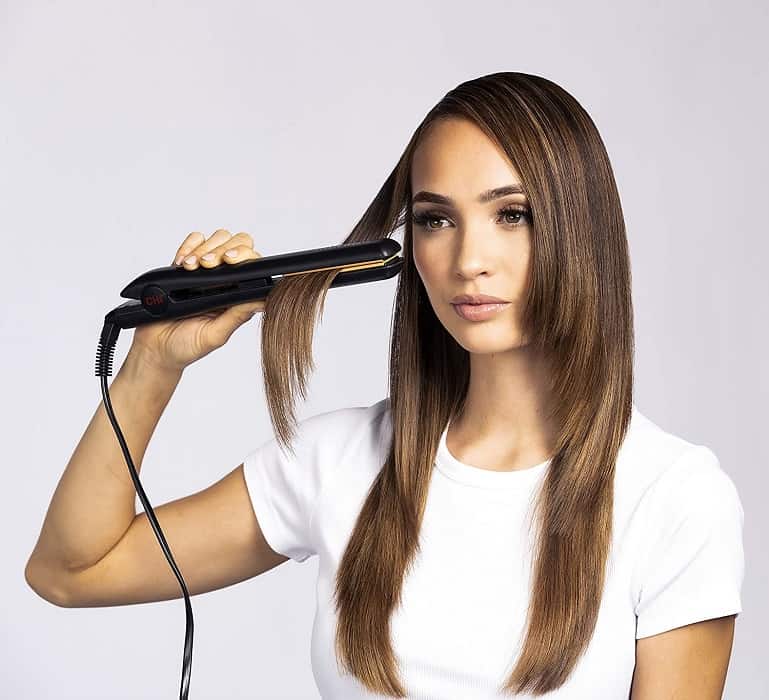 The DURA Chi Ceramic & Titanium Hairstyling Iron comes with a 1 ¼ inch wide Titanium-infused ceramic plate that leaves your hair shiny after every use. The iron is ergonomically designed for an easier grip and feels smooth to hold and use.
The plates of the hair straightener are extended up to 4 inches to cover bulk hair at once, making the process easier and faster. It takes merely 40 seconds to heat the plates and can heat them to 425F and a 1-hour auto shut-off feature.
A state-of-the-art touch-sensitive control panel on the iron makes it easier to access temperature and control modes. The anodized metal coating on an iron shell makes the iron multipurpose and suited better to different types of hair types.
The layered silicone under the plates makes them truly floating plates, helping in giving a smoother and shinier finish to the hair. It caters to a wide variety of hair types while also providing for various kinds of hairstyles. A locking mechanism and power button are also provided on the inner side of the iron.
It comes with a two-year warranty and a hair spray; a silicone sleeve is also included in the accessories that come along with it. It also uses universal voltage. It is perfect to be used by both hairstylists and by people at home, looking for the right party look.
HSI Professional Glider VS Chi Hair Straightener
Design
The Kristen Ess Hair straightener comes with 1 ¼ inch wide floating titanium plates that are 4 inches in length. The product weighs 0.9lbs and is 12 inches long. A digital display helps adjust temperature and choose from 4 preset modes.
It uses a universal voltage and has a 9ft long connection swivel cord. Its power button is situated on the inside, below the plates and has a 30-minute auto shut-off feature to prevent stress.
The Chi Hair Straightener comes in a sleek, ergonomic design that is easy to hold and feels smooth on the hand. With a good grip, it also has 1 ¼ inch wide Titanium-infused Ceramic plates that help cater to different types of hairstyles.
The silicone below the plates makes them true floating plates, causing much less damage to the hair and being perfect for different types of hair. It has a touch-sensitive display to control temperature and preset modes, and a power button on the inside below the plates.
Performance
The Kristen Ess Hair straightener heats the titanium plates within 1 minute and has a temperature setting up to 440F. It has 4 preset modes that cater to different hair needs. It comes with a universal voltage and a 30-minute auto shut-off to prevent stress on the device.
The titanium plates help trap moisture in the hair, leaving them smoother and healthier-looking after the straightening process, while also being corrosion-free. It is easy to use and has temperature control settings that help the user decide according to their needs.
The Chi Hair Straightener takes only 40 seconds to heat its Titanium-infused ceramic plates. It can heat up to 425F and has a touch-sensitive temperature and mode control on the iron. The titanium-infused ceramic plates help cater to a large variety of hair types and help remove frizz from the hair, making them shine.
The silicone below the plates makes them truly floating and helps in giving a variety of hairstyles, such as curls or waves. It has a 60-minute auto shut-off feature and comes with a dual voltage.
Effects on Hair
Kristen Ess Hair Straightener uses titanium plates, which help in giving smoother and shinier hair. The hair becomes frizz-free and looks healthier. The temperature settings are appropriate to treat any type of hair, and it does not cause damage to the hair. Since titanium is corrosion-free, using hair products during styling is also an option.
Chi Hair straightener uses titanium-infused ceramic plates that heat faster and do not damage hair. An extra-base coating of silicone also helps in suiting different hair types, leaving frizz-free, shiny hair. Its temperature control helps keep hair damage-free and can be used for a variety of hairstyles.
Conclusion
Kristen Ess and Chi Hair Straighteners are tough competitors. While both deliver high-quality results, they are both a little costly. Being a value for their price, they have great quality material and give the least damage to the hair.
While the Kristen Ess Hair Straightener uses Titanium plates, the Chi Hair straightener uses titanium-infused ceramic plates with a silicone base. One uses a digital display with up to 4 preset modes, whereas the other uses a touch-sensitive display.
The Kristen Ess has a universal voltage, while the Chi Straightener comes with a dual voltage. The Chi Iron heats 20 seconds faster than the Kristen Ess Iron, while the Kristen Ess iron can heat up to 440F as compared to the 425F of the Chi Iron. A buyer must consider the above comparison before choosing the iron that best suits their needs.