Diane Keaton has always been an inspiration as well as an influencer when it comes to different looks. Her hairstyles, her fashion statement has influenced many women throughout the world.
With all her new hairstyles every now and then, she has built up a fashion statement for women over 50. The different shades she wears on her head provide a variety of hairstyles for women over 50.
Obviously, women over 50 also love to look good. And that is why Diane Keaton's hairstyles for older women are a perfect idea. We decided to bring all her fabulous hairstyles for women over 50, so that, even the older women can flaunt their classy and sassy look.
We have shortlisted more than 25 + Diane Keaton Hairstyles for Women Over 50 with different patterns, styles, haircuts, and various shades as well. Most of these hairstyles are for short to mid-length hair. You can get all the info here, just check below.
Platinum Blonde Straight Layered Haircut
For shoulder-length or mid-length hair, you can try this Platinum Blonde Straight Hairstyle. Layers look beautiful when on straight hair with a blunt cut.
But the most amazing thing about this hairstyle is the color shade which is the platinum blonde shade, or you can call it extra light blonde shade also. With the zigzag partition from mid, and both side hair falling on the shoulders, this hairstyle is giving a decent look.
Blonde Lob Layered Style
When it comes to the bob cut, I like the lob cut more as I love keeping little bit longer. However, this one is not completely a lob cut but women who have shoulder-length hair can try this look. The lob cut along with the layered cut will set your hair right.
But to style it up you will need to part your hair from the side, letting few tresses falling on your face, and twirl the hair at the tip to the outside. Go for a golden blonde shade or you can try dual blonde shade also with the medium blonde and light golden blonde.
Short Hair with Messy Bangs
Have you ever tried different combinations of the haircut? If not, then look at this one for the older women's hairstyles. It is the combination of more than 2 haircuts that are the blunt cut, the bob, and the layered cut.
But despite the three haircuts, what is making this look sexy is the messy bang at the forehead swept at the side. Even if you will notice the partition, that is also a messy one. The hair color shade is golden blonde shade.
Chopped Layered Short Haircut
Do you like getting the jazzy look even after the age of 50? Have a look at this Diane Keaton hairstyle for older women. This style will add length to your hair.
For straight hair, go for the chopped layer cut. Do not forget to add the long bangs at the side with the center partition. Again, the golden blonde shade is the one that will suit this hairstyle the most.
Layered Tousled Hair with Platinum Bangs
If I have to go for this look, I would love to because it gives a carefree, glamorous look. The platinum shade itself adds glamour to the hairstyle, and that is what it is doing to this hairstyle also.
But what is making it carefree and cool is the tousled shoulder-length hair. The haircut is the layered cut with a messy or kind of mixed partition. And leaving it tangled at the shoulder is a plus point of this style.
Choppy Bob-Layered Cut with Casual Style
Those who feel how a casual style will look on women above 50 should check this hairstyle. Diane Keaton proves that age is only a factor and it cannot define your style.
That is why she is looking awesome in her casual look which she has got because of the bob and chopped layer cut style. Her golden brunette color shade combination is perfect for this casual look.
Dual-Tone Tamed Layered Cut
Another short hairstyle from the Diane Keaton Hairstyles for older women.
If you will closely look at this look, you will find the dark golden blonde color shade with the inner highlights of light blonde shade. It's a mild layered cut with the bob cut. Added with this style are the bangs as usual.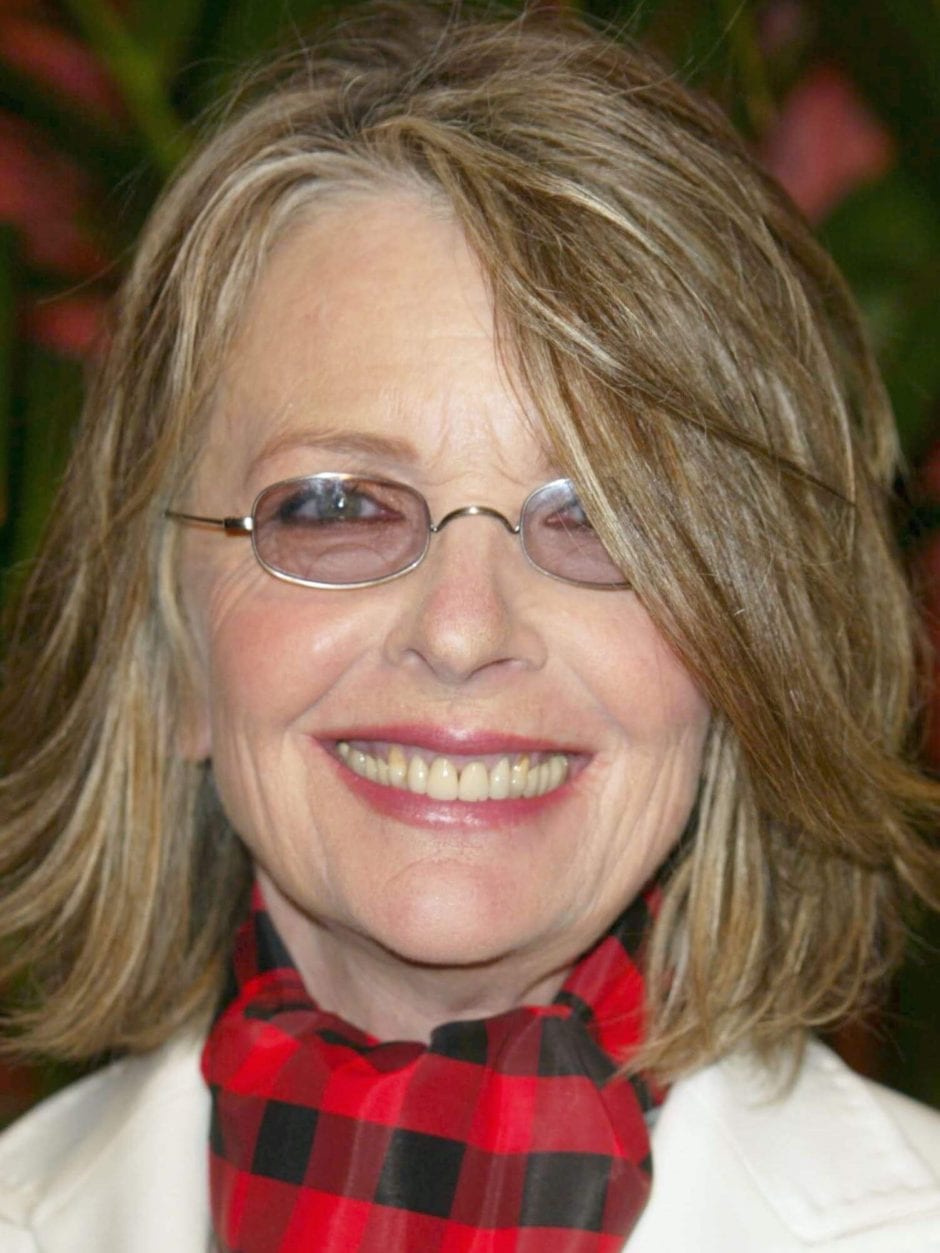 Greyish Blonde Bob Style
Can you think of trying a new hair shade every now and then? If not, then get some inspiration from Diane Keaton. Here, in her new cool look which she is carrying with complete confidence and is perfectly going with her outfit also.
The old-time bob cut with layers is how you have to style your hair. The side bangs falling on the eyes are making it a style statement for her. With the color, experiment your hair color with a grey shade tone and highlight it with a blonde shade.
Silver Grey Locks with Layered Cut
This look will give your hair both a smooth and a little rough look. The greyish blonde tone along with the silver-tone is defining the smooth and rough look more.
Maybe you call this look of Diane Keaton her signature look because of her layered haircut and side-swept hair with the side partition. You can try this look as it will show the coolness along with maturity in you.
Silky Straight Layered Style
Not everyone has the silky hair texture, but those who have can flaunt it in any way just like Diane Keaton is doing in this hairstyle of hers. With the layered cut hairstyle of shoulder-length straight hair.
And doing a side parting with one side hair coming to the forehead is looking very elegant. For those who have a broad forehead, I will suggest this hairstyle. And as we know that blonde is always in, then go for the medium blonde shade with few streaks of light blonde.
Layered Bob Style with Long Bangs
As we already mentioned above that these Diane Keaton hairstyles for older women are mostly for short hair. So, for your short hair, here is another look you can try. This look has a bob cut with layers.
The long bangs at the side are giving a stylish look. Coming to the shade of the hair color, for the base color go for brunette shade, and for highlights do light blonde.
Asymmetrical Layers with Greyish Blonde Look
Are you up for hiding your grey tresses behind the blonde shade? If yes, then check out this casual and funky hairstyle which will give a young look to your face. For the neck-length hair, get the irregular wavy layer cut.
With the mix of grey and medium golden blonde, you are ready for any party. This will make you look cool at the age above 50 also and you will be able to carry this style confidently.
Greyish Brown Smooth Lob Cut
Those who feel that bob is a little outdated for them, then lob is for them. If you have smooth hair, then go for this lob cut for both shoulder-length hair as well as medium-length hair.
For a square shape face, this hairstyle will give a nice shape to your face. The greyish brown shade is what you need for this hairstyle, with the highlights of extreme light blonde and dark brown color.
Straight Silky Lob with Shaded Tone
This look of Diane Keaton is unlike her other looks because of the straight and neatly combed hair with the lob blunt cut. I find it perfect for someone with a shoulder-length hairstyle. The hair at the tips is nicely chopped.
And the shaded tone of the hair color is making it look exquisite. The color shades include dark brunette, light blonde, and tones of grey. Partition from the center with a zig-zag kind of partition.
Brown Blonde Layered Bob Look
When most of the women over 50 shies trying different color shades, Diane Keaton is inspiring them with her blonde and dark brown shade. Her color shades are making this look more prominent.
The hairstyle is the bob cut so it will go with short hair of course. But with the bob, she also has the layered cut. To make her hair and shade come up together, she tried a zigzag or messy kind of side parting.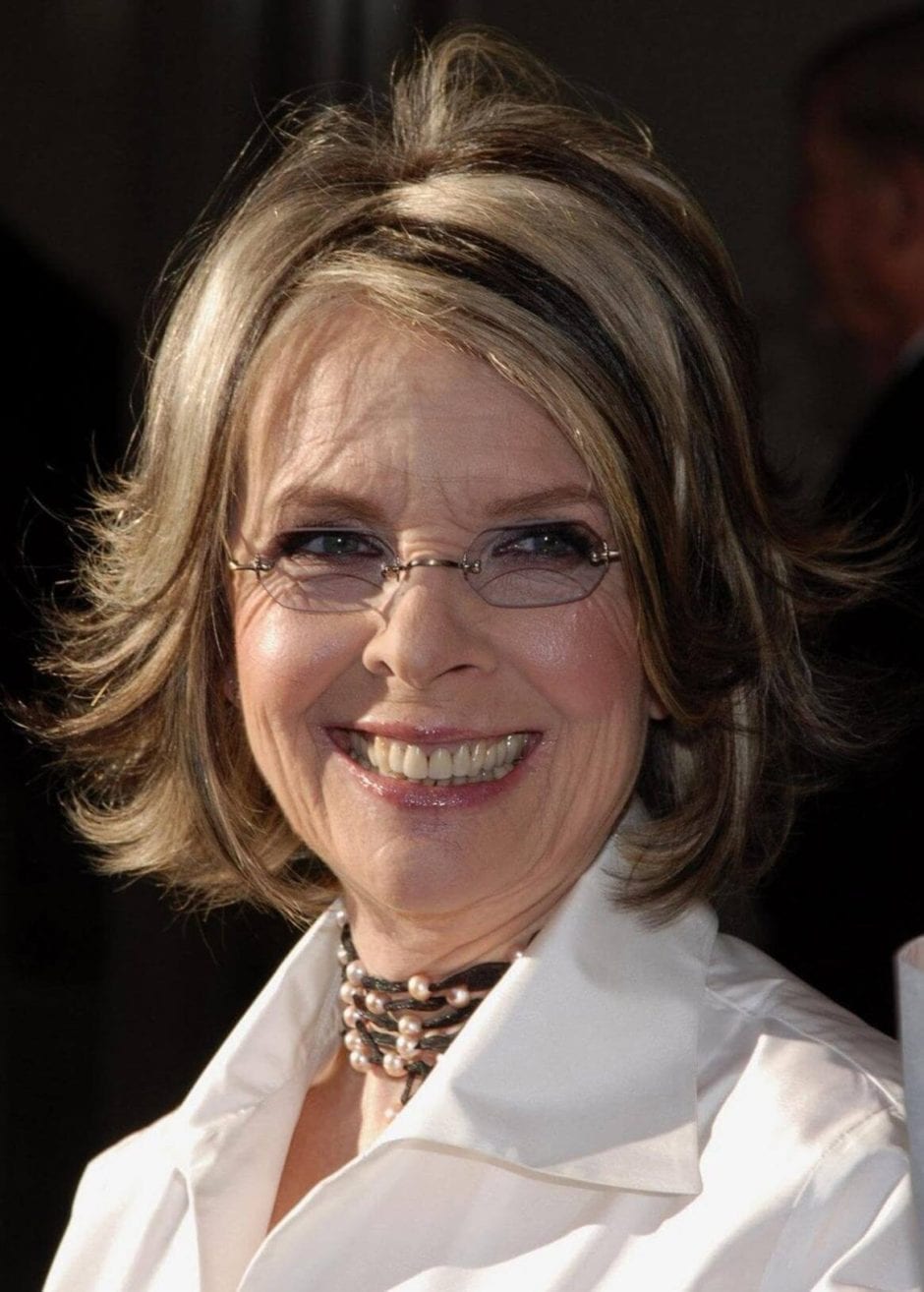 Platinum Shade Layered Cut with Long Bangs
Whether the bangs are small or long, they both look good. This is one of the older women's hairstyles which you can try. It is an easy hairstyle, but at the same time, it gives you a decent, cool, and confident look.
Carry the look of straight layered cut hair with the long bangs kept at the side along with other hair. It will be a messy kind of partition from one side. And by the name only you would have guessed that the color shade is platinum.
Lob Blunt Cut with Bangs
On the long face, this look will go perfectly because of the bangs. From medium to shoulder-length hair women, you all can go for this hairstyle. Style up your straight hair with the lob and blunt cut.
Get the little bangs on your forehead covering them till your eyebrows? Do the center partition of hair and make some strands fall in front and some on the shoulder. Go for a single dark brunette shade with the bangs and highlights of light golden shade.
Saucy Cut with The Champagne Blonde Shade
Want to look a little different at a party or want to surprise your friends with the new look? Go for this saucy-cut blonde look. This saucy cut has fine layers. So, if you have short hair, get the saucy cut done with mild layers.
Do not forget to add the layered bangs in the front of your face falling on your forehead at one side. The color shade is the champagne blonde shade along with golden brown shade highlights. You can even try this look for a Halloween party.
Sleek Straight Hair with Bangs
When you have straight hair, you can think of as many hairstyles as you can. The one which Diane Keaton is carrying in this look of hers is a pretty elegant look which no older woman can say no especially the one with the broad temple.
To style this hair look, get shoulder-length straight hair with few bangs on the temple. The blunt haircut with the lob cut will go together for this style. Giving bangs the light blonde shade and the highlights also the same shade. And the base color will be dark blonde.
Diamond Blonde Straight Hair with Center Partition
Here comes another style for the shoulder-length straight hair for older women hairstyles. Beautifully chopped hair in the style of blunt lob cut falling straight on the shoulders. With the center partition, the hair is falling on both sides of the face giving the face an oval look.
Although, this look is old-style only, adding beauty to it is the color shade which Diane Keaton has chosen. That is the diamond blonde shade with streaks of honey blonde shade.
Diamond Grey Tangled Look
To make your shoulder-length hair look a little longer, give them this look. This hairstyle for women over 50 will win many hearts. Even a young lady can also try this look to look sassy. The smooth tresses should be cut into layers. The tresses should be left tangled neatly from top to bottom.
The long bangs should be neatly swept aside giving them a casual but classy look. If you feel that grey or diamond grey hair will only make you look old, then check out this style. The diamond grey shade is making you look dazzling.
Shoulder Length Fine Layers Tresses
By now you have realized that how Diane Keaton has managed to style the layer cut in different ways and different shades. And no doubt that her color shade choice is really good. This shoulder-length hairstyle can be done by getting the haircut into fine layers with a blunt cut.
And without a side bang, this look is incomplete, so with a side partition add the side bang also. Color the tresses in the golden blonde shade with honey butter blonde highlights.
Bob Layered with Feather Look
This is not a pure feather look but the layers on the short hair are making it look like feathers on both sides. For the neck length short hair, get the bob cut done and add layers to it.
No guesses for the color shade as dark brown and golden blonde are what we can add to this style. One more important highlight of this style is the side-angled bangs on the forehead.
Lush Smooth Layered Cut Hair
This lush smooth hairstyle of Diane Keaton is giving a lustrous look. Another layer cut style on the blunt cut smooth straight hair.
Bangs on the half of the head swept towards one side is making it a style statement. The shoulder-length hairstyle should have the golden blonde color shade with the honey butter highlights.
Tri-Shades with Layered Bob
When we think of the tri-hair shade we actually get confused. But with this tri-shade look experiment, you will get confidence, not confusion.
This look is a mix of three shades, dark brunette, medium blonde, and a very little shade of grey. Making this look more vivid is the haircut which is again the layered bob with the side bangs with the tip twirled outside.
Sassy Bob with Side Bangs
Diane Keaton is famous for her bob cuts as she knows how to carry her bob cut with different variations as you just saw in the above styles also. The one with the side bangs makes her look sassy at this age also.
Despite the wrinkles on our faces, this style makes her look very fascinating. With the neck length, bob cut and messy parting with the side bangs is a perfect hairstyle. The dark golden blonde and light blonde shade will add more charm to this style.
Now, the women over 50 will have no complaints, as they have many hairstyles to try for and that too from the collection of the famous actress Diane Keaton. With these numerous color shades and short hairstyles, I am sure no one will be able to judge your age as well.
So, keep rocking even if you are above 50. These hairstyles are up for any occasion or any place, no matter you are at any party or any big event or work, these styles are just beyond perfect.
Do share with us, which hairstyle you found perfect for you. We will come back with more hairstyles for all our lovely ladies above 50.