When it comes to practical and easy hairstyles to grab attention in a room, 5 strand braids are ranked high on the list. While we all love the simplicity of the usual three-strand braids, it's fun to step out of your comfort zone and explore the new world of hairstyles that need 5 strands or sections instead.
Although these hairdos are tricky to create, the magnificent result is worth all the practice. The use of additional strands makes the hairstyle look dense and puffy.
Breathtaking 5-Strand Braid Hairstyles to Try
Do you wish to know more about these unique styles? Keep on scrolling to find a list of these fantastic five-strand braids.
Decorated Braid
Have you always wanted the detailed look of a 5 strand braid, but you don't feel like putting in that much effort?
Making separate strands of french braids and then bringing them all together at the bottom can be your best alternative. You can use a flower hair tie to add a nice decorative touch to this hairdo.
Across Balayage Braid
If you are looking for a unique yet stylish braided hairstyle, we have a loosely knitted braid that sprouts from one corner of the forehead and travels diagonally across to the opposite neck corner. This hairstyle is suited to show off a blonde balayage with medium brown highlights.
Dutch Braided Bun
We bring you a quirky variation on the classic high ballet bun. Firstly, you must tie your hair into five ponytails, and then dutch-braid each ponytail—next, pin up the top-most braid and the bottom braid in loose buns to create an eight shape.
Colorful French Braid Style
A robust French braid is an excellent idea for all women with thick and long hair. Even though this hairstyle requires patience, you are promised a gorgeous outcome with a steady hand. To spice things up, you could have colorful highlights in your hair ranging from turquoise blue to shades of pink.
Dutch Braided Top Knot
The newest 5 strand braid hairstyle in town is the dutch braids pulled up into a top knot. Interestingly, we take one of the braids to wrap around the base of the knot for a defined look. For infusing a delicate aesthetic into the hairdo, leave a significant portion of hair down.
Crown Dutch Braid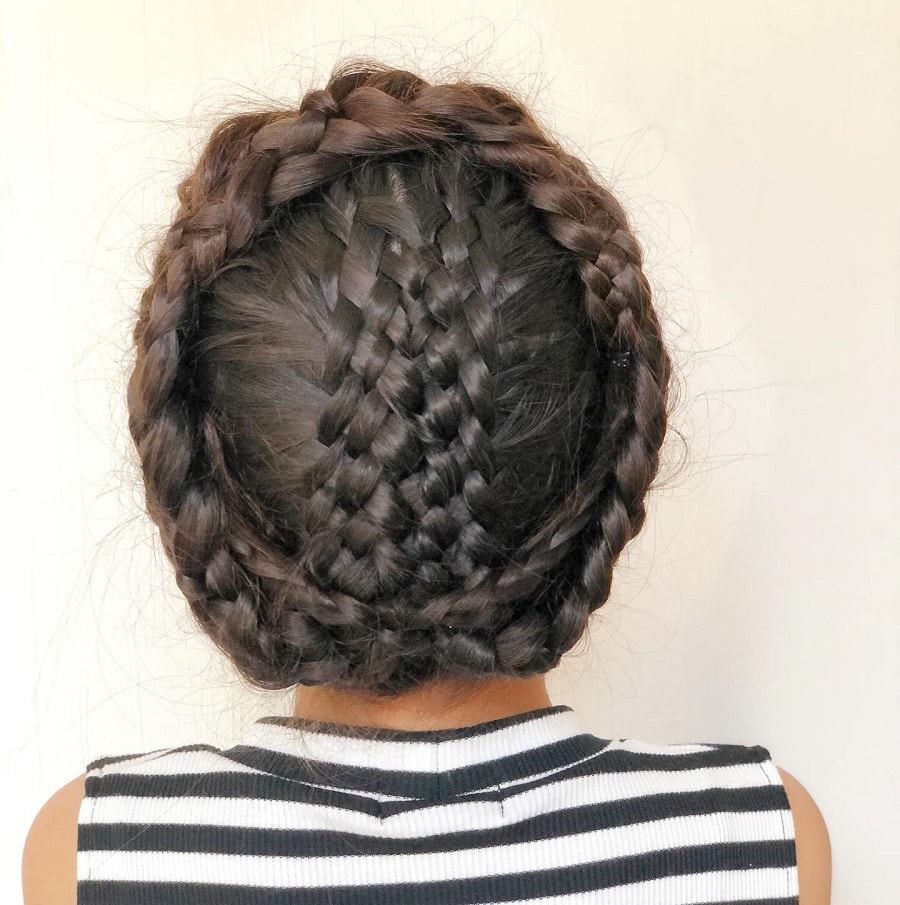 Crimp your hair gently from the roots to the ends to the ends to achieve the crown or headband look. Complete your multiple strand braid on the back of your head. And then, start Dutch braiding your hair by gradually making your way around the head until no strands are left.
Warm-toned Half-up Style
You must try this neat half-up braid style if you have straight hair texture. This beautiful and feminine hairdo is perfect for any day's event. The hair color leaning towards copper shades lends a lovely touch to the braid.
Double French Braids with Ribbon
A smart way to do the five-strand braid is by doing a middle partition on your head and then french-braid the two sections. Now that you have got two adorable french braids, get a bright pink ribbon to do a shoe-lace tie and connect the two braids.
Ponytail Meets Braid Updo
The dutch-braided ponytail is a chic hairdo that is perfect for everyday wear to university. Tie your hair into a mid to low ponytail and consistently braid it in the over and under pattern.
Playful Braid Hairstyle
If you are looking for a cute hairstyle for your toddler, your search ends with two dutch braids that wrap up into little bow-like shapes. The jet-black hair color makes this updo appear classy.
Side Cornrow Braided Hairstyle
Twist up the casual five-strand braid with cornrow braids on the side of the head. This grunge aesthetic hairstyle will complement women with oval or heart face shapes because of their angular features.
Braided Bun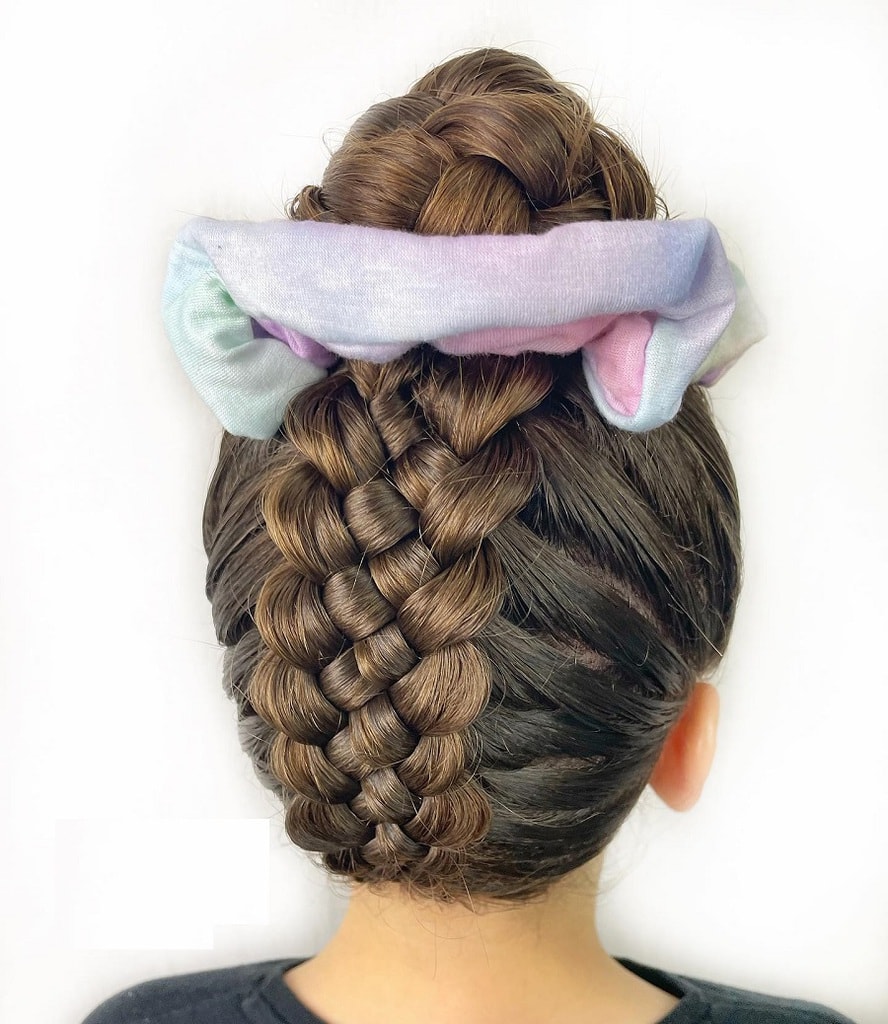 If you want a flawless bun look, use the Dutch braid technique to create a braid from the nape of the neck that ends up in a bun at the top of your head. To highlight the bun, secure it with a large colorful scrunchie.
Rose Inspired Hairdo
We bring you a braid that makes you feel straight out of a Disney Princess movie. For a beautiful manipulation, you can weave your hair into small rosettes throughout the length of the braid.
Orange-Amber 5 Strand Braid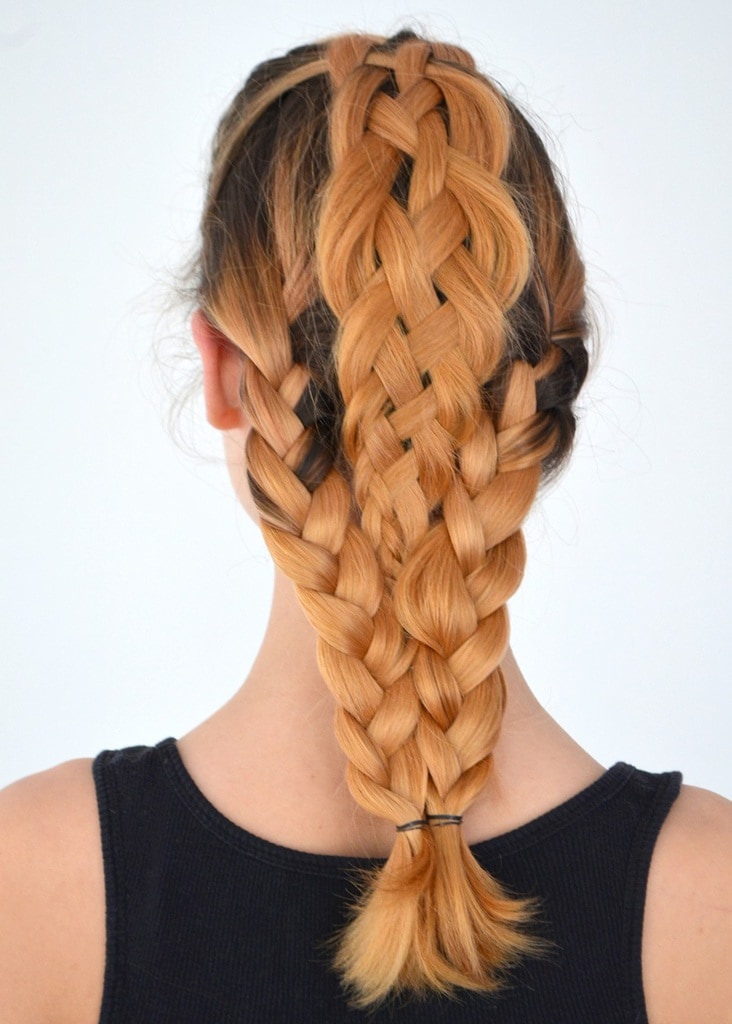 Anyone can go for this sophisticated braid despite their face shape. The transition of the natural dark roots into the orange-amber shade helps add some drama to the otherwise straightforward hairstyle.
Country Side Braided Hairdo
A hairdo that looks both preppy and country-side is the crisscrossing 5 strand braids on this layered blonde hair. You could pair this up with a floral sundress for a spring look.
The Mermaid Hairstyle
You could try an ethereal mermaid braid tail hairstyle for wavy hair texture. Bring the two multiple strand french braids on top of the mermaid braid to create a voluminous effect.
Criss-Cross Ponytail
For all the mothers with little girls, you don't need to stick to the boring plaits when sending your child off to school. Crisscross the 5-strand dutch braids and attach them in the end with a hair tie to create the look of a ponytail.
Side Braided Half-Down Hairstyle
A mesmerizing hairstyle that is easy to do is the side 5 strand braid. Only remember to take a single section of hair to braid, and then position the completed braid across your head and use bobby pins to secure them.
Even though the 5-strand braid hairstyle can be somewhat intimidating, you need to master the basic steps of crossing the sections. Take your pick of the stylish hairstyles we have listed and get a kick-start on braiding.
The versatility of this hairdo won't disappoint you, and you will keep going back to it time and again. You will never run out of finding new ways to make the hairstyles more exciting.