What is something that all individuals need in this fast-moving modern times? Yes, we need a quick solution to frizzy, unhealthy hair. All we need is a styling tool that not only gives us our desired hairstyle in a few minutes but also makes them appear beautiful. Nowadays, the hairstyle that is loved by everybody is the simple straight look. That can easily be achieved with the help of a straightener. But, going to the salon very often can prove to be costly. Hence, the perfect solution for it would be to get a perfect straightener at home that understands all your requirements.
Kristin Ess Hair Straighteners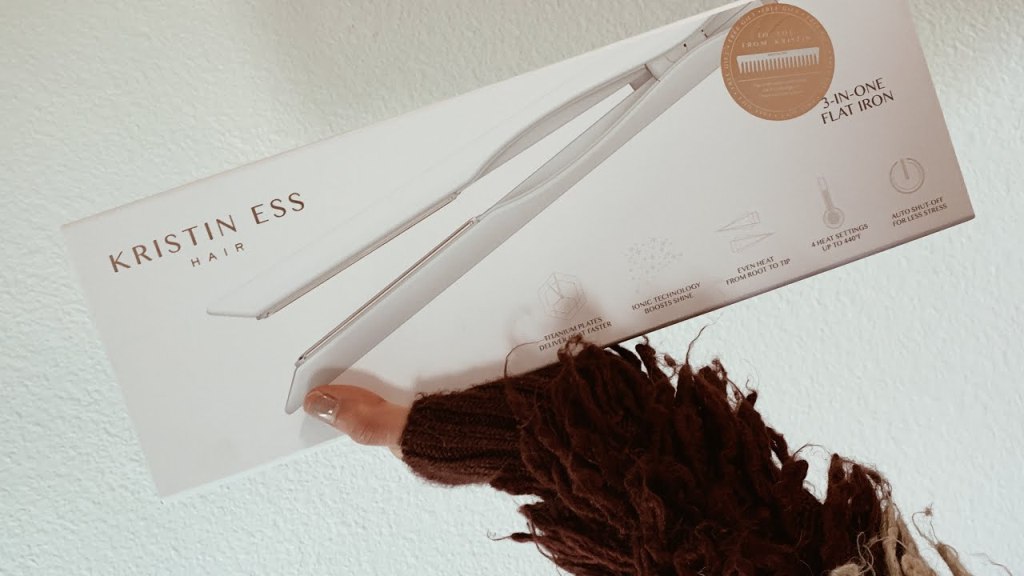 The brand has been found by a Celebrity Hairstylist, Social Influencer and Colourist, Kristin Ess. The founder has expertise in all mentioned fields of about 20 years. The main motive of the brand revolves around giving affordable products with luxurious outcomes. The straighteners offered by Kristin Ess are not only versatile and easy to use but also give our high performances.
Kristin Ess 3-IN-ONE Straightener has Titanium plates, which can outwit any common ceramic plates. These titanium plates can sense the temperature rapidly and heats up instantly, delivering fast heat from root to tip. The Titanium plates distribute the heat evenly across the plates, preventing damage to the hair. The plates are corrosion-resistant to any styling products, giving out healthy and desired outcomes.
The shape of the body is rounded. This means, the straightener can not only be used to give out attractive straight lengths but also proves great in creating polished curls or textured waves and various other styles. The machine has an amazing feature of automatic shut-off after 30 minutes of not being used. This can ensure the safety of your loved ones, in case you forget to turn it off.
Kristin Ess hair straightener also has a digital display, giving out a modern look to your straightener. Its temperature can be adjusted with its 4 presets, allowing you to customize. The temperature on the straightener can rise to 440F, which is enough to style any thickness of hair. The straightener also has a heat resistant cap. It has a 9ft long swivel cord that gives access to flexibility whilst styling your hair.
The straightener has ionic technology. This means that they eliminate negative ions which give out frizz-free hair along with shiny looks and better health. Plates are of 1 ¼ " and are floating in nature, which allows them to adjust to the texture of your hair and eliminates tugging or pulling. The floating plates give out a smoother finish to your hair.
Pros
Has a stylish body with digital display.
The temperature can go up to 440F.
Can turn off automatically within 30 minutes of being idle.
Comes with ionic technology, giving out negative ions.
Titanium plates heat quickly and evenly.
Long swivel cord enables flexibility.
Can be used to style hair in various forms.
Floating plates makes the hair frizz-free and does not result in snagging.
Round body helps make curls.
Cons
The outer body may overheat at times as it does not have cool-tip technology.
The straightener is heavy.
Kristin Ess VS Chi Hair Straighteners – Which Brand is Better?
T3 Hair Straighteners
Ever since 2003, T3 has started making a revolution in the beauty industry through its products. The brand focuses on giving out high-performance products and styling with efficiency. It aims at giving out reliably beautiful hair, and hence they engineer fine quality hair tools for women around the world to overcome their daily hair related struggles. T3 has been known through the years for giving out healthy-looking hair
T3 SinglePass hair straightener, as the name suggests, gives out flawless looking hair in just one go. The straightener has custom blend ceramic plates. These plates ensure that the hair is left frizz-free and has a shiny finishing touch to it. The plates are about 2.2 cm / 1 in. in width to ensure the hair is gripped firmly but also without any tugging or pulling of the hair.
The plates are longer, which makes sure that more hair is gripped in a single go, saving a lot of time. The plates glide smoothly over the hair, making it easier to style in the desired manner. The straightener has a long 9ft swivel cord attached to it, which not only gives flexibility to the user to reach the back, but it also prevents the cord from getting tangled or twisted. To add to the flexibility, the swivel cord can rotate 360 degrees.
T3 Hair Straightener comes with adjustable temperature controls. It has 5 heat settings starting from 260F up to the highest being 410F which is enough for styling any hair length. The straightener also comes with an automatic shut off feature. This feature becomes active after 1 hour of inactivity. This feature guarantees the safety of your loved ones, even if you are not around.
This hair straightener has an Auto World Voltage of 100-240 V, which makes it compatible to be traveled around the world. However, a plug adaptor may be needed. T3 also has Therma touch technology with superior insulation that gets rid of the fatigue to the arms and makes it more comfortable to hold the straightener while styling your hair.
Pros
Gives flexibility in adjusting the temperature according to will.
Turns off automatically after 60 minutes of not being in use.
Has custom blend ceramic plates that ensure frizz-free hair.
Shiny and glossy looking hair is achieved.
Swivel cord can easily rotate 360 degrees.
Has auto world voltage enabling easy traveling.
Has 5 temperature settings going up to 410F.
Cons
The plates may overheat in time, resulting in damage.
Does not have ionic technology.
BaByliss PRO Porcelain Ceramic VS T3 SinglePass Compact Hair Straightener
Comparison Between Kristin Ess 3-IN-ONE and T3 SinglePass
Design
The Kristin Ess hair straightener comes with a modern-looking design and a beautiful color that looks very aesthetically pleasing. The body is rounded in shape, which contributes to styling waves or curls efficiently. The body comes with a swivel cord attached, which enhances the flexibility, and the long length cord adds to the movement.
The T3 hair Straightener is a beautifully designed straightener, which has LED light indicators for its temperature settings. Although, its body is not as round as the Kristin Ess. T3 has a swivel long length cord as well. It has longer plates and a slimmer body when compared.
Performance
The Kristin Ess Straightener has Titanium plates, which ensures that the heat is evenly distributed. This results in lesser damage. This straightener comes with floating plates that adjust to the texture of your hair resulting in no tugging or pulling of hair. The material used also ensures that the hair is left with zero frizz
The T3 Hair Straightener comes with custom blend Ceramic plates. The ceramic plates make sure that the hair looks healthy and shiny. The longer plates help in gripping more hair at once. This saves the time of the user. Although, the T3 does emit negative ions as much as the Kristin Ess.
Effect on Hair
The titanium plates make sure that minimal damage is done to the hair due to its floating plates and evenly distributing heat. The cord is swivel and long, which makes sure that the backside is also styled properly and with full care. It comes with flexible temperature controls, which can extend up to 440F. It also has a digital screen with which you can constantly keep a check on the temperature easily, avoiding any damage due to extra heat
The T3 has a total of 5 temperature controls, which is one more than the Kristin Ess. This can help you decide the temperature of your will at a greater level, hence preventing damages. The hair is kept frizz-free and has a smooth finish due to its custom blend ceramic plates. The LED light indicator might make it difficult to keep a correct check on the temperature constantly, thus resulting in damages.
Additional Features
The Kristin Ess comes with an ionic technology, which means it can constantly emit negative ions, which boost the shine of your hair. It has a digital display for easy convenience.
The T3 hair straightener comes with Thermal touch technology. This means that it becomes easy to hold with its superior insulation.
Conclusion
What every person needs is a tool that is affordable and durable but also cares for your health. If you want to get your hair straightened, going to the salon often is not the best choice. Hence, we have listed all the specifications along with the pros and cons of two loved and recognized brands, Kristin Ess and T3. They both have the necessary basic features along with the features and pros of their own in order to make them stand out and give you a luxurious experience at an affordable rate!