We all cry over a bad hair day, and at some point in our life, we have prayed to get sleek, smooth straight hair. For a long period, hair straightening has become a fashion trend for women all over the world.
With the help of a hair straightener, one can change the look and texture of hair temporarily. You can get permanent straight hair by using chemicals and creams; they are done at a salon by professionals. But they are highly expensive, and you cannot go back to your natural hair even if you wish to.
But with flat irons or hair straighteners, you can get salon-like straight hair at home whenever you want to get sleek, pin-straight hair. But you should always embrace your hair the way it is. Before investing your money in a hair straightener, you should make sure they do not damage your hair and protects your hair from breakage, split ends, and rough texture.
Flat irons are very simple to use, and even if you are a beginner, with little patience and practice, you can get your hair straight right at home. In this article, we will thoroughly discuss the features and advantages of two hair straighteners and also compare them based on performances and their features.
Two of those hair straighteners are L'ange Hair Le Rêve Titanium Straightener and Smart Gemz Volumizing Zirconium Titanium CHI Hair Straightener.
L'ange Le Rêve Blush Titanium
CHI Smart Gemz Titanium
BUY NOW
BUY NOW

PROS

PROS

As you run the hair straightener down your hair, it will make your hair smoother and softer.

The negative ions from the titanium plates will provide shine and prevent frizz.

It has a digital display of controls and settings.

This product has auto shut-off settings.

The infrared light technology locks the moisture in your hair.

Tangle-free swivel cord.
The product comes with three hair clips and a heat-resistant bag.

It has an automatic shut-off system.

You can also curl and flip your hair with this flat iron.

It heats up quickly.

Lightweight and travel-friendly.

Good for thin and damaged hair.

CONS

CONS

It is expensive than other hair straighteners and not budget-friendly.
The product might break if dropped.

The temperature feature could be improved.
L'ange Hair Le Rêve Titanium Hair Straightener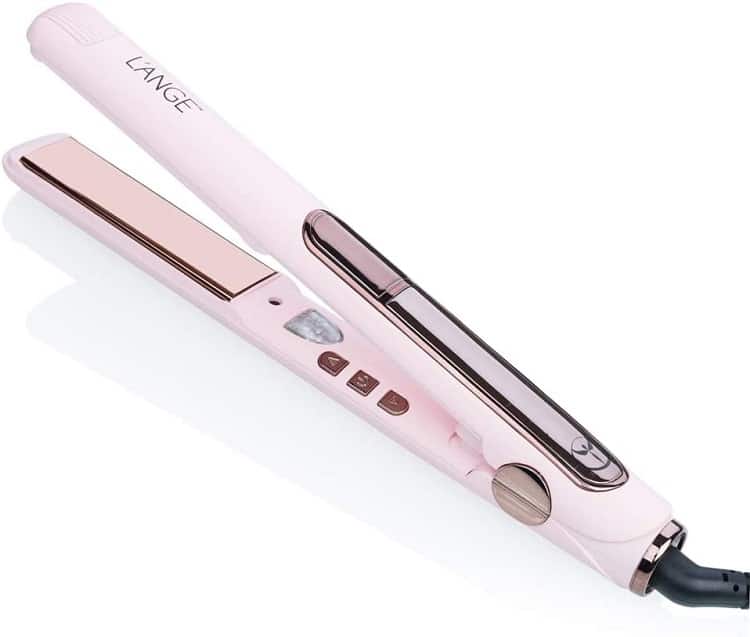 L'ange promises to give its customers the best they can with their hair tolls and styling appliances. Their hair care and hair tools are high-tech and elevated. They will perfectly fit every modern woman and suit their demands and necessities. All their hair appliances and tools are of high quality.
They are trusted by millions of customers and used by all professional hair salons and hairstylists all over the world. Their formulas and technology are one of a kind and are loved by all. They want their customers to feel and get the best results by using their hair styling products.
With their hair straighteners and other hair tools, they will help you to achieve salon-style hair right at your home easily and smoothly. Their products will feel luxurious, and they also look very premium, so when you use them, you will feel the best. They do not sacrifice their quality.
Their hair straighteners will give you all the haircare that you need along with giving you the best of results by straightening your hair and making it look sleek, smooth, and manageable. You can achieve the look you want by using their hair styling tools.
L'ange Hair Le Rêve Titanium Straightener is a superior quality hair straightener that will definitely compliment your hair and will help you to get the best of hairstyle. This is a top-of-the-line hair straightener, which is fashionable and has cutting-edge technology. It has been ergonomically designed to give you a feeling of luxury.
The flat iron is sleek in design and comes in three colors- black, white, and rose gold. They all look gorgeous, and the plates used in the product are purely made up of titanium. The hair will get all the moisture and nourishment as the plates are infused with infrared light technology. This technology will prevent your hair from getting breakage, and the cuticles will be protected.
Use this hair straightener, and you will notice a glossy shine in your hair along with taming the strands and frizz. You can straighten your hair effortlessly.
So if you are looking for a gorgeous looking hair straightener which will also provide premium quality hair straightening, then this is a go-to brand and hair straightener for you.
Smart Gemz Volumizing Zirconium Titanium CHI Hair Straightener
CHI is a hair care and hairstyling brand that is owned by Farouk Systems Inc. they manufacture and provide the best hair styling tools and appliances. This brand is preferred by all the highly professional hairstylists and hairdressers all around the world.
It is one of the leading brands in the world when it comes to providing top-notch technology and quality in its hair tools and hair products. They have revolutionized the hair industry of hair straighteners and all other products related to hair care and hairstyling. They have a wide range of products and tools when it comes to hair straighteners and curl irons.
You will get the latest and the best technology in their flat irons, along with excellent results while you run down the straighteners through your hair and tresses. With every new launch of products, they come with new designs and concepts and improvements in their technology so that they can deliver the best to their customers globally.
CHI maintains a high ethical standard and thinks of the environment as well while producing high-quality hair styling tools and hair care products. All their hair straighteners are dynamic and professionally designed so that you can create your look effortlessly.
Their Smart Gemz Volumizing Zirconium Titanium CHI Hair Straightener comes in a very elegant looking colors of blue, pink, purple, and red. All of them have a metallic print on them, which gives it a unique and premium touch. The plates between the flat irons are made up of premium quality titanium and zirconium plates, which are solid, and also, they are stain and scratch-resistant.
These hair straighteners are compact, which makes them durable and travel-friendly as well. The zirconium makes the plates long-lasting, and you can slide your hair smoothly between the plates.
The zirconium material also gives out more negative ions than titanium plates, which gives better results and your hair becomes smoother and easily manageable. The heat will be evenly distributed on your hair as it uses ceramic heating technology.
You can adjust the temperature based on your convenience and hair type to achieve a more precise and straighter hair. You can easily create your favorite hairstyle with this flat iron and get salon-smooth hair within few minutes.
You should definitely purchase this hair straightener if you want a travel friendly and easy to use hair tool to get smooth, sleek, runway like straight hair.
DESIGN
L'ange Le Rêve Blush Titanium
L'ange Hair Le Rêve Titanium Straightener is known for its luxurious and premium design. This hair straightener is available in three different shades- white, black, and rose gold. Each one of them looks modern and has high-tech technology used in them.
It has been crafted beautifully with a rubber grip so that you feel comfortable while holding it and sliding it through your hair. The digital display makes it unique among the other hair straighteners available globally.
CHI Smart Gemz Titanium
Smart Gemz Volumizing Zirconium Titanium CHI Hair Straightener is exclusive because of its design. The patter on the flat iron is mesmerizing and eye-catching, and it is also available in various unique colors. So you can choose among a variety of shades to compliment your vibe and choice.
It will give you a customizable styling feel and experience as you can adjust the temperature. The cord is 11 feet, which provides you with flexibility and makes it easier for you to straighten your hair with more precision.
Conair Unbound VS Chi Hair Straighteners
PERFORMANCE
L'ange Le Rêve Blush Titanium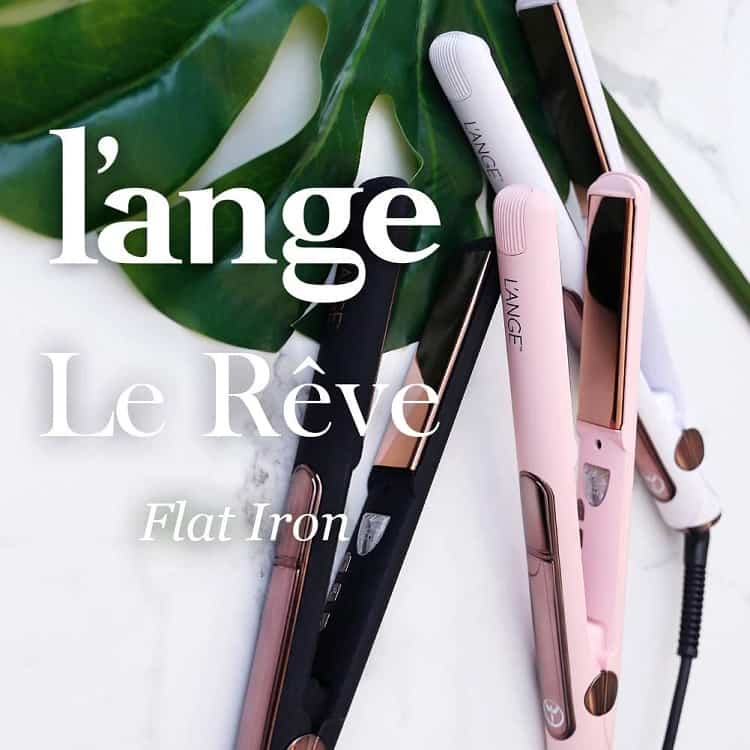 L'ange Hair Le Rêve Titanium Straightener is a high-performance flat iron. Its infrared heat technology is one of a kind. As it will not fry and damage your hair, rather it would use a more gentle heat while straightening your hair and will lock the moisture and improve the quality of your hair cuticles too.
But this requires a higher temperature to perform. The swivel cord helps in better movement of the flat iron, but the cord is only 4 feet long.
CHI Smart Gemz Titanium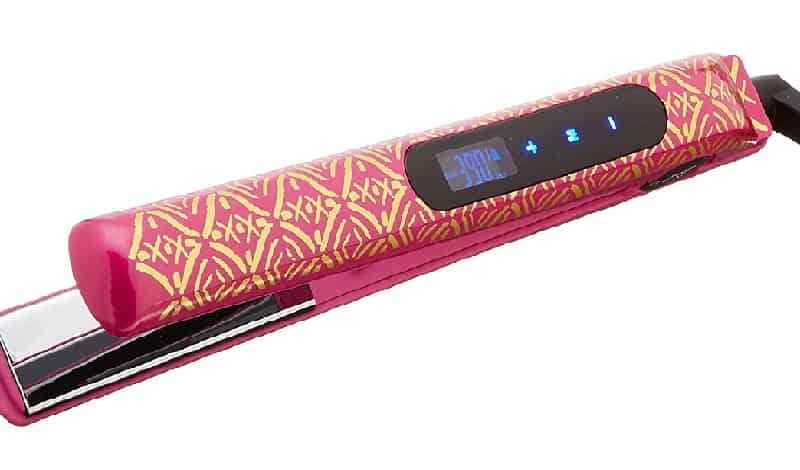 Smart Gemz Volumizing Zirconium Titanium CHI Hair Straightener has improved its performance over time. The plates which are coated with Zirconium Titanium will last longer than any other coated plates, and even after 10000 uses, they will give you a smooth result.
The cord is 11 feet long, which will help you to move the hair straightener better without getting your hard in the way and prevent snagging of the cord. The negative ions generating from the plates tames all the flyaways and smallest of strands perfectly straight.
EFFECTS ON HAIR
L'ange Le Rêve Blush Titanium
L'ange Hair Le Rêve Titanium Straightener can work on all types of hair, but it is better to use on thick and coarse hair as the infrared heat technology uses high temperature to give you pin-straight hair. This might damage the thin and sensitive hair and might give hot spots.
But the plates also give less breakage and damage to your hair. Whichever style you do with this product, it will stay for a few days, which is an added benefit.
CHI Smart Gemz Titanium
Smart Gemz Volumizing Zirconium Titanium CHI Hair Straightener can be used not only to straight your hair but also to curl and flip your hair as you wish, which makes it multi-purpose and versatile product.
You can get beach waves with this flat iron as the edges of the plates are curved. You can experiment with this product with various hairstyles. You can use this on all types of hair, but you might need to pass it a few times more in dense and voluminous hair.
ADDITIONAL FEATURES
L'ange Le Rêve Blush Titanium
L'ange Hair Le Rêve Titanium Straightener has lots of great features and settings. The plates are well polished and stain-resistant; they will not get corrosive easily. This hair straightener is also energy efficient, and you can achieve your look with just one pass of the plates through your hair, which saves your time as well.
CHI Smart Gemz Titanium
Smart Gemz Volumizing Zirconium Titanium CHI Hair Straightener is a modern hair straightener, and it comes with additional items as well. You will get a heat-resistant bag with it to make it travel-friendly.
It will prevent damage to the surfaces, and you can keep the flat iron in it while it is switched on. This also comes with three hair clips so that you can section your hair while straightening.
CONCLUSION
Now that you have got thorough knowledge about both the products L'ange Hair Le Rêve Titanium Straightener and Smart Gemz Volumizing Zirconium Titanium CHI Hair Straightener, you can easily decide on which one to purchase. Both the products have their own unique and innovative features, as well as drawbacks.
So choose wisely and purchase your very own hair straightener and style your hair the way you want them to be. Do not overuse any heating tools as they can lead to long-run damages to your hair. Last but not least, always love your natural hair and provide nourishment and care to them.