Revamping your hairstyle with a root touch-up can be an excellent way to update your look and a real mood booster. But how long does getting a root touch-up take at a salon?
How Long Does A Root Touch-Up Take?
A professional can complete a root touch-up in about an hour. This estimate depends on the base hair color and the complexity of the color you choose.
By touching up your roots at a salon, you can go from having visible gray hairs or dark roots to a fresh new look in no time and without making frequent trips back and forth to the salon chair.
Benefits of a Root Touch Up
Professional root touch-ups are an effective way to keep your hair looking its best.
Cost-Effective
Getting your roots touched up regularly is more cost-effective than trying multiple home remedies each month to cover grays or refresh the color. They also use higher quality products that will last longer than brands found in stores, which translates into savings for you.
Healthier Hair
One of the biggest benefits of going with a professional stylist for root touch-ups is that they are trained professionals who know exactly how much dye to use without overdoing it or damaging your hair.
They also use specialized tools such as foil wraps which help to ensure even coverage throughout while keeping damage at bay and speeding up the process.
How to Prepare for a Root Touch Up
A little pre-touch-up prep can go a long way in keeping your hair and scalp healthier. Whether you head to a salon or handle the touch-up at home, it's best to wash your hair a day or two before your appointment so the natural oils protect your scalp.
Avoid using heated styling tools or products so your hair looks as natural as possible. Too much buildup can alter the final color and leave you with stripes or streaks instead of a blended look.
The goal should be to match your existing color as closely as possible while achieving a natural look. Talk to your stylist about different hues so that you can make a selection based on their expert opinion.
What to Expect During a Root Touch-Up Service?
The goal should be to match your existing color as closely as possible while achieving a natural look. Talk to your stylist about different hues so that you can make a selection based on their expert opinion.
When you decide to get a root touch-up, there are several things that you should expect during the service.
Consultation
The first step is a consultation with your stylist. They will assess your hair color and discuss what kind of look you want to achieve.
With their expertise in using quality products and regular maintenance visits after each session, you can enjoy vibrant colors without worrying about roots showing too soon.
It is essential to be aware of what the process entails before getting a root touch-up at a salon so that you can have realistic expectations.
Application and Processing
Your stylist will use professional products and techniques to ensure even and long-lasting results. Processing duration can differ depending on the product used but generally takes thirty to sixty minutes.
During this time, your stylist can adjust any unevenness in tone or texture and add highlights if desired.
Once everything looks perfect, they will rinse out all the products and apply a deep conditioning treatment to leave your hair looking shiny and healthy.
Reasons to Get a Professional Root Touch Up at a Salon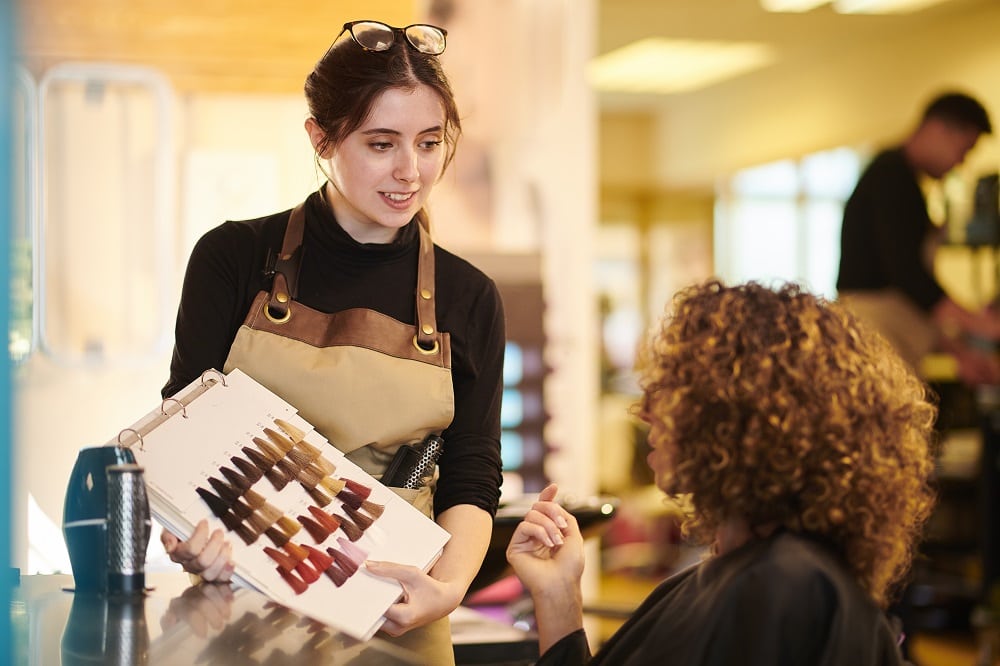 When it comes to getting a root touch-up, here are three reasons why you should consider visiting a salon for your next service;
Expertise of Professional Stylists – Professional stylists can assist in selecting the appropriate hue and shade for your complexion, and hair texture and advise on how to maintain them.
Access To High-Quality Products – Salons have access to high-end products that aren't available over the counter, which provide more value for money thanks to their superior quality ingredients and gentler for delicate hair types.
Longer-Lasting Results – An experienced stylist taking care of your roots will apply the color correctly and professionally, which leads to longer-lasting results.
Related Topics:
How Long Does It Take To Get Highlights At a Salon?
Frequently Asked Questions
Here are some questions people ask regarding root touch ups at a salon;
How long does it take to get hair dyed at the salon?
The time it takes to get hair dyed at a salon varies depending on the complexity of the dye job. Basic coloring services could take an hour to ninety minutes, while more intricate ones may require up to two hours or longer.
How often do salons touch up roots?
The frequency of root touch-ups at salons depends on the individual's hair type, texture, and lifestyle.
– Straight or wavy hair: roots should be touched up every 4 to 6 weeks.
– Coarser and curlier textures may need a touch-up every 2 to 3 weeks.
So, How Long Does a Root Touch up Take?
The answer is it takes about an hour to get a root touch up, but preparing before your appointment and knowing what to expect can reduce how long it can take. Getting a root touch up at a salon can be beneficial for maintaining your desired hair color.