The olive skin tone is incredibly beautiful, and you can do great things for your look by finding a hair color that goes well with it.
You can enhance your visual appeal by coordinating your hair color, skin color, and even eye color.
The best hair color for olive skin helps highlight the skin's undertones, make the light parts of the face pop, and make the dark parts look stunning even when they're in shadow.
Hair Colors for Olive Skin
The color shades below will surely help you play with your look and create something you truly love. Try out these different styles over the coming years, and you'll definitely find something fun that you end up sticking with in the long term.
1. Thick Red Curls
A vivid hair color for olive skin appears very natural, and the style of the hair is very natural, too.
The hair flows freely in thick, abundant curls that fall into no particular pattern. Some are loose, some are tight, and all of the hair sits on the shoulders apart from some shorter bangs.
2. Short and Fluffy Light Brown
This short hairstyle is a great way to show off your most beautiful features, but it's very fluffy so it still looks interesting and very feminine.
The hair is a light brown color that some might even consider a dark blonde, and it complements the skin well.
3. Light Brown with Bangs
Take a look at this. It's a slightly darker shade of light brown that's great for olive skin.
The hair is simple and straight with no dramatic styling. It's parted slightly to the side towards the back, and some nice, straight, blunt bangs brush the eyebrows.
4. Tall Natural Curls
Women with the hair types 4A, 4B, and 4C will rock this style. The natural little curls are piled high on top of the head in a wide updo, and the lengths of the hair are dyed a nice, lighter brown color.
The roots of the hair remain black.
5. Long Rich Brown Hair
This hair color is a very deep, rich brown, and it's a fantastic hair color for olive skin. There's some lighter brown towards the front, but it's very subtle.
The style is long and natural and it falls mostly straight with curls at the end.
6. Reddish Brown Curls
Reddish brown hair color is incredibly interesting, so it pairs well with the olive skin tone. The hair is shoulder-length and forms perfect curls that are very tight and not too thick.
The hair is side parted and overall it's very neat.
7. Long Lighter Reddish Brown
This hair is also reddish brown, only it's more of an orange than a red color. It falls down the back in wonderful curls that are very loose in half the hair and nice and shaped on the other side.
It's a natural look requiring minimal styling.
8. Natural Orange and Blonde
Here we have yet another shade with a reddish tone to it, only this tone is a very orange-red. There's some blonde in the hair too, and its dark underside looks almost brown.
It's a wonderfully interesting tone that pairs well with olive skin.
9. Thick Red Curls
Again, red is an excellent hair color for olive skin. You can see it here with this vivid, rusty red.
The hair is side parted and the curls all fall over the top of the head and cascade beside the face until they reach the shoulder. The hair is very thick and free.
10. Blonde and Brown
Here's a shade for olive skin that brings out lots of tones in the skin, and the dark roots add depth to the look.
This hair is very interesting because it's mostly blonde, but there are various shades in it so it almost looks brown.
11. Vivid Purple
If you have extremely curly hair, then this look is perfect for you. The curls are abundant here, so thick as they sit around the head and brush the forehead where they're cut into bangs.
They're dyed purple here, and it's so vivid and deep that it's almost black in some lighting.
12. Long Gentle Blonde Waves
Olive skin goes great with a subtle shade of blonde that's neither too bright nor too dark, so it suits the skin tone very well.
The hair itself is long and parted to the side in a very natural manner. The waves in it are also very natural and subtle.
13. Super Straight Silver
The hair is cut bluntly into bangs across the forehead, and the rest of the hair cascades down the torso in a wonderful display of thickness and length.
This is a super chic, super straight hair color that's bright silver with dark roots.
14. Bright Blue
A deep and vivid blue shade that looks wonderful will truly make your olive skin pop.
This hair color is nice and short and thick like a pixie cut that's being grown out, and it's natural. However, the hair color is definitely not natural and is perfect for those who like looking unique.
15. Short Choppy Pink Bob
Bobs that frame the face help make everyone's features look great. This hair color is a solid all-over shade of light pink, and it looks absolutely wonderful paired with this light olive skin tone.
The hair itself forms a bob that's curt choppily along the bangs and the ends of the hair for a slightly edgy look.
16. Perfect Blonde Pixie Cut
This shade of blonde is very warm, so it definitely suits an olive skin tone. It's so warm that it's almost like honey, and the hair is in a nice little pixie cut that looks very chic.
You can see some dark roots on the underside of the hair and around the parting.
17. Light Brown Thick Waves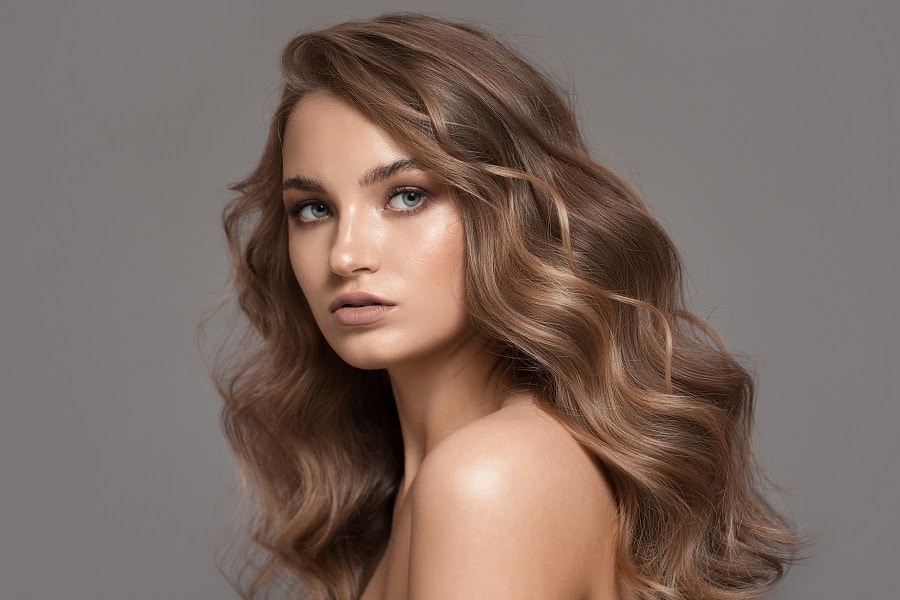 Thick waves are the epitome of elegance. This is a very well styled series of waves throughout some thick, light brown hair.
There are hints of even lighter brown in the color, so you can tell the style is very dynamic and has been thought out and cared for with precision and care.
18. Nice Natural Blonde
You really can't go wrong with a simple and natural shade of blonde paired with some curls.
There's some darker blonde near the roots, but other than that, this is just a very natural blonde color that's slightly messy and has nicely formed curls starting near the jaw.
19. Ombre Hair with Side Parting
Ombre styles are always trendy. The color does all the work to stand out as it starts brown and turns into a nice honey blonde ombre color that's absolutely classic.
The style here is very simple. The hair is straight and parted at the side with some bangs hiding one eye.
20. Light Brown with Blonde Highlights
Most of this hair color is a nice light brown, but there are some blonde elements, too. The roots are an even darker brown to add further depth.
The hair is very long and slightly wavy around the ends and the face. However, it's a relatively natural and simple style to wear.
As you can see, there's are tons of hair colors that go great with love skin. There are so many hair colors you can rock, and there are many beautiful styles to go with them. Try out a few different ones over the next few years!
You're very lucky if you have a skin tone that goes well with both light and dark shades. It's also fantastic that you can wear natural and unnatural tones and still look drop-dead gorgeous.