If you have a gorgeous tan skin tone, you have every right to flaunt it. But did you know that you can even make your skin more glowing with the right hair color?
Yes, showing your skin off isn't just about finding the right makeup for your skin tone. You need to find the best hair color too!
Lucky for you, we're here to help you out. We've rounded up some hair color ideas that will suit your beautiful skin tone perfectly. If you're excited to find the best hair color for tan skin, let's get the ball rolling!
How to Choose the Best Hair Color for Tan Skin
Before we reveal the hair color ideas that we've come across, allow us to share with you a few tips that can help you determine which hair color you should choose. Here they are:
Avoid bright shades
When looking for hair color for tan skin, your goal should be to find a hair color that will make your skin look brighter. Unfortunately, bold and bright hair shades will make your skin look darker, so you should avoid those as much as possible.
Add highlights to your hair color
Highlights are highly recommended as these can bring out the beautiful undertone of your eyes. Plus, these will add dimension and depth to your hair.
If you want to play it safe, go for blacks and browns
You can never go wrong with these classic hair colors!
Reds are the best choices for tan skin
If you want maximum glow, red hair colors are your best bets as these can highlight the warmth of your skin tone.
Gorgeous Hair Color Ideas for Women With Tan Skin
Below are some of the hair colors that would work best on tan skin:
1. Different Shades of Brown
Yes, browns are your best friends when you have tan skin but why stick to only one shade when you can have them all—blonde, included! Also, having streaks in different shades of brown will add depth to your hairstyle and even turn it into a head turner!
2. Light Copper Red
If you find the traditional red hair color to be a bit boring, let's take things to a whole new level with a light copper red shade. This is the best hair color for tan skin, combining blonde and red hues and creating a stunning color that works beautifully against your tan skin.
3. Seamless Toffee Balayage
We love how seamless the highlights look against the beautiful toffee color base. In addition, the obvious lighter shade at the front of the hair perfectly frames the tan skin making it look brighter.
4. Light Golden Brown
No, you don't have to go full blonde to make your hair golden since you can always go down the light golden brown route. The best thing about this? It reflects the sunlight pretty well, and so does your skin!
5. Different Shades of Blonde
Who says blonde is only for fair skin? But, when done right, it will look marvelous on tan skin. We're enjoying how the different shades of blondes and browns look beside each other. It's a genuinely stunning hair color for tan skin!
6. Different Shades of Pinks
Surprised that women with tan skin can pull off this look? Well, that's because the base of all these pink shades is the red color. And as we all know, it's a great hair color for tan skin as it enhances your skin's natural glow.
7. Sunkissed Brown Balayage
Do you want to look as if you just came from a beach trip? This sunkissed brown balayage will make you look like a beach babe who's always out in the sun every day all the time!
8. Golden Brown
Want to look golden? Then add sole golden brown strands to your gorgeous hair! Go for a brown base, so the honey undertones and golden highlights shine through!
9. Light Magenta
Don't be afraid to go for it if you love pastel colors! We love this hair color for tan skin as the lighter shade is a great contrast on your tan skin, so both features stand out without overpowering each other.
10. Sandy Blonde
Blonde hair on tan skin? You'll never go wrong with this winning combination! This sandy blonde shade is genuinely the perfect hair color for tan skin as it's a blend of both cool and warm tones.
11. Blonde Balayage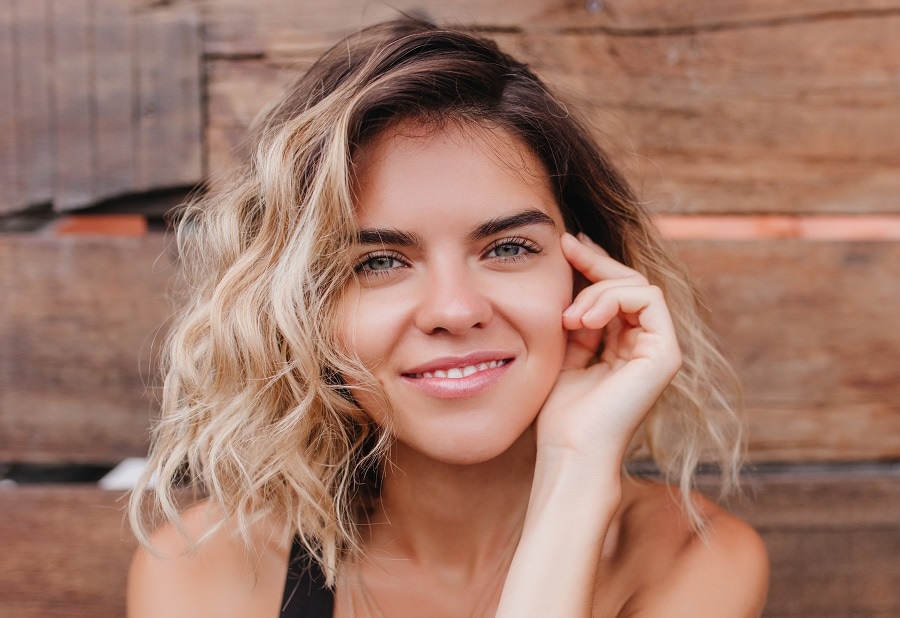 Can't decide whether to go for black, browns, or blondes? Get the best of all worlds with the Blonde balayage hairstyles, which combines all these tan skin-friendly shades!
12. Jet Black
Indeed, simplicity is beauty, and this jet-black hairstyle proves just that.
13. Light Copper Brown
Nothing beats the copper brown shade when it comes to bringing out the warm undertones of tan skin. This one is a great hair color for the winter season, but it will work well for the hotter months too!
14. Peach Pink
Should you go for peach or pink? Why not get both so you can have the most beautiful pastel hair color that looks amazing on tan skin!
15. Multi-colored
Can't choose between all the fantastic hair colors? Why not try them all—all at once! This may seem over the top with the violet, gray, black, green, and violet shades. But if you can pull it off, it will make such a great statement!
16. Blue and Green
We told you to shy away from blue shades, but we're going to make an exception for this hair color! Why? Because of the green shade, which perfectly complements a tan skin tone.
17. Honey Blonde
If you adore the creamy and golden shade of honey, this is one of the best hair color for tan skin for you. Honey's rich and warm color is also photogenic, which is a big plus!
18. Platinum Blonde with Dark Streaks
Are you tired of blonde highlights? Then why not go for a lighter base and dark-colored streaks instead? This one's a breath of fresh air and certainly a unique hair color for tan skin.
19. Dark Golden Blonde with Brown Undertones
Don't just stick to one color. If you want your hair color to look more interesting, play with different shades and elements like this hairstyle—dark undertones on a lighter base.
20. Chocolate Brown
When choosing hair color for tan skin, going for cool brown shades is always a great idea! This one's a great choice if you want to be a brunette.
Finding the right hair color for tan skin is not rocket science. There are plenty of hair colors that you can choose from. You just need to stick with the basics, no to blues and yes to neutral and red hair colors.
And if you're up to the challenge, try adding more pizzaz to your hair through balayage and highlights. You can never go wrong with those!