Beard Grooming kit is an essential product that takes care of all the needs of a guy as far as their beard grooming is concerned. It consists of individual grooming products such as beard oil, beard serum, beard balm, and beard wash, etc. Beard growth, nourishment, and maintenance are highly important for any man who loves to keep a beard. Most of the guys these days prefer a healthy and perfectly maintained beard, and a beard grooming kit helps you to get an optimum beard.
While caring for a beard, men look for multiple products in the market, and it is complicated if any one product is missing or not up to the mark. A beard grooming kit solves your purpose and you do not need to go outside every time to look for a particular beard tool if you get any problem with your beard.
If you are looking for an answer about why you need a Beard grooming kit, the benefits are as below:
It helps you to keep all beard essentials in one place and makes them easily accessible.
Easier to pick a kit and carry it with convenience.
Beard Grooming kits contain a cohesive fragrance theme in all its products.
A beard kit gives a perfect look for men having any beard type or style.
It is an all-in-one way that ensures you have everything needed for your grooming.
Common products that you would find in a Beard Grooming Kit and main factors that you should consider while choosing it are as below:
1. Beard Shampoo
It is a must be an available product in a beard grooming kit. Beard hair is different from your scalp hair, and thus it requires a special shampoo to keep them healthy and clean. Beard shampoo can give you a beautiful texture while keeping it smooth and hygienic. Be careful when you choose a beard shampoo in a kit as it should match your hair texture.
2. Beard Comb
Normally, a beard grooming kit contains a beard comb that helps your beard to have growth by removing all tangled hair and increasing the overall health of your beard. You should choose a high-quality material comb like a wooden comb to accommodate thicker hair and prevent ripping of the hair.
3. Beard Brush
Beard brush material is a highly considerable factor while choosing a beard kit. Although plastic brushes won't harm your beard, but a high-quality material brush with stiffness works perfect for detangling and shaping your beard.
4. Beard Oil
Beard Oil is also an important product in a beard grooming kit. It helps to remove dandruff and itching. Beard oil also makes your beard hair smooth and healthy. While choosing a beard grooming kit, make sure the oil is of high-grade, such as argan oil, essential oils, and jojoba oil, etc.
5. Beard Conditioner
One of the main reasons for keeping a beard is to impress girls, and a conditioner makes the beard look more impressive and attractive as it gives a very smooth and soft texture to your beard. A good beard conditioner makes your beard soft and nice to touch. Leave-in and rise out options are available as beard conditioner in a beard grooming kit.
6. Beard Balm or Wax
If your beard doesn't have a perfect shape and you are looking for a great style, beard balm or wax can give you the perfect styled beard by giving it a form you want and will stay for a whole long day till you wash it. Also, a good beard balm gives a refreshing and soothing fragrance while making you beard thicker.
7. Beard Trimmer
Trimmer is a common tool or gadget that every man is fond of. It is available in multiple shapes and sizes, and you can choose according to your preference. A top-quality trimmer with a preferred beard size is a key factor while selecting a beard grooming kit.
8. Small Scissors
To get a clean and sculpted cut barber scissors are a great tool to have in the beard grooming kit. It gives a perfect finish to your beard by removing the unwanted small hair. While selecting a beard grooming kit, make sure the barber scissor is of high quality as it will be sharp and ensure a perfect and clean cut.
So, if you also want your facial hair to give you an impressive look, we have compiled a list of the best beard grooming kits available that will surely help you to choose a product best suiting your needs and giving you the admirable looks you always longed for.
1. Lionbeard Grooming Kit
A perfect grooming kit with all the necessary tools and products to make your beard elegant and smooth. The high-quality natural materials with unscented beard balm and beard oil nourish your skin and beard and make it smoother. The trimming kit includes a natural mahogany comb with a natural bamboo brush and sharp medical-grade scissors to shape and cut your beard.
Lionbeard kit includes jingle bells, bubble ornaments, and flashing beard lights to make your Christmas more enlightening. So, it also acts as a perfect gift for the Christmas festival with all the essential and high-grade materials required to shape and get a perfect beard.
Pros:
A secret E-book including thousand of bearded man to give you tips on beard maintenance.
The Grooming kit comes in an aluminum tin and has a great durability.
The materials used in this kit are of high-quality and natural materials.
The product has unscented oil that works perfectly to make the beard shiny.
You also get free Christmas ornaments with Lionbeard grooming and trimming kit.
Cons:
It has a plastic comb and would not suit for a coarse and thick beard.
Scissors in the grooming kit and not hair scissors but okay for trimming.
The amazing beard care kit works great for guys having any type of beard such as thin, thick, coarse, tangled, long, or short. Beard Grooming and trimming kit by Isner comes with a shampoo, oil, wax, brush, comb, scissors, conditioner, and some cute Christmas ornaments that goes well for a Christmas gift.
The wooden comb in Isner Mile kit is a great choice for thick hair and the kit also contains 100% boar bristle brush. It allows to distribute the oil evenly and also improves the beard hair texture. The natural scent beard shampoo uses argania spinosa oil, jojoba oil, aloe extract, rosemary extract, Vitamin E, and algae extract.
Pros:
The beard balm and oil are made of organic ingredients and are unscented.
It is a great kit for all facial hair types.
The kit has a high-quality boar bristle brush with a wooden comb.
Pure Natural Scent Shampoo promotes growth, removes dandruff, and rejuvenate the facial hair.
The product makes your beard look smooth and shiny, even in dry and harsh weather.
Beard oil in this kit removes any blank patches and promotes even beard growth.
Cons:
The packaging uses cardboard instead of a metal box.
Some people do not prefer the natural citrus scent or smell.
3. Jurgen K Beard Care Kit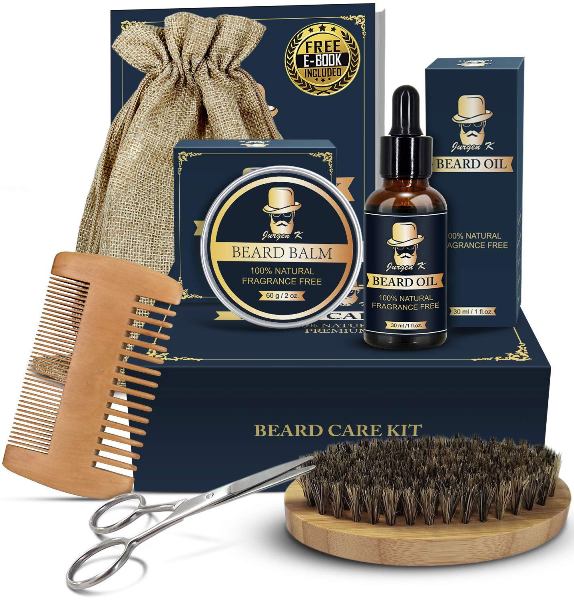 Jurgen K beard kit is full of healthy and natural organic products made of premium oils such as Jojoba oil, argan oil, and Vitamin E to make your beard healthy and shiny. The wooden comb and beard brush are handmade with thick tooth finish that works great for your thick and tangled beard.
Stainless steel beard scissors have an ergonomic design handle with sharp blades and have a professional quality that gives you precise cut and perfect finish for your beard. The natural boar bristles allow removing the dead skin without pulling out your hair. Jurgen K beard kit is a great choice for a gift on birthdays, Christmas, Valentine's or Father's day.
Pros:
The natural beard oil removes any itches and dandruff and provides an efficient nutrient to your beard.
The kit contains all tools needed for beard styling, softening, trimming, and grooming.
The beard balm is 2oz and has more quantity than other grooming kits.
The solid wooden comb has double side teeth for a soft and nice finish.
Its beard oil has a fresh and light smell and is liked by everyone.
Cons:
Not suitable for the guys who prefer a strong smell for the beard products.
The oil bottle cap is smooth instead of ridged and is difficult to open when your hands are wet.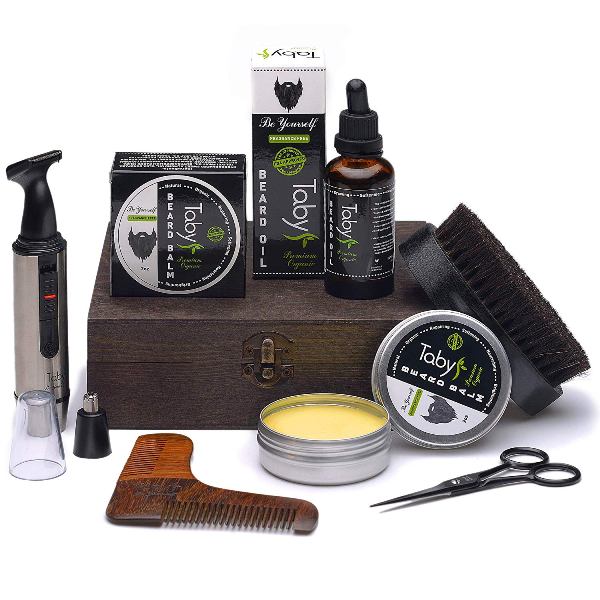 Go no further if you are looking for a perfect gift for your man to get ultimately soft and healthy beard with a smooth and soft texture. It contains all the essential products for beard grooming, such as wooden comb, horsehair brush, beard oil, balm, scissors, and trimmer.
Tabys beard grooming kit is great to make your beard hydrated, shave, or trim it. It works well with thin, thick, long, short, and even curly hair texture. The beard growth oil and balm in this kit are organic, and the wooden brush makes the release of natural oils more even.
Pros:
The luxury wooden box makes the beard kit more stylish and perfect for gifting.
The curve in the double-sided wooden comb allows you to get a perfect shape.
The organic castor oil used in the beard grooming kit promotes hair growth.
Beard styling balm in this kit is full of natural oils giving you reliable beard styling.
Facial, nose, and ear trimmer allow you to get easy trimming.
Cons:
The beard shampoo is not available in this beard kit.
The scissors are small but are made of high quality.
Beard Club grooming kit is another beautiful product, including products in a delightful travel bag. You get a sandalwood beard oil, a beard cream, a razor, a beard brush, comb, and a beard shampoo in this beautiful travel kit.
The beard club grooming kit has products with pure ingredients and natural oils such as sandalwood that gives a nice finish, smoothness as well as a great sandalwood fragrance. The wooden comb is foldable and can be easily carried in the bag. The unique and elegant grooming kit helps you to get a healthy and strong beard.
Pros:
You get a Beard Club body wash with this beard grooming kit.
It contains a straight edge razor with 10 steel blades.
The boar bristle brush and wooden comb are well made of high-quality material.
The sandalwood smell with the beard cream makes your hair soft and gives a nice smell.
Cons:
Beard oil bottle is small and has less quantity.
6. Fulllight Tech Men's Beard Kit
If you are looking for a complete package of beard grooming kit, Fulllight tech beard kit is a great choice for you. The kit includes a beard shampoo, beard growth oil, balm, conditioner, comb, brush, and scissors.
The natural ingredients with added oils and vitamins make your beard shiny and healthy with frequent usage. The complete kit comes in a beautiful packing that makes it perfect for gifting. It contains sharp scissors and a boar bristle brush that helps you to get a trimmed beard in a perfect shape.
Pros:
The kit includes a beard growth oil with essential oils to promote hair growth.
The products do not have any harsh chemicals or additives used.
Beard oil of this grooming kit is scentless and keeps your beard moisturized.
The leave-in conditioner allows an easy application and keeps your beard smooth and soft.
The bristles of the brush are stiff and good for thick hair.
Cons:
Not suitable for people looking for the best smelling products.
7. Viking Revolution Beard Kit
An amazing beard conditioner kit that comes in a beautiful metal box for easy storage and also makes it travel-friendly. The Viking revolution beard kit contains a boars hair brush, beard comb, beard oil, beard balm, and scissors.
The beard balm in this kit contains a pleasing citrus scent, the beard oil is unscented and includes peppermint eucalyptus scent for the beard wash and conditioner. Viking revolution beard kit comes with a dual-sided wooden comb with both thick tooth and thin tooth.
Pros:
The quality of beard oil and balm is top-notch and makes the beard smooth and soft.
The shampoo has a nice tingling peppermint smell.
The dual-sided wooden comb is sturdy and great for both a thick beard and a thin beard.
The metal box makes the beard kit portable and easy to carry.
Cons:
It is basically a conditioner kit and doesn't contain a trimming set.
8. Mountaineer Brand Beard Grooming kit
A special grooming kit that is handmade in West Virginia with the natural products to provide special care. The beard kit contains beard oil, beard wash, a beard balm, and a brush.
The healthy and natural products contain pine scent that is subtle and never overpowers. The wax and oil in this beard grooming kit provide you with an itch-free and dandruff free beard with a soft and smooth texture.
Pros:
The balm oil and balm are 2 oz, and beard wash is 4 oz having longer durability.
The grooming kit comes with a military-style brush with bore bristles for styling.
Natural oil keeps the skin hydrated and provides a slightly woodsy fragrance.
The shampoo lathers up really well and gives a smooth and shiny beard.
Cons:
The bag containing the kit leaves little fibers creating debris where it is kept.
If you are searching for an ultimate luxury gift for men, Wumal beard kit is a nice option. The healthy and organic products contain ingredients such as Vitamin E, jojoba oil, and argan oil that helps to keep the beard smooth and soft.
The beard kit contains a comb, oil, brush, shampoo, balm, wash, a shaper, a bib, scissors, and a burlap bag, making it a 10 in 1 kit. The high-quality materials ensure the improved texture and shine of the beard, making it smooth and conditioned.
Pros:
The beard comb is very comfortable and suitable for thick, thin, short, and long beard type.
It is a perfect combination of shaping, styling, and trimming tools.
A nice cloth bag is available with this kit to make it travel-friendly.
The natural mild scent with a citrus smell is not overpowering.
The guide to shaping your beard is very useful for beginners.
Cons:
Beard oil in the kit is quite hard and needs to be melted down by rubbing between hands.
10. Derma Roller Beard Growth Kit
A unique beard grooming kit that works on the natural healing process and makes your beard grow nicely and perfectly. The kit contains a beard roller, balm wax, and a beard comb.
The unique technology roller increases blood circulation by activating the natural healing process through microscopic channels and increases oil absorption in the skin. It thus boosts beard growth and works well on the patchy hair. The kit comes with natural ingredients such as rosehip, jojoba, argan, and Calendula to make the beard smooth, soft, and healthy.
Pros:
The beard balm makes your beard straight, smooth, and more attractive.
The titanium roller rejuvenates facial hair health by improving blood circulation.
The beard growth oil naturally activates the follicles and increases beard growth.
Best suited for guys with a patchy beard.
A small wooden beard comb is very useful and easy to carry.
Cons:
It is not a complete grooming kit as a beard brush, shampoo, and scissors are missing.
11. Big Forest Beard Growth Kit
Another remarkable product with all-natural and organic products well packed in a linen pouch. It is a great beard growth kit with a beard shampoo and a beard balm, making it a small and portable kit that helps you to get a soft and smooth beard.
The natural balm and shampoo give a pleasing pine scent with a woodsy smell because of their organic products. These products allow your beard to grow as the shampoo removes excess sebum and the balm removes dandruff and tangles.
Pros:
Leave-in conditioner contains Shea Butter, Coconut oil, and Lanolin that keeps your beard thick, soft, and healthy.
The Beard shampoo leathers very well even with small quantity.
The natural organic pine scent offers a pleasing smell.
This product makes the beard itching free and keeps dandruff at bay.
Cons:
It doesn't contain all the beard grooming products required for beard care.
12. White Moose Special Luxury Beard Kit
People looking for something special to gift can stop their search with a white moose special edition luxury beard kit. It comes in a glazing White Moose special edition tin box and contains beard oil, balm, comb, and a brush.
The natural ingredients such as almond oil, avocado oil, and apricot oil used in the beard oil give you a soft and hydrated skin while removing itchiness and flakiness. You also get a fine teeth sandalwood beard comb and an unscented beard balm with this luxury kit.
Pros:
The essential oils help to keep the beard moisturized for a long time.
100% boar bristle brush improves hair texture by even distribution of oil.
The natural balm containing Shea Butter, Beeswax, almond, and apricot oil makes the beard soft and shiny.
The storage tin box that comes with the kit is very useful.
Cons:
Not suitable for the men looking for a complete beard kit with shampoo and scissors.
13. Can You HandleBar Beard Kit for Men
A beard kit for men who need a nourishing and smoothing product to maintain their beard. This beard kit contains all-natural products, including a beard balm, beard oil brush, beard oil, and beard wax.
The fresh coffee scent with the essential oils gives you a nice fragrance and provides you shine and strength by nourishing your hair and skin. The product's regular use also helps to reduce flakes and itch and allows the beard to grow healthier and fuller.
Pros:
The Primary and Secondary Animated wax gives a stronghold to the beard shape.
The burst of scent with a coffee smell stays throughout the day.
Balm in the kit can easily melt when you rub between your hands.
The size of the products is good and can be used for a long time.
The natural ingredients are safe for men with all beard types.
Cons:
It would not suit men who don't like coffee smells.
14. Tabys Beard Kit Grooming and Trimming Care
A fantastic beard grooming and trimming kit with a complete package including Beard oil, beard balm, beard brush, scissors, and two wooden combs that makes it perfect for gifting purpose.
The kit includes all the essential beard care and trimming products with two double teeth combs that are made from pine wood, and the one among those two combs also acts as a shaping tool for trimming.
Pros:
The luxury wooden box makes it the best gift for the bearded men.
100% horsehair brush is well suited for thick and long beard and releases the natural oil.
The organic castor oil works great for beard growth.
The balm and oil have a very nice aroma with a light and pleasing citrus scent.
Cons:
Beard Shampoo is not available in this beard grooming and trimming kit.
15. Jane Choi Beard Growth Kit
Another starling beard grooming kit best suited for guys looking for beard growth. The Beard growth kit by Jane Choi contains a beard roller, beard oil, beard comb, roller sanitizer, and serum oil.
It is a very beautiful beard growth and nourishing kit in which the roller is paired with a beard serum that gives you a thick and healthy beard by increasing the blood circulation. The essential oils provide the required nutrients and vitamins for beard growth, and the comb helps even release those oils.
Pros:
The 0.3mm needle size of the beard roller is safe and best.
There are 4 pieces of beard roller sanitizer available with this kit.
The activator serum promotes growth without any adverse effect on the skin.
All the products use natural ingredients and are packed in a luxury gift box.
Cons:
Not suitable for men with acne skin.
Beard shampoo, balm, and wax are not available in this grooming kit.
16. Jack of Spades Beard Oil Kit
A delightful gift set for nourishing the beard and keeping it healthy and strong. Beard Oil kit by Jack of Spades contains an organic beard balm, conditioner, beard oil, 100% boar bristle beard brush, scissors, a beard comb, an apron packed in a travel bag.
All the products are naturally made without any chemicals and mainly use jojoba oil, argan oil, and Vitamin E that helps you to get a smooth and healthy beard and also promotes beard growth. The grooming scissors are stainless steel scissors to make your beard cut in perfect shape.
Pros:
The premium kit box has a magnetic closure and acts as a great gift.
You get beard apron, suction cups, and a drawstring travel bag for easy carrying.
All the products are natural and unscented without any artificial ingredients.
Leave-in conditioner keeps your beard soft, moisturized, silky, and hydrated.
High-Quality scissors offer precise trimming for your facial hair.
Cons:
The wooden comb is not double-sided and is only available with a thick tooth.
17. Pretty Comy Beard Care Set
A small initiative kit for beginners to start with your beard nourishment and maintenance activities. Pretty Comy beard set contains beard oil, beard wax, beard comb, a beard brush, and beard scissors.
The products are made using high technology and modern polishing and grinding that makes the product more durable. The brush helps the beard oil to disperse evenly and improves the texture of the beard and makes it healthier and softer.
Pros:
The double side wooden comb has both thick teeth and thin teeth and is anti-static.
High-quality Japanese scissors have precise blades and are hand sharpened to give perfect cut.
Beard wax nourishes the beard and holds it in shape throughout the day.
The beard brush works well for a thick beard and distributes the beard oil.
Cons:
The products don't contain 100% natural ingredients.
18. Sosiay Cici Beard Care Kit for Men
Another stunning Beard care kit for grooming, trimming, styling, shaping, and moisturizing and acts as a perfect gift. This beard kit contains a beard balm butter wax, a beard brush, a wooden comb, beard oil, and beard scissors.
The pure and natural products include Vitamin E, olive oil, and jojoba oil as the main ingredients that make the beard shiny, soft, and healthy. Beard conditioner helps you in cases of razor cuts, and 100% natural horsehair bristles brush makes the oil distribution perfect and also includes a user manual.
Pros:
The dual action beard comb has thick teeth and thin teeth on each side, respectively.
High-quality scissors make trimming precise and great.
Beard balm containing beeswax gives protection from heat, pollution, and sunrays.
The styling and nourishing kit remove split ends, itches, and flakes.
It comes in a gorgeous luxury premium black metal box packaging.
Cons:
It is not good for men who love a strong smell as it has a light natural scent.
19. Dioche Beard Trimmer Kit
If you are a black lover, you would surely love the Dioche beard trimmer kit with a black theme for your beard care. The kit contains beard oils, butter balm, a black comb, barber scissors, mustache shaping, and a black cloth bag to carry it easily.
The beard oil and beard cream are made of natural and organic ingredients to make your beard soft and healthy, and it also removes any open pores of the skin by cleansing your beard skin. Double-sided black comb is available with both thick tooth and thin tooth, and the brush is dense with natural bristles that work well for a thick beard.
Pros:
The natural dense brush suits beard of all types and makes it nicely groomed without any dust.
All the products include natural ingredients that help to make your beard strong and healthy.
Black sharp scissors are hollow ground and give your beard a precise cutting.
The small bag design is very comfortable to be carried as it is travel-friendly.
A separate comb bag for the double-sided comb is available with this grooming kit.
Cons:
Not suitable for the men, looking for Beard growth kit having roller or growth oils.
20. Masculine Craft Men's Beard Grooming Kit
A combination of all essential beard grooming products for your daily beard care needs is available with the Masculine Craft Beard kit. The kit contains a beard shampoo, beard conditioner, oil moisturizer, and a beard comb.
The scented shampoo cleanses your beard by removing beard dandruff and itching and soothes the irritate beard skin. The beard conditioner is a combo of beard shaping, styling, and softening cream and also acts as a skin conditioner. The stainless-steel beard comb has thick teeth with rounded tips that easily detangles your beard hair.
Pros:
The beard shampoo hydrates the facial skin by removing any underneath dust and impurities.
The conditioner helps to shape and style your beard while keeping it soft and shiny.
The stainless-steel comb is more durable and also includes a bottle opener.
The beard growth oil helps you to get a thick and strong beard.
The ingredients used are natural and organic such as jojoba, aloe Vera, tea tree oil, peppermint oil, etc.
Cons:
It might not suit men who don't prefer scented products.
Beard brush to distribute oil is not available in this beard grooming kit.
Whether you are at home or planning for a vacation, a beard grooming kit makes your job really easy with all the vital grooming products at a single place with the ease of access. Beard grooming kits are identical but never the same. The ingredients used in the products, the material used for the tools are the considerable factors that differentiate the beard grooming kits. So, next time you are looking for a pleasing and refreshing look, don't forget to choose the best beard grooming kit that suits your needs.
Top 20 Beard Grooming Kits for Stylish Beard
was last modified:
January 20th, 2020
by