Who doesn't love flowers? Pretty much all of us need to admit the fact that we all love flowers and are smitten with them in one or the other way. And who doesn't love getting a lovely bouquet from their loved ones? Again, we all do and some of us even secretly wish that our partners always shower us with flowers. Flowers not just bring happiness but they are also a symbol of love. And this could be one of the reasons why flowers are so popular with many wedding hairstyles. And also the fact that they look extremely romantic makes them even popular. So, if you have decided you want flowers on your hairdo on your wedding day, and are looking for the best style that suits you, go through this list. We have personally curated about 25 different wedding hairstyles with flowers that you are surely gonna love.
1. Bouquet Of Blooms
It almost looks like the hair is a lovely and miniature version of a beautiful garden. So many colorful flowers have been placed on the hairdo and make it look very ravishing. So basically, the first thing you need to do here is to style your hair in an updo style. Any style is enough, such as a bun, chignon or whatever you like. Since there are many flowers, we need to decorate them beautifully all over the head and an updo hairstyle will thus be the best. Place the flowers by tucking them inside the hair strands and with that, this lovely bloomed look is ready.
2. Peony Style With Hair Down
Thinking of wearing your hair down instead of tying it up. Well, there are countless choices out there of how you can style your hair by letting it down and free. But this one may interest you. In fact, there isn't much to it in terms of styling. All that there is a lovely peony flower. But that is, of course, the main highlight. The hair is let out in a breezy and nonchalant manner making it look very elegant and effortless. It certainly has a boho vibe to it.
3. Soft Twirled Style With Flowers
Here's half up half down style for the floral lovers out there. Since the hair is done in many layers, it helps to bring out the color variations that are visible due to the highlights that have been colored all over the hair. While at some places, the hair is maintained in straight layers itself, in other areas, it is curled and twisted to create a soft and flowing look. And then in between these twirls, beautiful flowers are placed.
4. Large Bun With Flowers Style
Are you a Desi bride and looking for a lovely hairstyle that would totally go with your Desi lehenga outfit? Well, this one sure looks good, especially with all those accessories. The hair on the upper front portion is done in a very ruffled up style and the rest of the hair behind it is tied up into a large bun. The entire hairstyle is just so full of volume and this will suit any type of outfit really well. It doesn't just go with the Desi Indian attire but with any. Western outfits can look just as good too but make sure you choose the right type of flowers that go with each outfit.
5. Greenish Beauty
Are you a lover of earthy tones and just love the charming colors like green, brown and white? This hairstyle will surely be of interest to you then. It is a lovely blend of all these colours and the hair has been done in a multi-layered style and tied up into a low lying chignon at the end. The warm-toned flowers also help to give a boho or vintage charm to an otherwise simple look.
6. Magnificent Flower Crown Style
Every queen wears a beautiful crown, and since you will actually be the queen on your wedding day, how about you try out this beautiful flower crown look. Imagine a crown but instead of diamonds and stones, it is studded with beautiful flowers in multiple colors. It looks good just as good as it sounds. The hair is styled in luscious black curls that fall all over like a waterfall. The flowers being in different colors make a beautiful contrast against the plain white gown.
7. White Headband Style
It is not just long hairstyles that make a mark for wedding hairstyles. Really short hairstyles like this one too can look just as amazing if you have styled and accessorized it the right way. If we take the case of this style, for instance, the hair is cropped very short and maintained at the length of the nape. It doesn't fall too far below the ears. But what makes it special is the light brown highlights that have been colored all over the bottom part of the hair. And the white flowers have been worn in a headband style that matches the gown perfectly.
8. Flower Crown Look
Apart from major hairstyle inspiration, this picture is also giving us major goals to conduct a destination beach wedding. The outfit, the flowers, the hairstyle, the beach. Everything is just so on point that it will have all of us drooling over this look. Since it is a beach wedding, why not style your hair in those beachy waves itself? The hair is highlighted in a lovely light blonde shade too and the pink, white and green colored flowers are decorated to form the shape of a headband. You can also notice that the bride is holding similar flowers as a bouquet, which just complements the overall style very well.
9. Curly Hair With A Floral Headband
And here is another style that involves a beautiful floral headband. The whole look has major boho vibes about it that just looks gorgeous. And since the gown is a backless style, the highlighted hair is just beautifully visible all over. A floral headband is also placed on the top and then the rest of the hair is tied up in a twisted braids style to complete the headband by using the hair itself.
10. Beachy Waves And Floral Headband
Well, the list seems to be never-ending for the various headband styles that are present out there. This is also a similar but gorgeous headband style that also features long beachy waves. The golden blonde locks of hair and the light-colored flowers match the skin tone of the model very well. This style would look gorgeous not just on white wedding gowns, but any gown of any colour since they are quite adaptable.
11. Large Floral Crown Style
Be the queen you are and wear this floral crown to look gorgeous on your big day. The hair is worn over to one side and is in the style that is quite similar to a loose chignon with many layers of hair left out. The ends of the hair have also been ruffled up and made a little shaggy to make it look pretty. The flowers come in all shapes and sizes and many colours too, thus making it a style with s burst of colors. This hairstyle is sure to go well with peach, nude or white colored wedding outfits.
12. Curly Waves With A Bloom Of Flowers
Here is yet another look that features a floral headband and that too in minimal and earthy tones. All over the upper front part, the hair has been decorated with light pink roses and green leaves. They both are just a lovely and romantic combination. The hair is at a medium length itself and has been worn down freely in loose and curly waves. This headband would look great on blonde and brunette hairs as well.
13. A Dash Of Pink
Hey, are you a pink lover and love everything that's pink? While making your whole wedding outfit, a pink color may not seem like the most viable option; you can still add a dash of pink to your look. And what better way to do that than with these gorgeous pink flowers that have been worn all across the hair like a beautiful floral headband. The hair is also highlighted in a warm brown shade to match the pinkness of the look and is worn in curly layers of hair. This hairstyle is definitely a must-try one.
14. Thin Floral Headband
Yes, this is one of those half-done floral headband styles that would also allow wearing a good veil with it. Since most headband styles cover the head from the back to the front, you can customize them, so you can wear it in such a way that both a veil and a headband can be fitted on to your hair together. As for the hair, it is tied up in a loose bun style with a kind of messy chignon at the back.
15. Desi Bun Style With Peonies
Here is a beautiful Desi look for you. The hair on the front is parted into thick sections and then swept over to the sides. The thick sections help to make the upper front portion a little lifted and thus it projects enough volume. The hair on the back is then tied up into a neat little bun. And then just all around this bun, 4-5 medium-sized peonies are placed. You can either go for the same peonies in the same colour or as you can see here, add a pop of colour by choosing the peonies in different colours. Either way, they will look damn gorgeous.
16. Side Braids With Flowers
This is a simple style with minimal accessorizing and minimal flowers. With the hair being long enough and styled in layers, the few flowers that have been placed are the main focus here since the hairstyle otherwise is just basic and very simple. Casually sweep your hair to the sides to maintain the look, and then on the shorter side, do a few braids just above the ears. Place the flowers on this part along the sides and there you have your look ready.
17. Vintage Flower Style
Everything about this loom from the makeup and outfit to those beautiful flowers and the hairstyle is just perfect. The flowers are placed in a huge bouquet style on the top. Almost as if it is a substitute for the birdcage veil styles that are really popular. The hair is maintained in really curly waves throughout its entire length. And we have to comment on the gorgeous red lipstick that just goes really well with this entire look. Each part complements the other and that is what makes this hairstyle really unique.
18. Simple Flowers On Blonde Wavy Curls
As simple as this look may appear to you, we have to admit that it looks absolutely stunning. While the roots of the hair are in a natural black colour, the rest of the hair is entirely dyed in a contrast blonde shade. And the long hair is further styled into large chunky curls. Those curls are totally the highlight of this look. And the flowers are not placed in the usual styles we see; instead, small flowers have been placed randomly at different parts of the hair, making it look very surreal.
19. Red Beauty
Red is the color that symbolizes love, romance and all the good things that come along with it. So it would be no big deal that instead of the classic whites, you chose a red look instead. Or, if you insist on whites, you can still try out this look by trying out the red on your hair. The hair is done in a beautiful curls updo and tied up. One side of the updo is very smoothly done in gorgeous curls and beautiful red flowers are placed all over these curls. Truly, a ravishing look this one is.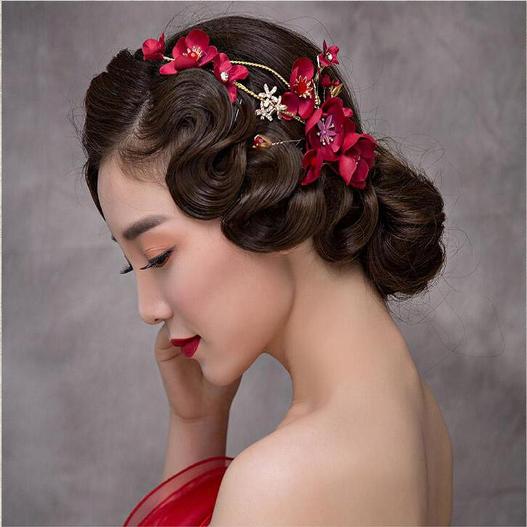 20. Short Floral Headband
Instead of the usual full headband styles that we see, this one is a half-band and the other half full of flowers. Thus when you adjust it to one of the sides, an entire side becomes beautifully laden with flowers while the other side reveals a thin band. This is really a unique look that you can check out if you want to stay different from the rest. Roses and leaves of different colors are placed on the hair to make it appear more natural and raw.
21. Lovely Pink Flowers And Curly Hair
Here is yet another style for all the pink lovers out there. And this one comes in all shades of pink from darker tones to very soft and light colours. The flowers are placed in a crown style across the whole front portion. Dark and light pink flowers are mixed together and the color variation that arises due to change in tones just makes for a beautiful sight. The hair is also highlighted in a copper brown shade towards the ends are maintained in beautiful flowing curls.
22. Floral Bun Style
Looking to wear your hair in a bun updo? This style may be of interest to you. Decorated all around with beautiful flowers, it's totally the look we crave with a lot of elegance and grace to it. The flowers are also arranged on a round and symmetric pattern, making it a very neat updo. It will look good with all types of wedding gowns and especially if you are wearing a backless gown, it can all be flaunted in style. The hair is done in twists and then the ends are just tucked in with the rest of the bun to complete it.
23. Blonde Boho Style
Greens and brown are the main color combination in this look and is also a much-loved style among many brides, especially those who have short or medium length hair. The floral headband is just very simple and elegant. It isn't too flashy so it just looks very classy without any effort itself. The hair though it is styled in a messy or shaggy manner, it still manages to look graceful enough to be passed off as a top wedding hairstyle. Try the headband using different colors and you can have a whole new look.
24. Short Wavy Hair With Flowers
And here's another lovely look that features really short hair. Its an ideal style that would look great on all the brunette haired brides out there. The hair is styled as a short and layered bob that is cropped at the length of the nape itself. The layering helps to add in some much-needed volume to this look. And then on the top, the hair is just adorned with beautiful flowers all over. The selection of those pink colored roses as flowers simply makes this look very adorable and romantic.
25. Floral Updo With Red Roses
Roses. That too red roses. What more one can dream for their perfect wedding look. The hair is styled in a multi-layered low lying chignon style. A little ruffling up helps to make the look slightly messy but still neat enough to look gorgeous. The main attraction though is the flowers not the hair. The red roses are just too beautiful and will go with your wedding gown perfectly. The asymmetrical arrangement helps to make it look adorable and romantic as a wedding hair updo.
The above list just helps us to understand that sometimes flowers are all you need to rev up your wedding look and look your best. So what are you waiting for? Choose the hairstyle you want and go order those flowers you need as soon as possible.