Till a certain time, the most of the people used to think that fashion for men was very limited. So they were stuck to the same, usual and boring dress up and hairstyle. But in the recent days a lot of men are extremely caring about their fashion sense or hairdos. So, the stylists are also coming up with various types of hairstyles for men and these can easily slay the world of fashion.
Trendy Hairstyles For Men
In modern time, the varieties of hairstyles for men are in the list of trending which will surely drop your jaw. So without delay get a complete fresh and new look. Switch all the things up and create changes. Trying out for new hairstyle is the cheapest and easiest way to brighten up your style. Various styles are available in the market but classic looks are still at the peak in terms of popularity. Except this the short hairstyle, textured crop with fringes, faded hairstyle, spiky look etc have also come back with a bang.
Moreover try some creativity to bring a change in your style and look absolutely different than ever. So it is the high time to get a total makeover. Choose your favorite trendy hairstyles for men from the list which is mentioned below in this article and rock.
Zayn Malik Mohawk Hairstyle
Zayn malik is the latest singing sensation of the world. He has set a trend and become one of the most popular personalities through his style and hairstyle along with the music. He always stays in trend for his styling and fashion sense. In this particular hairstyle both of the sides are shaved perfectly and most of the hair will be on the top. You can create a Mohawk with that to emphasize the look. You can dye your hair with the blonde color to finish the look.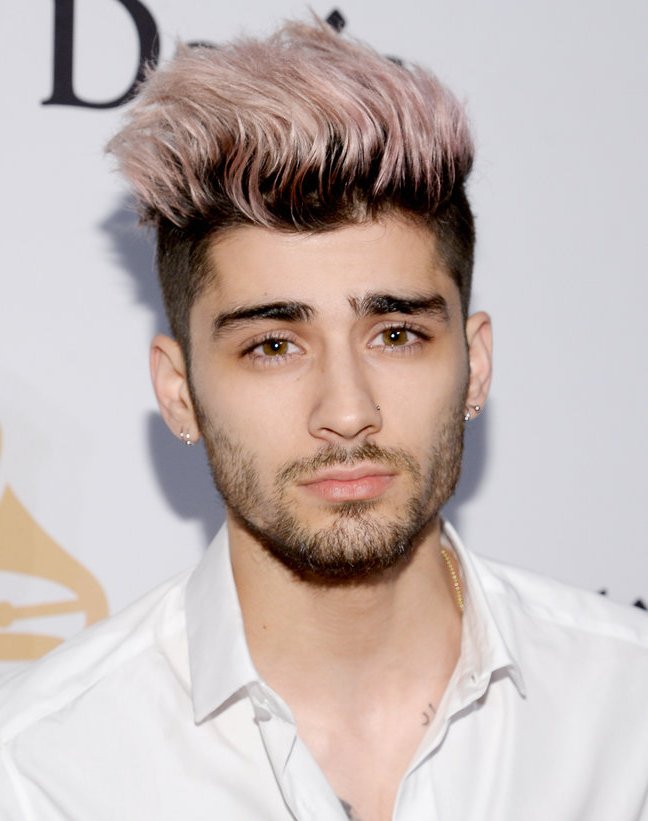 Spiky Short Hairstyle
This hairstyle is very easy to get and you will look more handsome with it than ever. In this style the hair of your side part will be very short in length, but the top will be a lot lengthier. You can create quiff with it and sweep it at the back. To hold the whole look, use any pomade or gel. A little amount of beard will compliment this look.
Flat Top Haircut
This hairstyle is extremely different from the others of this list. This is very cool but you have to be bold to wear this look because this is not so usual. In this hairstyle your hair of the side part will be short and swept at both of the sides. But the twist is on the top. The hair of your upper portion will be combed to the above side. To hold the hair perfectly, use any gel or pomade.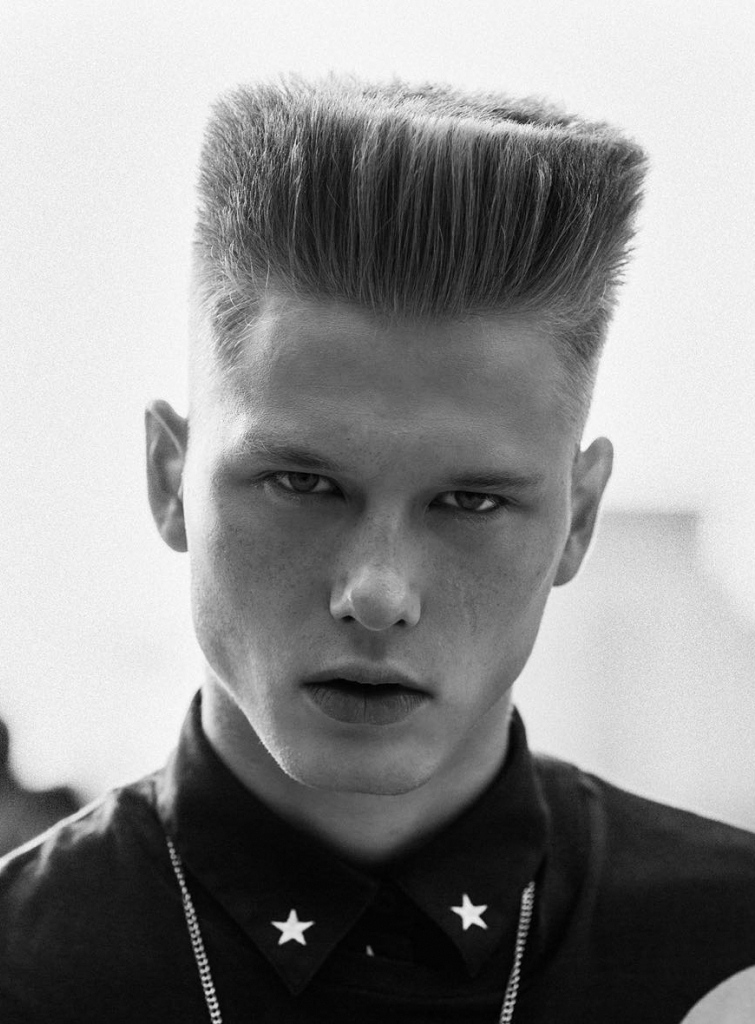 Undercut Comb Over Hairstyle
This hairstyle is also very easy to carry. You can wear this look anywhere, like parties or for any corporate occasions. This hair style will be perfect for the guys with square shaped face. Both of the sides will be shaved but the upper part will have more hair. Thus you will get a flavor of undercut hairstyle. In the front you can create a little Quiff. You can comb over your hair at a side for the ultimate look.
Swept Back Hairstyle with Full Beard
Guys who are fond of keeping long and full beard but get confused about their complementing hairstyle, this one is for them. Following the trend also in this hairstyle both of the side will have short hair than the upper portion. Sweep back all the longer hair at the back side to bring a change in your look. Full beard and moustache will emphasize the look more.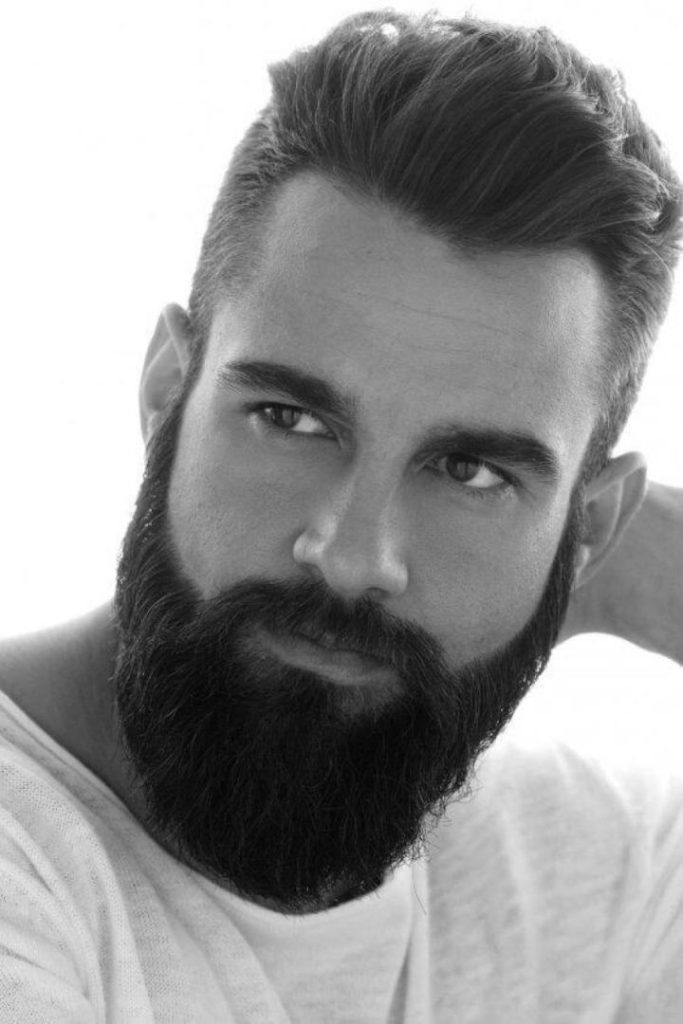 Hipster Hairstyle
People who always follow the latest trends will obviously follow this particular hairstyle. This hipster hairstyle will make you center of attraction of any party or gatherings. In this style the longer top hair will provide a spiky look. The shorter side hair will be combed in a usual manner but the top hair will be spiked. Use a hard get to hold the spikes. No beard and moustache will brighten up the look properly.
Messy Quiff Hairstyle
Messy hairstyle is in the latest trend for both the boys and girls. When it comes to the point of having a cool hairstyle then keeps it messy. To get this exact look, make a side partition and combed it mildly so that the messy look not get ruined. Guys with younger age will look the best with this look. Properly clean shaved face will enhance the beauty of the appearance.
Textured Skin Fade Hairstyle
If you are bold enough to carry any look then you can try this hair style. In this particular hairstyle both the sides and back portion will be completely faded and some portion will get textured crop effect to give a new twist in it. This skin fade hairstyle will be easily able to draw the attraction of every people. The hair of top portion will be mid short. Keeping them a little bit messy will be perfect for this look. You can wear any junk jewelry in ear or nose to compliment it. To give your look a perfect finishing you can keep a good amount of beard and moustache also.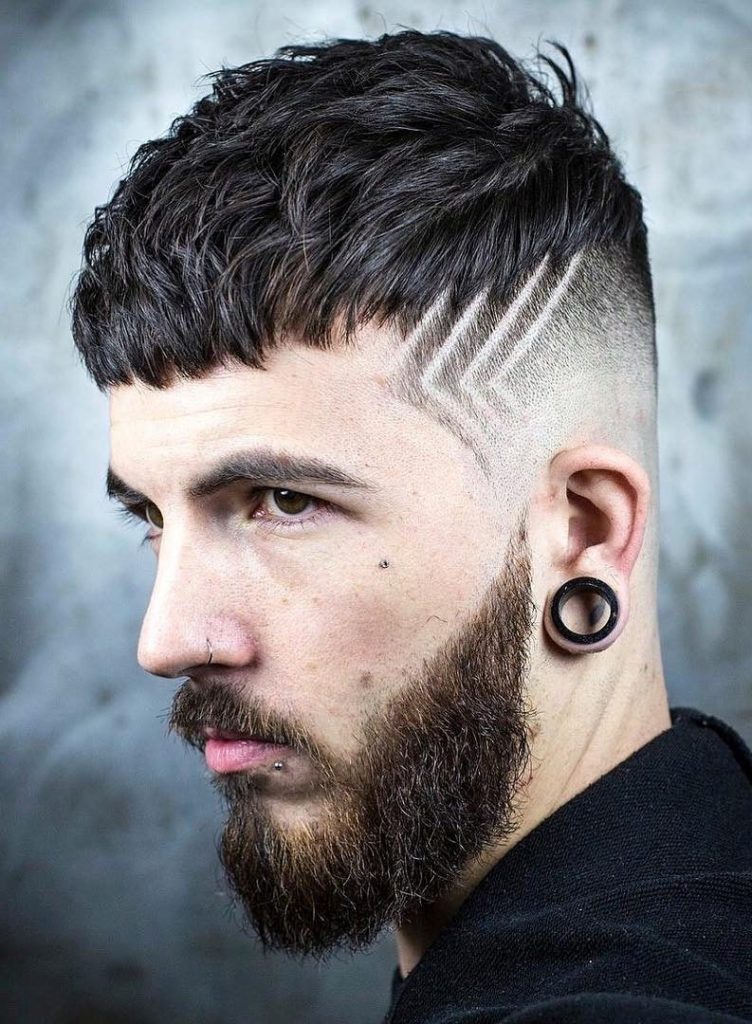 Medium Messy Hairstyle
This hairstyle is also different from the others which are already mentioned hair. If you can wear this look perfectly, it will give a bold and sexy look. To get this look exactly, make a side partition and comb your hair carelessly to give it a messy look. Keep small amount of beard and moustache to match the appearance.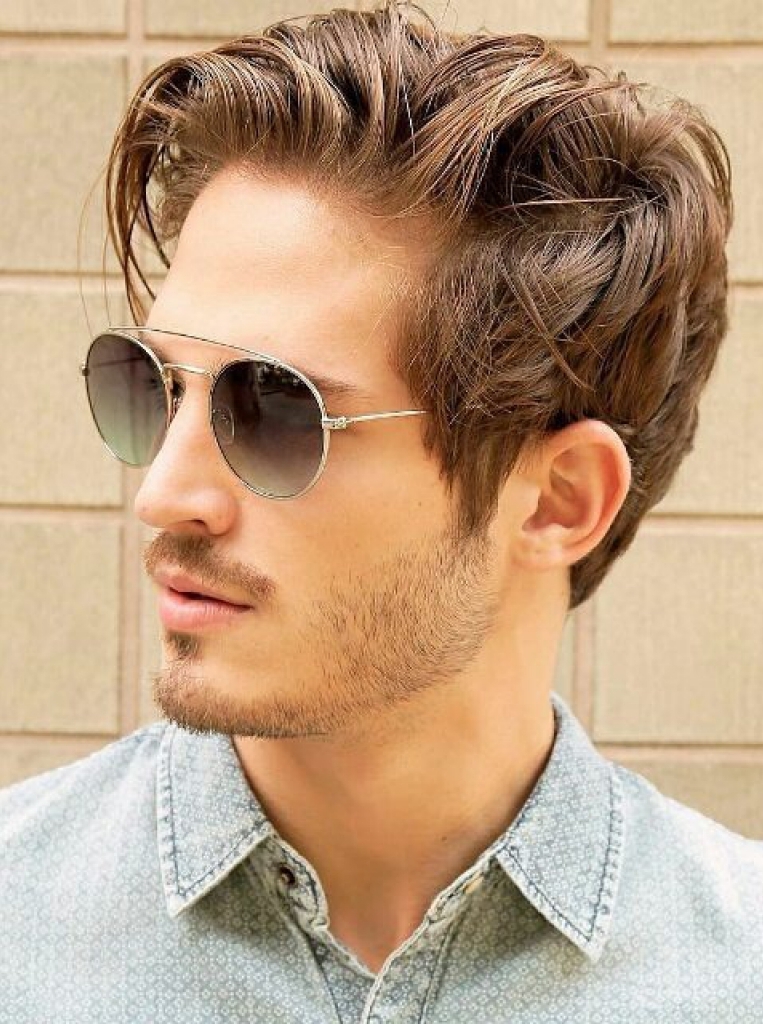 Curly Fringe Hairstyle
This hairstyle will look good on the guys of young age. Most of the youngsters with curly hair stay sad for cannot doing a lot with their hair. For them, this is absolutely perfect. In this hairstyle the hair length will be short of every side except the front. You can get some fringes with the long hair of front part. The front fringes will make you look more handsome than ever.
Pompadour Hairstyle
This is an easy to wear hairstyle. It is very simple yet cool. You will not have to do a lot to get the exact look. As usual like the other trending hairstyles it also has short hair at both of the side and back. Only front and upper part have longer hair. With the long hair you can create a pompadour in the front to highlight the look. Keep some beard and moustache to compliment it.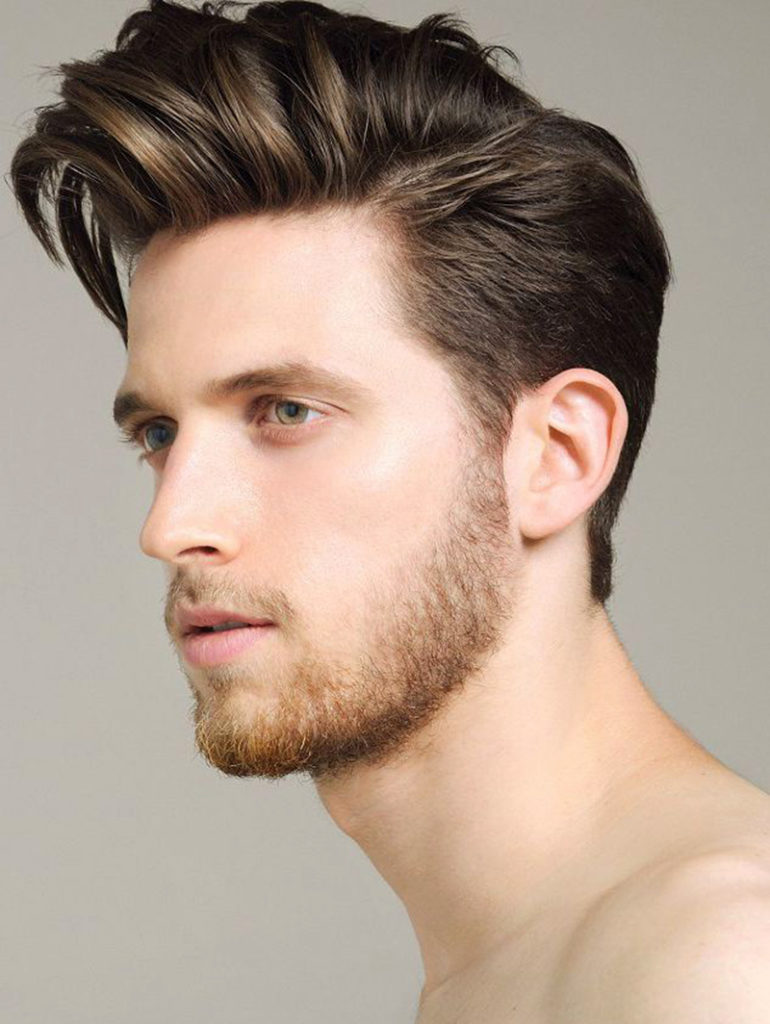 Medium Length Curly Hairstyle
This hairstyle can be worn by the guys of any age. Mostly it will look perfect on the mid age people. The guys who have curly hair can have this look. Just make a middle partition and comb it nice to get this exact appearance. A very minimal amount of beard and moustache can be kept.
Tight Spike Short Hairstyle
This hairstyle is extremely gorgeous to draw everyone's attraction at a glance. You will not need to spend a lot of time or money to get this hairstyle. This hairstyle is perfect for the guys with short hair. You can make some little spikes. Use any pomade to hold the look.
Undercut Fade with Long Curly Hair
This hairstyle is absolutely different from the other hair styles. In this hairstyle you will get a permanent side partition. The little side will get very short and shaved hair. The bigger side will have long hair with long front fringes. The undercut look will emphasize your whole appearance. This fade and curly of your hair will add extra point in your look.
Slick Back Long Hairstyle
Mostly the men of middle age are fond of this hairstyle. This is a very simple style to wear but provides a classic look all time. You will not need to do anything huge to get a look like this. Make a mid parting and comb your hair at both sides. Use any gel to get the flat look. You also can highlight your hair with any prominent color to get the finishing touch.
Medium Length Hairstyle With High Quiff
This hairstyle will give you a bold yet sexy look and there is no doubt about this. Men with long and medium hair can definitely try this hairstyle for a change in their look. The specialty of this look is the high quiff which will draw the attraction of the people of any gathering.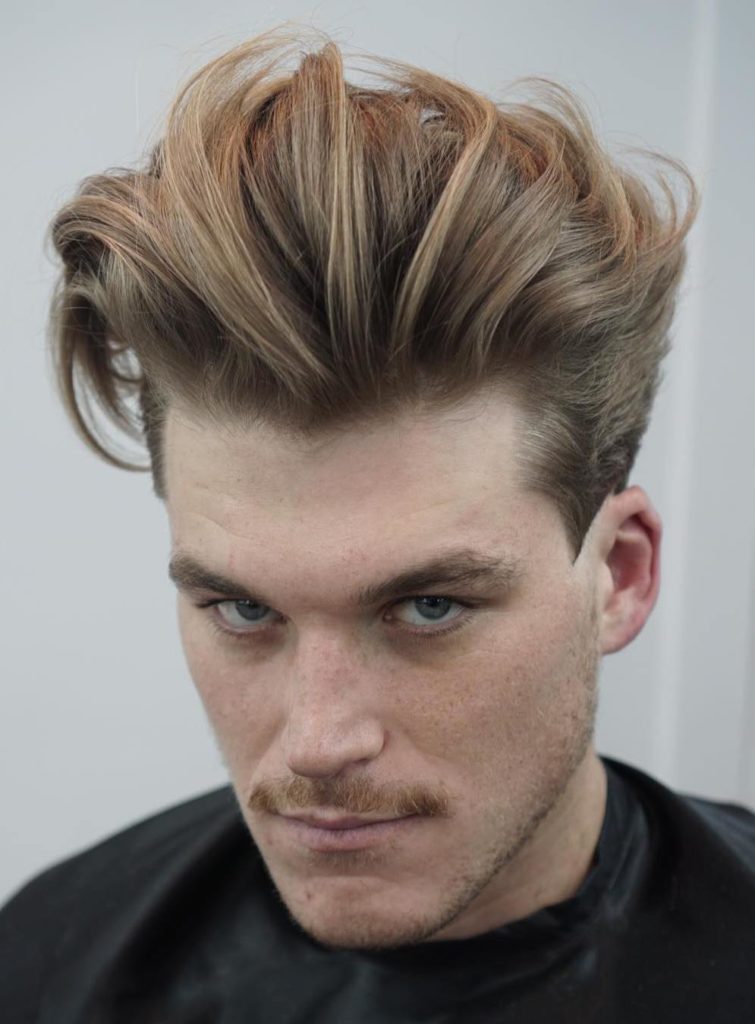 Side Fade Slick Back Hairstyle
This hairstyle is also a very popular among the guys of young and mid age. In this hairstyle the side and the back part will get a faded look. For the variation you can sweep your hair back with slick toothed comb for the ultimate look.
So, stop thinking and pick up the best trendy hairstyles for men for yourself depending on the volume and texture of your hair.