You probably notice the new hair color trend- "tiger eye hair". However, you might not be sure what to ask for at the hair salon when you want to replicate the look. This hair color may seem very unique compared to others, and there are lots of ways you can wear it.
The name comes from the tiger eye gemstone. The gemstone, like your hair, has a lot of depth in these rich colors. You'll achieve a warm, multi-dimensional appearance that'll make you feel stunning.
Trendy Tiger Eye Hair Color Ideas for Women
Check out the variety of different tones below to see how you could begin styling your tresses.
Light Balayage
A balayage is one of the most common ways to wear tiger eye hair colors. The base is dyed the darkest tone and the lighter shades are painted on top.
These colors are on the lighter end of the spectrum with lots of highlights.
Beach Waves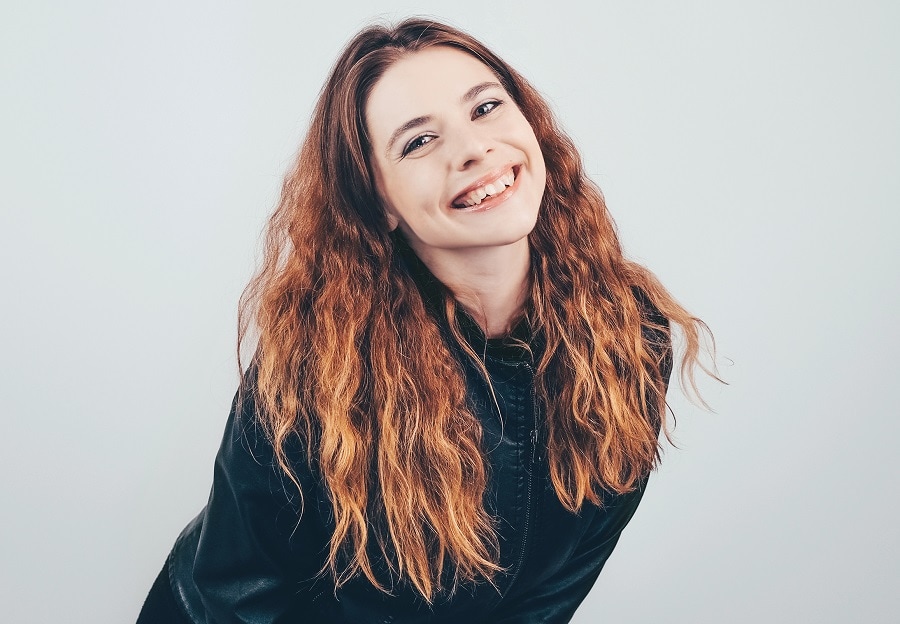 Are you looking for a style that'll make your hair color pop? Waves are always the way to go. The texture makes it easy for your hair to catch the light and the light will bring out all the rich tones.
Thick Curls
Curly hair can often look too wild and dull if it's all in one dark color. The curl clumps simply make it look impossible to tame. Add in some nice lighter shades to ensure there's a lot of depth to your look.
Long Wavy Bob
A little texture goes a long way. Adding a few waves to the end of a long bob will make you stand out from people with more lackluster hair. Add some highlights towards the end of the tresses.
Voluminous Waves
If you're going for a more glamorous look, then consider wearing this tiger eye hair color with voluminous wavy hair You can add this volume with clever techniques but it can also be achieved naturally by somebody with very thick hair.
Chunky Highlights
You can usually see chunky highlights streaked thickly throughout the hair. This isn't the case here. Instead, the highlights are really chunky near the roots. Then they blend into the long locks that cascade down the torso.
Messy Waves
Your hair will catch the light in all the best ways when you wear it messy. A voluminous and wavy texture is the best way to achieve a messy look.
Ruffle up your hair with your hands so everybody can see all the tiger eye colors in your tresses.
Long Waves
Women with thinner hair may wish to wear it long so they still have a lot of locks to play with. Add gentle waves below the face that cascade all the way down your chest.
Ensure you add some waves in your side bangs to create an even look.
Face Framing Highlights
Tiger eye colors often have lots of very light shades incorporated into the mix. Here the lightest shades are around the face to help draw out your features. This ensures your dense, curly hair doesn't obscure your face.
Shaved Sides
Did you think the tiger eye look was just for long, flowing tresses? No! You can wear it on hair of any length and style.
Shave the sides of your hair and tease the section on top of your head. Push it over to one side to achieve a look that not many women are confident enough to wear.
Warm Prom Updo
All these colors are very warm, but this one looks warmer than the rest due to its darker shade with reddish hues.
This style of updo is perfect for wearing to prom or a wedding. The hair is pinned over to one side of the head and it's very curly. It's decorated with a floral accessory.
Everyday Waves
Some women may wish to wear a more natural look. Wear lighter tiger eye hair color without too much variance. Part your hair at the side and keep it all a uniform length. It's a simplistic look that you'll adore.
Braided Bangs
Looking for an alternative look? Get wild with your hair. Add some skinny braids to straight bangs and tuck them behind your ear.
Leave the rest of your hair wild and curly. Add a large, floral headdress to ensure all eyes will be on you.
Half Up Curls
If you want to wear your hair down, but don't want it in your face, then pin back the sides so it's half up and half down. People will be able to see some of the lower layers of your hair, so all of the dark and light hues will be noticeable.
Red Toned Short Updo
Red hair always stands out. Reddish tones also go really well with deep brunette colors and they create contrast with lighter caramel tones.
Pushing back curly hair and forming an updo on the back of the head will let you display every single shade.
Tiger Eye Ombre
Ombre looks are always popular. Most of the time the lighter color is a shade of blonde. Here are the tiger eye shades in this ombre instead as they contrast with a very dark natural hair color.
Straight Bob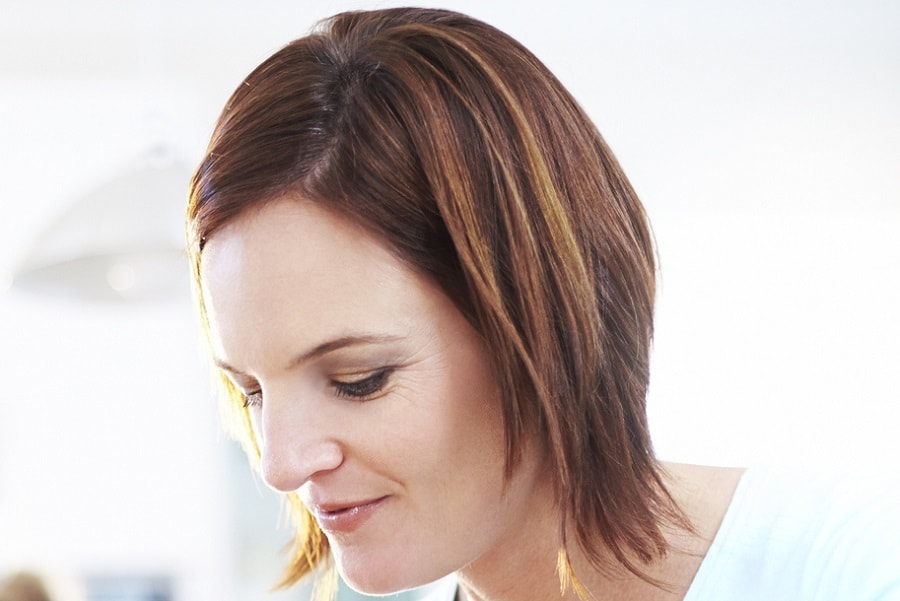 Women with fine hair may wish to keep it short so they don't draw attention to how thin the trusses are. Create a little choppy style that ends at the chin. The choppy texture and the multiple colors help add depth.
Long Tiger Eye Hair
Women with thick hair always look incredible when they wear their hair the same way as a hair model. This means having shiny, thick waves that fall halfway down the body. The shine helps bring out the lighter colors in the look.
Straight Ombre
Here's another example of a light brown ombre hairstyle using tiger eye hair colors. The natural locks are a dark and dull shade of brown.
The color gently transitions into a light caramel shade that could also be mistaken for a shade of blonde.
Medium Tone with Bangs
You don't see a lot of styles in these tones with bangs. However, full bangs can really help display some of the lightest strands of your hair.
The rich medium tones pair well with creamy complexions and minimalist make-up.
Blunt Bob
Many modern haircuts that younger women wear have blunt ends. The blunt ends of the bangs and the bob work together to create a look that stands out a lot.
There aren't a lot of tonal variances so it will take really good lighting to truly see all the tiger eye hues in the tresses.
Side Parted Waves
Clearly, waves are an incredibly popular hair texture to wear with caramel tones! The waviness here is a little tighter than many of the styles above and it starts high up on the head.
The side parting is highly distinct and only goes halfway back across the head. It allows for the side bangs to have some additional volume.
Wedding Updo
If you're looking for a new look for your wedding, then you should definitely consider adding some tiger eye tones to your hair. They'll add so much depth, especially if you have very dark natural hair.
Most of the lighter colors are seen in the back of the updo here. A piece of hair from the side rolls back into a curly bun shape and the nape of the neck.
It seems like there's an endless variety of shades to choose from when seeking tiger eye hair colors. One of the easiest ways to achieve this look is by incorporating lighter colors into dark brunette hair.
However, you can dye your full head of tresses and reinvent your entire look too. Then you must find a way to style your tiger eye locks so they look their best.