With technological advancements, the popularity of synthetic hair has increased dramatically, given its ease of maintenance. Also, human hair is costly in comparison to synthetic hair. The texture and look of synthetic hair in most of the cases is of good quality, mimicking human hair. It also doesn't require styling before use and can be worn out of the box directly. Given its resistance to hot, cold and humid weather, we need to know about its care and maintenance to make it last long in its good quality.
Here is an elaborate step by step instructions to remember and follow regarding the care and maintenance of synthetic hair.
A. Washing The Synthetic Hair
1. Invest In A Mild Shampoo
For your synthetic hair, washing them is a very important step in their maintenance. Invest in a shampoo for synthetic hair, or mild shampoo for synthetic hair. Look for a sulfate-free shampoo while buying, since sulfate is a harsh chemical for synthetic hair, and would make the hair dry and rough. Wash your synthetic hair, regularly, or when it becomes smelly or dirty. Remember never to wash your synthetic hair while attached to your own hair or scalp. Always take it out and then wash.
2. Detangle Your Hair Before Washing
Before washing your hair with a shampoo, always make sure that the synthetic hair extensions are tangle-free. Use a wide-toothed comb to smoothen out any tangles. For a hassle-free detangling process, spray some water on the hair and then start detangling from the ends towards the base. This will also reduce hair breakage.
3. Use Cold Water To Wash The Synthetic Hair Strands
Fill a sink or tub with cold water, not too hot, which may damage the hair. Mix 2-3 caps of mild shampoo and allow it to lather. Then gently dip and rinse the synthetic hair extensions properly with care. Then finally, rinse it with cool, tap water. Double rinse it with cool water again. Make sure you don't rub the strands harshly while washing to avoid breakage.
4. Use A Good Conditioner After Shampooing
Invest in a good, nourishing conditioner after you have washed your hair. Add 2-3 caps of conditioner in the water tub or sink and soak the hair extensions in it by gently swishing them. Then put a good amount of conditioner in the hair strands and leave it for a couple of minutes before rinsing it in cool water. You may also choose a mild leave-in conditioner to apply after washing.
5. Oiling Synthetic Wig
You may also get good hair oil to bring shine to the synthetic hair strands after shampooing and conditioning. Take a few drops of oil on your palm and gently swap it in the synthetic hair. Try not to twist and rub the hair strands against each other.
B. Drying Of Synthetic Hair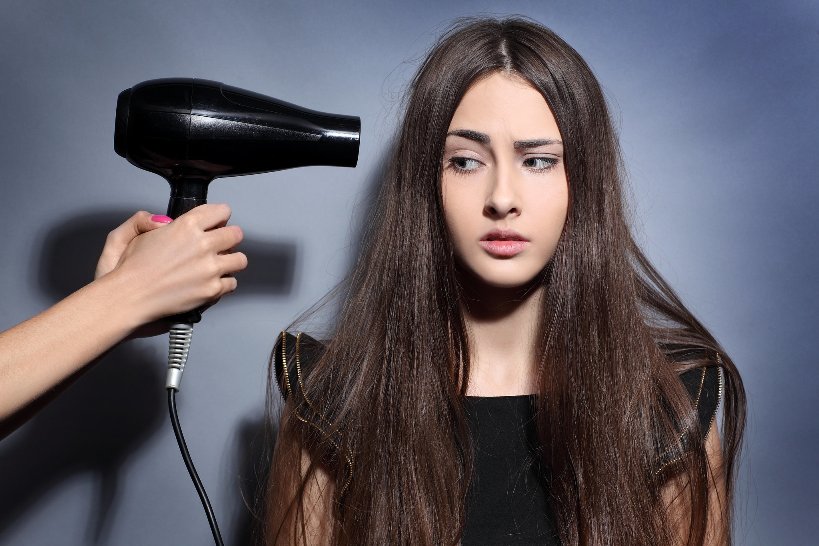 1. Blot Drying The Synthetic Hair
Put the wet synthetic hair on a towel and press the towel gently to blot excess soaker from the hair. Don't rub the towel in your hair as the synthetic hair may lose its luster and texture.
2. Air Drying The Hair
After blow-drying the hair extensions, hang the synthetic hair extensions and allow it to dry up on its own. Air drying helps in circulating air within the hair strands which keeps the hair extensions in good condition. Avoid blow-drying as it may lead to further tangles. Usually, synthetic hair dries faster than human hair, which is a great time saver.
C. Brushing Synthetic Hair Extension
Use a wide-toothed comb or a bristle brush to comb the dried hair. Always start from the ends and advance towards the base/roots. Never comb wet hair and always air dry the hair before brushing. And also, never let the hair dry in direct sunlight. For a curly wig, intense brushing is not advisable since it may lose its form.
How Often Do You Need To Wash Your Synthetic Hair Extensions?
For longer-lasting synthetic hair, washing the hair after 6-8 usage is ideal. If you think the hair is already dirty and starts smelling, you should wash them immediately. Accumulation of dirt and oil in the cap may lead to the breakage of the synthetic hair and make it look dull. On the other hand, over washing the wig will also make it look dull and unhealthy. As your wig gets older, you might notice it requiring frequent washes which you need to provide it with utmost gentleness and care.
D. Styling Synthetic Hair
1. Using Styling Tools
Before using any heat styling tools on your synthetic hair, read the package well if it's permitted to do so or not. If the synthetic hair is strong enough and eligible to be styled using a straightener or curler, then you can style it any way you want. Make sure you set your tool on the lowest temperature while using it on synthetic hair, else it will melt. But, if the synthetic hair is not heat resistant, then do not use any heat styling tools as it may eventually end up damaging the hair. Also, avoid twisting, rubbing and stressing your hair too much, mechanically.
You may tease your hair for volume and height, and may also cut it according to the choice of your style.
2. Putting On The Wig Correctly
Once the steps of washing and drying are over followed by styling it, according to your own choice, the next step is to put on the wig. Gently shake off the wig and identify the label, which always stays in the back.
The synthetic wig is always provided with tags, bands, and adhesions for a proper fit to the scalp. Check and adjust them as needed before finally putting on the wig. Hold the wig gently from the sides, and starting from the front, work towards the end while slipping on the synthetic wig on your head.
How To Ensure That The Wig Stays Secure?

Well, the fear of falling away from the synthetic hair wig haunts most of the wig wearers. But there is nothing to fear since several ways are there to protect and secure your wig while you are out in public. You may use double tapes, clips, pins to firmly hold the wig in place on your scalp, without letting it fall away. It is advisable to use a cap or scarves on windy days to provide extra protection to your synthetic hair wig.
Do's and Don'ts for Synthetic Hair
❌ Avoid using heat styling tools on the synthetic hair unless it is mentioned that the particular wig is heat resistant.
✔ Use only those hair products meant for synthetic hair and which are sulfate-free.
❌ Don't brush wet synthetic hair since it may stretch the hair strands and shorten its life span.
✔Use a wide-toothed comb or smooth bristle brush to comb the air-dried synthetic hair.
❌ Don't wring, twist or stress your hair mechanically, else there are chances of breakage and reduction in its quality.
✔ Only use cold water to wash the synthetic hair extensions.
❌ Never apply any hair gel, spray or styling cream meant for human hair to the wig.
Synthetic hair is of low maintenance and can pump up your look when used properly. Styling is relatively easier than human hair and can be cleaned and dried quickly too. Taking good care of the synthetic hair extensions will make it last longer and in good condition. Store it in a cylindrical or rectangular box and avoid moisture build-up. Invest in good quality shampoo and conditioner and handle the extensions gently while using and style your hair the best way you can. Following these simple yet effective steps can lengthen the optimal life of your synthetic hair and will make it look silky and shiny.