If you are a proud owner of long tresses of hair, you would want to flaunt it in different ways. Today there are several trending buns, ponytails as well as open hair hairstyles to suit your personality, face cut, occasion, and outfit. Presenting your hair in a chic manner adds to your character and gives a pleasant, appealing look to people whom you meet. Best hairstyle goes with any outfit.
Method 1: Steps For Chain Braid Ponytail
The chain braid ponytail is a style that goes well with a party wear look as well as a formal official look. It's easy to make and looks graceful for any occasion.
Here we bring you step to step way of making the beautiful chain braid ponytail on your hair. Follow it, and you will end up getting the most beautiful ponytail of your hair.
Pull up your hair high and make a ponytail. Tie with a band to match with your hair colour. This style looks best when the ponytail is tied high or on a mid-height. You can always try it on a low ponytail also.
Next, you need to make 2 equal sections of your ponytail. One section should be clipped and set aside while the other one would be used two braids the chain. You can also use a tail comb to split your hair equally and neatly.
The section in your hand needs to be again divided into two equal size strands.
Start twisting both the strands to the right with the help of your finger to make it look like a thin rope.
When you are done with twisting both the strands to the end of your hair, take both of them and start twisting both the strands with each other towards the left to give it a look of a thicker rope.
Tie this section of twisted hair with a clear elastic band at the tip of your hair. If you are trying this style on someone else's hair, you can take help from them by asking them to hold the end of this rope for you.
Now you need to repeat the same steps as mentioned above for the other section of your hair. Unclip the second section. Comb well to make your hair even. Divide it into two strands, twist them towards the right and then together towards the left, again secure and tie this section with a clear elastic.
Now that you have got two strands of braids done you will have to twist them together towards the right to make a single chain ponytail. Twisting towards the right will help to lock the hair and prevent it from opening and will not strangle. Once both the sections are twisted together, you will see delicate chains forming on your ponytail. When you come to an end, tie and secure the hair again with a hair band.
Here are 5 Chain Braid Ponytail hairstyle ideas you can follow.
Method 2: Steps For Chain Braid Headband
To make your hair look more beautiful and graceful, this is one more style you can try for your hair. Follow the easy steps to get a chain braid headband.
Part your hair from the center and then part it in equal halves on both sides. Clip or tie one side of the hair.
You will need to make two identical braids on the each side
Take a small section of hair from the next part leave a small gap between the section of the hare and the front hairline
Keeping the strands perpendicular to the centre part divide the section into two thinner strands.
Tie this thin strand into a knot like tying shoelaces. 1 strand needs to be crossed over the other and then pulled it through the loop formed. Pull the strands gently to tighten the knot for your convenience. You can moisten your hair a little with water. This will make tying the knot easy.
Like we do in French braids, add some hair to each strand and tie a knot. Take the hair from the right and add to the right stand and same with the left. The amount of hair added should be thinner then the originals strand themselves.
Continue tying knots by adding more head to the strands. You need to do this until you reach just the hair behind your ear. The braid should be kept in the centre as you work on them.
Secure the braids with an elastic band when you have attained your desired length of braid. Gathered the two strands like a mini ponytail and again secure them with a hair tie
Likewise, break the other section of your hair in the same way and secure it with an elastic when done.
Next, you need to gather the hair left in the behind and tie them into a ponytail and secure them with elastic hair bands to make a thick ponytail
The ponytail in the behind gathered together can be made into a beautiful bun and pinned with small bobby pins so that it lays flat and in place.
Easy steps if followed will give you a beautiful chain braid ponytail or headband giving you a graceful, sophisticated look. Below are 5 examples of Chain Braid Headband ideas you can follow.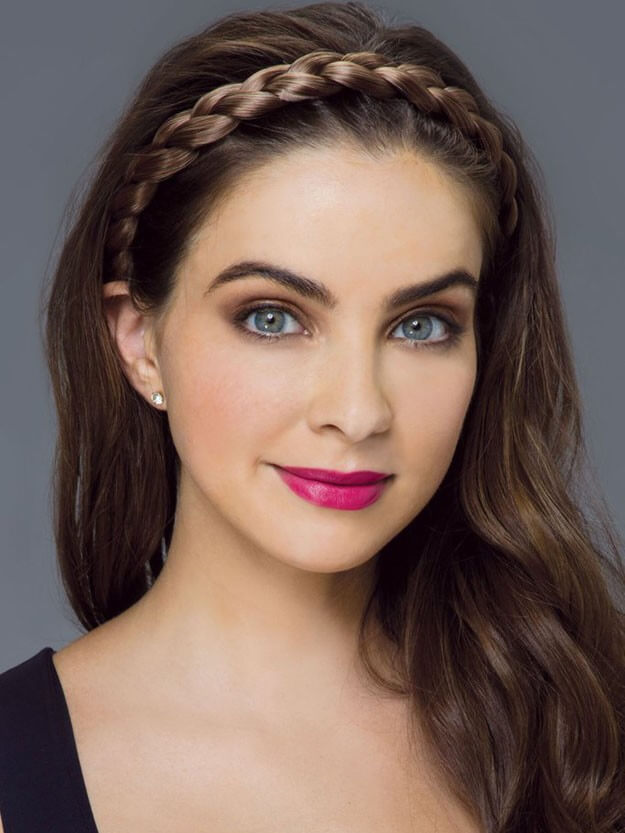 How To Make A Chain Braid Ponytail & Headband
was last modified:
April 22nd, 2019
by