Styling may seem like a full-time job because it takes hours to do your hair and just like with our 9-to-5, we sometimes deserve a break from our daily hair routine. So, when we do, all the twisting, straightening, and he's playing around with our natural hair goes on holiday, and we focus instead on protective styles. Wearing hairstyles with jumbo box braids is another pattern you should also try. Jumbo box braids can offer you a long, thick feminine sheath of hair, particularly when done with a weave or some hair extensions, all with minimal product and close to zero heat damage.
Box braids have always been a common style choice. The wonderful thing about box braids is that it's like giving your hair a vacation from life. Your natural hair is protected from the sun, and environmental harms as the box braids overlap it so that it can't get to it. Jumbo box braids can make you feel high fashion. As you create your braids, making the look can also be soothing. In this guide, we'll walk you through so that you can nail the look without a hitch.
Your hair is divided into larger parts, unlike micro braids, enabling the braiding process to move quickly. Also, jumbo braids use more hair braiding, making any plait thicker overall. They're a perfect way to make a point, take a break and save some extra time from doing your hair. Bonus: It would also result in less time spent taking your style out by rocking fewer, bigger braids. It sounds to us like a win-win.
Here we are going to talk about jumbo box braids.
Jumbo braids are braids that are thicker than a pencil. It's up to you how jumbo you want the braids to be! This hairstyle can be done on any hair type if you have suitable things for making your work easier.
Tips To Avoid Hair Damage
When making braiding patterns, many women use extensions; however, we suggest using human hair extensions where possible. These human hair extensions are always a little more costly than extensions of synthetic hair, but a much more natural-looking hairstyle would be produced by human hair.
Tight braids can also cause hair loss. Make sure that your scalp and your hair are kept clean once the braids are placed.
Holding your hair covered during the night is still a smart idea. This helps to make sure that the braids last longer and keep looking fine. However, you do not want to keep the braids forever, and 6-8 weeks will be the best recommended. In terms of maintaining healthy hair, just as the installation is necessary, so is removal.
The use of oil during the process of removal also helps with detangling. When you cut the braids, use your fingers to detangle your hair. You want to make sure you get rid of the hair that was shed, as well.
During both the installation and the removal processes, take good care of your hair. Note that installing braids or twists too tightly is not the most important thing. Since you mounted your box braids wrong, you do not want to experience permanent hair loss.
One of the most flexible ways to show off your hair is often to use box braids. You can show off your braids several ways once they are mounted and several ways to style them.
I will tell you how to do jumbo braids in simple steps. Let's get into the process.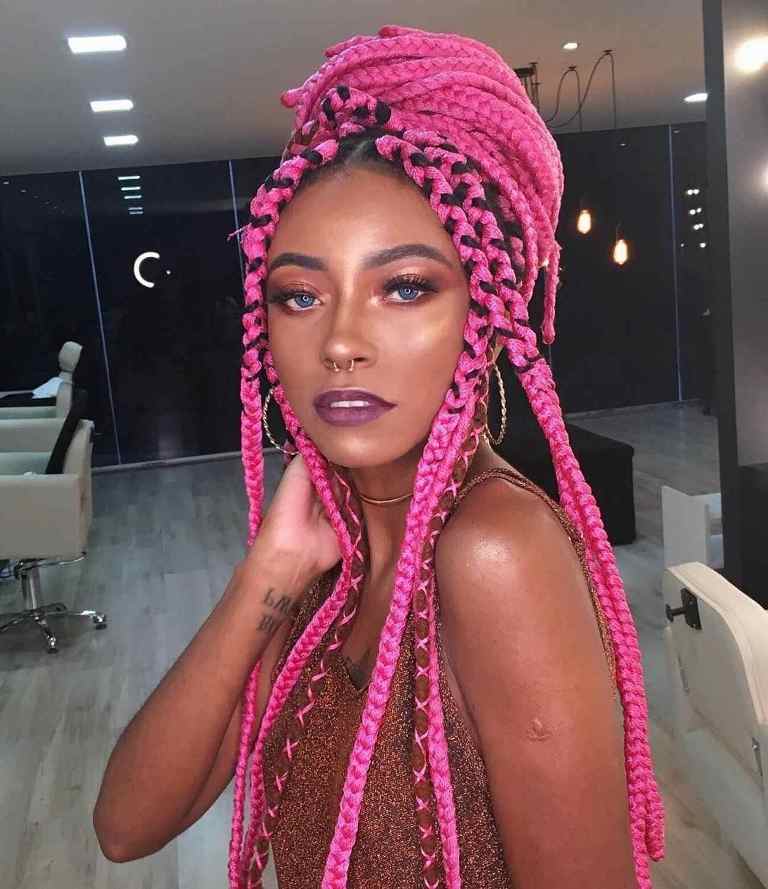 Supply You'll Need To Make Jumbo Braids
Parting Comb
Brush
Edge Control Gel
Hair Extensions
Rubber Bands
Tip: Make sure your hair is clean.
Steps To Make Jumbo Braids
With the help of the parting comb, part your hair horizontally into two halves, i.e., the front and the back.
Tie the front section and begin with the section of the hair at the back.
Divide the back section again into three horizontal parts.
Leave the last part and tie the other two parts separately.
In the last section, take a very small portion of hair, apply edge control gel all over the hair, brush it, and tie it into a ponytail.
Similarly, make two more ponytails.
Untie the second section of the hair.
By following step 5, make four separate ponytails in this portion.
Similarly, by the following step 5, make three ponytails in the first section of the hair at the back.
Braid ponytails in the front section, as you did at the back.
When you are done with the ponytails, take the extensions.
Grab the first hair extension, pinch the weft into a U-shape with your fingers, and curl up the weft under and around the first section of natural hair at your scalp's base.
Now, divide it into three equal parts and weave it into a simple braid.
Do it with all the ponytails on your head.
Secure the ends with a hair tie.
Your jumbo braid is ready.
How long does jumbo braid last?
You like the braid, and you did all the hard work to make it; you are the one to decide. The amount of time to keep it depends on you. You can keep it as long as you want. But since you know, our hair needs to be cleaned properly. Therefore I would suggest keeping it for approximately 3-4 weeks so that you can clean your hair before they are very dirty.
Do jumbo box braids ruin your hair?
Jumbo braids are a very protective hairstyle. While making a jumbo plait, we don't use any healing technique. Jumbo braids can damage your hair only when the braids are too heavy or are left for a very long time. If you want to avoid any kind of damage, make sure that the hair was treated very well before making the braids, as well as after that. The night maintenance also plays a very important role in keeping the hair unharmed.
Can you wash jumbo braids?
It is very crucial to keep your hair clean. If you clean your hair regularly, they won't damage. Box braids are a very trendy hairstyle, and it takes a lot of time and hard work to make it. Once you make it, you won't want it to get damaged. Therefore, you have to be very careful while you are taking care of your braids. To maintain your braid and keep it clean, gently wash them once a month with diluted shampoo and conditioner. Make sure to hydrate the hair after washing them and refurbish some moisture to the hair with natural oil or a leave-in conditioner.