People do a lot of things to look stylish and fashionable in today's time. They invest their resources into buying things that would help them feel good. But, there is one thing that does not need much investment and suits everybody differently. It is the hairstyle that a person wears. There are various textures of hair, and accordingly, one has to choose which hairstyle would suit them the best. Among all the ways people can style their hair, one of them is the most loved, the braids.
How to do braids can often be a dilemma for some people as the braids out there are very versatile. People daily have various kinds of braids, but amongst all, one of them is very popular, which is the Individual braids. These braids are often worn widely by African women or women with extreme level curls that can be hard to manage. These braids make maintenance of hair very easy and give out a very stylish look. They may seem tough to make, but they are not. Although, these braids might take an hour or two to make. They belong to the same family as micro braids. There is not much difference between the two. Individual braids are just thicker in size when compared to micro braids.
More About Individual Braids
Perhaps the best way for your hair to make the big jump from relaxers to au naturel is to wear individual braids. Individual braids allow your hair to recover and rest for a while while keeping it both fashionable and professional on the outside. There are also extremely flexible individual braids-you can style them in any way you want.
Feel free to dress them up, either down or up. In a pin-up hairstyle, in a fancy ponytail, or even in an updo, you can wear those braids.
In the end, the amount of time taken to style your hair will depend on the length. In reality, regular-length and short hair take around six hours to finish. But this is only with one stylist's support.
Believe it or not, individual braided hair, particularly for black men, is gaining popularity among men. This form of hairstyle, not to mention low-maintenance, is very simple to wear. These braids are maybe the perfect way for you to throw straight into your preferred look in a different sense of style.
Individual Braided Hair Styles
Medium-length braids, particularly if you have a tiny face, are the best ones to get. Individual braids are a hairstyle that will certainly improve your characteristics, as well as making you look twice as hip and new. You will still find plenty of ways to achieve these amazing braids and make them look amazing on you, no matter whether your favorite braids are long or short.
The traditional pompadour hairstyle gives a trendy feel to your hairdo. It also gives off a polished effect constructed by the pompadour itself, as it's a traditional and casual look.
To make those braids shine and look great, use cute accessories such as metal hairpins or butterfly clips. Place either the tip of the roots of your hair with those accessories. By adding extra pieces, such as piercings, necklaces, or earrings, you can add some additional pizazz to your look.
The individual braid of a mohawk is not just for men who have long hair. To create a gorgeous look that's fashion-forward, you should add some braids to your short hair. Shave off the sides of your hair if you like, and encourage the eye to draw, going up to the top of the head. Asking your hairstylist to braid it in an upward position will be the next step. This leads to a fun mohawk style influenced by faux punk that is sure to stay still without the aid of mousse, hairspray, or gel, or even a little combing.
For girls, side braids are becoming more and more common. As there are so many different looks and shapes that encourage you to create your hairstyle, you will also have the ability at the same time to wear different individual braids. The beautiful side-braided hairstyle looks great, particularly when sitting on one of your shoulders. For the hairstyle itself, applying blonde highlights to your braid can make amazing patterns. By adding bright colors, feel free to experiment on the braid.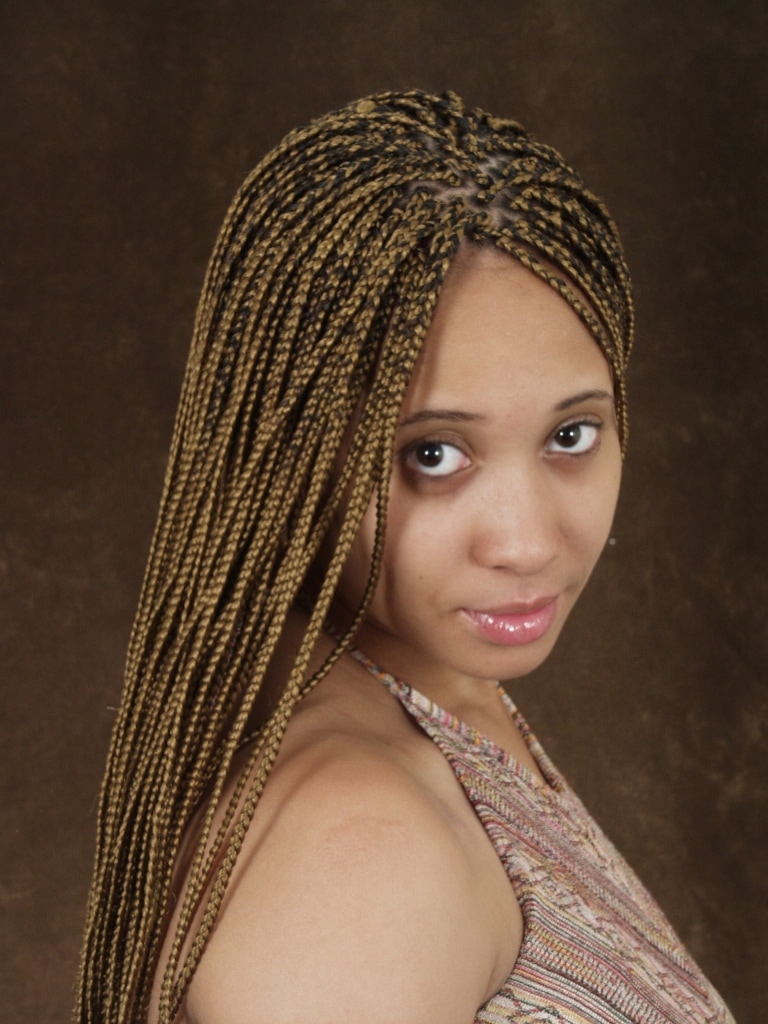 Supply You'll Need To Make Individual Braids
Hair Mousse (To keep the hair smooth and in place)
Brush (To take out all knots and detangle the hair)
Comb (To make precise partitions)
Hair ties/ Elastics (To secure your braids from coming out)
Scissors (To cut off any dead ends, giving a neater look)
Detailed Steps To Make Individual Braids
Shampoo your hair thoroughly and make sure the roots are cleaned properly.
While your hair is damp, apply hair mousse throughout your hair, or use leave-in conditioner so that your hair looks smooth and it becomes easier to braid.
Brush your hair completely, making it smooth and detangled completely.
Divide your hair into four big sections from the top center of your head.
Make sure that the sections look equal in size and are neatly done.
Once done, pick the main section and make a one-inch strand out of it.
Make a simple three-section plait braid of one inch.
Make sure you keep on brushing the hair so it does not look shabby.
Cover the entire length of your hair with a three-section plait braid.
Secure the ends of the braid with a clear elastic or the hair tie of your choice.
Then take another one-inch strand of your hair by dividing properly with your comb.
Repeat the same procedure all over the main section.
Do not forget to brush your hair.
Ensure that the braids are tightly done but not too tight, or it may damage your hair.
Repeat the same over the remaining three main sections.
Keep securing with elastics.
Add accessories like clips to give a more fancy look.
Trim off any split ends at the end of the braid with cutting scissors.
And you are done!
Do individual braids hurt?
It is often mistaken that these braids are painful. They are not painful if done correctly. However, these braids may cause some discomfort if they are done too tightly, resulting in pulling roots and breakage of hair.
What is another name for individual braids?
Individual braids are also called box braids. They are often confused with micro braids, too, but micro braids are different and should not be mistaken for.
Why do individual braids itch sometimes?
Individual braids do not usually itch, but it may itch depending on how you have braided your hair. If your individual braids are done too tightly, it may result in open pores causing dirt to enter the roots. This can result in itch and damage to your hair.