Hairstyles for dresses with one shoulder are all the rage this season, as this outfit style is incredibly popular. Some people choose to go basic with their hair in this attire, but there are many options you can choose from instead.
Sometimes, it's best to go for a more conservative look and show off your outfit. Other times, you might want to let your hair down and show off those elegant waves.
Amazing Hairstyles for One Shoulder Dress
The styles below will help you make both your hair and your outfit pop, and there is plenty for you to browse through. Let's look at the 15 styles that will make you say wow.
1. Chic Easy Bob
Sometimes a simple shoulder length hairstyle for one shoulder dresses is best. Here you have an everyday look that anyone can do.
The hair falls to the shoulders with some full bangs to help round out the style. It's a very natural blonde shade with some gentle brown near the roots.
2. Simple Side Braid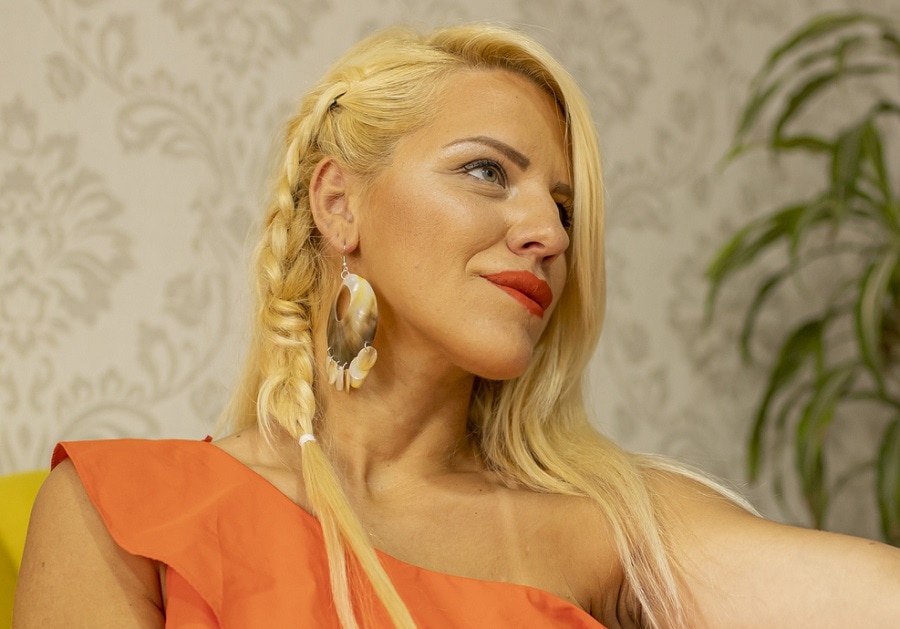 Throwing a little braid into your hair can make a simple look appear more elegant.
This braid is a normal Dutch braid with long ends and a piece of hair wrapped around it in the middle. The rest of the hair is side parted and straight.
3. Floral Braided Updo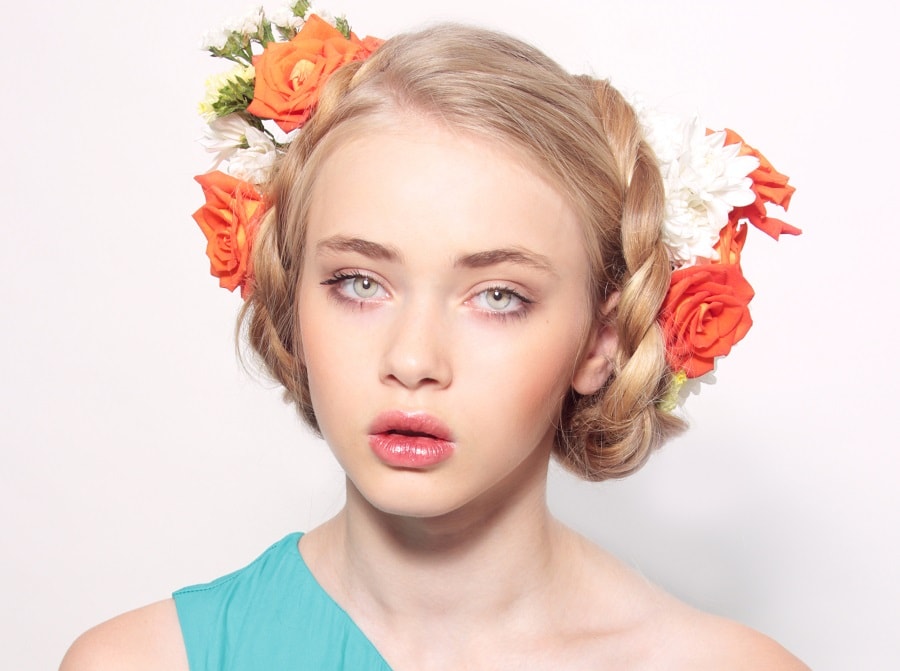 Flowers add elegance to everything, and large sections of flowers decorate the braids that hang by the sides of the head here.
It's an easy-to-achieve braided updo that appears fancier than it is, so you can wear it every day and look extra elegant while you do.
4. Ombre Curls
Curls are delightful with one shoulder dresses and you always look amazing with them. They add sensuality to everything, and you can see that clearly here.
The curls sit just above the shoulders in a messy but well-styled display, and the style starts brown and transitions to blonde.
5. Long Red Waves
A hairdo that only sits on one side is a great way to offset an outfit that only covers one side of the collarbone.
This long, red, wavy hairdo has a gentle side parting and falls down the front on one side, and the rest of it hangs down the back.
6. Gentle Feathered Hair
A gentle hairstyle like this is a great way to make a sweet summery outfit look wonderful. This very light blonde hairstyle is fluffy and wavy, and it's styled into a bob that's slightly longer than average.
Sleek long hair with one shoulder dress is always a good idea, as they match the chic nature of your outfit.
This jet black look is long and straight, cascading down the back, and the top has a nice bump to it to ensure it looks dynamic.
8. Blonde Ponytail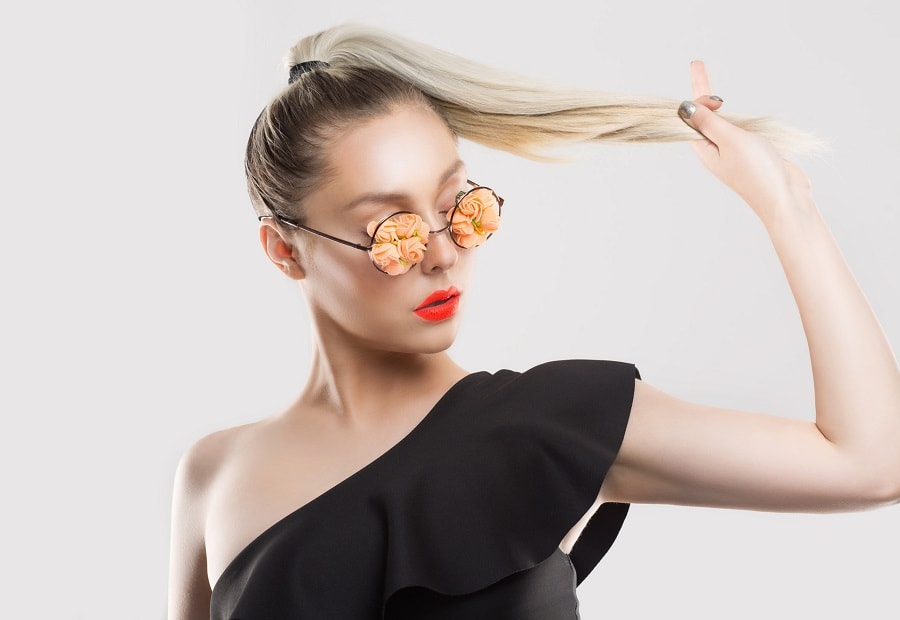 A ponytail is a very simple look that can look both casual and elegant. It has the benefit of being one of the easiest styles to do. This ponytail is brushed back to the crown of the head and secured with a black hair tie.
9. Vibrant Strawberry Blonde
Middle-parted hairstyles are trendy now, and pushing them to one side is also popular.
This is an everyday style that captures both of those popular things perfectly. The straight strawberry blonde hair is long and very free, nicely brushed out, and settles down to one side.
10. Thick Curly Hair
Thick curls that brush your bare shoulder are a delightful way to draw attention to the look.
The hair is thinner on the covered side, so it's all very much pushed toward the bare part. The vibrant brown touch with blonde also helps capture people's attention.
11. Elegant Updo
Elegant updo hairstyles for dresses with one shoulder work beautifully for weddings and similar events.
A high updo with a delightful little bump on top of the head with loose wavy bangs that frame the face perfectly. It really helps draw attention to your face and neck.
12. Encircling Crown Braid
Loose updos are perfect for going with any outfit. This one with a crown braid that encircles the entire head.
It looks complicated to achieve but it's actually easy to do with a little practice. The hair is left nice and loose so it keeps that everyday, easy-going vibe.
13. Side Swept Curls
These curls are all brushed over to one side, covering the part of the upper body that's clothed. The style itself is very well styled with perfect curls in a mixture of brown and blonde.
14. Loose Blonde Side Waves
Wavy hair often helps draw attention to the top of your one shoulder outfit, as the texture is interesting to look at.
Here's an example of that. The blonde hair is parted in the middle and all the hair is placed over the clothed side of the body.
15. Messy Updo
Everyday hairstyles are major with one shoulder dress like this. The messy updo is formed out of some pinned-up pieces of hair and rolls, and it's kept messy to emphasize its everyday vibe of it.
It's a delightful look to throw your hair into if you want to look like you put a lot of effort in each day.
Hairstyles for dresses with one shoulder require some experimentation to find the look that works for you and your outfit, but you can be certain you'll find what works for you.
You can show off your creativity with these styles, and you can show the world your fashion sense with the outfits you pick. Make sure to follow your hairstylist's advice to keep your hair looking sleek and shiny while you style it!