When looking for inspiration for new hairstyles, many women look at celebrities they find influential. However, there's possibly nobody more influential than the many first ladies of the United States that we've had over the years. Some of them have worn pretty timeless hairstyles that many women will love to replicate.
Other first ladies hairstyles are a little more old-fashioned, so they'll suit older ladies, or women who love a blast from the past. Either way, it's worth checking out some of the iconic looks worn by these well-known, well-respected women who've truly put their stamp on history.
Most Stylish Hairstyles by The First Ladies
Below, you'll find several hairstyles from the various first ladies we've had over the last century. One of them is bound to stick out as a look you'd love to wear.
Hillary Clinton Hairstyle
First lady Hillary Clinton is typically worn her hair short or medium length throughout her life. She always wears her locks in several shades of blonde and it's become instantly recognizable.
Blonde Bob
Hillary's blonde bob is one of the most recognizable looks she's ever worn, she had this hairstyle during her run for president.
The hair is brushed back years and sits neatly just above the shoulders. She has a sweep of side bangs to help bring this look into the modern age.
Layered Look
Many older women struggle to keep up with modern hair trends. Hillary Clinton has never had that problem.
Her locks are shoulder-length with layers in this up-to-date look. She still has her classic side bangs, and they blend into the rest of the haircut.
Low Ponytail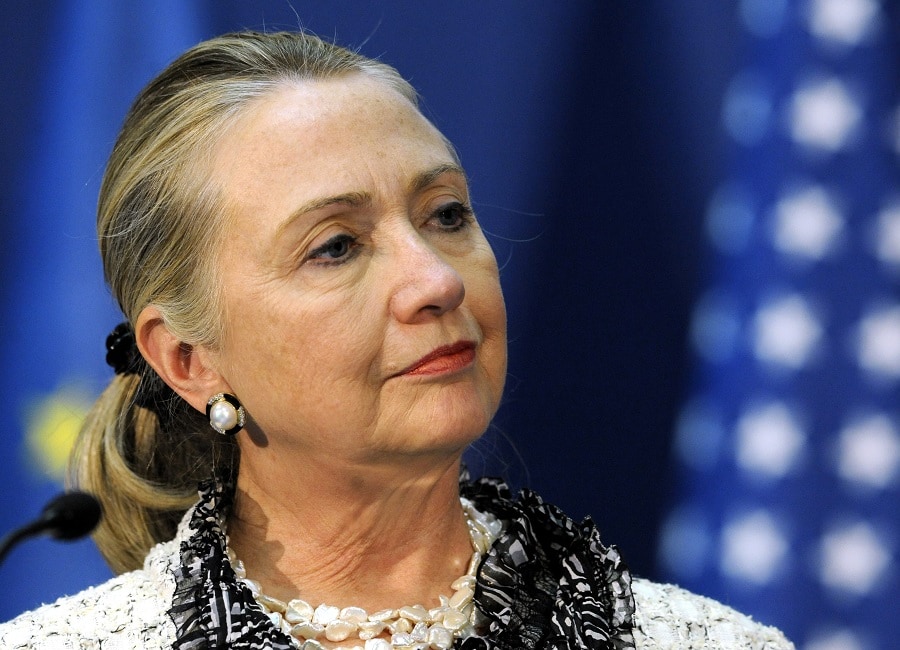 Ponytails are easy, and even first ladies wear them sometimes. Pull your locks to the back of your head and secure them with a scrunchie or a decorative hair tie of some kind.
Short Side Parted Hairdo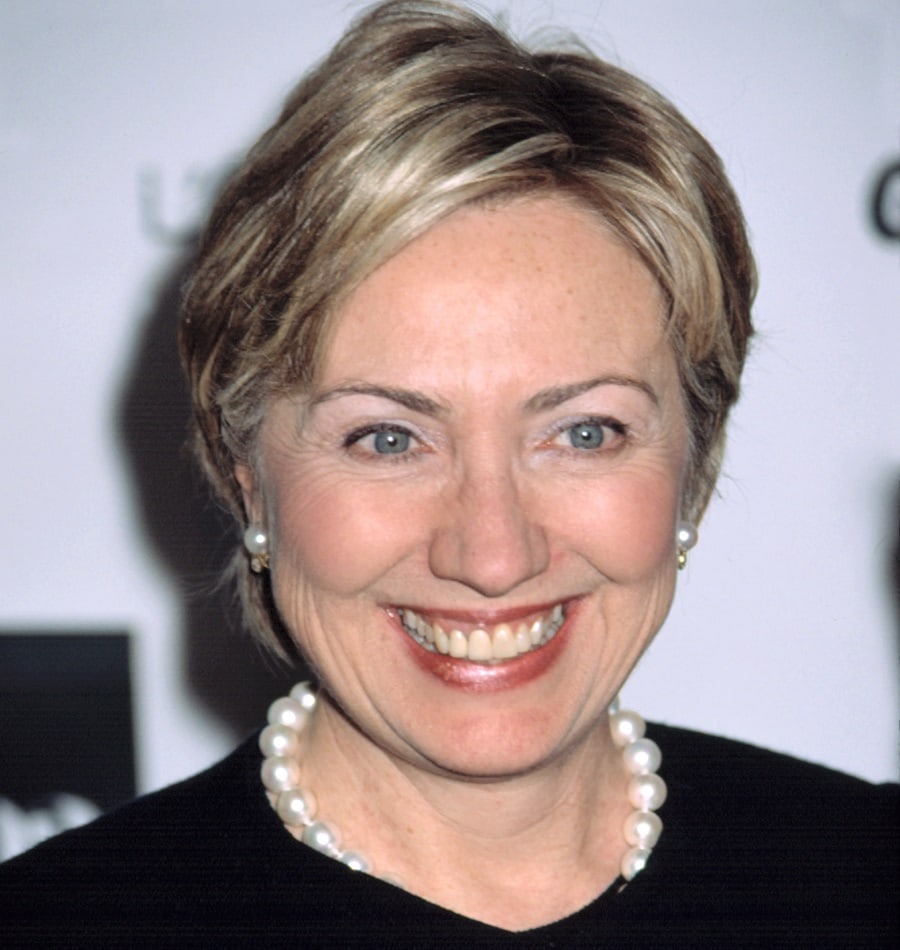 If you want to keep things simple, then wear your hair short. Mrs. Clinton's gets slightly longer towards the back, and the front is parted to frame the forehead.
The hair just barely covers the ears at the sides, and it's a very businesslike look that many professional women would like to wear. It's one of the most suitable first ladies hairstyles for mature women.
Jill Biden Hairstyle
Next up we have one of the most recent first ladies. Jill Biden proves that even mature women can easily keep up with the current hair trends.
Blonde Layers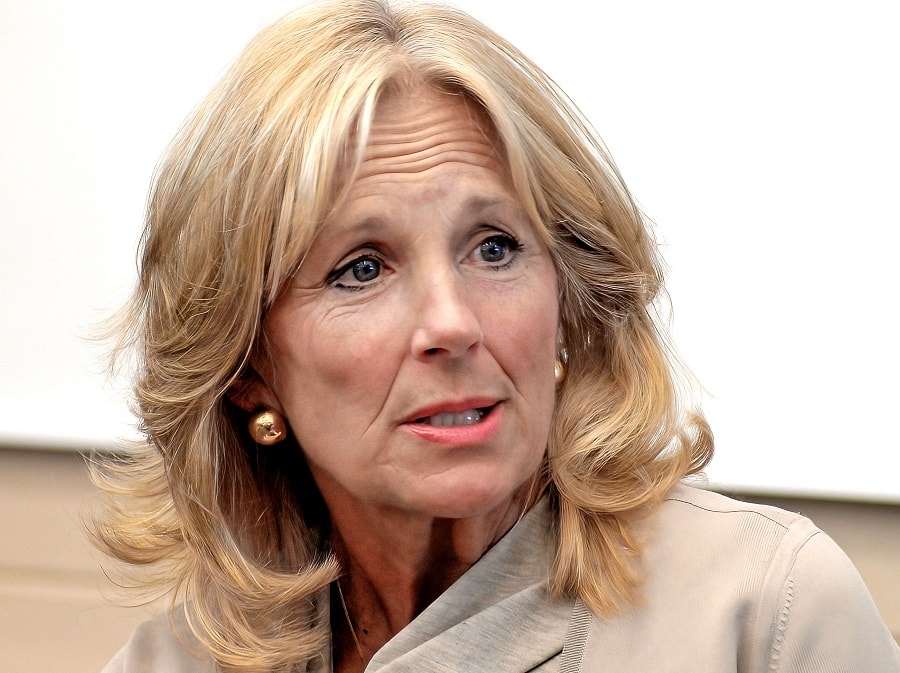 Jill Biden wears her hair in lots of layers. It falls midway to the shoulders and some of the layers curl in towards the face. The shorter layers flick outwards away from the head to add volume to the style.
Blonde Bangs
Here Jill Biden has added bangs to her look. It proves that even first ladies hairstyles can be improved with a fringe.
Her many layers have the ends Styled so that they flick out from the head. It adds lots of movement to her look.
Melania Trump Hairstyle
Melania Trump is arguably one of the most glamorous first ladies we've seen. Her hairdos seem to reflect this over the years.
Long Balayage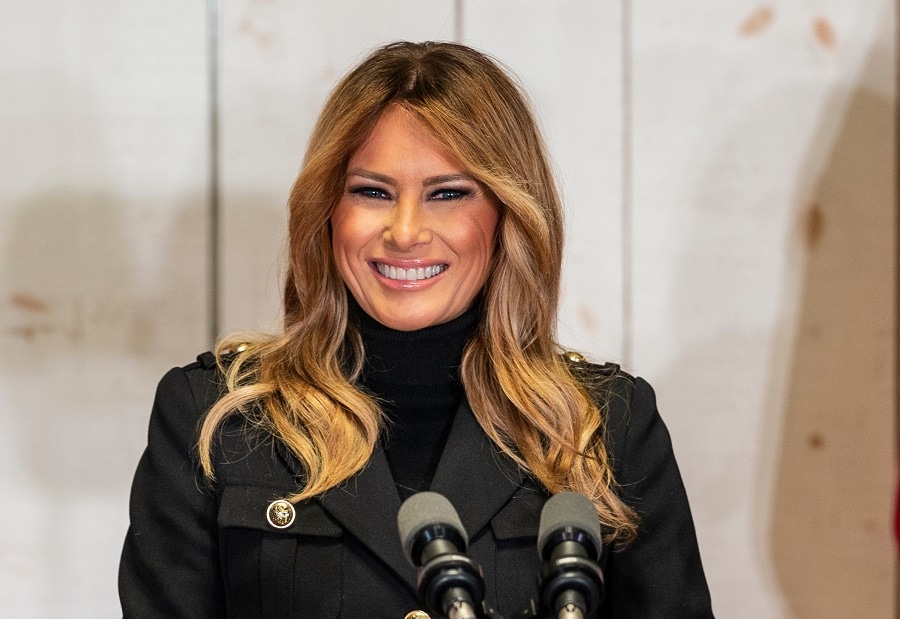 A balayage is one of the nicest and most modern ways to add depth to the hair. Her medium brown locks have touches of blonde as they cascade over her shoulders.
The hair is parted to the side and fans out from the face.
Side Part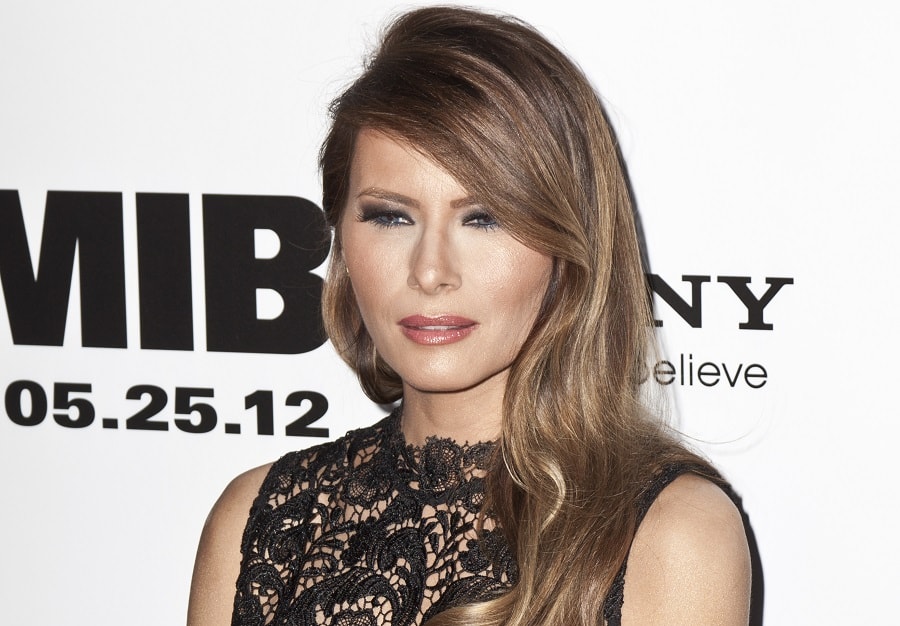 Here Mrs. Trump rocks her signature color in a sleek side parting as she attends an event. The hair is left loose as it falls over one shoulder. Side bangs sweep all the way across the forehead.
Face Framing Highlights
You don't often see a first lady fully embrace a modern trend as you see here. Getting highlights that frame your face has been popular in recent years.
The rest of the hair is Melania's usual color. It has some light texture to it as it falls over the shoulder.
Easy Updo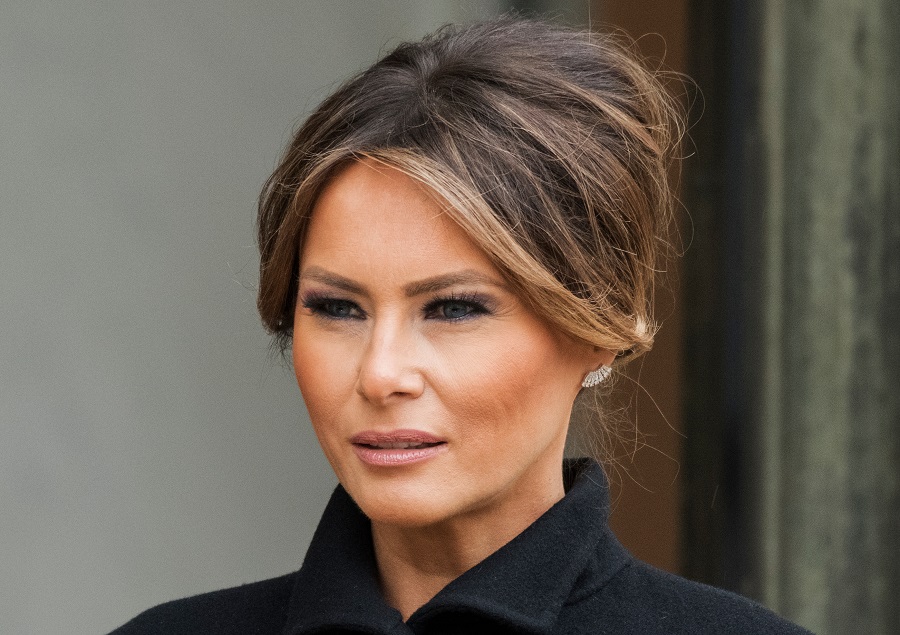 Sometimes you need an updo that you can wear to a formal event. Pull your hair towards the back of your head and pin it up. Ensure the front sections frame your face in a flattering manner.
Middle Part
A middle part suits most women and it's easy to achieve. Where your locks bone straight with the front section is slightly shorter than the back.
It's an easy everyday hairstyle that is achievable even for busy women.
Curly Ponytail with Bangs
Bangs round out any look and they're particularly suitable to wear when your hair is tied back. To replicate this look, pull your hair back into a ponytail and curl the tresses.
Nancy Reagan Hairstyle
Nancy Reagan kept her look pretty simple. Mature women and ladies who favor short hair will find her styles most suitable.
Blonde Highlights
You see highlights and many first ladies hairstyles as they need to look their best. Get some blonde added to your dark locks to make your hairdo pop.
Get a loose perm with lots of volume, or style natural curls to look defined in a short look that frames the head.
Short Brown Curls
Here Nancy wears her signature hairstyle without the highlights. The hair is a little longer in the front and gently brushes the forehead.
The curls are looser, and the back is straight but still has lots of volume.
Michelle Obama Hairstyle
Many black women seeking a glamorous hairdo can look to Michelle Obama for inspiration. Many of her looks sued women of other races, too!
Long Bob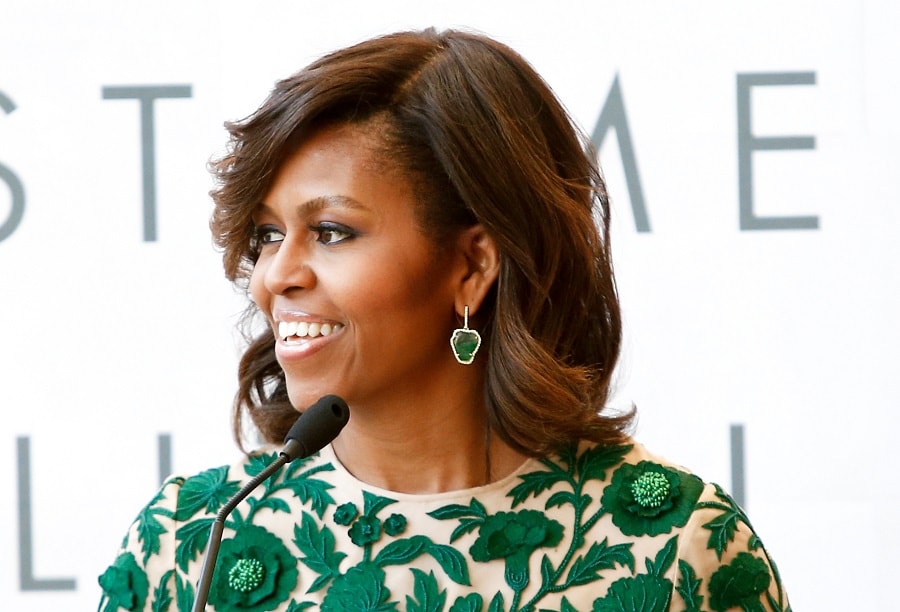 Women as busy as Michelle Obama don't have a long time to spend on their hair every day. Shorter styles, like this long bob, work best.
You can spruce it up by adding some waves and a side parting. Don't forget the rich brown highlights.
Slick Bob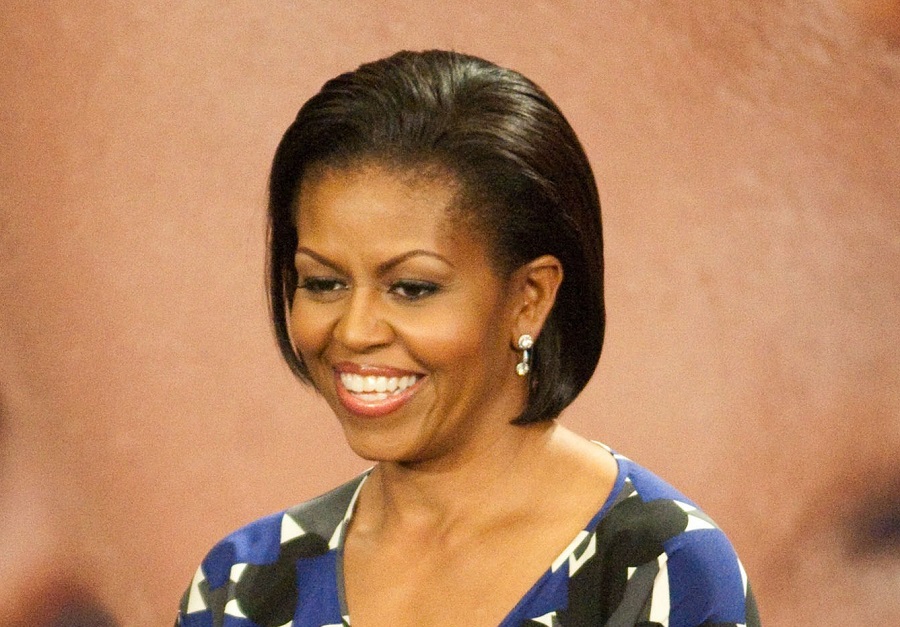 If you prefer straight hair, then wear a bob that curls in towards your face, and straighten it. Give it a side parting and slick it back for a formal look.
Natural Updo
Here's a style that will best suit black and mixed-race women with a natural hair texture. You can see some of first lady Michelle's natural texture towards the hairline.
Pull all your hair back with a slight side parting and lots of volume on top. Pin it at the back of your head.
Thick Bouncy Curls
To create a more glamorous appearance they wear your hair in well-defined thick curls. Your hair should fall halfway between your chin and your shoulders when curly.
Layered Bob with Bangs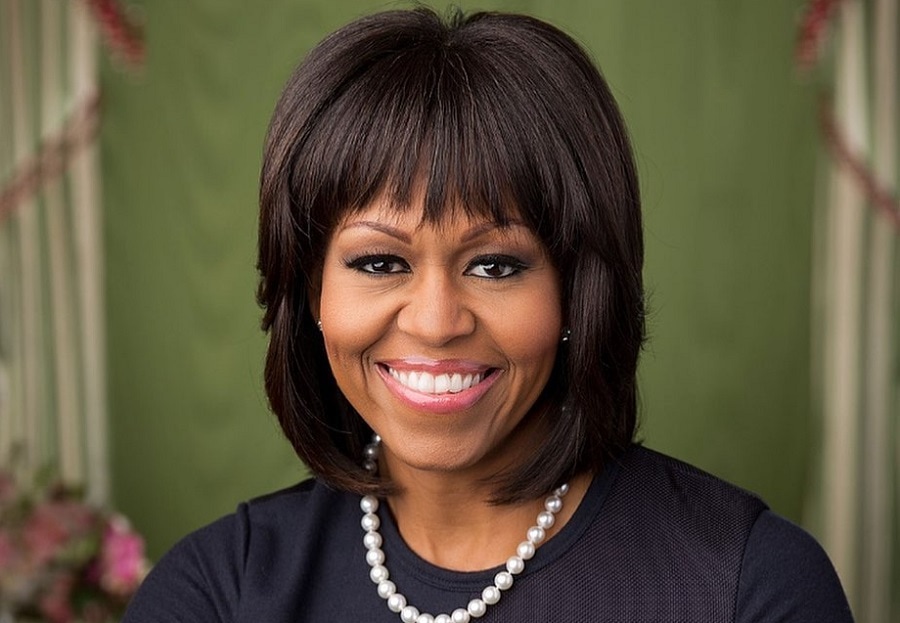 Every woman should try a layered bob with bangs once in their life. The hair falls a little below the chin and curls in towards the face.
The bangs are full and are the longest in the center of the forehead.
Highlighted Afro
This is another look that's perfect for women with natural hair. Wear your Afro-textured locks with pride and let them be thick and full. Add some highlights to the lower sections of your locks.
Laura Bush Hairstyle
Laura Bush often wore her hair bob length. She swept the sides the back to keep them out of her face. Have a few sections shorter in the front to create a textured appearance.
Eleanor Rosalynn Carter
Women with fine hair may wish to mimic Eleanor Rosalynn Carter's appearance. She makes it work very well. Mrs. Carter's look Is one of the easiest hairstyles for people wanting to copy the first ladies.
It's a short bob that stops just beneath the ears and curls in towards the face. She wears it in a natural-looking brown tone.
Barbara Bush
Finally, we come to a hairstyle worn by first lady Barbara Bush. This will best suit women who aren't afraid to wear hairstyles worn by more mature ladies.
Light Blonde Short Waves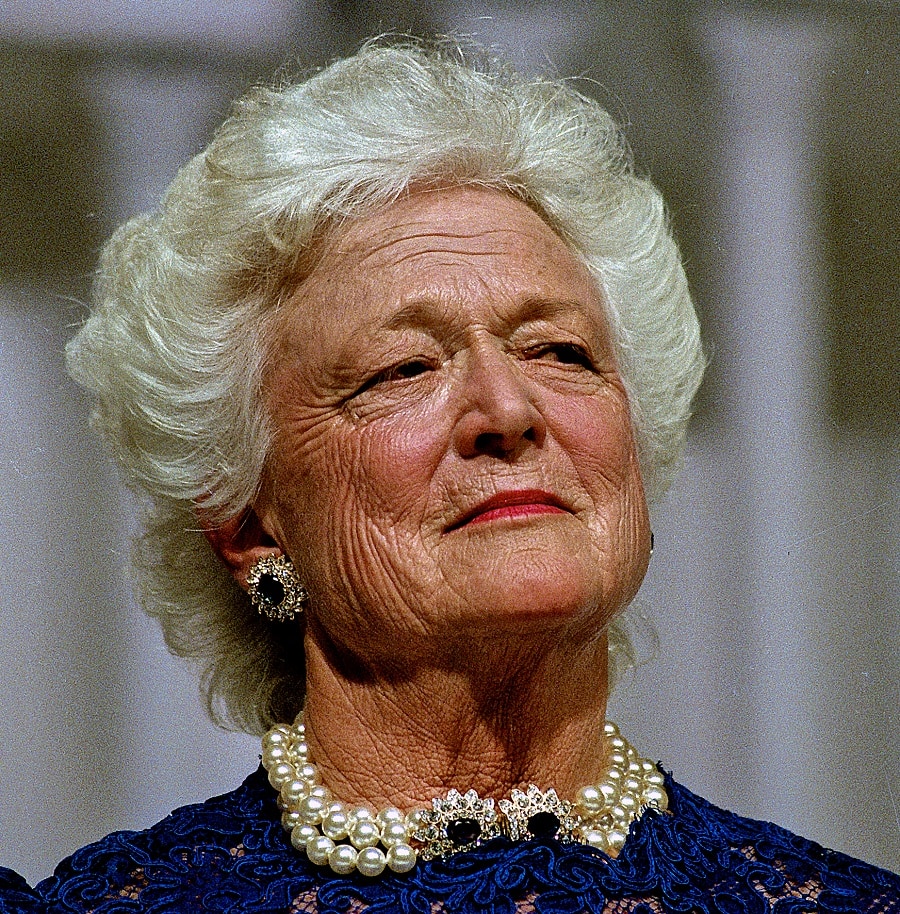 A lot of mature women choose to wear their hair extremely short. It's typically given a lightly wavy texture so it still looks lively while brushed back from the face.
Women with light blonde, white, or silver hair look best with this mature style.
It's clear that there are many first ladies hairstyles that'll make you look both respectable and glamorous. These women spent years in the spotlight, so it's no surprise they kept themselves looking their best.
Women wanting a more modern style may wish to mimic Michelle Obama, Melania Trump, or Jill Biden. The other first ladies wear looks more suitable for older women and ladies who love a blast from the past.