With a huge variety of home care products and hair styling tools, buyers often get tempted by the manufacturer's promises. They are great, highly competitive in various aspects, built with high-end quality, and justify their price. But what happens when you don't know which one is more suitable for you? Are you going to spend your savings on something that you regret buying later?
Hell nawww!!
In this article, we will discuss a highly reputed company typically renowned for introducing its amusing line of hair styling tools. We are talking about none other than the Drybar company and how it revolutionized our blowouts.
About The Company
Highly renowned for achieving a unique place in New York Magazine's Boom Brands of 2013 under '100 Brilliant Ideas of 2010', Drybar has created history. This California-based company firmly believes in being the best in anything that it deals with. Moreover, the story behind the company's establishment is as amusing as its work. It was founded in 2008 when Alli Webb, the founder, realized that salons are overcharging their customers for merely a blow-dry job, and thus, things need to be revised.
Drybar strives high to provide the maximum customer satisfaction without being hard on customer's pockets. Due to its dedication and hard work, the company managed to open more than 100 stores throughout the United States and Canada.
The company holds an array of unique hair styling tools with unbeatable quality and performance. In this article, we will be reviewing various Drybar hair styling tools, including:
1. Curling Iron
The 3-Day Bender Digital curling iron
The Wrap Party Curling & Styling wand
The Mixologist Interchangeable Styling Iron
2. Blow Dryer Brush
The Double Shot Blow-Dryer Brush
3. Heated Hair Straightening Brush
The Baby Brush Crush heated straightening brush
4. Blow Dryer
Buttercup blow dryer
Baby Buttercup Travel hair dryer
5. Hair Straightener
The Tress Press Straightening Iron
Let's Review all Drybar Hair Styling Tools
1. Drybar Curling Irons
Drybar curling irons are not only adorable and intriguing but packed with several impressive features to help you rock your curls. These ergonomic designs come in an appealing buttercup yellow color that is also the company's signature color. The most amazing thing about their curling iron barrels is that they are equipped with a unique mixture of 32 minerals that releases nourishing ions in your hair. These negatively charged ions aid the curling iron to dry water molecules at a faster rate, prevent frizzy, drying issues to maintain the shine, and make your hair look healthier.
In addition to this, Drybar features an impressive array of curling irons with a rotating barrel to cut the time required for styling in half and give a salon-like finish at home. People generally prefer this type of barrel over others because it gives a natural and creaseless look to your curls rather than setting them tight like a regular curling iron. If you are not a great fan of rotating barrels, then you can go for Drybar's reverse-taper no slip barrel that is a great option to hold the thickest and longest hair strands in place without hampering the process. Reverse taper barrels deliver tightly defined curls that are narrower from their top and bigger towards ends. Another impressive option is the one with three interchangeable attachments that fit easily into the handle's ergonomic style. These attachments include a 1-inch wand for more defined, tight, springy curls, a 1.25-inch one for slightly bigger and medium-sized waves, and a waver for classic loose beachy waves. People like the opportunity of achieving different looks from one hair styling tool as it also spares them from hoarding unnecessary products in the cabinet.
The soft grip of Drybar hair curling irons provides better control over the tool to ensure maximum satisfaction and customization of the hairstyle. Their curling irons also feature a professional length 360 degrees rotatable 9 ft cord so that you can style your hair from all directions effortlessly.
Technology
Coming down to technologies infused in Drybar hair styling tools, they have used none other than the best. Drybar hair curling irons are equipped with the latest ionic technology that helps them to get rid of water molecules at a faster rate to leave your gorgeous hair with shiny, healthy-looking, and bouncy curls.
On the other hand, we have Infrared technology that assists the curling iron to heat up to the desired temperature in the blink of an eye. Moreover, it also helps to maintain long-lasting curls without causing much damage from high heat.
Heat settings
Drybar hair curling irons have in-built ceramic heaters to heat within 60 seconds, sustain a uniform temperature and heat settings throughout the appliance. Moreover, the digital temperature control shows the precise temperature and can heat the curling iron up to 450°F/232°C for personalized styling. You also get a 60-minute automatic safety shut-off feature that makes Drybar curling irons suitable and safer for younger teens as well.
2. Drybar Blow Dryer Brush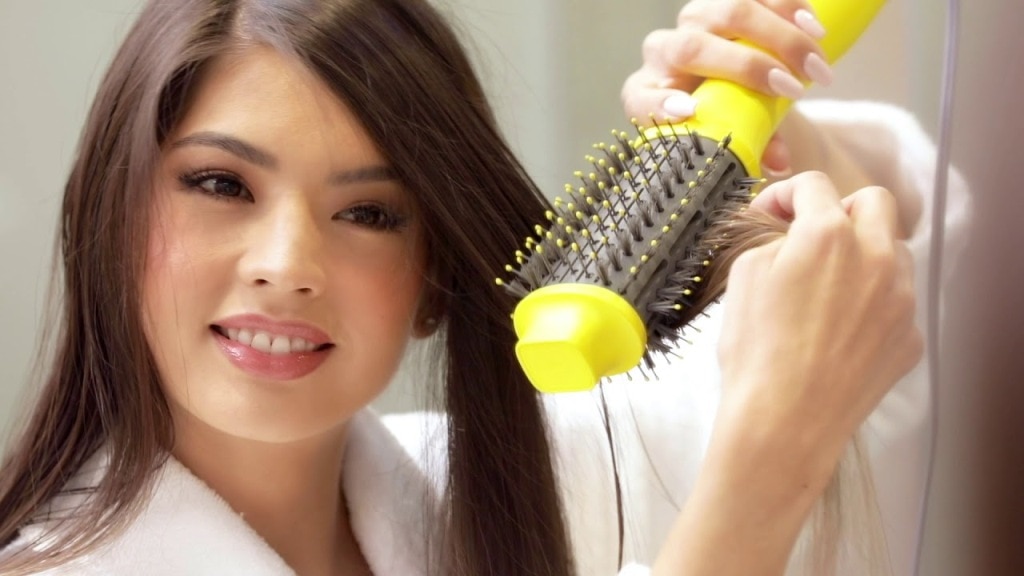 Who does not like the Drybar's combination of a detangling brush and a hairdryer? We all do because, let's be honest, it is one of the most practical and useful appliances in our makeup vanity. It ingeniously combines the hot air of a blow dryer with the ergonomic oval structure of hairbrushes to give you a shiny boost of voluminous hair.
Design of Drybar Blow Dryer Brush
If you have ever purchased a Drybar hair styling tool, then you will notice that The Double Shot Blow-Dryer Brush by Drybar has inherited the classic buttercup yellow color. It has an extremely lightweight oval-shaped body with slightly curved edges to provide a smooth salon-like finish. Instead of scratching or harshly pulling your hair, the Drybar blow dryer brush gently detangles your hair with soft nylon and tufted bristles. For maximum volume and high-velocity airflow, vents are placed ingeniously on the brush to cut the blow drying time in half and speed up the process. In addition to this, you can also notice a filter at the bottom of the Double Shot blow-dryer brush that allows the passage for more air.
The product feels quite sturdy in your hands with a soft grip for maximum comfort and control. It also has a pretty long 360 degrees rotatable professional cord that buyers absolutely adore as it reduces the strain on their wrists.
Technology
The Drybar Double Shot blow-dryer brush is equipped with Ionic technology that releases numerous negatively charged ions while simultaneously drying and styling your hair. These ions aid the brush to break water molecules to dry without making your hair super frizzy or dry. Another great advantage of ionic technology is that it makes your hair shinier, smoother, manageable, and above all, healthier.
Heat settings
Buyers can use the Drybar Double Shot blow-dryer brush on 3 different temperature settings- cool, medium, and high to achieve the blowout of your dreams. Most importantly, it works on all hair types.
3. Drybarblow Dryer Straightening Brush
Have you ever imagined what it feels like to dry and straighten your hair simultaneously? Well, the all-new Drybar blow dryer straightening brush does the same job effortlessly for you. It is a one-stop-solution for your drying and straightening requirements at home. You can use it anywhere to fix your distorted bangs, baby hairs, and flyaways to look extra clean and fresh.
Design of The Brush Crush Heated Straightening Brush
The Drybar Brush Crush heated straightening brush is one of the best-selling hair styling tools. It has an innovative design that creatively combines a flat iron's properties with the framework of a paddle brush. Much like the Drybar Double Shot Blow-Dryer Brush, this too has an oval-shaped body paired with blunt round edges to prevent burns during the styling process.
It helps you to gently remove knots from your hair to detangle them, along with giving them a professional straightening effect. This is definitely the quickest method to achieve smooth-textured, silky, and frizz-free hair without costing a fortune. You can also find an attached professional length of 9 feet (2.74 m) flexible cord that reduces the strain on your hands.
Technology
The Drybar Brush Crush heated straightening brush features the latest Ionic Technology. It helps to remove excess moisture from your hair at a faster rate to prevent frizzy and dull-looking hair. Instead, it adds a handful of shininess and smoothness to maintain your hair's natural texture and health.
Heat Settings
A dual-voltage corded heated straightening brush has a modern digital temperature control that shows precise heat settings. It requires only a few seconds to heat up to the maximum temperature of 450°F / 232°C for optimum personalized styling. Buyers can also use this tool in low or high heat mode, making it ideal for busy mornings and quick touch-ups. Most importantly, you no longer have to worry about not unplugging it while leaving since it comes with a smart 60-minute automatic safety shut-off.
4. Drybar Blow Dryer
With Drybar Buttercup blow-dryers, you no longer have to use those dead or ineffective hotel dryers. They are packed with super impressive features, lightweight, rigid exterior, and different attachments for a salon-like blowout at home.
Design Of Drybar Blow Dryers
Drybar features its all-new buttercup colored hairdryers with a futuristic-looking appearance, intriguing travel-friendly scope, and latest technologies. Drybar's standard size hair dryer comes with two concentrator nozzle attachments to change and customize the airflow as per your preference and liking. On the other hand, the mini version of the same product has a single concentrator nozzle for targeted airflow and making the drying process of specific sections a lot easier. Moreover, Drybar strives hard to include more goodnesses without making its products bulky, and thus, these two hairdryers mentioned above are extremely lightweight. The Buttercup blow-dryer weighs around 1lb 2oz, whereas the compact version merely weighs 13 oz.
Most importantly, the latter also has a collapsible handle for easy storage and maximum comfort. They combine the excellent quality of finish with their powerful 1200 watt and 1875 watt motors to quickly get done with the job. Furthermore, they are an in-budget and efficient alternative to expensive salon visits and give applaudable results.
If you hate corded hair styling tools with shorter cables, then Drybar blow dryers will amaze you for sure. They come with attached 7-9 feet cords that allow you to style your hair even if the mirror is at some distance from the plug.
Technology
The latest Ionic technology of Drybar hair dryers helps them to prevent dryness and frizz by locking healthy moisture in your hair. It also helps them to sustain the natural shine and health of your hair by preventing them from direct heat. Compared with some of the most influential brands, Drybar hair dryers undoubtedly provide the best experience every time. Furthermore, the wave heater ensures an even spread of heat throughout the whole blow-drying process for faster drying.
Heat settings
Buyers can use the Drybar Buttercup blow-dryer on three different heat settings and two power settings- low and high. On the other hand, the Drybar Baby buttercup travel blow-dryer features 2 heat settings- low and high. These adjustable temperature and speed settings give greater access to a more personalized blowout at home.
5. Drybar Hair Straightener
Drybar hair straighteners are dual-purpose irons that aid users to style, straighten, or curl any type or length of hair. Equipped with the latest technologies and different floating plates, this brand makes sure to serve only the best things.
Design
They have 1 (2.54 cm) and 1.25 " floating plates to provide a close to scalp contact to straighten or curl your hair strands in one go. The round and blunt edges of Drybar hair straighteners prevent burns during the styling process as well as allow you to wrap your hair strands around plates easily. They also feature a 60-minute automatic shut-off feature that makes them safer than some other brands. In addition to this, one can also notice a super flexible 9 ft (2.74 m) cord for easy styling. If you are constantly flying and traveling around, then the Drybar Tiny Tress Press Detailing Iron is a good option for you. It has a compact and travel-friendly design to fit in your luggage duffle bags easily.
Drybar flat irons are undoubtedly a one-stop-solution to our different needs. In simple words, they straighten, they give waves, and enhance the raw look of your extremely gorgeous hair. Instead of drying and making them dull, they add shine and texture to your hair to give them a heartwarming look.
Technology
The ionic technology in Drybar hair straighteners helps them to trap healthy moisture in your hair and make them appear shinier and smoother than before. It also helps the hair straightener to work equally efficiently on all hair types, including dry, frizzy, extremely curly, coarse, etc.
On the other hand, titanium technology ensures faster and even heating of plates for that gorgeous and expensive salon-like look. It also reduces frizziness, dryness and makes your hair anti-static.
Coming down to the infrared technology, it gently penetrates your hair inside out to achieve long-lasting loose waves, curls, or sleek, straightened looks.
Heat settings
Owing to the fast heating technology, the Drybar Tiny Tress Press detailing iron heats up to 400°F/204°C within a few seconds. On the other hand, the other hair straighteners feature a digital temperature control that can heat the appliance to 450°F/232°C. It is an essential feature, especially when you use the hair straightener daily for effortless customized hairstyles. It is no doubt that Drybar flat irons are great for quick touch-ups and last-minute detailing.
Recommended for you:
Final Verdict
Drybar strives hard to provide only the best of both worlds to its customers. With the company's peculiar yet fun motto "No cuts. No color. Just blowouts", it is safe to say that it stands sturdy on the reference to its primary services. Starting with their impressive designs, buttercup yellow well-built exterior, to their incomparable performances, Drybar has a lot to offer within a budget. Who would have thought that it is that easy to achieve salon-like results at home?
Drybar makes sure that you do not lose your hair's natural shine and appearance and works mysteriously with them. Its impressive range of hair styling tools adds volume to your hair, make them more manageable, shinier, and better in all aspects. Bearing in mind various aspects such as hair care, functional, mechanical, etc., one can conclude that Drybar hair styling tools undoubtedly justify their price and are the best option. Their hair styling tools work equally efficiently on all hair types and provide a stubble touch of professionalism at home. You can put their faith in Drybar's excellent flawless performance.
Can I use the Drybar hair curling iron on wet hair?
No, absolutely not. The curling and styling iron is specifically designed to be used only after completely drying your hair for the best results.
Is the blow dryer straightening brush travel-friendly?
Yes, it comes in two different sizes- a regular one and a mini version. You can choose any one of them according to your travel bag's size or purse and enjoy convenient straightening anytime you want.
Does the Drybar Travel Straightening Iron have floating plates? Can I use them to wave and curl?
Yes, it has floating plates along with a stiffer durometer. Most importantly, buyers can use this or any flat iron to add loose curls or waves. All you require is precision and detail in your hands to achieve what you were thinking about.