If you are over 50, you may be concerned about the appropriate look of your hair. Getting a haircut and maintaining your style along with fighting the sign of aging on your face is a task. A wrong hairstyle will not flatter or compliment your look instead attract attention to areas on your face that you actually want to conceal. However, many styles will draw attention towards you and make you look young and ravishing.
Classy Hairstyles for Women Over 50
Here are the top 50 Classy Hairstyles for Women Over 50 that will suit your age and will be fuzz-free and straightforward to manage.
Short golden curls
If you have a round, oval, square or oblong face, then this is the best hairstyle for you. The short length will take off some years from your life and curls will grab the attention towards it rather than on your facial features. The hair is dark at the roots and turns golden towards the tips, and this creates the whole dramatic look. A few strands of the hair fall on the forehead adding to cool chic look. A proper curly hair routine will be required to maintain this hairstyle.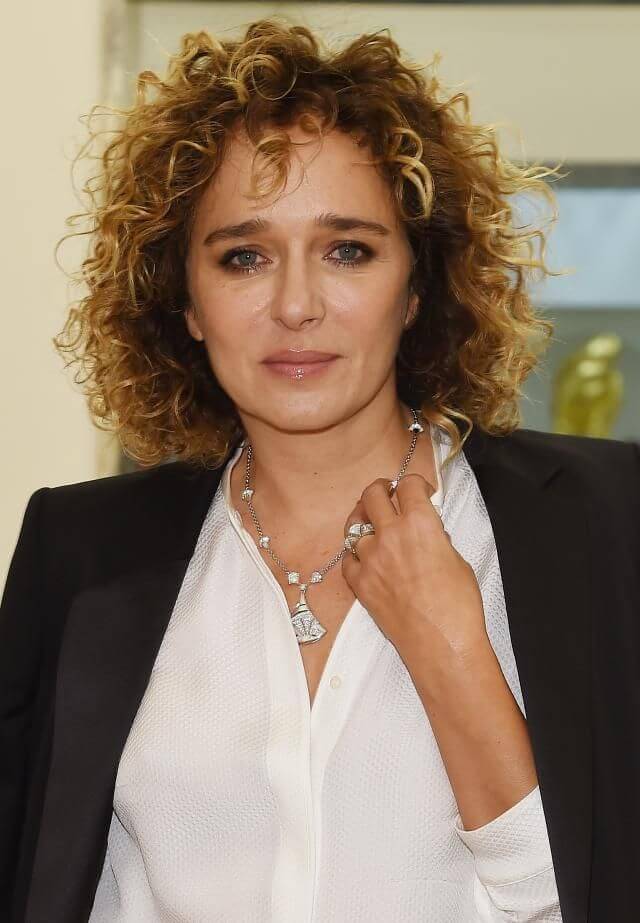 Side-parted shoulder length haircut
A very classy and simple yet elegant hairstyle. The hair has been parted side, and one of the hair falls on one side of the face, and this makes them look oh so elegant. Blonde hair that is straight is apt for any face type, just that the length should be appropriate and not make a face appear to be very long. The hairstyle will require minimum products to hold it, and very little or no maintenance is needed as it is an effortless hairstyle.
Short sophisticated and professional look
This look is simple, and the length is kept such that hair fall on the shoulders and add to your grace. The roots have been played to add a bit volume and then balanced down to be rolled out at the tips. A very sophisticated look where the hair has been back brushed to grab the attention. This style can be adopted by women of any age but will require lots of product to hold it in place. It is suitable for round, oval, oblong, and square face.
Shoulder length hair wit short front bangs
The bangs that fall on the forehead make it look very classy and take off the length from the face, thus an ideal haircut for the ones with a broad forehead. The front bangs and the side hair that fall from behind the ears over the shoulder give a definite shape to face. This haircut takes off the age from your face and makes you look young.
Side raised straight hair with curls at the end
Stark dark black hair can help you to take off the years from your face. The hair is straight and has been curled at the ends with rollers thus will require setting gel to hold it in place. A lot of shine products will also be needed to add shine to the dark hairs. The front hair has been worked up and slightly twisted towards the opposite side; this simple trick makes a face look very young.
Long red hair with curly ends
Lightly layered side-swept bangs that have slight curls fall playfully on the shoulder. A few segments of the hair cover the cheeks thus can quickly take the roundness of the face. A quietly yet highly influential look can be easily created and maintained. Curls will require a lot of moisturizing and this one thing that will be very helpful in the long run as well moisturized hair can efficiently fight the harshness of aging.
Controlled and defined
The hair has been kept short to take off the years from a face and add to the professional, sophisticated look. The hair in front has been teased and combined with volume and worked up a little thus highlighting the eyes. It is a minimal hairstyle but will regular salon visits to maintain the length and remove the split ends.
Zigzag parting with soft curls at the ends
Side partition of the hair in a zigzag pattern looks super classic and takes off the years from the face. The hairstyle will make you look younger. The ends are left in soft curls that add to the charming personality. A simple style that will suit women of any age and for any occasion. Few strands of hair fall playfully on the cheeks, and this gives a firm shape to face.
Messy volume hairstyle for straight short hair
A very classic and common hairstyle. Can be done at home with minimal products, and almost in no time. The hair has been teased at the roots to add height and reduce age from the face; Hair has been straightened to create the look. It is suitable for the ones with thinning hair.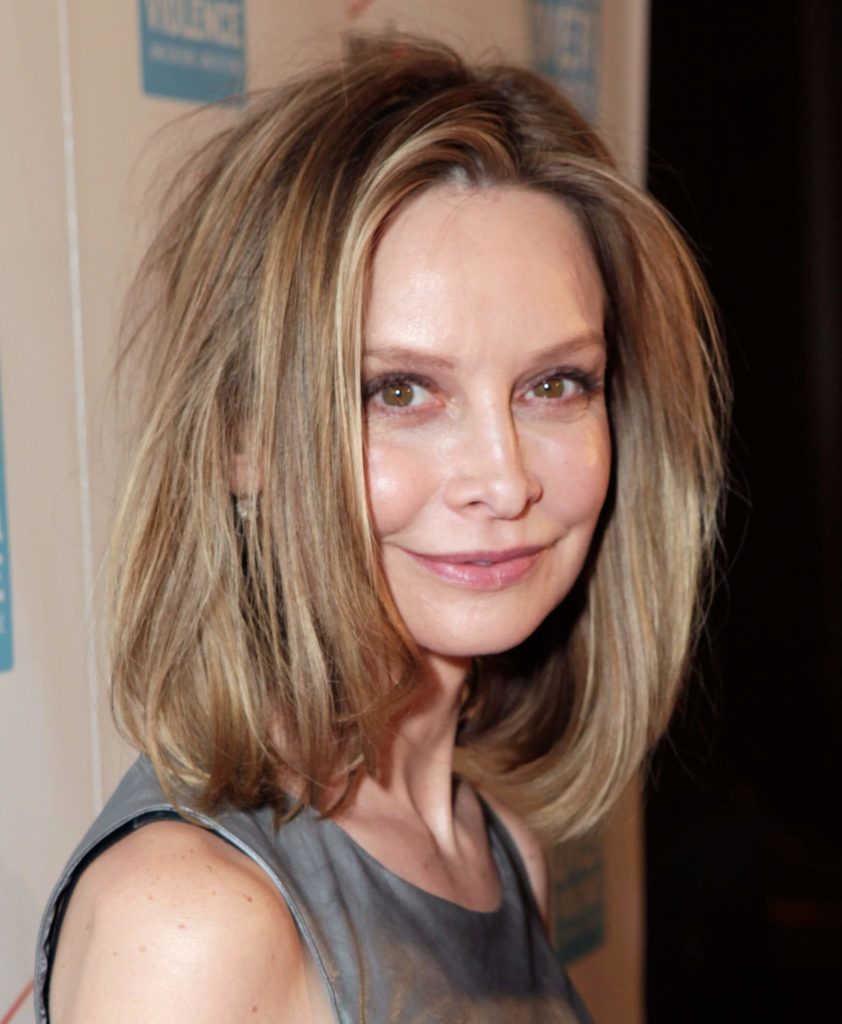 Career bob
There has to be a reason that most of the working, classy women are wanting to adopt this style. It looks stylish, ultra modern and is very easy to maintain. It frames the face in the most professional look, and it is crucial if you work with others a lot. The hairstyle does not need a lot of deft to style; it just needs styling products and regular visits to the salon are the keys to this chic, sassy style. A perfect style for a time at any place be it the beach, or office or any formal meet.
Straight shoulder length hair
A style from the old school that can never be out of fashion. It is a style that suits almost all faces and women from any age bracket. The hair is played up at the roots to create some volume and they it looks very sexy and classy. A style suitable for any occasion and adding some accessories can take a look at another level.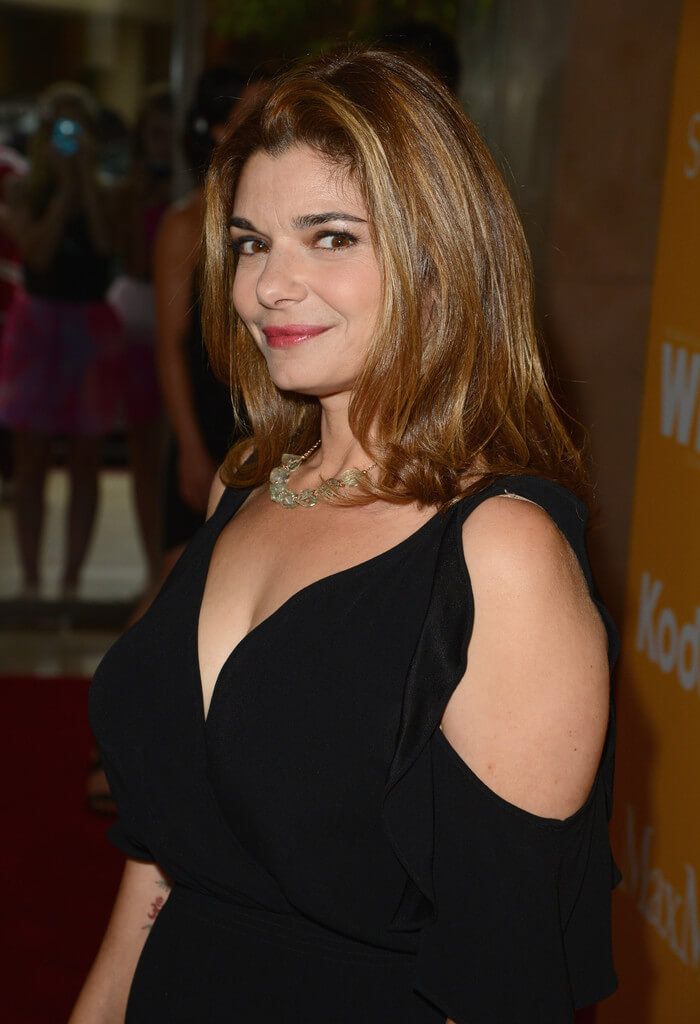 Simple short bob
Keep the hair ends precisely behind the ears and give a firm shape to the face. Part of the hair fall on the forehead and cover it create a soft yet stylish look. Any accessory will look great in this hair, or even if some short braids are tried on this hair, it will look very edgy and stylish.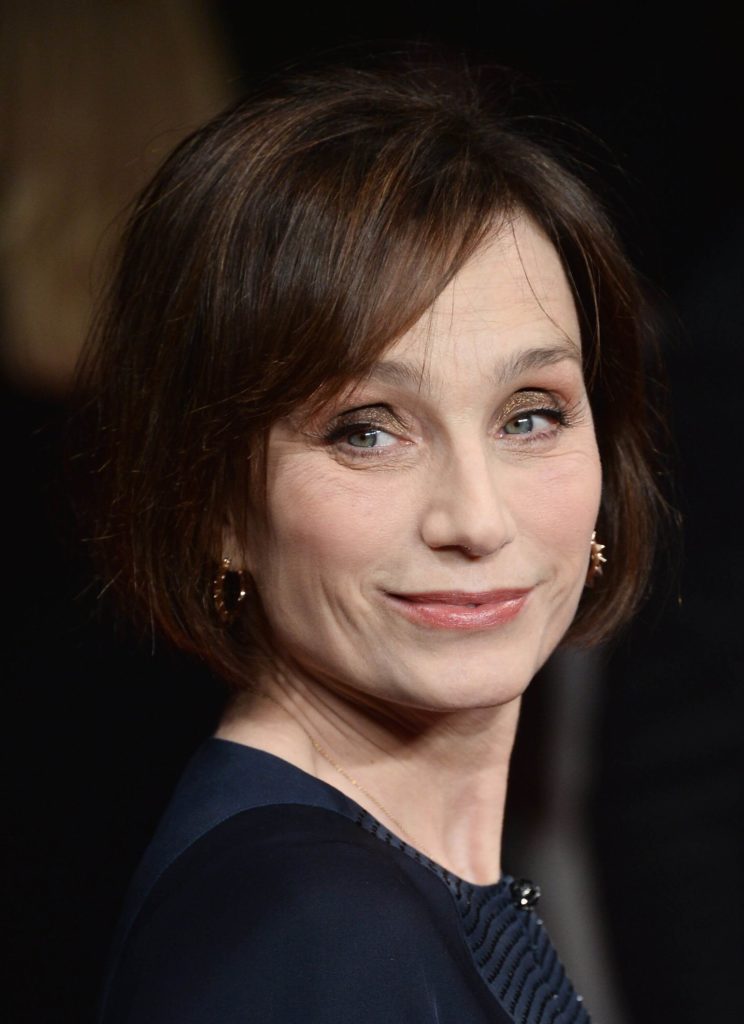 Naturally curly controlled cut
Curly hair can be tough to manage, but in case of short curls, they are easy to manage. They just require some deep conditioning and lots of holding products to hold the short curls. This create a very sophisticated look and look dressed up even without the accessories. The playfully fall on face add volume to your otherwise thinning hair. Messy curls indeed add some fun to your look.
Wavy volume soft waves with textured bangs
This indeed is a very romantic, youthful and charming look. The bangs are at a manageable length and require some styling and holding products. The waves can be done with rollers. The bangs on the forehead create the dramatic look and give the appearance of Greek Goddess. The tuck the hair behind the ears to flaunt the earring and simply let the layers fall on the neck.
Volume hair with inner rolled hairs
A sexy, edgy professional look that requires lots of product to hold and style the hair. The soft side partitioned hair falling on the forehead gives concrete shape to the face and the inner rolled curls falling on the shoulder make it look very stylish and sophisticated. The no drama look that has been a bit played to make the long face a bit short and beautiful.
Simple bob cut with slightly long side layers
A very chic, edgy and sassy cut that will takes years of your face and make you look very professional. The side layer from the front is kept slightly long to create the dramatic look. Not much styling or setting products are needed for the look but to maintain the length regular salon visits are needed.
Shoulder length hair with side partition and soft curls at the end
An effortless and old-school hairstyle that will never go out of fashion. Just curl your hair at the roots and let it softly fall on your shoulders. Side partition your hair in the front and loosely let it cover a small section of your forehead. It will give shape to your face, and not much maintenance is needed for the style.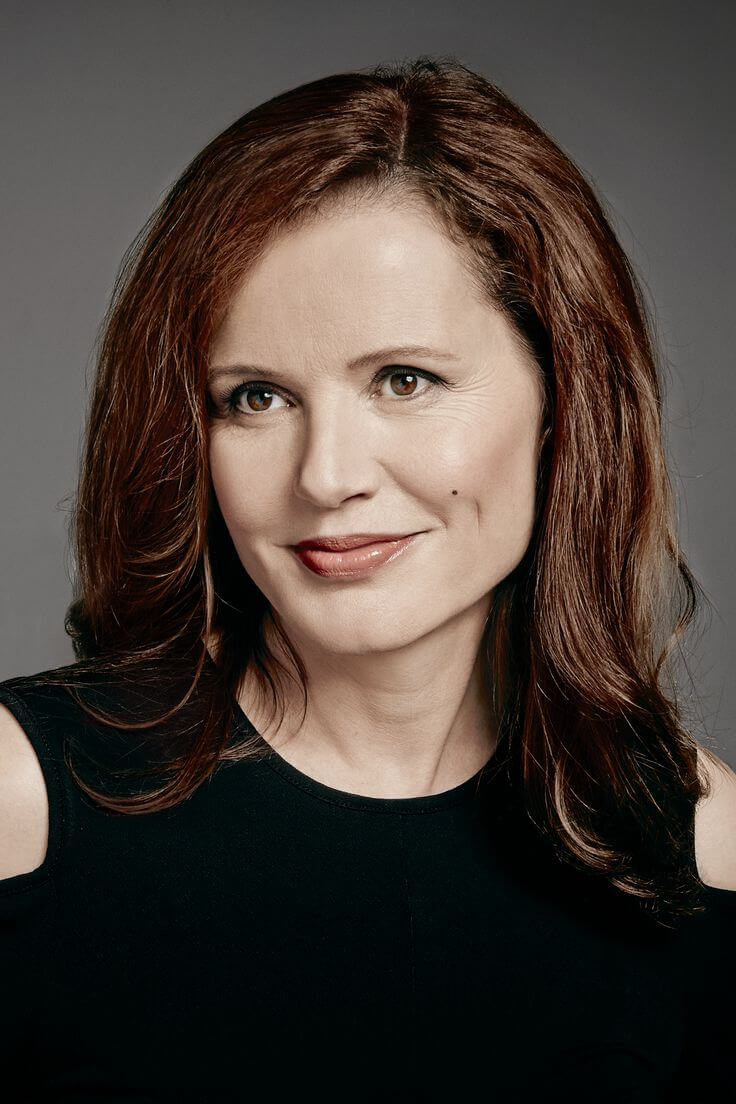 Curly messy bun
A very feminine style for the next party. Can be easily adopted by girls who have curls or can curl their hair. It will not require much effort or products to recreate the look. Any accessory to hold the bun in place will be good enough and take the style to another level. As curly hair will require too much conditioning and nourishment and salon visits to keep the split ends at bay. Let a few strands fall on your face, and you look sexy.
Front bangs with wavy volume waves
Youthful, chic, playful and one of the most charming hairstyle. Bangs are manageable as they are short and fall on the forehead. The curls can be done with good iron and large barrel. This hairstyle will look classy even without the accessory. And as the hair falls on the shoulder, they look very feminine and sassy.
Side swept curls for shoulder length hair
Another style from the old school that has stood the test of time. Curl the ends and the side swept bang, use any accessory or no accessory it will look very elegant and perfect for any party. Let the hair fly in the air and create the desired mysterious look.
Front bangs with layers on shoulders
The front bangs are kept slightly long to fall on the eyes, but not disturb. It has been so done to distract the attention from the wrinkles on the face. A very cool and chic hairstyle and the layers that fall on the shoulder make the look very interesting. It is carefree fun look for the women with any face type.
Asymmetrical edgy bob
This look is very edgy and crisp. It makes you look ramp ready and takes off the age from your face. Even the front bangs are kept small to complete the look and make you look young. A lot of styling products will be needed to style the hair, and regular salon visits to maintain the length will be needed.
Side partition with volume at the top
Any lady from any age bracket can easily do a perfect style for any occasion and. Products to add volume to hair at the crown part will be needed and products to tame the hair will also be needed. A perfect hairstyle if you want to distract attention from the face as it focuses on the hair.
Simple straight shoulder length hair with front bangs
This is quite a look inspired by Cleopatra, and it is one of the hairstyles that will never fail to attract the attention in a quite subtle way. Products to tame the hair and hold it in place will be needed. Regular trims to maintain the length of front bangs will be needed.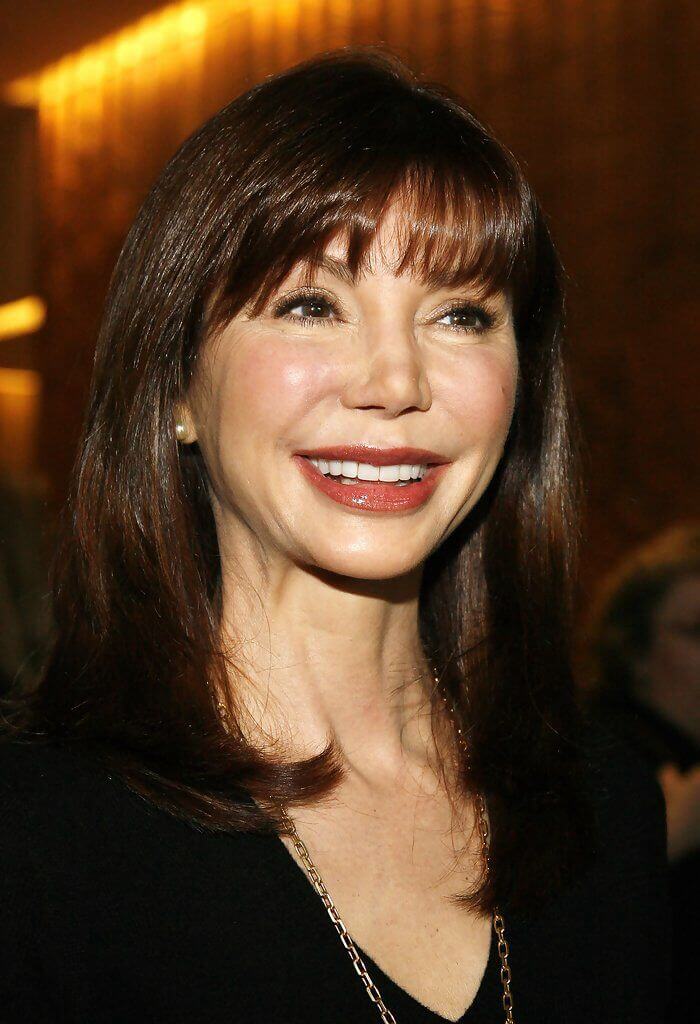 Front bangs with all over loose curls
The front bangs are of the apt size to fall on the forehead and attract the attention to it without putting any focus on the wrinkles. The soft curls all over the hair add a bit of volume to the hair and add softness to the face yet giving it a definite shape.
Long luscious soft wavy hairstyle with front bangs
Women with thick luscious hair are meant for this style. Lots of moisturizing and care is needed to maintain this look. However, the dedication will simply pay off. The luscious mane will sizzle the look and make you look ravishing. Accessory or no accessory all will make you look simple classic. The front bangs will require chopping off to maintain the size and fresh look.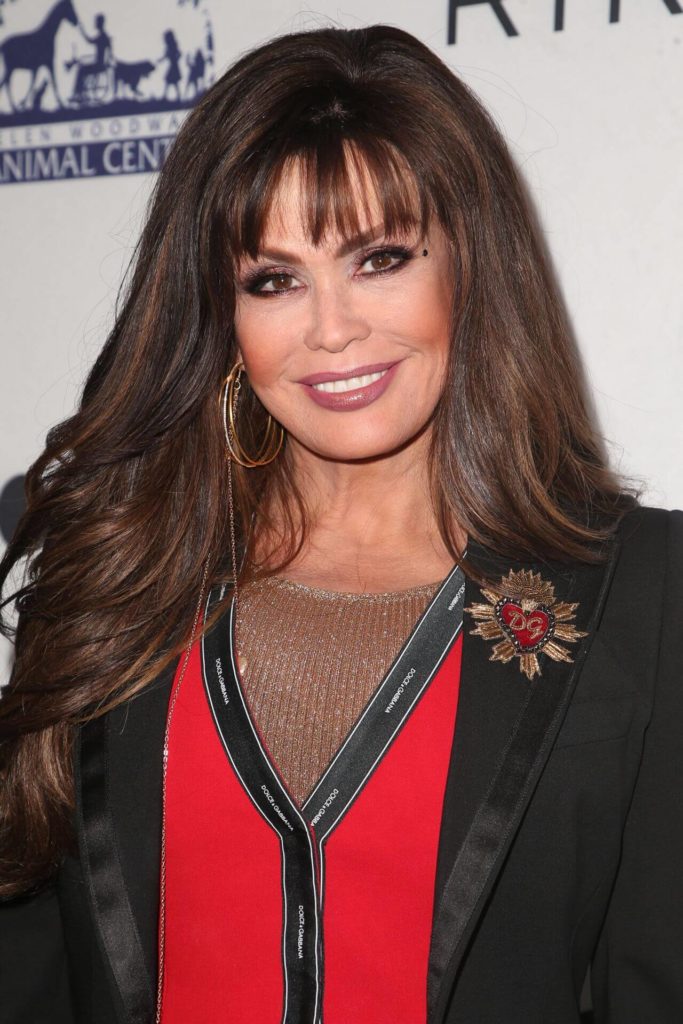 Curly bob style
The blonde hair has been done in curls with bob, but the curls are soft and have been pinned from one side to create the neat and fresh look. It is vintage inspired look and will look absolutely classic for any party or formal occasion.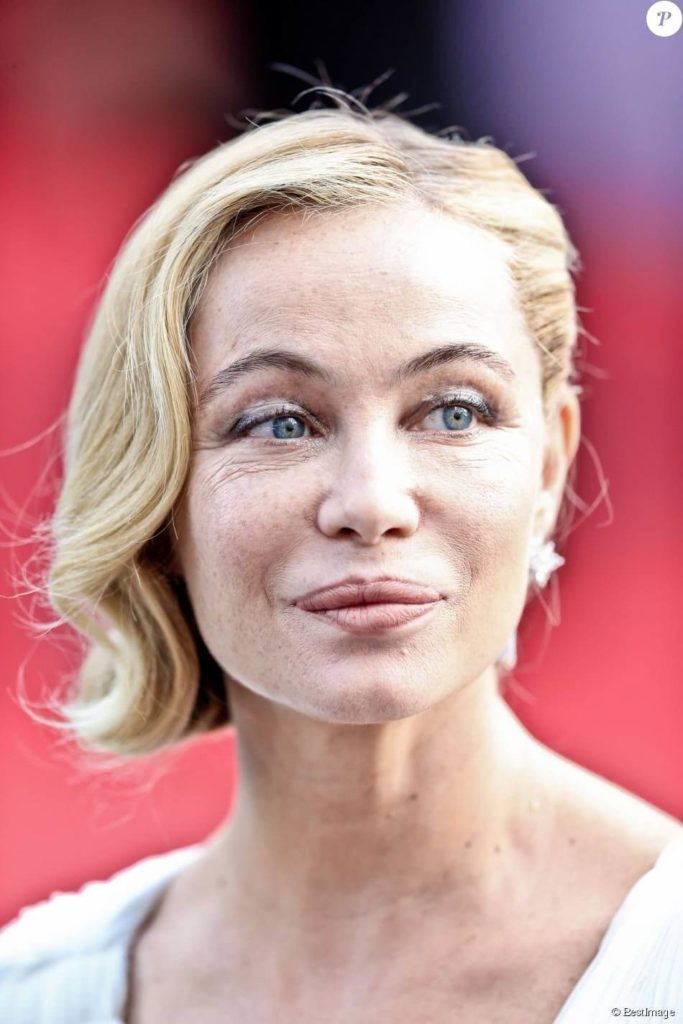 Front top puff with back braids
It is neat and classic yet effortless to carry look. Perfect for thin hair or falling hair. Making the puff at the top will add volume and height to the style while also serving the purpose of reducing the age from your face. Not much time or products will be needed to maintain the style and can be easily recreated at home without using the styling products. With some simple accessories like pins, pearls or studs you are ready for the party, and without them, it will give you a sporty look.
Bun with side turned hair and a headband
The hair has been combed a bit sideways and has been done in a bun. They are adorned with a simple headband; this adds to the look while holding the hair in place. A simple and all-time rescue for the bad hair days. It is the best style for thinning hair also.
Side swept short hair in waves with a bob cut
A very sleek and edgy style. The hair has been cut in a bob style and has wavy texture to it. Any headband, tiara or wreath will make the style look more classic. Regular cuts will be needed to maintain the style. And as the hair has wavy texture, they will require a lot of moisturizing and nourishment.
Side parted behind the ear hairstyle
It is a simple yet classic hairstyle. Simply blow dry your hair, set outward loose curls and let them fall on your shoulders. Make a side parting, put one side of the hair behind your ear and the other side of the hair on the front of your head to cover your forehead. It suits all women and gives you a lovely appearance.
Messy curly ponytail
Let your natural curls make a great hairstyle for you. Simply use your hands to detangle your hair, pull them behind with your hands and either make a ponytail or a loose bun, letting few tresses fall on your back. Let the curly flicks be on your forehead. It will give you an elegant look.
Simple round bob for wavy hair
The hair has a wavy texture and has been left in their form after a fresh bob cut. It is a very edgy cut but looks ultra modern and professional. Not much styling will be needed, but wavy hair will require lots of moisturizing to maintain the fresh, neat look.
Blonde shoulder length hair with loose curls
The blonde hair can make you look young as the lighter tones soften the facial features. Lighter hair has the age-defying ability, and the soft colors add to the fun factor. The soft waves give apt shape to the face as they playfully fall on the face. Side partition also adds to the age-defying factor. Can be easily done at home with hot irons and a few styling products or gels.
Shoulder length wavy style hair
The hair falls on the shoulder with ends in soft waves. The hair has been styled with hot curls to fall in waves, and a lot of styling products to hold the waves will be needed. The curls look carefree and add to the fun factor.
Loose curls with side swept from front falling on one shoulder
The hair is straight but end in loose waves and have been teased and styled by raising in front side sweep. The hair is neatly kept backward, and few strands fall on one shoulder to add the glam factor. Its an easy to style haircut but will require products to hold it in place.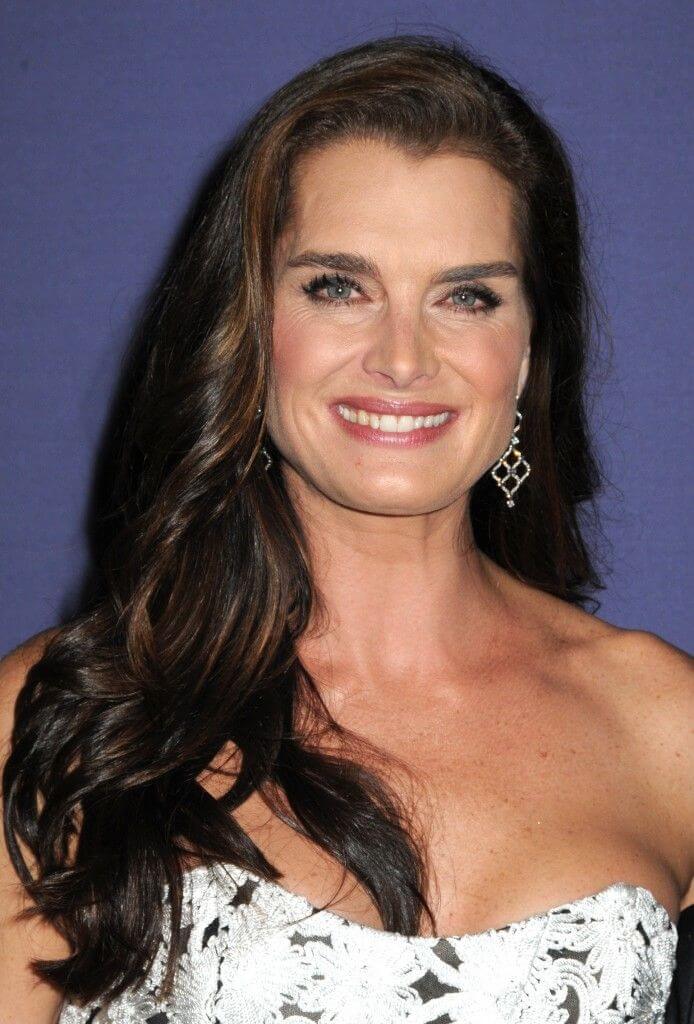 Pixie cut
Short and crisp is the essence of this style. It has been cut in pixie style to give an edgy and classy look. Short hair is easy to manage just frequent salon visits are needed to maintain the length of hair. With some simple accessories or headbands, you are fit to attend the party.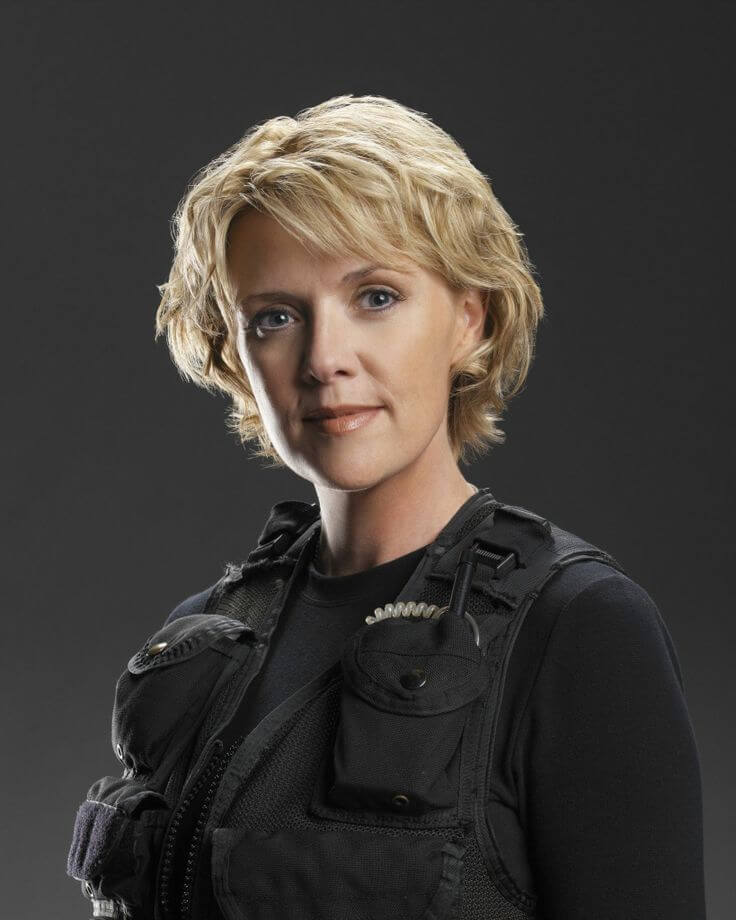 Natural wavy look
It's a great hairstyle for naturally wavy hair. Comb them wide a wide-tooth brush or with your fingers. Make a slight side partition for the front hair and let them all fall on your shoulders. It gives your hair a thick look and can go along with any outfit.
Center parted outward curls
It's an elegant hairstyle for medium length hair. Blow dry your hair, use curling irons and make outward curls at the end of your hair, keeping them a little wavy at the top. Make a center parting and flaunt it with any outfit on any occasion.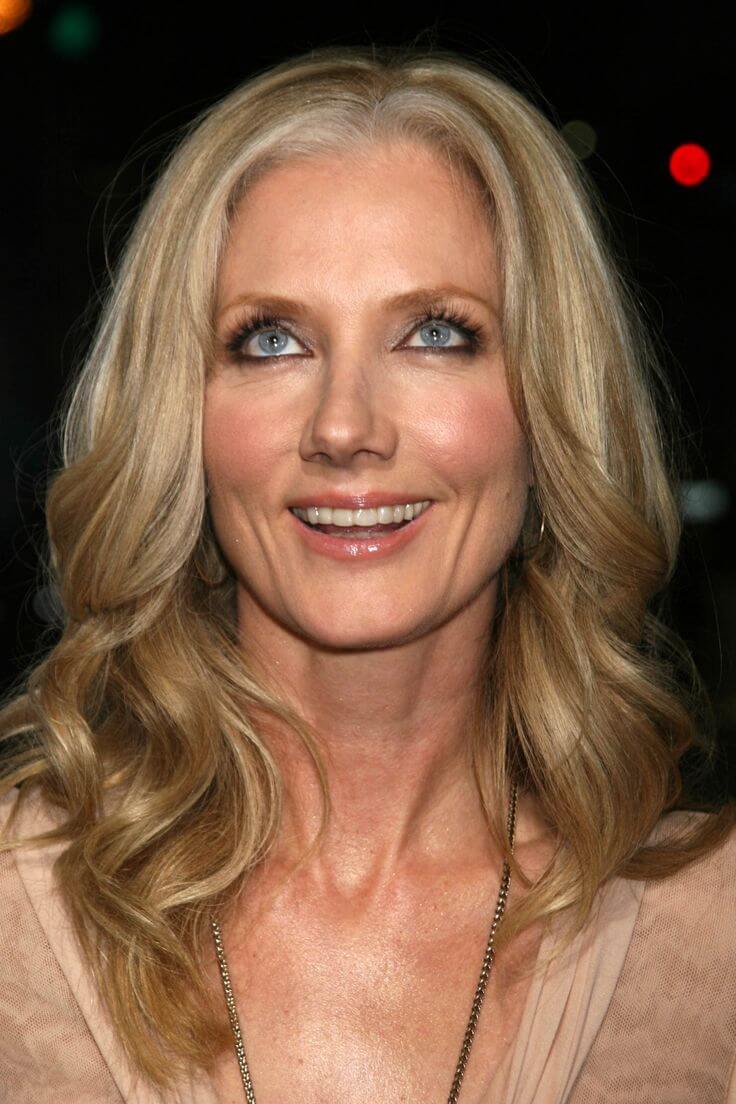 Front flicks with loose curls
If you have fine hair and oval shape face, then this hairstyle is the best for you. Let the front flicks fall on your face, hiding your bigger forehead and giving it a more attractive look. Make loose curls at the end of your hair to give a complete look.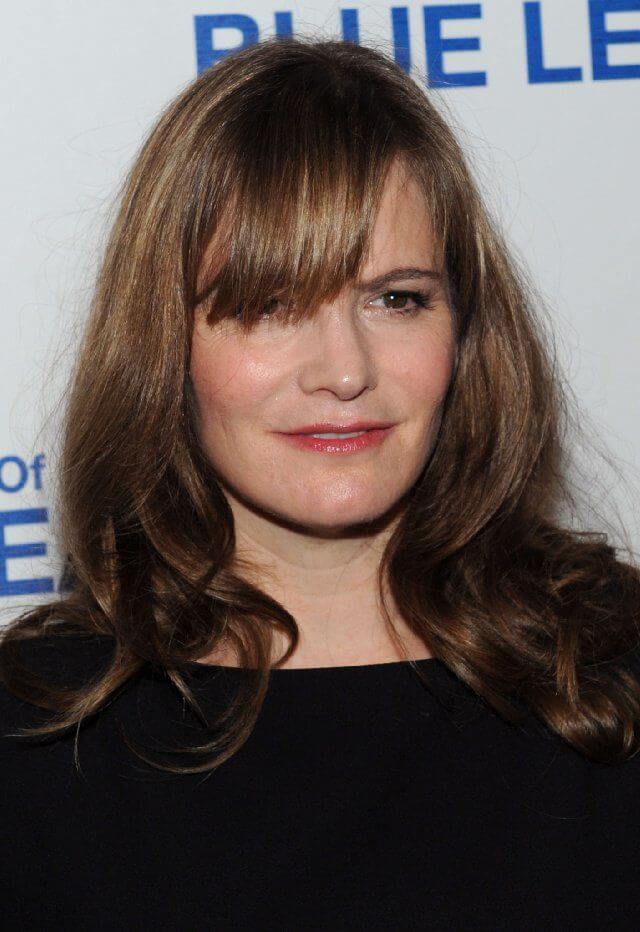 Straight layered
Simple and elegant is all we can say about this hairstyle. Looks great on shoulder length hair. Comb your hair, make a slight side partition and let the hair fall on your shoulder. Let the layers flaunt with this hairstyle.
Textured and stacked
A style that will require lots of time and effort to maintain but the results will be truly rewarding. If you have thin hair it will add to the volume and also give your face a firm frame and take off the years from your face. A round brush and dryer will be needed every morning to sport the same look.
Messy wavy bob cut
If you love short hair, then this one can give you a new look. Go for a bob cut and then make loose curls with your hair. Let them be open, giving you a messy look. It will surely make five you a chic and trendy look.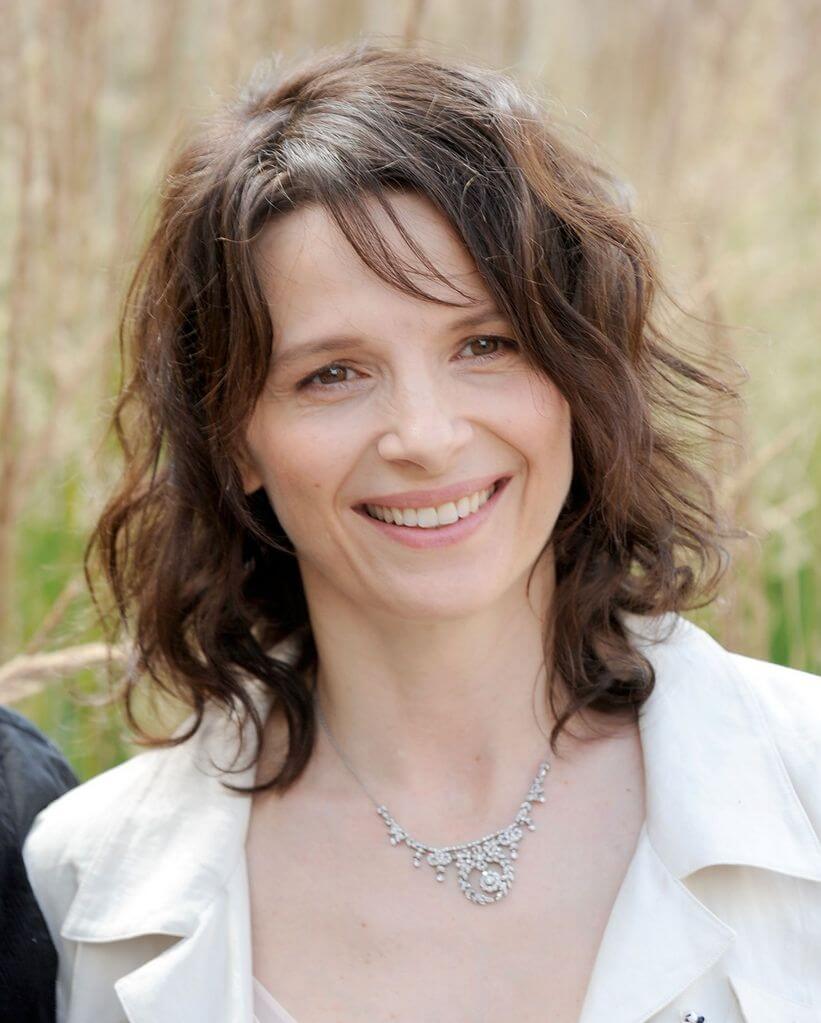 Classy grandma look
No matter if you are a grandma, with this look you can still look classy and trendy. Have a short bob cut, give them a little wavy look to make them look fuller. Comb it with your fingers, leaving the side bangs fall on your forehead. It will give you a fantastic look.
Center parted layered hairstyle
Blow dry your hair. Use a straighter to straighten your hair, then use big curlers to curl your hair a bit, so that your layers can be seen separately. Center part the hair and let them fall on your shoulders. It will give you a more confident look.
Simple straight hair with side sweep bangs
A very simple look for the thinning hair. The hair has been side swept to make the hair and style look very sassy and elegant. No efforts are needed to manage the hair just proper hair care regime is required to maintain the natural shine of the hair.
Natural windswept carefree cut
It is carefree and natural hairstyle for girls who love to be outside. The dark hair will make you look young. The dark color and shine through and go for a shoulder length cut with major volume do the trick. Adding some accessories will add to the classic look and get you party ready.
Short pixie cut
Go for a short pixie cut, use blonde color to even make it more attractive. Try this haircut and you will be the main attraction of every meeting, party or event. Get a more bold and confident look with this haircut. Just comb your hair backwards.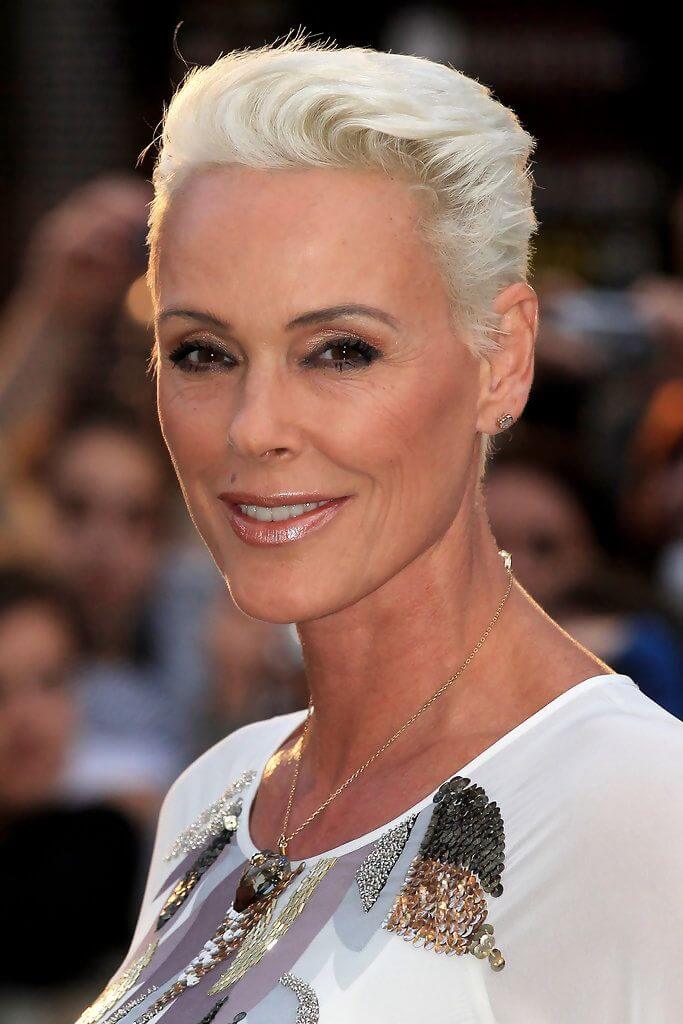 Updo with side bangs
Comb your hair backwards, make a updo. Take out the side strands and curl them, let them fall on your cheek to get an attractive look.
Side swept bangs with a low bun
Buns can never go wrong; they are versatile be it any occasion or age. Just with some accessories, the whole look with bun can be played with. Buns look everything they are chic, elegant, classy, sophisticated and add are easy to recreate. With some holding products, they are kept in place. The side swept hair in the front add to the look and take off the years from a face. A little messy look has been added to make the style full of fun.
Verdict
As there is a wide array of hairstyles options for older ladies it could be really tough for you to stick on to or even choose any style. Just style up yourself and do a bit of experimentation and play with the cuts, lengths, and colors. Get the cut in which you are the most comfortable as hair is supposed to be fun and age is just a number. Just have an active hairstyle, good diets and regular exercise regime to have a healthy and robust mane.