If you are thinking of creating a stunning hairstyle, long and big braids are something that will come in your mind for the first time. And this should not come as a surprise to you as this hairstyle is standard across the globe. Well, today we will take you to some basics and tell you about the various Big Braids hairstyles that you can try for yourself. Before you check out the list of big braids, check out here Step By Step Guide of How To Do Big Braid.
Jumbo Braids
These hairstyles are everywhere now. This is because of their versatile and beautiful nature that allows one to wear their hair. If you want Jumbo braids but at the same time you do not want super long hair, this hairstyle is perfect for you. This hairstyle allows you to tie your hair at the back in case you feel it is getting in your way. You can also add some hair cuffs to make it look even more stylish.

Box Braids
Box braids are one of the most popular hairstyles for women. This hairstyle is loved by women all across the globe, especially in the summer season. Because of the so many activities involved in the summer season, this hairstyle should be the perfect choice for all the women. This half up and half down hairstyle is a ubiquitous look among women. Start by pulling part of the plaits into a circular ring from the crown and make sure a good amount of hair down just above your shoulder. The roots should be nice and thick, tapering towards the end. If you have some layers, it will look best on you to carry those tapers.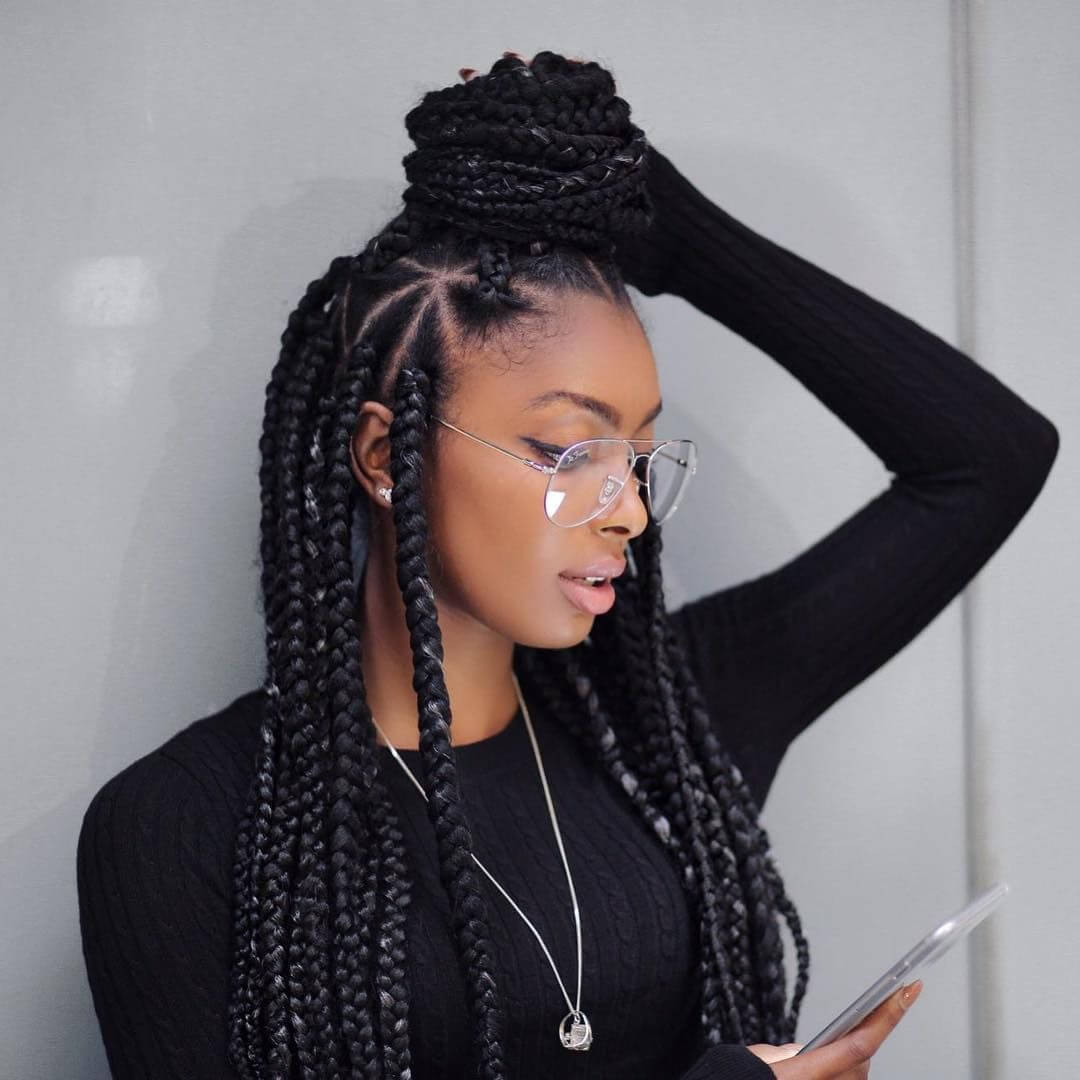 Side part braids
This hairstyle is best for long hair. If you have curly hair, wavy hair, straight hair, this hairstyle will look perfect on you. Try parting hair on the side and add a few braids for a tribal look. Start by making loose waves with the help of a waver on low heat and that will create more of a relaxed look
Dread Braids
This hairstyle takes a while to achieve and also requires a lot of preparation. Dreadlocks are just ropes of hair. A prevalent method, also known as the Backcombing method will help you in giving permanent deadlocks. Always make sure that you use a special comb for this hairstyle. Start by backcombing, and do it till all the hair is tight. With the help of a rubber band, secure your hair tightly. Do the same thing on all the sections of hair. Although this requires a lot of time to get the look, once done, this hairstyle will make you look good for days together.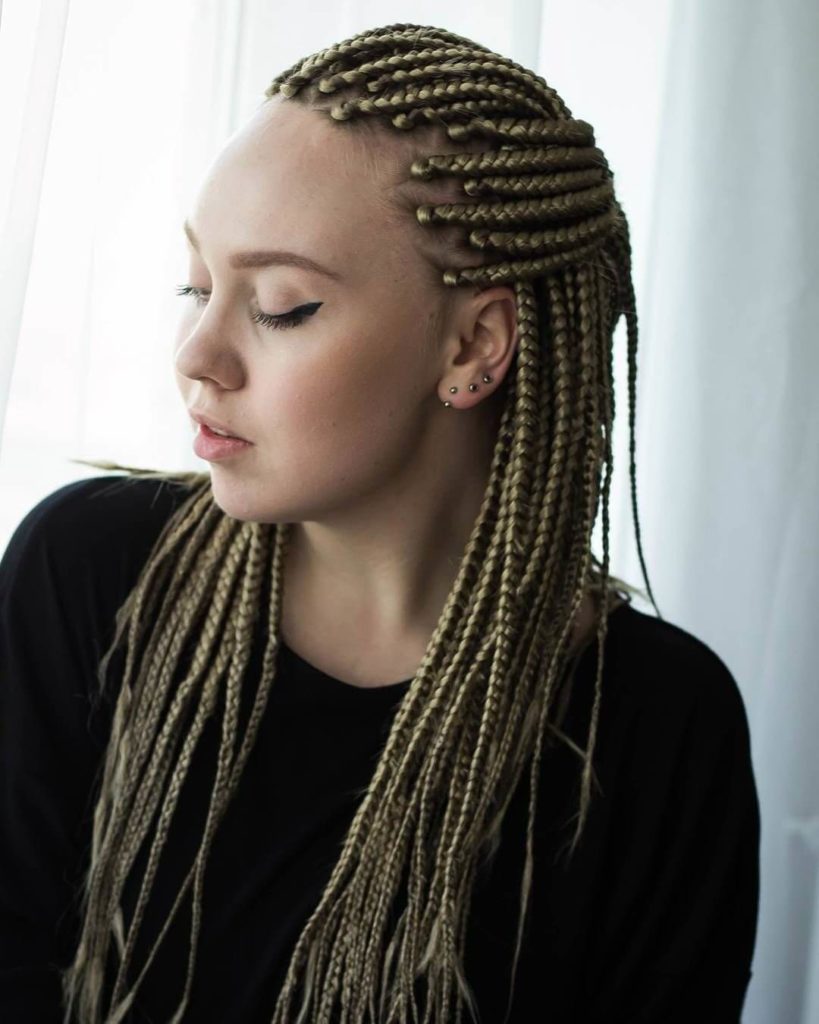 Cornrow Braids
When you think of hip hop 90s, what hairstyle do you get in mind? It is definitely the Cornrows hairstyle. This hairstyle comes in with a myriad of patterns and styles. This hairstyle has been around for many years and will continue to be. When comes to styling your hair, there is so much creativity involved in the same. The best part about this hairstyle is the use of singular cornrow which runs down the side of the head of the model. Hair extensions have also been used in creating this hairstyle with the use of a variety of shapes and colors to make you look like a princess.
Afro Braids
Afro braids are sweet and sexy, and this hairstyle is quite common amongst the celebrities. Braiding helps in protecting your hair from harsh environmental conditions and also allows one to come up with creative hairstyles. If you want something like an extended look with some really cool accents? If that is what you are looking for, add a light-toned look, and you are good to go.
Goddess Braids
Goddesses have been a part of our culture since time immemorial. Which means this hairstyle won't come as a surprise to us. Goddess braids are known to be a thicker version of Cornrows. The trick of getting the right Goddess Braid is that they are done close to the scalp and is quite protective. Also, in the end, make sure that you accessorize with gold beads as it will help in adding some bling to it.
Mermaid Braids
Mermaid look is one of the looks that is a little complicated. But when it comes to creating the braid, it comes across as one of the easiest hairstyles. If you have thick and long hair, Mermaid Braids is something that you can always go for. And in case you have short hair, no need to worry about the same, add some hair extensions and clips to add some volume to your hair. Before starting to create this hairstyle, you will require curling iron, texture spray, a comb, texture powder, hairspray, and some bobby pins.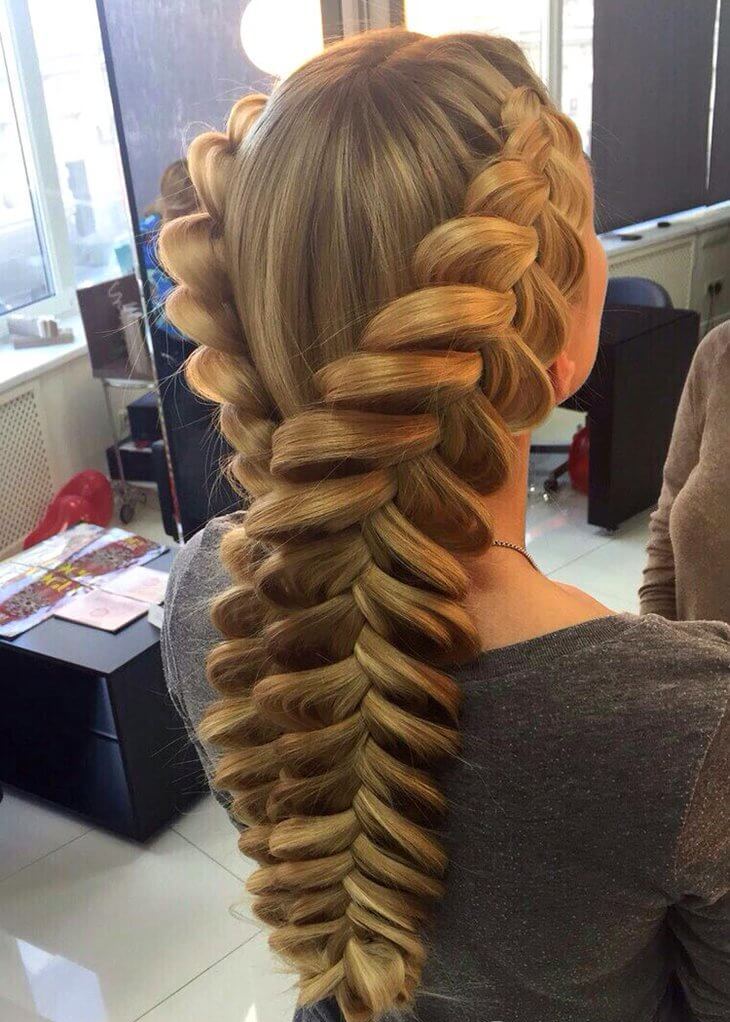 Big Braids for White Women
Big braids are known to be an interesting variation when it comes to creating braids. In this hairstyle, braids are created in such a manner that they are thick and chunkier as compared to others. This hairstyle can be worn for many hair colors and a variety of hair types for white women. Big braid can be worn as a variation by white women. Bigger braids are easy to style as compared to smaller and thinner braid. At the same time, this also looks very feminine, yet very stylish and beautiful.
Big Braids for Black Women
Black women can wear big braids that will be as a variation to cornrows, box braids, and jumbo braids. Black women often style themselves with big braids, the most common one being box braids. There are many ways to wear this hairstyle. If you are planning for a braided updo and buns, it is easy to get bigger braids as compared to the thinner braids.
Poetic Justice Big Braids
This hairstyle has made a massive comeback with celebrities, and a number of them have been spotted at various places sporting these hairstyles. These braids are thick, long in nature. The best part about these hairstyles is that these are easy to manage, are protective and helps in enhancing the growth of hair. Many black women prefer this hairstyle as compared to other women. Like all different hairstyles, poetic justice big braids can also be styled in some ways. It can also be made in the form of a bun, making it like a box braid.
Weave Big Braids
There is nothing better than big braids with weaves. It is an excellent way of protecting your hair from damage; this hairstyle is quite popular these days. Not only this, but you can also settle for two weave braids, and it will help you in looking even more and more stylish. This typical braid is in a cornrow form, but at the same time, you can also try a variety of hairstyles like box braids to get a more versatile hairstyle.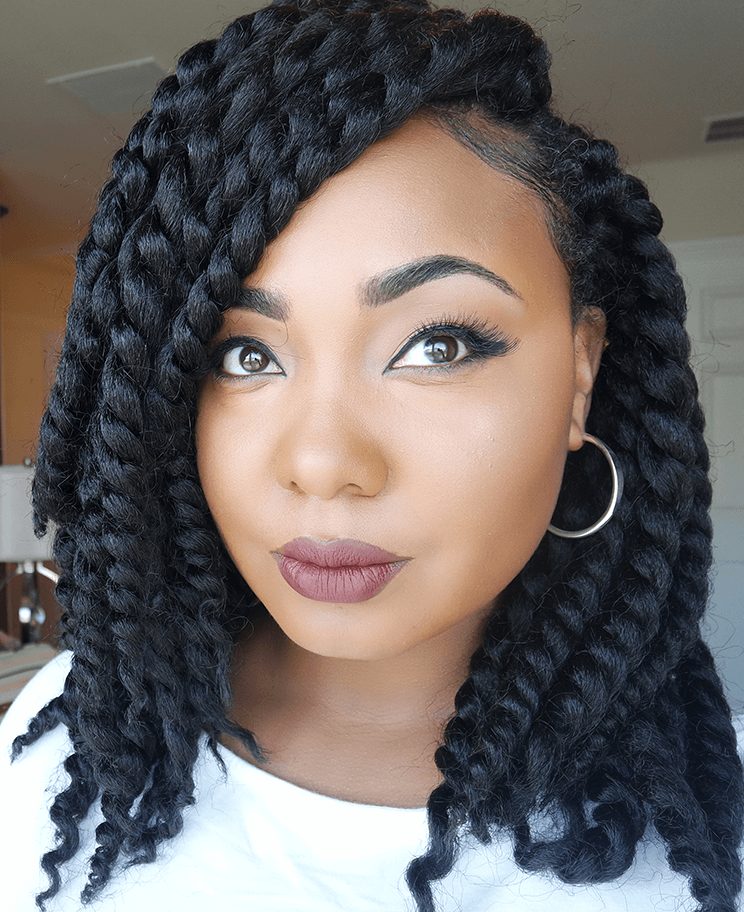 Quick big braids
If you need a quick fix and a simple braiding technique, big braids are always a win. To get a more fuller look, add some hair from root to tip, and this will give your braids a more robust and full look.
Crochet Braids
The best part about Crochet braids is that you can play with your hair as per your convenience. You can let your hair be either thick or thin, depending on your style. If you think that thick hair looks good on you and is also easy for you to maintain, you can always go with that. If you think thin hair looks good on you and is your preferred style, go for it. The trick to getting this hairstyle perfectly is to make sure that you achieve maximum volume. This can be easily done by adding a huge amount of fake and textured hair.
African American Big Braids
Braided hairstyle is very common when we talk about an African American Community. These braids have the option of being protective for the hair in nature. For those of you who are looking for something new, this is the special hairstyle for you. These hairstyles show women in their unique form and style. Beautiful long single braids look sweet and sassy. For any weekend, you can always try this hairstyle.
Two big braids
As you can see in the image, two big braids look the best. You do not have to look for something more, in this case, all you have to do is make only two big braids and you are done for the day. This is an effortless hairstyle, but at the same time, this is also a very stylish hairstyle. This hairstyle will look good on any casual day. Be it a young girl or a mature woman; this hairstyle will look good on both.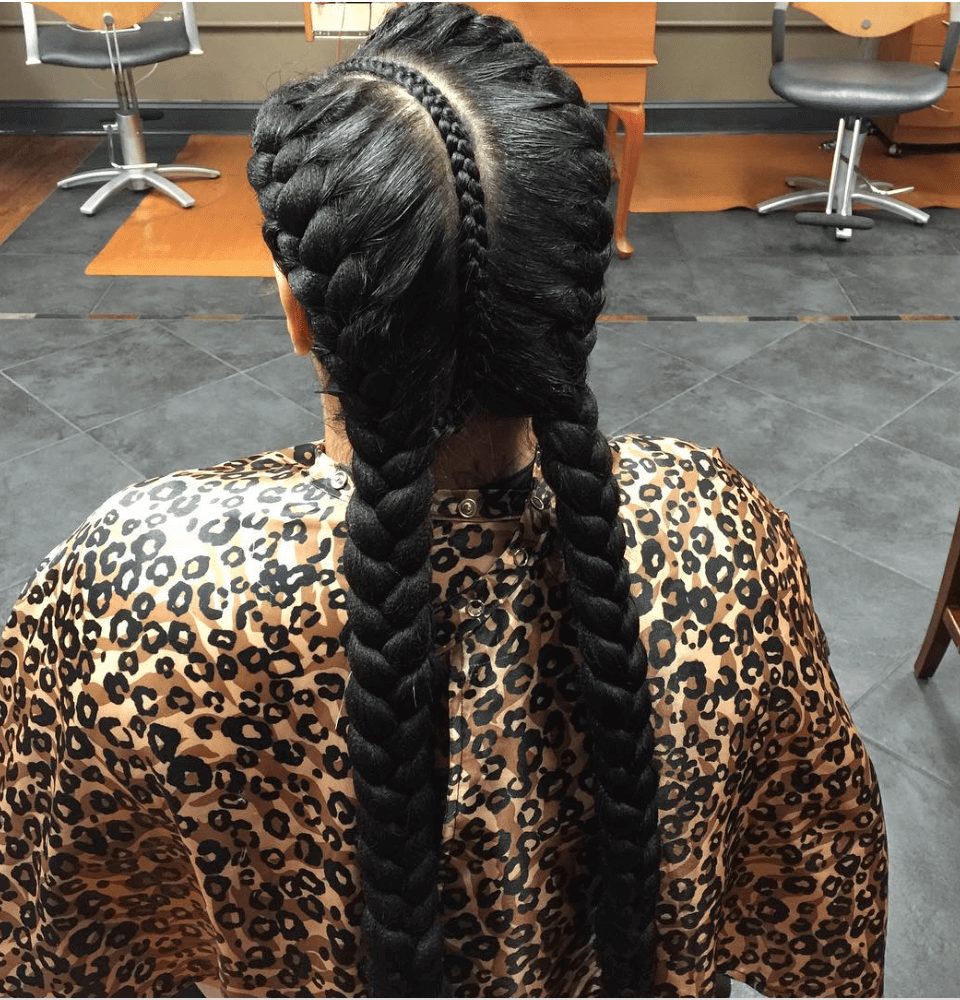 French Big Braids
As we all know, braids will never go out of style. This is very easy to do, and this hairstyle is versatile. It looks exquisite and casual. It can be done inside out and also upside down, besides this, it can also be tucked in and then coiled and then French hairstyle can also be created. Styling it properly, this hairstyle can look very good for women. To your French braid, you can easily add some Bohemian touch with the help of just three-strand braids.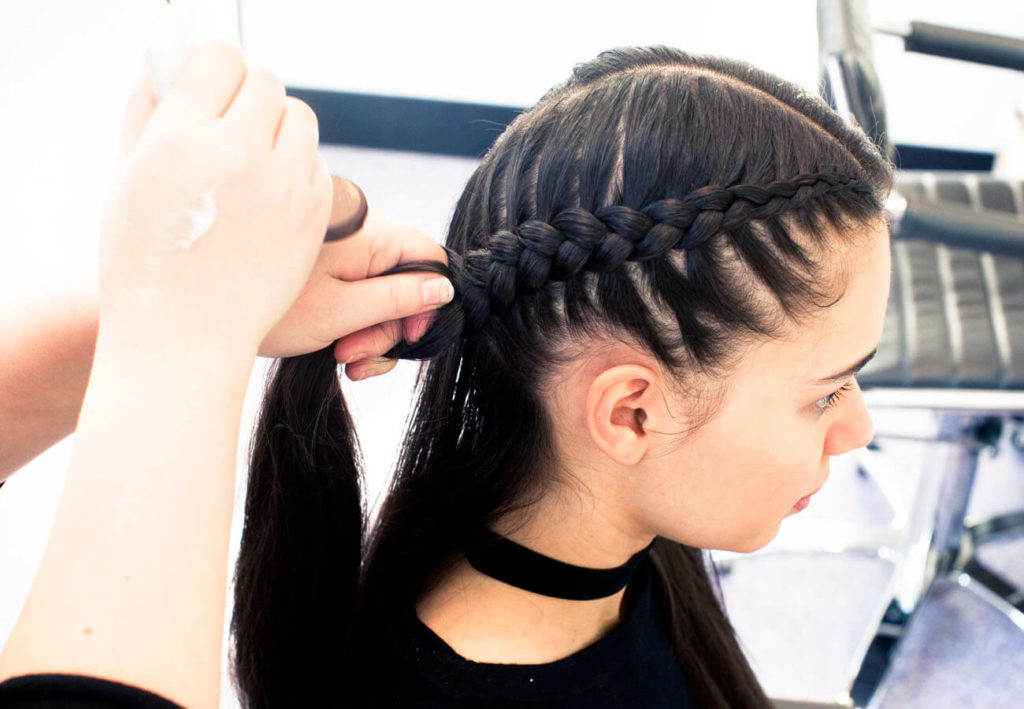 Dutch Big Braids
If you want to have a longer, and thicker braids, you can always go for Dutch Big Braids. This style takes a little longer time than other hairstyles, especially if you have thicker hair. The trick here is to understand that if you have longer hair, it will take longer time to get the style. In case you have natural hair, add water and other products.
Waist length big braids
To make textured hair look good, the trick lies in versatility. Be it your curly hair, or coiled hair; you can easily manipulate each and every strand of your hair and get your favorite hairstyle. This hairstyle allows you to put a twist to your own box braids. If you want a unique look, pull out some strands from your hair to get a cool crimped effect. If you want, you can always add some color like that of a pastel color or something in bright to look different.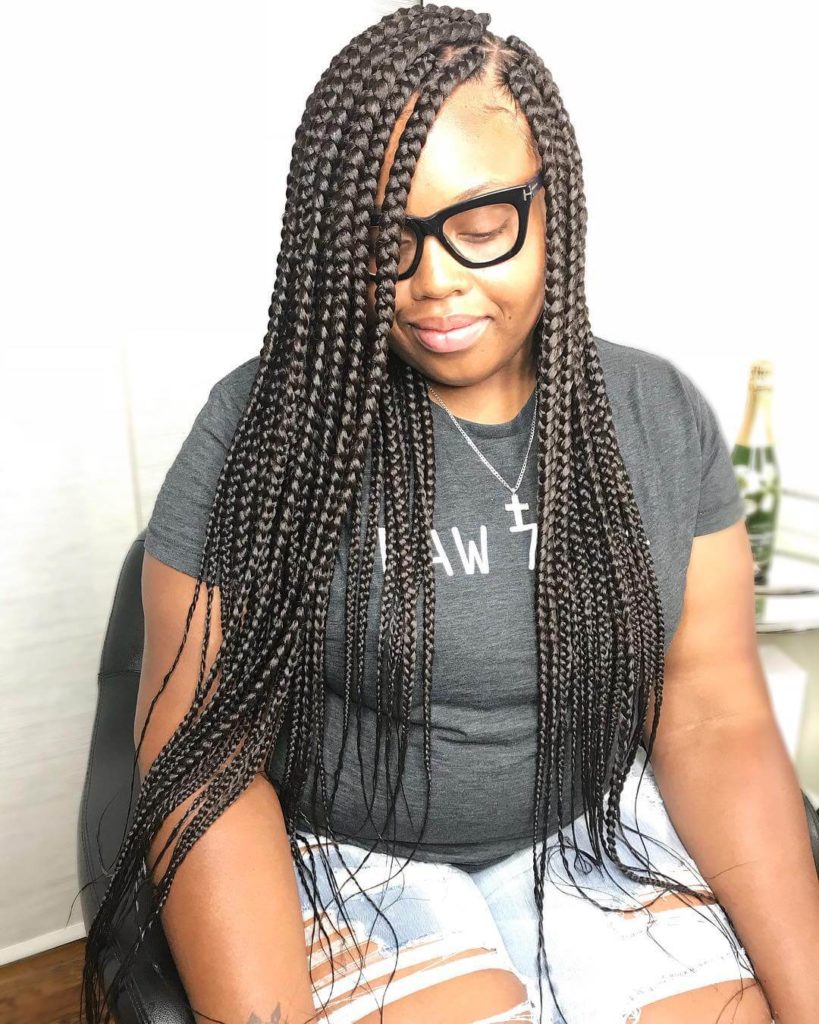 Double Dutch Big Braids
This is the best hairstyle that you can try at the time of a workout. By adding some waves to this, you can create those perfect beach waves. Double Dutch is very trendy and a fun way to style your hair this summer. With the help of this hairstyle, you can always keep the hair away from your face. If your hair is long, you will never really require hair extensions, but if you have thin hair, adding hair extensions will add the required length and thickness to your hair. Combine your double dutch style with little twists, and you are good to go. A double Dutch braid is a fun and a perfect alternative to a trendy French Braid.
Thick Big Braids
The trick to getting fuller and thick big braids is to follow pancaking. This means to pull apart and then flatten your braids slightly. This will give them enough width. Also at the end, make sure that you leave a few inches of your hair at the end, and you never tie it so that a proper pancaking is always possible. You can also add some volumizing powder to create an impressive braid. With the help of a powder, it will make your hair a bit stickier, so the braids do not slip out. This powder makes your hair look thicker. While working on pancaking, start at the top and then finish as you go down. Pull gently in the middle and pull it hard as you go towards the outer side.
Big Braids with Kanekalon hair
It is time to switch and protect your hair with the other braids that you have been thinking of always doing. This hairstyle will give you a soft look, hair that is soft to touch and also has delicate texture. Choose Kanekalon Hair to get fuller volume in nature and a different hairstyle. All across the world, women prefer Kanekalon hair to get the right result.
Chunky Big Braids
The chunky hairstyle is the one that you will surely want to try out on yourself. If you are looking for something that is more convenient and beautiful for the coming weather, go for this hairstyle. This look is a low maintenance look, and you can carry this look right through the entire season. To maintain this style, use light shampoo so that you prevent the damage to your hair.
Long Big Braids
Your long big braids will look good just by using some beaded accessories. Long big braids symbolize the spirit and uniqueness of women all across the globe. This hairstyle has gained a lot of popularity over the years. A lot of women might say that this is a hairstyle of the past, but this is not true. The usage of beautiful braids will save you a lot of time and will also make your hair look eye-catching overall.
Colored Big Braids
This super glam colored look is perfect and looks good on all the women across. The braids sit on the side as they are colored in nature, it looks beautiful because of the volume of the hair. A style like this can be used at any time of the day and with the hint of just one accessory, it will look stylish overall with that one hint of gold accessory. A hint of any color will surely get you noticed.
Big Braids Ponytail
It is an old hairstyle that is common among all women. All you need to do is smoothen your hair and take it into a ponytail. Wrap a small amount of hair to hide your hair. Split the pony into two and twist both the sections. Make a rope by crossing the right section of hair over the left section. Keep on twisting your hair. In the end, make sure that you add some hairspray to get the chic look.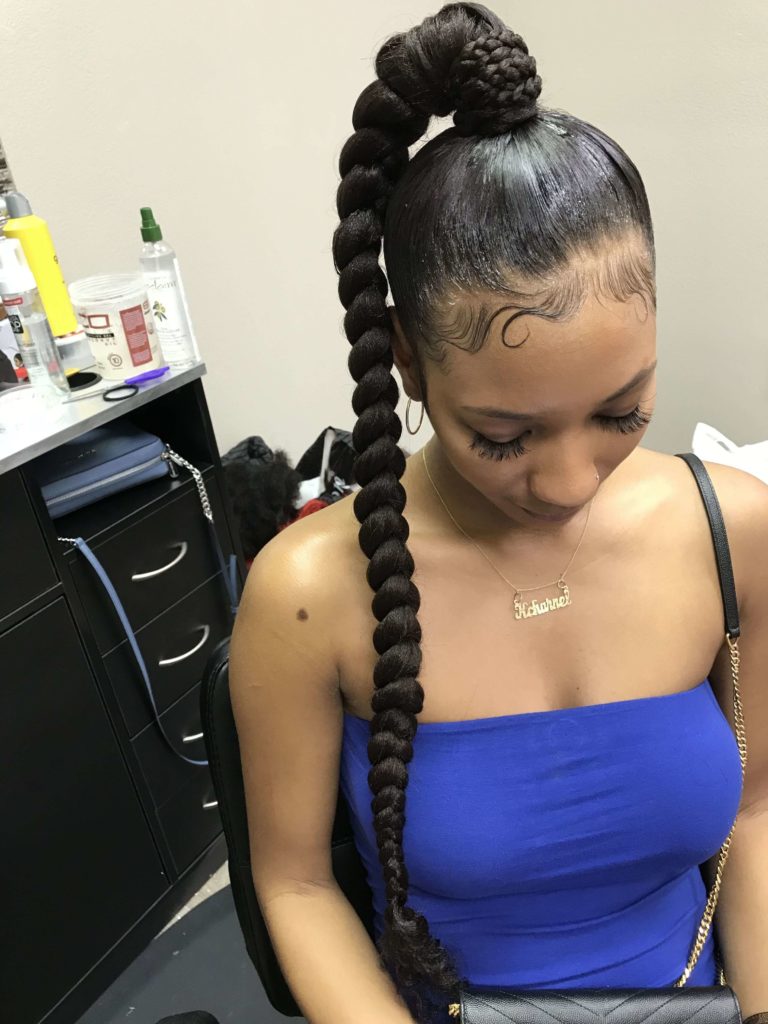 Senegalese Twist Big Braids
This hairstyle will not only protect your hairstyle but will also make sure that they look stunning. This hairstyle is versatile which makes it easy for you to experiment and try different hairstyles. This is a good hairstyle if you want to break from your regular styling solution.
We have shown you various hottest and trendy Big Braids hairstyles that you all can try as per your convenience. Also, we can see that all the hairstyles can be done creatively and one should never be afraid of experimenting and trying new hairstyles.