All trends repeat themselves eventually. This is clear by how the beehive hairstyle is coming right back into style, but now this retro look has received a modern upgrade.
If you're interested in seeing the many new spins you can put on this lovely old-fashioned hairdo, then stick around. There are lots of ways you can make this hairdo your own.
Modern Beehive Hairstyles for Women
If you need some inspiration for your next beehive, then make sure you check out the variety of styles we have for you below. Many of them will truly blow you away.
60s Inspired Beehive
Some beehive hairstyles are taken right out of decades past. This totally 60s look is still super cool and highly complementary.
There's a small slightly crimped section as the hair is swept back and side bangs fall across the forehead. The sections of loose tresses are thin.
Glamorous Updo
Many ladies with fine hair can be seen wearing this look throughout the decades. There are nice side bangs to round out the front while the sides are swept toward the back of the head.
Ponytail with Headband
Here's a beehive look that looks like it comes from the early 2000s. The puff is right on top of the head and some side bangs round out the front.
The voluminous section of hair and the bangs are separated by a headband. Pull your locks into a nice ponytail at the back, then pull that ponytail over one shoulder to show it off.
Sweet Teased Updo
Do you love a little extra volume in your hair? Tease the top of your updo to create the appearance of flyaways. It contrasts the very neat bangs nicely. Accessorize with a headband to pull your whole look together.
Ultra Modern Look
Here we have one of the best ways to truly modernize this vintage hairstyle. The voluminous bump at the back of the head is very subtle.
Meanwhile, the front has a center parting and long waves cascading over the shoulders. It looks effortless and incredibly beautiful.
Messy Full Bangs
Adding full bangs to a beehive hairdo creates a lot of depth that complements the lift at the back of the head nicely. These long, straight locks also look great as they fall down from it.
It's a half-up hairdo that remains fashionable despite being retro.
60s Hairstyle
Here we have another hairstyle that has a lot of teasing in it. The style is formed on the crown of the head and there are full bangs to add depth.
There are no loose locks in this one, and it's highly suitable for somebody who truly wants to capture the glamorous 1960s aesthetic.
Crimped Updo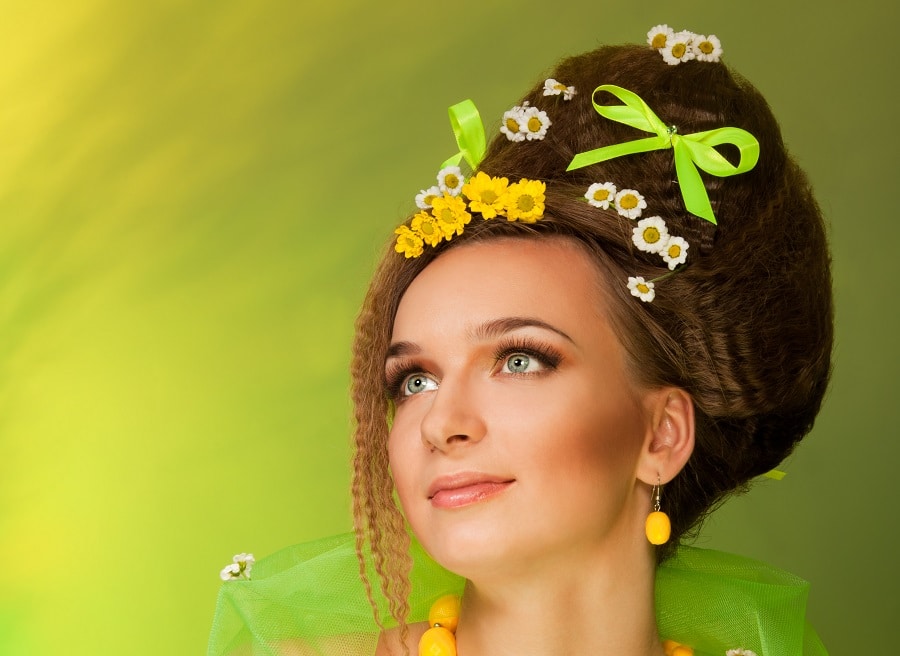 If you want to embrace nature, then crimp your lovely tresses and add tons of flowers to them.
It's a hippie-chic updo with tons of volume that will turn heads wherever you go. It's impossible not to attract attention when you style yourself utterly fabulously like this.
Voluminous Bob
Super short bobs with a large bump at the back were incredibly cute and trendy a couple of decades ago.
They're coming back as short vintage hairstyles and will suit any woman who loves hair that falls just below the ears. Adding a lovely ribbon gives it a sweet and girly touch.
You can also wear this classic look to a wedding. The volume towards the back of the head is very subtle here.
Pull the lengths of your locks back into a curly updo and add thick, voluminous bangs to the front of your look. It creates a glamorous and formal style that's perfect for any bride.
Half Up Beehive
The half-up beehive hairdo for long locks was Amy Winehouse's signature style. You'll look just like this music icon if you form your style like this.
Add a ton of volume and height to the classic beehive, then let your long locks cascade down your back.
Regal Curly Updo
Do you want to look like a royal from centuries past? Create a messy updo with a lot of volume at the front and crown of your head. Pull it all up and leave some loose curly locks by your face and behind your ears.
Blonde Hive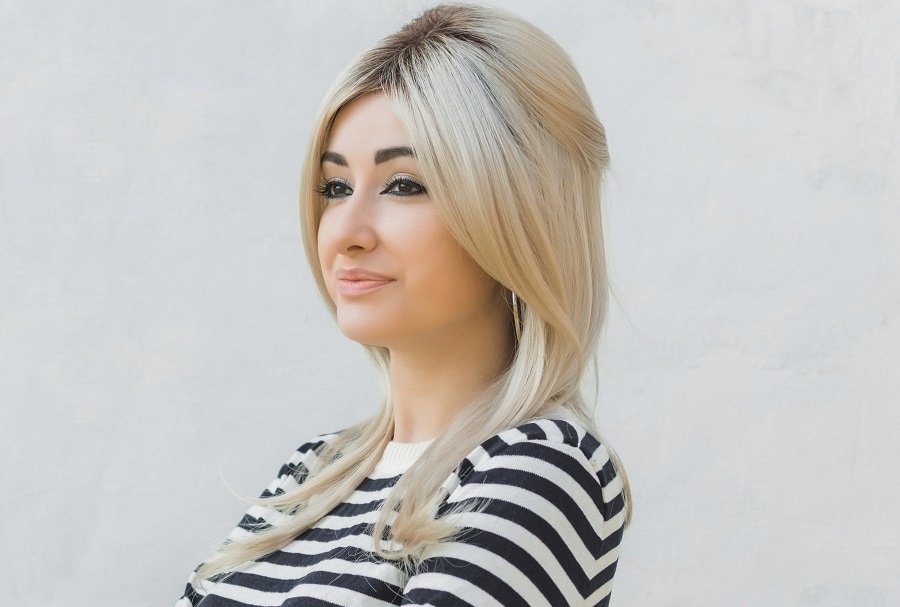 Blonde looks glamorous when there's a lot of volume, but it can look plain too. Having a shadow root adds depth that's often missing from these very light shades.
The large bump at the back of the head makes it easy for the rest of the locks to frame the face.
Glamorous Pin Curls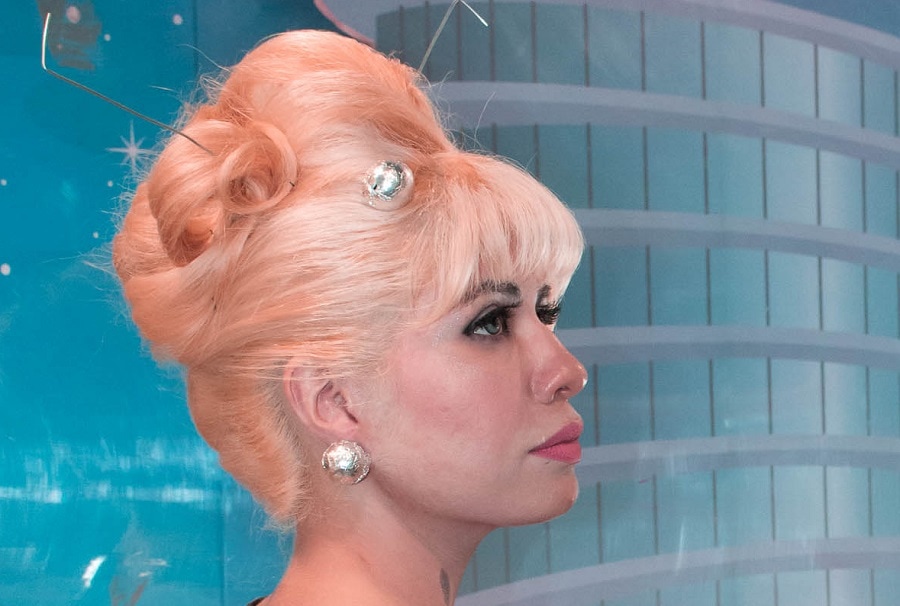 Do you need something unique and formal? Create the hive just behind your bangs and make it very long so it extends to the back of your head. Pull your locks into an updo and add pin curls on the sides.
Puffy Hive with Curls
If you create your beehive hairdo at your hairline you can make it look like a quiff that helps you show off your features.
It helps keep the front of your curly locks tame as the rest creates a voluminous 60s curly hairstyle.
Celebrity Inspired Look
Adele is another celebrity who was once well-known for wearing this style. She pulled all of her hair back into it to create a voluminous style with some curtain bangs to add depth.
It's so glamorous and will look lovely at your next party.
Bright Red Long Locks
If you have long and thick locks then you can add a beehive to add some shape and dimension to your look. The hair is swept over to one side of the head. It pairs nicely with the bump at the crown of the head.
Half Up Glamorous Curls
It's clear that half-up looks are super trendy and glamorous when it comes to this retro hairdo. Here there's a lot of height just behind some side-swept bangs.
Voluminous curls fall down the back and over the shoulders to finish off the look.
Messy Beehive Bun
Messy buns are a classic look that every woman has in her repertoire. Pairing it with a hive and lots of volume adds a twist to the style that makes it more fun and interesting to wear as an everyday style.
Frace Framing Black Bob
Black women often wore their hair like this in the 60s to look extra glamorous. The bob is super short and curls in towards the cheeks.
Short bangs add some dimension while a bump at the crown of the head creates volume.
Two-Tone Updo
If you want to be very unique, then consider a vintage updo like this. Pull all your hair back and up towards the crown of your head without a hair out of place.
Style your side bangs into a nice big curl. The look is made more interesting as most of it is bright blonde, but there's some dark brown visible underneath the main updo for a two-tone look.
Low Bun
A low bun is pretty basic on its own, so make it better by incorporating it into a beehive hairstyle.
The front and sides of the hair are swept back into the bun section. This leaves the top of the hair free to sweep over the crown of the head in a big hive shape.
Half Up Half Down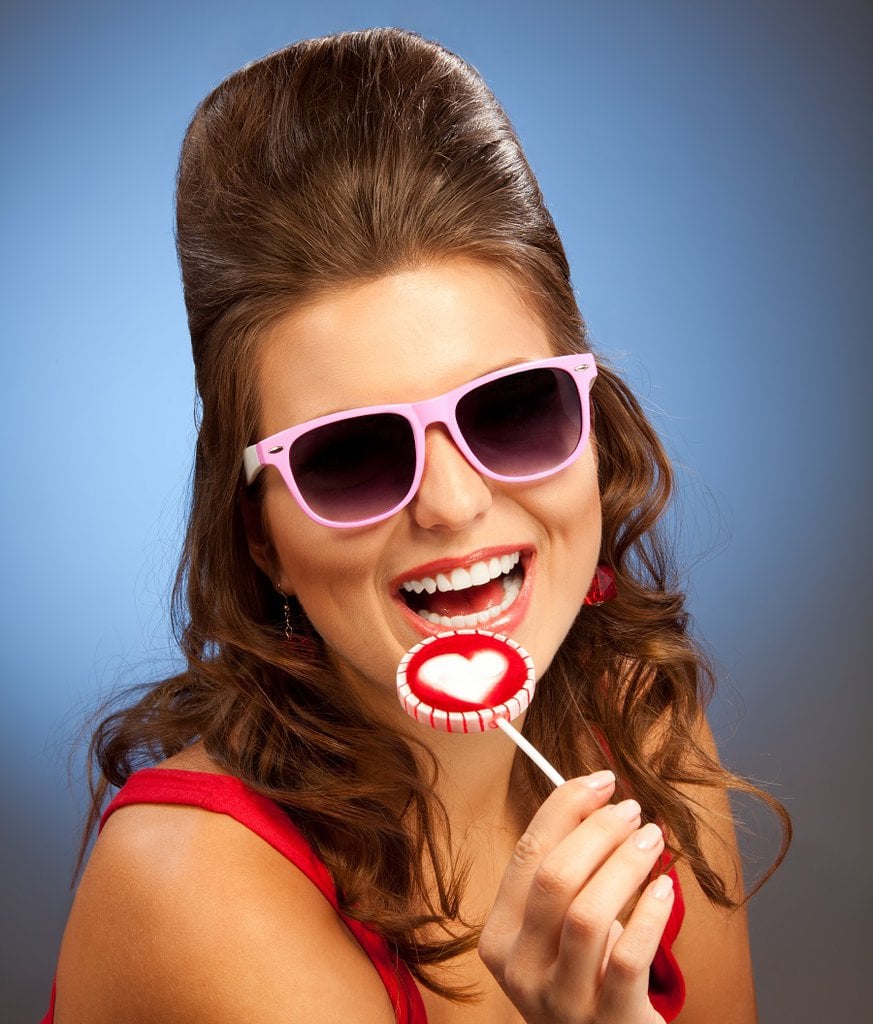 Want to keep your hair out of your face? Pull the upper layer of your tresses into a huge, super sleek bump that sits right on top of your head from the hairline to the crown.
Leave the rest of your curly locks loose to fall around your face beautifully.
Bright Pink Dome
If you're looking for something super unique, you can't go wrong here. Bright pink locks already style the show and they're pulled up into a voluminous and teased updo.
Some curly locks fall over one shoulder to add a little depth.
Classic Bouffant
This glamorous beehive hairstyle looks like it came straight out of a formal event from the past. The locks are all swept sleekly towards the back of the head.
The top section of hair is pulled over the crown creating a distinct bump. Wispy side bangs round out the rest of the look that's oh-so-sweet.
Whether it's modernized or classic, the beehive hairstyle is totally fashionable again. There are a variety of everyday looks and formal hairstyles that'll look great on you.
You'll really turn heads with some of the more retro 'dos in this selection!