What look do you want today? Curls or straight hair? Everyone out there has this doubt of choosing their hair styling look. Be it any official meetings, parties, family get-togethers, or a normal lazy day. Styling your hair makes you look different in every aspect, as well as builds your confidence. Heading out to a salon looks like a tough and long task. So, preferring to buy a hair styler would be an easy choice and a one-time investment in yourself. BaByliss PRO is one of the most trusted and highly rated hairstyling brands in the US market. It uses the latest technology, such as titanium and porcelain ceramic, to give you shiny, frizz-free, and straighter hair that perfectly sets in place for more than 24 hours. Trusted by many stylists, BaByliss PRO makes hair stylers with high-quality material and safe heating treatment with the temperature variations.
They produce various products such as hair curling irons, straighteners, hairdryers, hairbrushes, or sprays. Here, we have reviewed the hair styling products by renowned brand BaByliss PRO. BaByliss PRO has specialized in various hair styling products such as Nano Titanium Spring Curling Iron, Coni Curl Iron, BaByliss PRO Rapido Professional Dryer, Porcelain Ceramic Carrera2 Dryer, PRO TT Tourmaline Series, Porcelain Ceramic and Nano Titanium Straightening Iron, Volare clippers, and Skeleton Lithium-ion Hair Trimmer. Amongst these, I think Curling irons or straighteners from the Nano Titanium series are a great choice. In this article, we will be reviewing the below given products one by one. For your ease we have categorized the products.
1. Curling Irons
BaBylissPRO Nano Titanium 3/4″ Spring Curling Iron
BaBylissPRO Nano Titanium 1 inches ConiCurl Iron
BaBylissPRO Nano Titanium MiraCurl Professional Curl Machine
2. Dryers
BaByliss PRO Rapido Professional Dryer
BaByliss Porcelain Ceramic Carrera2 Dryer
BaByliss PRO TT Tourmaline Series
3. Straightening Irons
BaByliss PRO Nano Titanium Plated Ultra-Thin Straighening Iron
BaByliss PRO Porcelain Plate Ceramic Flat Straightening Iron
BaByliss PRO Porcelain Plate Ceramic Flat Straightening Iron
4. Clippers
BaByliss PRO X2 Volare FX811 Clipper
5. Trimmers
BaByliss PRO Skeleton GoldFX Outliner Lithium Hair Trimmer
6. Speciality Iron
BaByliss PRO Nano Titanium 1-1/2" C styler
Let's explore the styling products one by one
CURLING IRONS
1. BaBylissPRO Nano Titanium 3/4″ Spring Curling Iron
Choosing Nano Titanium BaByliss PRO Spring Curling Iron will make your hair look perfectly curled. The curling iron is engineered with the advanced technology to create a textured curl or wave. It's an exception conductor of heat and helps in maintaining the stability in the ultra-high temperatures. Yielding maximum far-infrared heat and penetrating the hair shaft from within for professional styling without causing any damage. The Sol-gel technology makes it iron barrels 37% stronger and 22% smoother than standard curling irons.
Design
It comes with various barrel sizes starting from ¾ inches, 1 inch, 1.25 inches, and 1 ½ inch. Different shapes help create a variety of waves and curls in both short and long thick and thin hair without any difficulty.
Speed
Nano Titanium barrel is an exceptional heat conductor. Let the curling iron heats up quickly with a high temperature, which curls your thick tresses perfectly and also reduces your styling time by various notches to fasten up the styling process.
Heat Setting
There is a dial switch, which makes it easier and effortless to change between the heat settings, including a Turbo heat button, to boost up the heat instantly. Its temperature reaches up to 450 degrees F to curl perfectly the thicker tresses.
Material
Made from the Nano Titanium line that fuses the advanced technology, powerful performance, and elite design to create the best set of products. Utilizes nanotechnology and harnesses the high-heat conductivity of titanium.
Working
After releasing high heat to the user's hair, this curling iron retains itself from burning the hair as of the infrared technology it has adopted. Emits high heat energy and locks in the hair's natural nourishment and revitalizes your scalp preventing it from damaging from heat.
2. BaBylissPRO Nano Titanium 1 inches ConiCurl Iron
Get twisted with this BaByliss PRO Nano Titanium Curling Iron, which is cleverly designed. One can work on the smaller and larger sections of hair to further customize its look. The Sol-gel Nano Titanium Technology makes it smooth and strong.
Design
It has a conical shaped design that is wider near the handle for the loose curls. Narrow at the bottom of the curler for a much tighter shape. Ergonomic design for flexible styling with a conical shape for versatile styling.
Heat Setting
No hair is as tough to curl as the black hairs. There are the strongest molecular bonds of any hair type, and it causes difficulty to curl and reshape. Conical Iron counters these bonds by using various high heat settings, which can go as high as 450 degrees F. Turbo heat button instantly boosts the heat.
Ceramic Barrel Coating
Ceramic Barrels coating promotes the heating all the way downside and the upside of a curling iron's barrel. It leaves no hotspots which can any day damage your hair.
3. BaBylissPRO Nano Titanium MiraCurl Professional Curl Machine
The BaByliss PRO Nano Titanium MiraCurl machine is a fully automatic curl machine offering a precision and comfort curling control and featuring BaByliss's proprietary MaxLife Pro brushless motor, provides dependable performance and an expert precision for consistently flawless results.
Design
Mira Curl Professional machine is an automatic curling tool with three styling options: soft swirls, defined curls, and loose waves for perfect styling control. You can change the barrel size from small to large with just a button press, allowing the user to choose the curl size. There is the highest heat setting for coarse and thick hair. The lowest setting is for thin or fine hair.
Speed
It has a motion sensor that instantly heats the curling machine as soon as the user picks it up. Saves your morning time. Sleep mode and auto-shutoff feature settings prevent overheating while optimizing its energy use. When put on idle mode, it goes on sleep mode automatically. The curler shuts off automatically after an hour left on idle.
Heat Setting
Styling your hair with this curler is an easy-breezy affair. It is featuring a lightweight and powerful heating system for precision control. No need to wait for it to heat up. It provides efficient and smooth curling action without damaging your hair—three heat settings of 450 degrees, 375 degrees, and 410 degrees for all hair types. Chamber is made of titanium, distributing the heat evenly. Ceramic releases ions, which boost the shine.
Timer
There are four timer settings. The user can select from the off, 8 seconds, 10 seconds, and 12 seconds for different curl effects.
Cord Length
With a cord length of 2.70 meters, you get enough freedom to use it from a little far. You don't have to stand in front of the socket whenever you curl and stand in front of your mirror with an ease of working with the long and flexible cord length.
Working
It gives you the curls you want and makes you look fabulous. There is a timer in it and a sound indicator guiding you through the entire curling process. It works by drawing your hair strands into the nano titanium curl chamber. Gentle heat is applied to your tresses to curl the hair with perfection.
4. BaByliss PRO Porcelain Ceramic Spring Curling Iron
Ceramic coatings are excellent for fine/thin hairs, but Porcelain Ceramic constructed barrels are even better to style your fine, delicate hair locks. The porcelain ceramic coating combined with the infrared emission produces a gentle heat spread evenly and penetrates each hair shafts to curl hairs inside out without burning them or causing any unwanted hot spots. The ionic technology of this tool also contributes to keeping your precious locks nourished, silky and smooth with lustrous curls and waves. To add more, a porcelain ceramic curling iron will leave your fine, unmanageable tresses healthy and revitalized.
Design
Spring curling iron by BaByliss PRO is now available in both marcel and spring barrels. Comes with a separate on or off switch for more convenience. The ergonomic and soft handle makes sure that there is a comfortable and non-slip grip for the user. Movements can be done with the 8 ft. long swivel cord with tangle-free storage.
Material
It's made from porcelain ceramic material, which assures an exceptional heat distribution and releases more amount of ions and infrared energy to the hair as compared to the standard ceramic ones. Porcelain ceramic is suggested for better use of finer tresses. Less damaging than other traditional heat styling processes. Porcelain ceramic barrel introduces heat distribution without any hot spots. Used for loose waves or volumized curls.
Heat Setting
There are 30 heat settings where you can maintain the temperature according to your requirements as low or high. Keep proper care, and do not leave the curling iron on for a long while as the high heat will cause harm to anyone.
Sizes
Porcelain ceramic curling iron by BaByliss PRO has introduced new different sizes ranging from ½ inch (12.7 mm), ¾ inches (19mm), 1 inch (25 mm), and 1.25 inch (32 mm). These can be used to create tight ringlets and big bouncy curls for the user. Enjoy the long lust-worthy loose waves on both short and long fine tresses.
DRYERS
1. BaByliss PRO Rapido Professional Dryer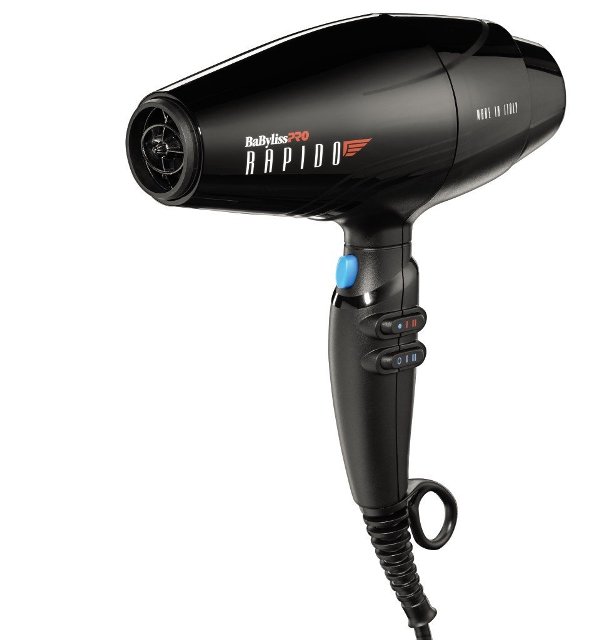 Rapido Profession Hair Dryer by BaByliss PRO is designed with lightweight technology and combines the performance with it. Featuring true ion generator and cold shot button. There is a removable noise-reducing filter that lets you dry your hair in silence without disturbing anyone out there. Enjoy styling with 3 snap-on concentrators of 60, 75, and 90 mm width.
Design
With 12 temperatures settings and the varying speeds to pick from, the user can easily adjust medium or high depending on the time they want to spend on drying the hair. Innovative drying technology and quality motor, which delivers up to 10,000 hours. It comes in different sizes, such as 60mm, 75mm, and 90mm, to suit the user's preferences. It is built with an adjustable speed and heat settings to efficiently and quickly dry your hair. It has a removable noise-reducing filter that makes it an ideal dryer for the people who are allergic to noise.
Cord
The long cord aids mobility and a cold shot, which helps in regulating heat. Enjoy drying your hair from anywhere you want with good movement with the help of 9 inches long cord.
Working
Just place it inside the drawer or the cabinet to have easy access each time you want your hair. Good to go with just a push of a button, and you can change the high and low speed of the air.
2. BaByliss Porcelain Ceramic Carrera2 Dryer
Soft-touch with rubberized housing on his premium 1900 watt dryer gives you a secure grip making it easy to work with. Well-engineered with two styling hot technologies, i.e, the Carrera1 producing far-infrared and gentle heat to dry the hair much faster than before and protect the user from any damage. It generates clouds of ions to eliminate the static by leaving the frizzy hair smooth and shiny.
Design
Compact and lightweight design with ionic and porcelain technology. Cold shot button with a soft-touch rubberized shell. Comes with 3 heat settings and a removable filter of 2 fan speed and an extra narrow concentrator.
Heat Settings
The dryer has a porcelain ceramic body, which makes it a perfect heat conductor. Emits negative static charges by eliminating them from your hair, making it dry faster. Gives infrared heat that is good for your hair—shorter drying time with a powerful motor and high heat comparable with cheap hair dryers. Optimize the far-infrared heat and ion production, which neutralizes positive ions on the user's wet hair.
Cord Settings
Users may need an extra-long cord, while some people might not want it. But, having a longer cord is better for any movement wherever you want. It gives you more flexibility to sit down anywhere and dry your hair. A 10-foot long cord is longer than the other cords till now.
3. BaByliss PRO TT Tourmaline Series
BaByliss PRO TT Tourmaline series and the ceramic technologies promote shiny and smooth hair by eliminating frizz. Infrared heat delivers faster styling times to the users and releases natural ions to combat frizz. It is combined with ceramic technology ensuring the maximum heat efficiency where these two innovations unite together and deliver unprecedented styling performance in a perfectly styled tool.
Design
Dryer with dual-voltage is designed especially for travelers due to its compact 1000 watts dryer. With its ergonomic handle and compact design, it is highly effective in keeping that healthy and smooth hair free of all frizz.
Working
Releases millions of natural ions, which makes your hair shine and eliminates the static electricity. The natural ion protects the mane eliminating the hair frizz and dries perfectly in less time with low effort. Do not produce high noise, which is bearable as compared to other dryers.
Heat Settings
There is no other professional dryer that provides more heat and power in a small package. With dual voltage and a folding handle, it is easier for the user to store and pack while traveling. 1900 watts and follow 6 heat/speed settings. It gets heated up quickly, so it is advisable to use it wisely.
Convenient
TT Tourmaline hairdryer by BaByliss PRO is lightweight and travel friendly. The user's work gets easier, and time is saved as he /she now can blow dry their hair at any place wherever they go.
STRAIGHTENING IRONS
1. BaByliss PRO Nano Titanium-Plated Ultra-Thin Straightening Iron
Nano Titanium Straightening Iron by BaByliss PRO is fully equipped with the Nano Titanium, which is well known for being an excellent heat conductor. It helps in providing incredible stability at the maximum temperature also. It is known for its unique ultra-thin design, which makes you comfortable for straightening. It has a ceramic heater allowing to heat up quickly and maintain steady temperature levels.
Design
Nano titanium technology is used in its making, enabling it to maintain the incredible stability at high temperatures with precision. There is a provision of 5-inch wide plates that are suitable for all types of hair. Its ergonomic design is easy to handle and ensures faster performance with enhanced flexibility.
Performance
It's recognized for offering a powerful performance that symbolizes ergonomics, accuracy, and perfection to the minute detailing to ensure that you achieve that salon styled hair. Negative ions help attain results with excellence contributing to retaining that natural moisture of hair to give you shiny tresses.
Heat Settings
There are 50 heat settings. It can be heated up to 450o Fahrenheit to provide you with the optimal styling results. Gets heated up immediately and straightens your hair with precision. Do not touch the inner part as it will stay hot.
2. BaByliss PRO Porcelain Plate Ceramic Flat Straightening Iron
Porcelain Ceramic Flat Iron by BaByliss PRO is a product intended to give shiny tresses with professional expertise. Its use helps you to provide healthier and shiny tresses with complete damage protection. Coated with porcelain, the ceramic plates are very good at conducting an even temperature without hot spots. Don't produce any negative ions as titanium plates, but they are still enough to keep that moderate fizz at bay.
Design
It offers a complete solution to your styling needs and helps you straighten and curl your hair—provision of 4-inches long porcelain ceramic plates helping to cover each and every hair section.
Heating Settings
Equipped with rheostat temperature control with maximum temperature up to 450 degrees F. Comes with a benefit of heat and recovery to lessen the chances of damaging your hair during styling. The porcelain ceramic plates offering you the heat distribution without any hot spots, and the negative ions leave the locks shiny and smoother.
Cord
Comes with a benefit of 8ft. swivel cord for better handling. You can move it anywhere and easily use it as the cord length is too long.
Performance
This straightening iron lets you straighten the locks or create loose or beachy waves. The porcelain ceramic creates far-infrared heat that is less damaging than other heating methods.
CLIPPERS
BaByliss PRO X2 Volare FX811 Clipper
Volare X2 clipper is the flagship of the BaByliss PRO clippers line. It is featuring the most advanced technology in the clipper group. A true-professional grade machine easy to use at your place. Its motor touted by BaByliss is designed in collaboration with the Ferrari engineers promise to deliver superior reliability and a life with the least vibration and noise.
Design
Volare is designed with a Ferrari motor that can cut twice as fast as comparable clippers. The faster cutting might give you the professional groomers or stylists an edge. Comes with a vibration-free operation and lightweight, with a lack of clipper noise—ergonomic design for extended use.
Performance
Two hours of cordless runtime on a single charge. Three-stage LED battery life indicator helps in a better performance as the user will be notified with the light if the battery is running out. The blade movement of 6300 per minute means even the thick hair will not give this machine any problems. LiPO battery and the engine provides high torque with powerful performance.
Cord Settings
With four-slide to set cutting lengths and corded operations, this Ferrari designed clipper makes it easy for the user to achieve better results. Featuring an advanced lithium-ion battery offering up to three hours of cordless run time from just a single charge.
TRIMMERS
BaByliss PRO Skeleton GoldFX Outliner Lithium Hair Trimmer
GoldFX Lithium Trimmer by BaByliss PRO is the top of the range, Ferrari motored and a lithium trimmer. Featuring Titanium-coated steel blades are powered by a high-torque brushless Ferrari designed engine. A perfect tool for cutting your hair textures with speed, precision, and power.
Design
Designed by Ferrari engineers, this skeleton lithium hair trimmer is the gold standard int powerful and fast outliners. Cord/cordless lithium trimmer is fitted with a brushless, high-torque designed engine that makes it ideal for crispy edge ups, the hard lines, and every detail work.
Performance
Zero gap T blade, which is 360 degrees exposed, is the first allowing for an unbelievable precision. Its brushless motor speeds up to 7200 rpm for an optimal speed combination, precision, and power. The lithium-ion battery has a two-hour cordless runtime.
Convenient
Ideal for hard lines, crispy edge ups, and detail work. Its LED charge indicator lights let you know when the battery will get discharged and work accordingly.
SPECIALTY IRONS
BaByliss PRO Nano Titanium 1-1/2″ C Styler
BaByliss PRO Nano Titanium specialty iron straightens, curls your hair, and adds volume. It is preventing heat spots that cause breakage.
Heat Settings
There are three heat settings 340F, 400F, and 450F. The heating plates turn your styler into a curling iron and the curls. Do not touch the heated side as it will hurt you. Far infrared heat penetrates hair cells to heat from within.
Performance
Its plate features a sol-gel technology that transforms the nanoparticles of ceramic and titanium from liquid and solid, which creates an ultra-high concentration making plates 37% stronger to resist the chemical erosion and chips. 22% smoother for a superior glide protecting your hair integrity.
Cord
Its 9-foot swivel cord is lightweight and helps you in easy movement. You can use this specialty iron from anywhere.
Design
Heat-resistant Ryton housing with the stay-cool tips and a rubberized thumb rest for maximum protection and comfort. There are cool touch points on the Iron's edge and get easy styling.
Verdict
To sum up, these Tourmaline, Nano Titanium, Rapido, Porcelain Ceramic hair stylers by BaByliss PRO are an excellent-products to choose from. Striking features like fast heat up, time saver, ceramic coating, cool tip, and warranties are amazing. Just keep in mind to choose your product based on what you need. Go and get ready to flaunt your new look with your hair straightener or curler.
Personally, I loved the Nano Titanium-Plated Ultra-Thin Straightening Iron as it helped me straighten my hair so fast with the least efforts. You just need to switch it on, and the rest it will do for you. It not only straightens your hair but also makes your hair looks lustrous and silky. Do not think twice while buying it as this is the product every girl would love to have.
Why People Trust Babyliss PRO Hairstyling Products?
People prefer BaByliss PRO hair stylers because it has come up with the best features of longer cord and run time. Its nano titanium irons and porcelain ceramic dryers are providing with the great design and material. Straightening irons made by BaByliss PRO gives you healthier and shinier tresses with damage protection of your hair.
What Is The USP Of Babyliss PRO Hair Stylers?
It is providing a fully automatic professional curling machine offering a precision and comfort curling control. Get consistent flawless controls with three styling options in the curling machine, such as defined curls, soft swirls, and loose waves. Get a performance that pays for itself as the dryer is faster, quieter, lighter, and stays longer.
What Is The Best Product From Babyliss PRO?
The best product by BaByliss PRO is the Nano Titanium-Plated Ultra-Thin Straightening Iron. Its an excellent heat conductor and provides incredible stability at the highest temperature. Famous for its unique ultra-thin design that makes you comfortable for straightening. Best product by BaByliss PRO with a ceramic heater which allows to heat up quickly and maintain the steady temperature levels.