Are you a clean-shaving folk thinking growing a beard is easy? Beard experts know the truth that beard needs a regular maintenance routine. To achieve the same, a beard requires the right products to stay clean, neat, and healthy.
It is tedious to find all the beard accessories from the tremendous amount of brands available in the market. So why not get a beard care kit that contains all the tools in just one single box?
A beard grooming kit comprises a variety of various products intended to assist in taking care of your beard.
Beard Oil helps in moisturizing your skin and beard from the initial short stage of growing beard. This can prevent itching issues, and the natural scented oil keeps you fresh and smell all day. Each brand contains different and unique types of products. Most of the common components included in the box are:
1. Beard Shampoos / Washes
Before picking a beard shampoo, reviewing the constituents is the most crucial job, Beard wash is intended to scrub and moisturize thick beard with pure organic plant-based materials. The unique natural elements assist in growing and softening both the beard and the skin.
2. Beard Conditioners
Beard conditioners are designed to deal with the issues of beard health and skincare. It is of great use to eliminate beardruff and itchiness while smoothly cleansing the skin. The conditioners are used to hydrate, nourish the deep skin layers and beard hair tissues.
3. Beard Oils
Beard oil softens rough hair and makes flexible with easier styling. It also helps in conditioning the underneath skin by lessening the possibilities of becoming itchy. These oils tend to have a scent that gives your beard smell excellent all day. You can also use it as a serum on a freshly shaved face.
4. Beard Balms​​​​​
A good balm will permit you to manage any type of beard retaining shiny and healthy hair. Beard balms are wax-based products to give more power while styling your beard. The best beard balms include necessary oils, which help in conditioning your facial hair and keeping it moisturized and strong.
5. Beard Brushes / Combs
The Beard brushes can tame lengthy beards, decrease irritation, and itching. The longer beard requires a brush while taming, unlike using a beard comb. The best beard brushes come with a wooden handle and boar hair bristles.
6. E-book
The beard care kit also comes with an Electronic Guide Book to introduce how to grow a beard and how to use the Beard Products correctly. It is of great use, especially for beginners, while they start growing the beard.
How to Choose a Beard Kit?
Here are a few things which you should keep in mind while choosing a beard kit:
1. Quality
It is desirable to consider the aspect of the durability of tools like brushes and combs. The wooden and plastic handles of the brush should be easy to use.
The quality of the bristles should also be noted, and a soft brush is ideal for spreading the oil evenly. The ultimate goal is to get a brush and comb that are made of a quality substance that can serve longer.
2. Ingredients
There are different types of beard oils available in the market, but the best ones contain natural and organic ingredients.
The natural ingredients are one of the deep secrets to maintaining a nice and healthy beard. Plant-based ingredients are more sensitive to both skin and beard and possess a variety of healing attributes.
3. Scented
The need for scented products is a personal preference as per the body reaction and allergies. If any kind of irritation of skin or nose occurs due to scent, the customer can opt for unscented oil or beard balms.
4. Number of Pieces
The more, The merrier!
It is always advisable to check the number of components and their quantity included in a particular kit. This would assure you of not missing out on any element during the trimming or maintenance of the beard.
5. Storage Box/Bag
A storage bag or metal box allows you to keep all the things in one place in order after its use. Most of the beard kits come packed in a comfortable box and racks for putting in the elements.
Why Own a Beard Care Kit?
The beard will mostly look itchy and coarse with no nourishing and moisturizing provided to it. Even the combs or brushes are specifically designed for beards itself. Beard kits carry a mixture of different beard care products in a single box.
Most kits contain almost all the tools to keep your beard viewing great. The products included are all made by the same producer that helps adaptability to the customer.
In this article, 10 best beard kits to maintain your beard is described.
So why not make the home a barbershop? Just be yourself, barber!
1. 12 In 1 Beard Grooming Care Kit For Men
In festive seasons, if you are in search of a well-packed and intricate beard gift set for any of your male friends or relatives, Dovich can be the best option!
The Dovich Pack includes Beard Wash, Beard Oil, Beard wax, Beard razor, Beard comb, Beard brush, and pair of scissors. The beard guide E-book is also provided with Beard shaving clothes, a linen bag, and a gift finger ring holder to give a radiant beard look.
The beard washes along with beard oil and wax with prominent Vitamin E and Aloe Vera aid in the following benefits:
Healthy beard growth
smooth itching and irritation
Hydrate
Softening and strengthening beard
Siny whiskers
The style of the shave can be altered as per your desires because of the availability of a self-powered barber manual-folding razor with 2 blades and a safety lock system.
The easy to use hair clippings catcher contains 2 suction cups made of waterproof material. There is no extra worry thinking about the mess or clogging complaints when this pack is used. This kit includes all of the tools and accessories needed to have the best-looking beard saving a lot of time.
All components assist in speedier growth and the best view for your beard. The moisturizing beard balm will catch moisture while intensely conditioning your facial hair helping it also to grow quicker and healthier.
The beard set is widely known because it contains pure boar bristle head beard brush, smooth beard comb, and mustache scissors for the precise cutting of beard and mustache. The stainless steel scissors help in achieving precise cuts while trimming the beard in shape. The dual action beard comb also proves as a secret to keep your facial hair great.
Pros
Easy Disposal of hair trimmings
No clogged drains
Natural and Organic components
Cons
Beard Oil may not be suitable for some skin
2. Isner Mile Beard Kit for Men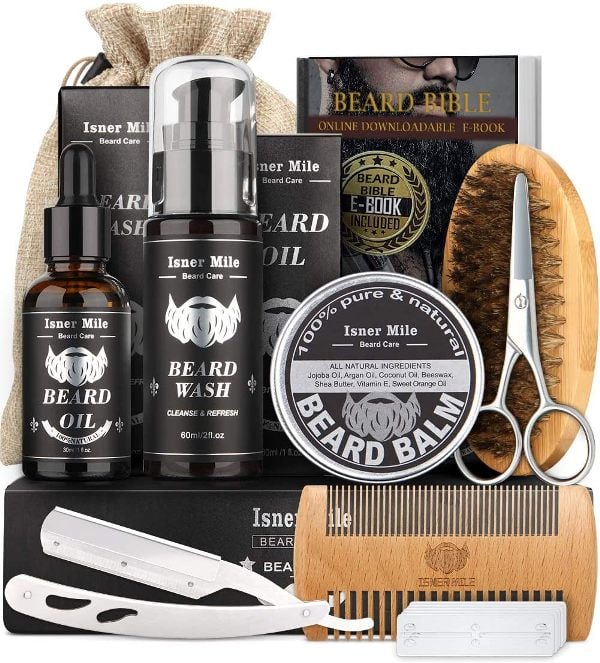 Are you in search of a beard look to stand out from the crowd with your vibrant look? Isner Mile Beard will help you obtain this wish for all types of beards or mustaches, long, short, thick, thin, coarse, and of course, the one you wanted too!
The unscented beard oil and beard balm aid in providing the benefits of:
Hydrated skin and facial hair
Moisturized and silky soft beard
Improve hair texture and styling
It is also considered as one of the best Beard Care kits by most of the people out there. The unscented oil assures in healthy and groomed hair during a lengthy schedule. The available stainless steel scissors and wooden comb helps in easier grooming of the hair, allowing it to make a perfect gift for a man on any occasion.
The beard balm rubs down to a buttery cream, which ensures easily absorbing by your beard and maintaining your style. Isner Mile's products are unscented and keep the beard fresh and clean.
Beard oil and balm and made up of all organic components. A mix of argan, jojoba, and vitamin E oils acts as a primary role for hydrating and moisturizing the skin while keeping it silky and dandruff-free—these products tame rough beards to soft within a few minutes.
The natural bamboo brush with wild boar hairs can assist in evenly spreading of beard oil, removal of dead skin effectively, giving a neat and tidy beard look. A storage bag is included to put all the beard tools safely in one place. These products detangle, style, and hydrate your beards.
Pros
Cons
The need to frequently oiling for scissors
3. Beard Kit for Men Grooming & Care
The Beard Kit wash, when used twice a week, helps in keeping a fresh and polished beard. The main highlight of the pack is not stripping the beard like the common shampoos. The beard wash, oil, balm, and conditioners are all made up of organic components with a warm and pure fragrance from pure oils.
The natural boar bristle brush is ideal to ensure even spread of oil and balm and for grooming the ideal beard. It makes beard hair silky and healthy while resisting the issues of itching.
The kit includes the following items:
Shampoo
Balm and Oil
Boars Hair Brush
Stainless steel scissors
Storage bag
Beard E-book
The prime objective of Beard Oil and Balm are intended for soft and shiny beard with natural ingredients and no additives. It helps in keeping the facial hair groomed and neat while the boar bristles ensure improving the hard hair texture.
The smoothing and conditioning can also be done without resulting any irritation to the user. The Sharp scissors are known for their trimming and shaping the beard easier. The unscented oil uses jojoba and argan oils to condition and softens while the natural balm assists in shaping and taming your beard perfectly.
Pros
Promote Active growth of beard
Prevent beard dandruff
Softens facial hair
Cons
Beard Balm should be sealed in a moisture
4. Ultimate Beard Care Conditioner Kit
The ultimate Beard Care Wash has only natural ingredients with no beard harming chemicals used in it. The mild scent will allow the entry of natural oils to the skin not to face the difficulty of beard dandruff later.
They are kind to sensitive skin and do not impose any danger. The oil is a blend of different organic components rich with vitamins and antioxidants. It's good for both your skin and facial hair.
The kit includes the following components:
Sandalwood Scent
Beard Conditioner
Beard Balm
Beard Oil
Dual Action Beard Comb
The best mustache and beard care products are included in this kit at a reasonable price for the customers to enjoy. It is also preferred as ideal for beginners planning to grow a beard that comes with all care components.
The softer combs than the plastic ones do not catch your facial hair because they're glossy in texture during the production period. The products are designed especially for beard care with elements like argan, jojoba, and aloe vera that are prone to sensitive skin or dandruff problems.
The beard wash is an antioxidant soap created for cleansing facial hair creating more lather to work deep inside the beard. The available beard wash and conditioner helps in scrubbing and softening the hair while giving a great look to your skin.
Pros
Travel friendly in a metal gift box
A great deal product
Good beard shampoo and conditioner scent
Cons
Beard oil may turn out causing allergies to some skin
Strong Sandalwood scent
5. Beard Straightener Grooming Kit for Men
It is featured as a complete grooming kit with the unique and portable grow alpha beard electric and comb. This beard straightener can be the most agile and effective way to tame and style your facial hair. The existing tools help in maintaining your beard and skin too.
The deep brush head and compact teeth are capable of covering more hair with every pass for more durable outcomes. The teeth of the straightener tool are made of anti-scald, which makes the usage of it without any chance of burning or irritating your delicate skin. The kit includes vital components as following:
Beard straightener
Beard Oil and Balm
Razor
Shampoo and Conditioner
Double Side Comb
Moustache Scissors
The unique heating technology and the metal-ceramic radiator is responsible for maximizing heat dissipation and flow. It comes with 5 heat settings, allowing you to choose up to 440F variable temperatures to style several beard types. It is noted that the Medium-length, fine facial hair can be leveled at the lowest temperature, while high, rough long beards may require the hottest setting.
Your chosen temperature can be seen displayed on the small LCD screen. This Grow A Beard grooming kit is considered as an ideal gift for all your male friends, featuring an exemplary introduction to natural beard care. It works great in all types of beards with available shorter and closer bristles.
Pros
5 Heat Settings Up to 440°F
Straightening of curly beard
Made up of organic and natural Components
Cons
Boar brush is stiff for short beards
6. MALE GOD
The Male God brand uses natural and organic ingredients with Argan Oil, Jojoba Oil, and Vitamin E Oil that help the beard growth to the next level. A smoother beard can be achieved with the help of unique ingredients of beard oil and beard wax.
As most of the available beard kits, it is also considered as an ideal choice for all types of long, short, thick, thin, coarse, tangled, beards or mustaches.
The widely spaced boar bristles are long adequate to slide smoothly into the thickest beards. The action of rolling and sweeping can be done because of the rounded contour instead of pushing it further against your face like other regular brushes.
It also comes with a wooden mustache comb from naturally anti-static materials, ensuring perfect detangling of beards evading snagging or harm. The brand is also known for producing its line of scissors with smart grooming, trimming, and shaping any beard with immense control.
This beard kit comes with a beard balm that assists in shaping and a beard conditioner to moisturize your facial hair giving a thicker look to the beard.
Pros
Nourishes the skin
Helps reducing itching
Vivid styling
Cons
The Scissors may get stiff after some time
7. XIKEZAN Beard Kit
If you are in search of a luxury gift beard kit, XIKEZAN should surely be the one to opt for! The availability of the beard conditioner makes it different from the other kits which do not possess one. The oil is enriched with vitamins and nutrients composed to encourage the active growth of the beard.
The beard balm is used to improve the strength while keeping it moisturized and easy styling. It includes all-natural products and contains no harmful ingredients making it a good option even for sensitive skin. The beard growth kit includes:
Beard Conditioner
Beard Shampoo
Beard Oil
Beard Balm
Beard Brush
Beard Comb
Beard Scissor
Storage Bag and E-book
It also accounts for being one of the finest kits with reasonable prices and a 60ML beard conditioner. The natural and organic components solely aid in nourishing, hydrating, cleansing, and softening the beard.
The problem of itchy irritated skin and beard dandruff can be avoided by using the beard kit of this brand. The beard grows faster and stronger because of the formulated conditions and restoring the shiny and softness texture.
The boar bristle brush and wood comb massage facial hair while stimulating oil production. It also removes any existing dirt, and the sharp scissors offer accurate trimming. The provision of E-book helps the beginners also to care for the beard with this kit.
Pros
Faster Beard growing
No itching or irritation difficulties
Healthy facial hair
Cons
Large gaps between the combs
8. Viking Revolution Beard Care Kit
Viking Revolution Beard Oil is a product especially made for guys that need a manly beard in both look and smell. The Viking Revolution beard box includes one of the best beard maintaining tools in the market with an amazing ingredient list that includes:
Wooden Boars Hair Beard Brush
Double-Sided Pocket Beard Comb
Unscented Beard Care Oil
Citrus Scent Beard Styling Balm
Beard Scissors
It also contains a boar bristle beard brush of high quality to detangle the beard before trimming it with the available scissors. It can be later moisturized and softened with beard oil before styling with the beard lotion. The kit is an excellent choice for everyone with any type of beard or mustache to care about.
The beard care products are portable and travel friendly with a metal gift box. The balm contains no man-made chemicals or elements for the sweet scent. The ingredients used in the oil are some of the most high-grade moisturizing natural oils available that contain lighter ingredients used in the natural oils.
Viking offers a satisfaction guarantee on all of their commodities that comes with a boar's hairbrush, a two-sided pocket comb, fragrance-free beard oil, scissors, and scented balm. The main benefit of this kit is it is reasonable in price rather than buying all the items individually.
Pros
Scented beard balm
Good quality scissors
Nice bristle density of comb
Cons
Uneven tines of beard comb
9. Naturenics Premium Beard Grooming Kit
Are you in search of a kit for youthful and healthier beard maintenance? Naturenics is suggested to be your companion for the above question. The power and appearance of this premium quality 6 piece beard grooming kit include:
Beard Oil leave-in conditioner
Beard Balm Bee Wax Butter
Beard Brush
Beard Dual Teeth Comb
Sharp Beard Scissors
Magnetic Bamboo Gift Box
Beard grooming eBook
This exclusive available Organic Beard Oil allows hydrating the skin and facial hair while simulating the beard growth. The itchiness and beard dandruff can be eliminated with beard balm/wax. The beard conditioner offers styling the beard with ease to make it look shiny, soft, and glorious every hour of the day.
The presence of Argan oil, Jojoba oil, Aloe Oil, and Vitamin E in Beard Oil and Balm ensures no harm to the skin. The detangling and peeling of dead skin is possible due to the strong bristle beard brush. The beard flakes can be removed evenly, keeping the beard clean and healthy.
The professional Japanese steel barber grooming scissors are molded with precision blades for precise trimming. The kit is also considered as an ideal method to show the glow of your facial hair.
Pros
Japanese Beard Scissor
Horse Hair Brush
Beard Comb have coarse teeth
Cons
10. Ultimate Beard Care Kit
The nice-looking design of the beard care conditioner kit makes it an ideal choice for anyone who is planning to grow and maintain a healthy beard. The products have been excellently designed in the elegant box to witness the proper grooming of men's beards. This care conditioner kit includes essentials like:
Beard Wash and Beard Conditioner of Peppermint Eucalyptus Scent
Beard Balm of Citrus Scent
Unscented Beard Oil
Dual Sided Beard Comb
The Viking products come with a user-satisfaction guarantee providing easy care to its customers. All the products necessary for achieving skin hydration and hair moisturizing are secured in this care kit.
This product provides a high-quality natural product just to persuade yourself for constant buying. Beard growth is precisely reproduced with sustaining great beard conditioner, and beard itch automatically lessens due to jelly beard oil.
The pair of stainless scissors are provided with heavy-duty, razor-sharp blades, and are nicely built. This beard kit helps in caring for your beard with the full determination of feeling good and an appealing look. It also comes in an artistic box that presents the kit as an ideal gift to your male friends for all occasions.
Pros
Soothes Beard Itch
Softens and moisturizes the skin
Natural and Organic oils
Cons
The comb isn't effective managing thicker beards
Does the Beard Balm Make Look the Beard Stiff?
Beard Balm generally composes a blend of carrier oils and wax that styles your beard in shape and a firm hold. The genuine advantage of beard balm appears with its grasp for headstrong beard hairs. You should consider trying a beard balm when you have a small unruly beard and is constantly in search of a significant hold to maintain a beard in place.
It softens the beard with a great smell. You should oil first and then massage it to the beard and skin. The beard balm can then be later applied to manage the frizz.
Can the Straightener be Used on a Wet Beard?
It is probably not a good idea to use a beard straightener on a wet hair unless it is specified on the kit. The main reason is straighteners have special vents built within that lets out the evaporated vapor appearing out of the water in your hair.
So when this straightener is applied onto a wet beard, it can seriously damage your hair as the steam generated does not find a path to move out. It can also lead to the burning of hair in some circumstances. The water in your beard can touch the straightener at certain delicate parts and can lead to a short circuit.
It is recommended not to use the straightener when the beard is in a wet condition. The water along the shaft will be boiled, causing steam damage. The steam loss will ruin the integrity of the hair bristles, and once damaged, it can't be replaced individually.
Does the Oil Contain Natural Components?
The most of beard oil is purely organic and composed of natural ingredients like unrefined Jojoba oil, Moroccan Argan oil while the beard balm contains Argan Oil, Mangifera Inoca, and many other components. Higher-grade beard oils contain other vitamin constituents and minerals to target distinct skin types.
It is composed of carrier oils that include the major nutrients needed by the skin and hair follicles of both skin and the beard. This natural carrier oil is elicited mostly from plant seeds like sweet almond and grape seed.
The essential oils in the beard oil are responsible for scents and the volatile nature of the oil. Because of the essential oils, beard oil is now available in different scents, namely lavender, sandalwood, and more.
How to Groom a Perfect Beard?
You need to accept that a growing beard is not a simple task, and like any other job, it too requires constant patience and maintenance.
Now, as you have chosen a beard care kit meeting your requirements, the steps to groom for a perfect beard using the tools in the kit are also very necessary to understand. Below are the details; please have a look.
Beard Oil
The best time to apply beard oil is after taking a shower as it would be clean, and the pores of the skin will also be opened.
Apply beard oil by pouring in 3-6 drops on to your beard. The drop quantity varies as per the user.
It can be used daily for good maintenance of the beard or twice in a week, depending on your comfort.
After pouring the oil rub it nicely on your palms and fingers, then apply the beard evenly on to the beard thoroughly without missing any place.
Beard Shampoo and Conditioners
Wash the beard nicely with water and lather with a beard shampoo from your kit.
Massage it thoroughly without missing any place on the board and underneath the skin too.
Apply the conditioner and again spread it evenly on all the surfaces.
Rinse with warm water.
Beard Balm
Clean your beard with water and cleanse it with a beard conditioner.
Take a pea amount of beard balm and apply thoroughly on every side of the beard.
Comb the beard in a downward direction.
Beard Comb/Brushes and Scissors
Start combing your beard in an upward and downward direction after all the above-mentioned processes.
To shape the beard, the sharp stainless scissors can be used to trim.
Now you can comb the beard to style as per your desires and rock on the look!
Your beard matches your character and behavior. You need to apply only the best products to manage its growth. A kit is usually an effortless way to save some money while receiving a variety of products all together in a single box.
Every person has sensitive skin, and each kit is specifically designed to meet the requirements of the user. A kit that includes natural ingredients along with a high-quality comb or brush should be your primary choice.
Whether you are a beginner or a bearded veteran, a beard care kit is a must for your household!