Finding an electric bald head shaver is a tough task as you want to get yourself a professionally groomed look. For that, you need to do deep research before buying it. You get a comfortable, smooth, and closer shave with a bald head shaver without spending a lot of money. Whether you want to maintain a clean shave every day or want to cut your cost of heading towards a barber, selecting a high-quality razor depends on your style only.
It depends on you whether you will choose a budget or high-quality shaver. Apart from price, there are other very important features included with high-quality head shavers that are worth considering.
We did our research to provide you with the top best bald head shavers that you can choose from. You will probably find your perfect fit from these top-rated products and no longer have a difficult time shaving. Get the cleanest and smoothest shave ever while sitting at your home.
You need to know about various features it is providing, such as will the product be cordless or with a cord? Making a smart choice would be of buying cordless a shaver as you can see it without a power outlet. But some do prefer corded products as cordless provides interrupted usage. Then you might have a thought how much does the product weigh? You need to pick up simply the lightweight and portable one to eliminate the discomfort each time you use.
Factors To Consider Before Buying Head Shaver
Blades Must Be Sharp
The razor with stainless steel blades with multiple heads is the best choice if you opt for a rotary design. For a closed bald shave, you need to find a rotary shaver to shave regularly. Foil shavers use sharp knife type blades that clip away at your hair when you glide from front to back. If you are looking for bald head shavers, then you need to opt for special design shavers.
Wet and Dry Options
You should always go for an electric shaver, which is waterproof so that you won't have to deal with the rust all over it. If you buy a wet and dry shaver, then you can quickly get through your shaving part without any need to dry your head first, and this simple feature most of the modern shavers have now.
Foil Vs. Rotary Shavers
Few people might like foil razor that has reciprocating blades which move behind a perforated foil to catch the hair and remove it. They provide you with a decent shave but a bit old school look. Rotary shavers have pivotal heads or the circular cutters which move behind the metal guards and have slots and holes. They typically take less time to shave your head, but you may not a closer shave using this in some areas of your head. Foil shaver serves the best for those who want to keep their head close-shaven daily. It is suitable for sensitive skin, and rotary razors are for those who want a low noise device that shaves closely and smoothly for a clean and fast shave.
Some Essential Tips For Using An Electric Bald Head Shaver
You may think that it is significant just to wet your hair before you start shaving, but you may not do that with some electric shavers. You can check few buying guides for any shaver to get a step by step to shave just at your place. These tips should help if you are a beginner to this game using shavers for bald hairstyles.
1. Wet Electric Shave
If you want to go for a wet shave and below things will surely help you:
It's recommended to wash your head and face with a cleanser under hot water before shaving. To exfoliate your skin, you need to do that twice a week to keep your skin smooth. Hot water softens up your scalp and hair to shave easily.
There are some alkaline components in a shaving cream that interacts with hot water and makes it easier for the razor to cut your hair. You should lather on the cream and then wait for a minute before using the razor to let the cream absorbed into your skin.
2. Dry Electric Shave
For those who don't have time for a wet shave should follow the below tips to go for a dry shave:
If you want to make sure that your razor and skin have no moisture at all or if there is any wetness on your skin or hair, then it could drastically reduce your shave's quality. So, the best time to use these shavers for a dry shave would be only before your morning shower.
Lubricate and Charge Your Razor
For the best electric shave, you need a fully powered razor having multiple blades, and you should lubricate your razor twice a week unless it is a self-lubricating razor. Use two drops of refined machine oil on the foil or blades.
Buy An Electric Pre-Shave Lotion Or Powder
It's an essential component to enhance and moisturize your skin's oils before shaving. It creates a lubrication layer so that even those tiny stubble stands up straight, will give you a more comfortable and an easy shave.
Let's explore the top 10 Bald Head Shavers:
1. Kibiy Electric Shavers for Men Bald Head Shaver
If you are looking for a 4-in-1 solution for facial cleansing, nose trimming and shaving your bald head, then Kibiy's Electric LED Men Shaver is the perfect fit for you. The steel precision trimmer helps in trimming your nose and ear's hair using 4 trimming guards for different beards and hairstyling. For a much closer and smoother shave, there is a precise and sharp rotary blades shaver of the razor, allowing reaching more hair in each turn. You can shave all the areas of your neck and head in no time. Choosing whether to shave wet or dry, with foam or without, is not an easy task because some head shavers do not provide all these features in just one product. But, Kibiy's electric head shaver is designed in a way to suit all your needs and make the shaving task an enjoyable one. Not every bald head shaver is water-resistant and makes it difficult for the user to clean all their hair in one go. But, this waterproof shaver enables you to shave at your convenience and clean the hair under the running water.
Electric appliances are known for creating noise, but it serves the noise reduction technology. With just a click of a button, you can shave your head. Those hefty electric appliances are not handy and create a problem while holding. This electric shaver can easily fit in the palm to hold it firmly while shaving your head and won't fall. Sometimes, shaver's regular use can cause allergies, or maybe the blade needs to be replaced. The shaver includes high-quality imported steel blades to prevent you from allergy.
Key Points
Detachable replacement ends.
2 hours fast charging.
Cordless operation.
Pros
Used for beard and bald head.
Can shave anywhere.
Easy to carry when traveling using a USB cable.
LED indicator when turned on.
Package- Shaver head, Hair clipper, Nose hair trimmer, Face cleansing brush, Trimming guards, Cleansing brush, Instruction manual, USB cable.
Cons
Your skin can take time to get adapted to it.
2. OriHea Head Shavers for Bald Men
OriHea is a global Amazon seller that provides reliable and responsive services to design sturdy products for pleasing their loyal customers worldwide. They benefit millions of people from their products every day and do their best to improve their lives. Once again, OriHea designed an electric head shaver for bald men providing a one-stop solution to their loyal customers. With its multifunctional grooming kit involving a gentle bristle brush, soft face sponge for cleansing, a precision nose and ear trimmer for a finishing touch, they missed no chance to impress the users. One button operation helps in shaving your head or beard in no time. Its ergonomic design fits comfortably in your palms with a rubberized grip for more comfort.
You can take it while going for a trip as its lightweight and portable. Every user would love to buy a shaver with longer run-time. This shaver fulfills your need to provide long-lasting lithium battery with 60 minutes of run-time after 1-hour charging. In case your hair or beard is long, then you can use the trimmer provided first and then the razor for good results. You can easily rely on this shaver for a refreshing wet shave or dry shave with shaving cream or gel as its waterproof. This UK imported OriHea electric shaver is highly versatile and convenient. There is a red indicator that turns on when the power is less than 10%. It has a steel precision trimmer with 4 trimming guards for different hair and beard styling.
Key Points
360-degree flex.
A fitting facial contour.
Wet or Dry Shave.
20% more power.
Pros
360-degree flex using the 5D Float System.
Shaving without dead ends.
Equipped with Germany, imported sharp blades.
Easily shavable around neck and jawline and contour in 8-directions.
Trim hair to less than 5 mm with the help of a hair clipper.
5-in-1 Multifunctional Grooming Kit includes 5 detachable attachments such as clipping nose hair, cleansing face, softening bubble, trimming, and shaping facial hair.
Operating time- 60 minutes; Use time- 20-30.
Cons
The blade might not suit the user's skin.
3. Rozia's 5 in 1 Rechargeable Electric Shaver Beard Trimmer Nose Hair Trimmer Bald Head Shaver Grooming Kit
Rozia is one of the largest salon electronic appliance suppliers in India. It has undergone a remarkable transformation from a humble beginning with their hard work and dedication. They provide their loyal customers with the best product and service and treat them wholeheartedly.
The shaver comes with a flexible and independent floating five-knife head. You can use this washable shaver wet or dry, either shave it with soap or cream for achieving good results. The high power and long-lasting lithium batteries provide longer run-time. Easy to travel with the USB charging feature. The trimmer can be used for up to 60 minutes cordless. LED lights help in seeing that hard-to-reach. There are 5 floating rotary blades for a much closer shaving experience with rounded edges moving smoothly over your skin for a much protective shave. The five detachable attachments such as a precision trimmer, a razor head, nose, and ear trimmer, a facial massage brush, or a facial cleansing brush meet all your needs for shaving your beard or hair. It can easily fit in your palms as its too handy and lightweight and won't fall.
Key Points
Easy to change 5-detachable heads.
Difficult parts can be shaved with less effort.
High performance.
Fast cordless charging.
Pros
A floating five-knife head enlarges the contact area, reduces irritation, and comfortable shaving.
LED light to see hard-to-reach ends.
Waterproof and Wet Dry.
Modern and smart design.
Cons
Needs the practice to know the technique.
4. Roziahome Electric Men Razor Bald Head Shaver 5-in-1 Grooming Kit
The Roziahome's electric shaver for men provides a convenient and easy shave with much-added comfort at a reasonable price. Every one of you wants your shaver to shave by reaching more hair with every pass. Roziahome shaver comes up with the ergonomically designed 5 direction floating heads shaver that gives you full control, thereby resulting in a much smoother and close shave. It helps you in an easy operation with less effort.
This LED electric shaver reminding that you need to charge is washable, waterproof and you can use it whether it's dry or wet or you are in the shower. With USB charging for 2 hours, it allows the user for 60 minutes cordless continuous use to shave freely, without having a single thought of running out of battery.
The multifunctional feature of this electric shaver is the 5 detachable attachments it has, including a precision trimmer, a razor head, a facial cleansing brush, an ear, and nose trimmer to meet all your needs and helps in achieving your desired cool style. It utilizes a precision double-blade, with its rounded edges move smoothly over your skin. The advanced shaving heads help in enlarging the contact area and reduces irritation providing you with comfortable shaving.
Key Points
Best gift for men for a perfect appearance.
Fits facial contour.
Difficult parts can be shaved.
When charging, a red light turns up, and when charged, the green light turns up.
Pros
Shaving without any dead ends.
Independent and flexible floating 5 knife head.
Waterproof and can shave with foam, gel, or under the shower.
Comfortable to hold.
Cons
Costly and price increases in the upgraded models.
5. Surker 6 in 1 Electric Bald Head Shaver For Men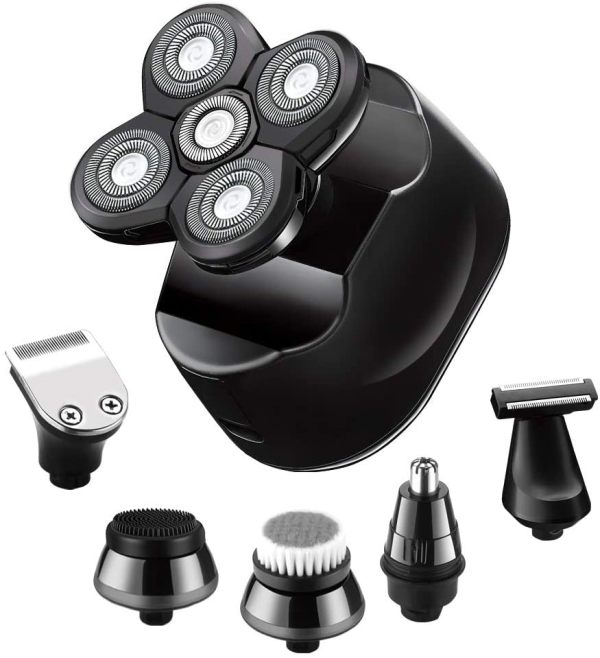 Surker provides the customers with beard clippers, razors, manicure sets, hair clippers for personal use, hair curling appliances, etc. The 6-in-1 multifunctional grooming kit includes 6 detachable attachments, sideburn trimmer with 3-5-7 mm guide combs, body groomer, face cleaning brush, nose hair trimmer, face massager, electric shaver, etc. to satisfy your body shaving and facial needs. You can enjoy hair-free smooth skin without any irritation with its self-sharpening technology for shaving blades.
It's 4D rotary floating shaver head gives you a closer shave with 5 precision, and sharp rotary blade heads, thereby helping you adapt your head contour and allows reaching more hair in every go. You can easily get that wet and dry shave that you want with a waterproof design. Surker men's shave is there to suit all your needs and make the shaving game enjoyable. You can shave your head as well as your beard with this multipurpose shaver. The hair clipper trims your hair to less than 5 mm; then, you can use the shaver and shave all your neck and face areas. For cleaning purposes, you need to flip up each blade and directly clean them under running water.
Key Points
Upgrades the double-blade technique.
Comfortable control system.
Global universal voltage USB charging.
Lithium environment-friendly battery for a much longer life.
LED power and digital display.
Pros
The cutter head is removable.
Waterproof, IPX5 body wash.
Sharp blades due to automatic grinding material in razor head.
12-month free warranty.
Quick USB charge for 2 hours and 90 minutes run time.
Cons
Your skin might take some time to adapt.
6. ALLFU 5 in 1 Electric Head Shavers For Bald Men
ALLFU come up with this 5-in-1 electric bald head shaver for men with a cleansing brush, nose, and ear trimmer, electric shaver, hair clipper, sideburns trimmer. There is a silica brush for soft face massage for that comfortable shaving experience. Its 5D floating shaving head provides you with 5 sharp and precision rotary blades shaver of the razor that allows you to reach more hair with every go. Everybody wants a perfect appearance, so this shaver provides a gentle close shave on all areas of the neck and head. The wet and dry shaving experience enables you to get a refreshing and dry shave with foam, or gel, or in the shower. Do not worry about washing the shaver under tap water, as it's waterproof. Get that total control and easy holding with this ergonomically designed 5 head shavers. It gives you an easy traveling with intelligence and comfort. You can shave your head, trim your nose hair, clean your beard.
Key Points
Battery time 120 minutes.
Run-time 50-60 minutes.
Facial deep-cleaning bristle brush.
Hair clipper trim to less than 5 mm for a good bald look.
Pros
Universal voltage: AC 100-240V
5D precision rotary blades.
Hair trimmer with 4 trimming combs.
LED display.
Cons
7. Instant Electric Skull Razor and 4-in-1 Beard Nose Hair Trimmer
You all might have this question of how to stay well-groomed all day. This Instant electric skull razor has come up to solve all your problems. It caters to your all-around grooming style and provides you with 4 multifunctional attachments for a perfect professional look. The 4 modes such as trimmer, shaver head, face brush, and hair clipper help you shaving perfectly.
Innovative 5D rotary blades are there to help to reach every curve of your head, neck, or face. Some cheaply made electric foil shavers are not useful in the shower or fall apart within a few days. This instant razor is designed for your convenience. You can shave your head bald, trim your nose hair, trim your beard, or shave your face with the sharp blade for a well-styled look.
Enjoy the hassle-free shaving experience by its compact cordless USB and travel anywhere, anytime you want. The package includes Electric Bald Men Head Shaver, Nose trimmer head, Hair Trimmer Head, Beard Shaver Head Facial Cleaning Head, Charging Cable, Guide Combs (3/6/9/12mm). With its waterproof technology, electric men's hair razor is perfect for those who prefer to use water/shaving cream for shaving or even a come-and-go dry shaving.
Key Points
More practical than conventional shavers.
Ideal for men with mustaches, beards, sideburns, who shave their heads.
Cordless, compact design, and easy to travel.
Pros
Wet and dry, safety guaranteed.
Long-lasting rechargeable battery.
Washable shaver heads.
30-day money-back guarantee.
Cons
Check before buying, as there might be skin issues.
8. Men's 5-in-1 Electric Shaver & Grooming Kit: Five-Headed Beard, Hair Razor for a Perfect Bald Look, Cordless and Rechargeable
The high-quality men's 5-in-1 electric shaver and grooming kit provide you special features to fit your needs. A strong lithium battery, a multipurpose shaver, and some grooming heads included in this kit help you in achieving that professional look. You will get the results in no time as you can use it for 60 minutes non-stop after charging it for almost 2 hours. Everyone wants to use a device comfortably, so the ergonomic design of this cordless electric 5-head shaver gives you full control with easy holding.
It has 5 detachable heads, which perform versatile functions from trimming to facial care. You can easily reach your desired style with less effort. One doubt you face is whether you can take your shaver in the shower and start shaving your head or beard or not. Well, its waterproof feature provides you with easy washable and ultimate convenience you want. One button operation helps you to operate with just one press in no time. Long-lasting batteries with high-power are convenient to shave and can trim up to 60 minutes cordless after 2 hours charging. This shaver can get you faster and easier results in less time.
Key Points
Just one-button operation.
Waterproof.
Cordless battery.
Pros
Ergonomic design gives full control.
Washable shaver head with sharp blades.
Convenient and versatile.
Cons
Needs the practice to know the technique.
9. Home-easy Men Electric Razor Bald Head Shaver
This home-easy electric shaver came with an instant solution to our grooming schedule. You all want to buy those appliances that will work smoothly and are much comfortable. The electric men's shaver is the best fit for shaving your head bald or trim your beard. It has a 5-head ultra-advanced shaver that provides you with the 4D floating rotary a shaver that contours each angle of your face. With the multifunctional grooming, you will get 4 attachments, including 5-head rotary razor, brush for cleansing, precision ear and nose trimmer, and more. You can get your shave done of any length of hair the way you want and achieve your style. The wet and dry feature allows you a comfortable or a refreshing shave with foam, cream, or gel in the shower. Smart user-design provides you a non-slip grip. Long-lasting lithium battery gives you 50 minutes of run time.
Key Points
Easy to travel and portable.
Non-slip grip with a user-friendly design.
IPX6 washable design.
Pros
High power 5 head rotary razor.
4D floating heads adjust every curve of neck and face.
Self-sharpening and durable precision blades.
Cons
10. Electric Men Shavers 4-in-1 Rechargeable Bald Shaver Head Razor
Men need to choose a perfect electric shaver for their beard or hair trimming as it changes their overall look. They need to find a flexible shaver, and this head shaver for bald men has 4D precision and sharp rotary blades for a much smoother and closer shave. The hair clippers serve an excellent solution to trim their hair short less than 5 mm.
Later, you can decide whether to go bald or prefer short hair, as it gets easier. Its waterproof design lets you wash the razor after use under running water. For that, you need to flip up each blade; then, the hair can be cleaned. The facial cleansing brush helps in cleaning your face, the nose, and ear trimmer enables you to remove those unwanted hair, steel precision hair clipper with 4 trimming guards provides you different beard and hairstyling. You can also use this shaver head for a bald head of men or women leg shaving. USB fast charging helps you enjoy 60 minutes of shaving. LED display provides you with the battery level and acts as a smart reminder of charging. You can take it anywhere and use it anytime. For a much smoother or closer shave, it lets you adapt to the face contour, neck, and jaw. This multifunctional groomer set includes four-detachable heads which gives you a professional look.
Key Points
60 minutes of working time.
5D floating system with LED display.
USB charging is available and produces no noise.
Pros
Waterproof design.
4-in-1 grooming kit for a professional look.
Shaving without dead ends.
Cons
Your skin might take time to adapt to the new blades of the shaver.
How Can We Choose The Best Bald Head Shaver?
Our goal is to provide some guidelines for helping you people to make the best buying choices with no confusion. While we did not include every shaver here, but we did a lot of research and have provided the top bald head shaver. From our and other's reviews, we have come up with a list that will take you in the right direction while buying.
How Is Wet Shave Different From Dry Shave?
Razors use "hysteresis," which is a fancy way of saying that when a blade touches the hair, it lifts the hair from the follicle before cutting it.
Nowadays, razors have a second and 3rd blade added and positioned in such a way that the lifted hair is cut and then pulls back below the skin's surface, giving you that smooth shave.
So, a close shave can be done when precisely learned with the techniques, and this provides you a comfortable shave.
Electric shavers work well with the skin's elasticity for prolonged fast shaving results. The shaver applies a little pressure and presses itself on the skin, just like a ship moves by creating a bow wave. It results in skin getting in contact with the holes of the foil, making the hair more exposed.
Once its cut, the remainders of the hair pulled back into the skin's surface, giving you that close shave.
How Is Razor Different From A Shaver?
The fundamental difference between an electric shaving and a blade shaving is how the hair is cut. Let's see them one-by-one.
In blade shaving, the beard hair is cut with a single stroke of the blade. Whereas in an electric shaver, the hair is cut between two blades, like the motion of scissors.
Both electric shavers and blade razors may deliver the comfortable, close shave we're all after. Whether you want to have a wet or dry shave, its totally your choice depending on your expectations and shaving habits. Just remember, that your skin might take a month to adjust to a new shaving method. So, if you are switching between these, you might have to give a little time to get used to it.
What's The Right Method To Use An Electric Shaver?
Whether you are using an electric shaver for a while or you are new at this, there are a few things you need to keep in your mind to make the most of good shaving experience. Use these to get a clean and protective shave in no time.
Firstly, make sure that your facial hair is not too long as it will lead to an uncomfortable shave or skin bumps. Try to use a trimmer first, then the shaver for better results.
Use your shaver at a right angle by moving against your hair growth direction in a circular motion. It will help you in reducing skin irritability and your shaving time.
If you have plenty of time, then go for a wet shave. Firstly, wash your face with a cleanser and little warm water to soften your hair and get rid of that excess oil in your skin. For better results, you can use an alcohol-based pre-shave product or a baby powder to dry your oily skin.
Now, massage with some foam or gel onto your neck and face. Then, leave it for about 5-10 minutes before starting shaving.
Run your shaver against the grain and try to use your free hand to slightly lighten and pull up your skin so that the hair will stand up for a clean cut. Avoid putting pressure on the skin as that leads to irritability.
Try to tackle the sensitive areas like the neck at first because shaver does generate some heat. Shaving delicate parts first will ensure low heat used.
Just clean your shaver after every use and choose a waterproof shaver as it lasts longer than other ones.
We have mentioned specific design features of electric shavers and durable blades that are used to keep bald heads well maintained and clean. You can use these shaver multiple times per week, and you won't need to change the blades. With those sharp knife blades, you will get a professional bald hairstyle.
10 Best Bald Head Shavers For Every Men
was last modified:
September 2nd, 2020
by